One Chinese drowns, two others rescued at Koh Racha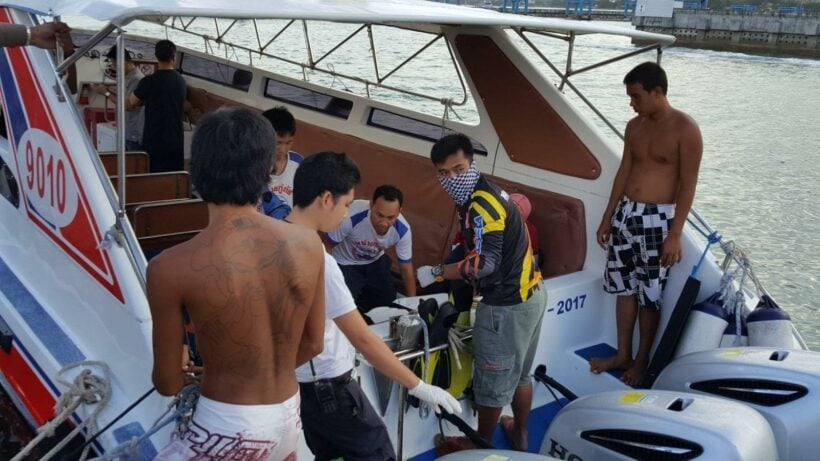 Yesterday (June 21) strong waves battered three Chinese swimmers who went swimming, unattended, at Patok Beach on Koh Racha. Two of them were rescued while the third drowned.
The body of a Chinese man was identified by the Phuket Tourist Police as 30 year old Su Wang when his body was brought back to Chalong pier. No signs of struggle were found on his body. His body was taken to Vachira Hospital and consular officials notified.
Two other male Chinese tourists who had been choking and taken in a lot of water, 29 year old Liang Yu Lin and 26 year old Pu Bin, were taken to Bangkok Hospital Phuket by tour operator. Both are now safe.
Maj Eakkachai Siri of the Phuket Tourist says, "These three Chinese tourists had been travelling with Apple Tour to Racha Island with the Nontasak Marine boat operators. There were 35 tourists in the tour group. They were scheduled to travel with this tour group from June 20-25."
"The incident happened around noon. These three Chinese tourists headed to the water for a swim after finishing their lunch. They didn't inform the tour guide and didn't wear life jackets." (recommended for many Chinese when they go swimming as an additional safety measure)
"Big waves hit them even though they were only in shallow waters. Lifeguards quickly rescued two of them while Mr Su had disappeared under the waves. Shortly after a speedboat spotted the body of Mr Su and his body was brought back to the land."
At 5:40pm Phuket Vice Governor Thawornwat Kongkaew visited Mr Su's family at Vachira Phuket Hospital. After that Vice Governor Thawornwat visited Mr Liang and Mr Pu at Bangkok Hospital Phuket.
Vice Governor Thawornwat says, "We are very sorry for this tragic loss. Relevant offices are coordinating with the Chinese Consulate in Phuket and assisting with all the documentation. We will be speaking to the tour operators about the incident. We insist that tour operators take better care of the guests in their care."






Keep in contact with The Thaiger by following our
Facebook page
.
More than 100 horses dead as African Horse Sickness strikes Thailand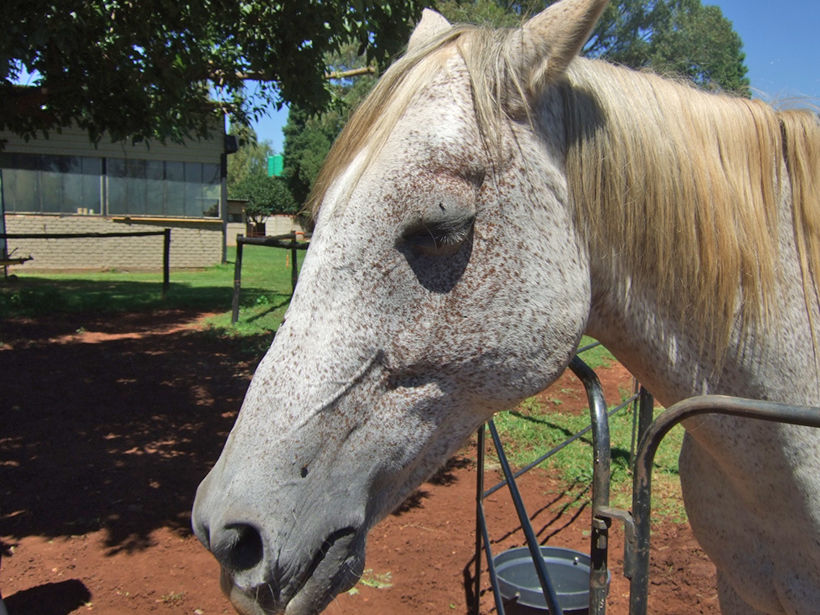 "This disease has just occurred in Thailand. We've never had it in the past"
The director-general of the Department of Livestock Development, Sorawit Thanito, says more than 100 horses in Thailand have died from African Horse Sickness (AHS). It's the country's first instance of the illness, which only affects animals. Latest government data show at least 131 horses have died across 4 provinces
Sorawit says the government has quarantined sick horses to limit the spread of the disease, adding that the government was notified in late March of AHS in the country.
"We have to investigate how this virus got to Thailand."
"Horses that contract the illness can have fevers of over 39C, difficulty breathing and bleeding in the eyes."
There has never been a case of AHS reported in humans and it is not related to the outbreak of the Covid-19 coronavirus, according to Sorawit.
The World Organisation for Animal Health suspended Thailand's status as an "AHS Free Country" on March 27. Myanmar and Kyrgyzstan had their AHS-free statuses suspended in 2018. AHS is endemic in the central tropical regions of Africa, from where it spreads regularly to Southern Africa and occasionally to North Africa, according to the OIE.
SOURCE: Reuters
Keep in contact with The Thaiger by following our
Facebook page
.
Jetsada's Cunning Plan – Drunk man asks to be jailed to escape his boss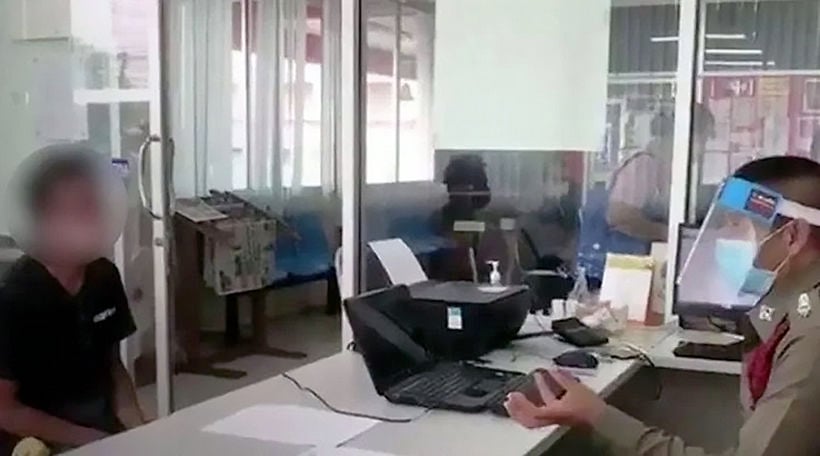 A man man in Chon Buri decided he needed a vacation, so he drank a bottle of whisky, walked into a police station and asked to be jailed. Puzzled police say the man thought jail would be a good way to get away from his boss.
According to Thai Residents the man is a construction worker on a site right across from the local police station. 37 year old "Jetsada," from the lower northeastern Sisaket province came up with a the genius plan hoping to get a break from his boss. He believed prison would be a perfect location for a free stay, and probably some free food.
Jetsada intentionally drank an entire bottle of whisky, then headed to the police station on foot. When he arrived he told an officer he was drunk and asked to be arrested.
Police proceeded to give him a breathalyzer test and ask why he wanted to go to jail. The man revealed that his boss at the construction site "made him feel sad." He just needed a vacation away from the boss, so jail would be a great option. He believed the boss would come and bail him out of jail when the news reached him.
The police knew Jetsada walked to the police station and the construction site was nearby. They told him they couldn't arrest him as he didn't do anything illegal.
Police say the man took a moment and sat pondering his 'cunning plan' at the police station. After a talk, he seemed to lighten up, and he returned to work, though how the rest of his day went is not known. Police admit that this was the first time a man intentionally got drunk and came to the station asking to be jailed.
SOURCES: Thai Residents
Keep in contact with The Thaiger by following our
Facebook page
.
Curfew in place from today – the details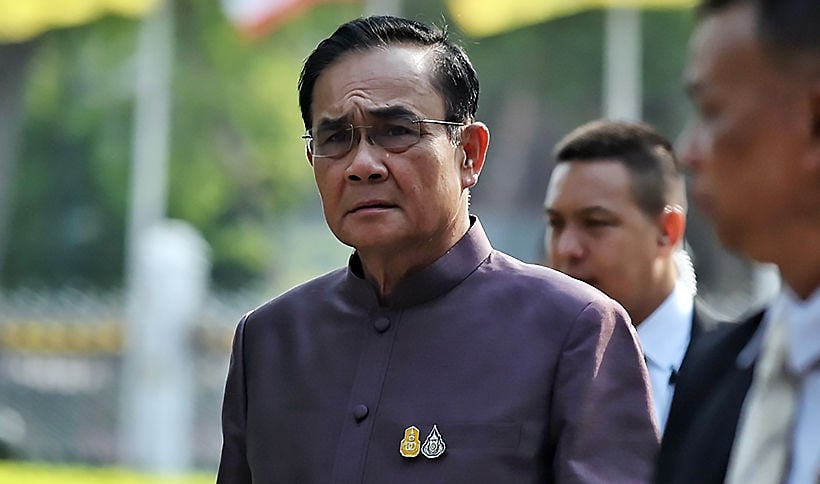 Under the state of emergency declared last week, the government of PM Prayut Chan-o-cha has imposed a nationwide curfew starting from today, banning all people from leaving their homes from 10pm to 4am, in its latest move to contain the spread of the Covid-19 coronavirus. Existing curfew orders in other provinces with stricter requirements will remain in effect.
In a televised speech last night the PM announced the curfew, "effective until further notice". He called for calm and asked the public not hoard food as they will still be allowed to go out during the day, though they will be required to observe social distancing (and wear a face mask at all times).
Exemptions from the curfew include medical and banking personnel as well as logistics workers handling consumer goods, agricultural produce, pharmaceutical products, medical supplies and equipment, newspapers, fuel, post, products bound for export and imported goods. The travel of people to quarantine venues is also allowed.
Exemptions also apply to employees working night shifts, individuals heading to or from airports with authorised documents stating their purpose, officials carrying out official duties and those who authorised to leave for emergencies.
Violators face a jail term of up to two years and/or a fine of up to 40,000 baht.
"I won't let anyone hoard the products and take advantage of people during this difficult time."
Prayut says more economic stimulus packages will be introduced, including financial aid, debt suspension and restructuring, and a liquidity boost. A centre will be set up to manage travel in and out of the kingdom with more strict screening, quarantine and monitoring measures. A press briefing will be held daily at the government's Covid-19 centre.
The PM says that unauthorised people will not be allowed to give interviews, and again warned of the consequences of spreading fake news or sharing information from unknown sources. He urges everyone to cooperate for the ultimate goal of "zero infections".
Earlier yesterday, Prayut announced that the government will block all entry to Thailand including by Thais, starting today until April 15, to prepare quarantine facilities after more local cases were linked to "imported" cases.
"In the meantime, agencies will prepare the venues and coordinate with Thai embassies to ensure all Thais returnees will be quarantined and get proper medical checks."
Taweesin Visanuyothin, spokesman of the government's newly formed Centre for Covid-19 Situation Administration, says Prayut told the officials at the centre that arrivals of both foreigners and Thais from abroad will have to be "slowed down to stop the disease." He says arrivals from abroad have proved to be a major source of infections.
The new ban does not apply to people who already have permission to travel to Thailand, but Taveesin urges affected travellers to contact Thai embassies and follow their instructions.
Thailand yesterday reported 104 new infections, bringing the total number of confirmed cases to 1,875. 3 more deaths were also reported, raising the death toll from the novel coronavirus disease in Thailand to 15.
SOURCE: Bangkok Post
Keep in contact with The Thaiger by following our
Facebook page
.