Monkeys released at Koh Payu – video and photos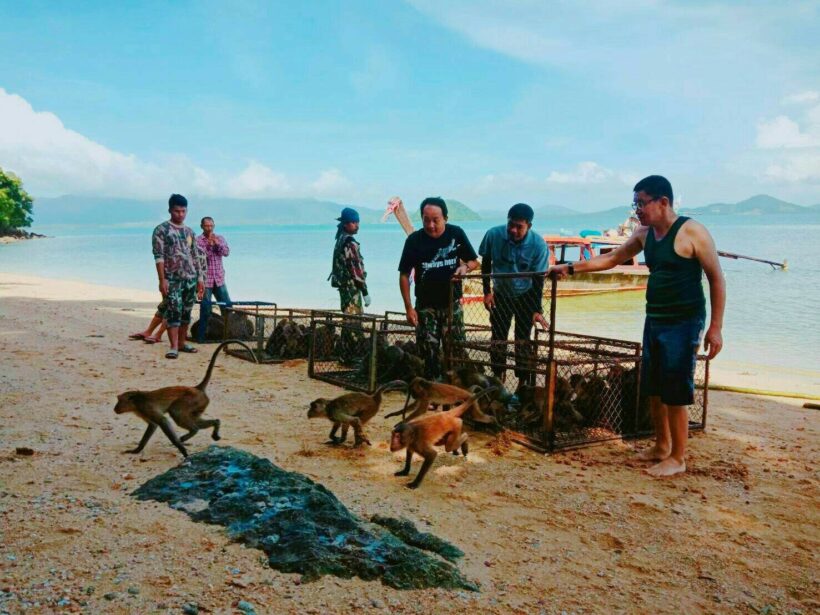 Yesterday morning (June 21) 80 monkeys were released at Koh Payu, off the coast of Phuket. This island covers 26 rais plot of land. Water tanks were also installed on Koh Payu last week.
Read more HERE.
Pongchart Chouehorm, the Director of the Natural and Wildlife Education Centre and his team released 80 monkeys on their new home on Koh Payu.
The monkeys were kept inside big cages for their transport from Phuket to the monkey's new home on a local fishing boat. The boat departed from Ao Po Pier in Paklok. It took 30 minutes for the journey to Koh Payu. The monkey release was a happy occasion for the monkeys and took about 20 minutes. The monkeys ran into the forest and started to investigate their new home.
There are now 169 monkeys that have been sterilised (122 male and 47 female). Those monkeys have also been returned to Koh Sirey and Soi King Kaew where they have lived for many years and become a mini tourist attraction. Locals have been asked not to feed the monkeys now they're returned to their old stamping grounds.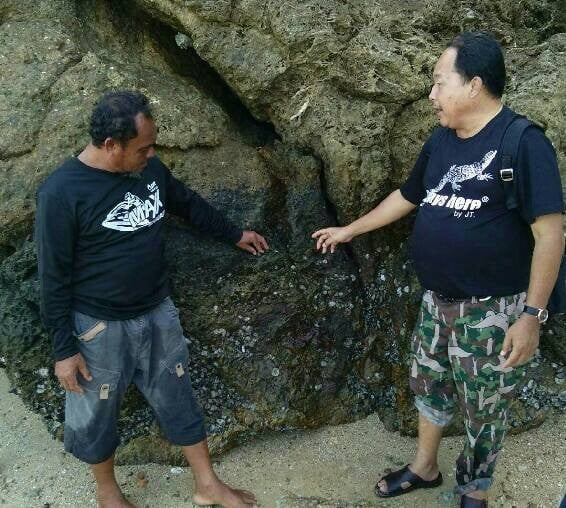 PHOTOS AND VIDEOS: The Phuket PR Office
Keep in contact with The Thaiger by following our
Facebook page
.
Thai DJ arrested for murder of mistress – "gun went off accidentally"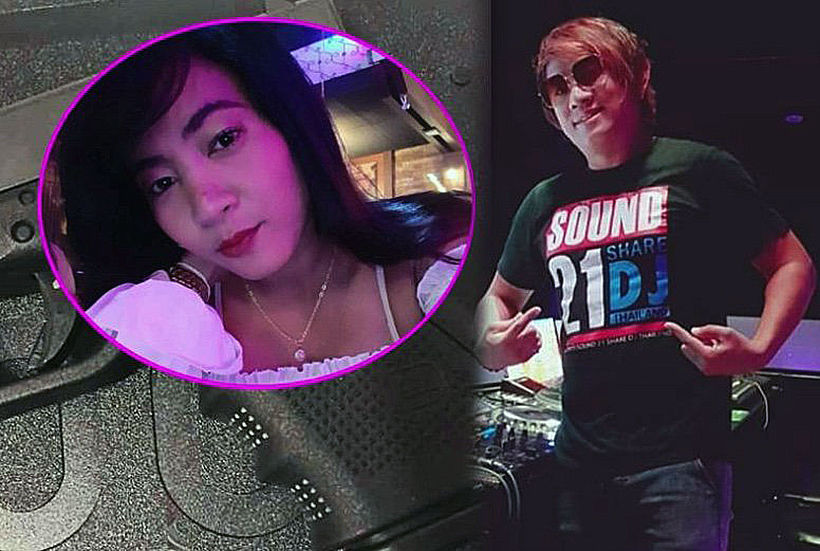 MONTAGE: Daily News
A 29 year old karaoke worker, Suree Huangsila, was shot deat on Saturday night in Sattahip, south of Pattaya. She was found shot in the mouth by a 9mm gun. A well-known DJ at a nightclub in Sattahip is now in custody over the shooting of his alleged mistress.
Suree was found naked and dead in a rented room in the Sattahip sub-district. Police say her face was covered with a pillow when she was shot. She had worked at a karaoke lounge at the Thong Thip market.
Her boyfriend Dusit Phiakhammeuang, a DJ at a club in the town who lived 100 metres away from the victim, grabbed his possessions and fled after the shooting. But he surrendered on Sunday after driving to a hotel in Nakhon Ratchasima and was taken back to Sattahip to assist in the inquiry.
Police say they have witnesses who heard an argument between the couple about the woman seeing other men. 39 year old Dusit has a wife and child, or children.
Dust has reportedly told police that he only threatened his mistress after being told that she was leaving him because he already had a family. He claims he pointed the gun at her and it fired accidentally.
Police say they intend to charge him with murder.
SOURCE: Daily News | ThaiVisa
Keep in contact with The Thaiger by following our
Facebook page
.
Festival of lights will decorate 13 Bangkok bridges until October 25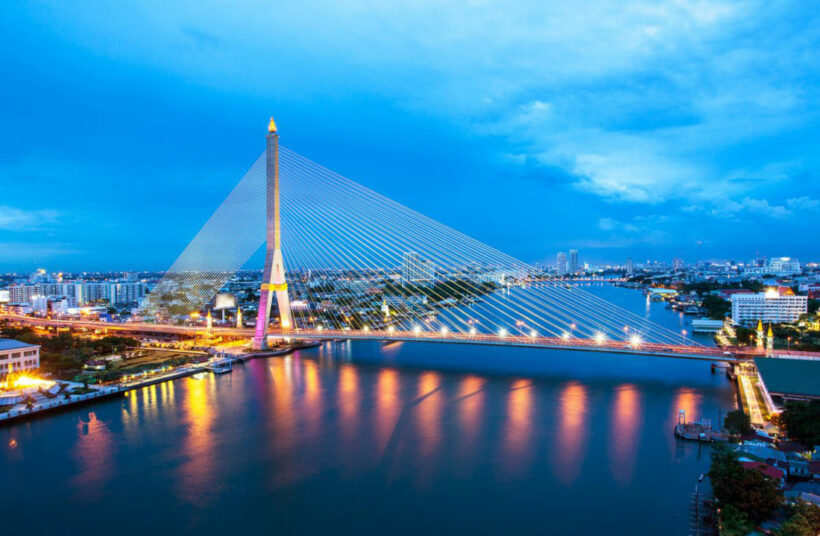 PHOTO: TakeMeTour
Thirteen bridges over Bangkok's Chao Phraya River, as it snakes its way through the metropolitan areas, will be lit up in a festival that runs through to October 25.
The Department of Rural Roads is decorating Rama III, Rama IV, Rama V, Rama VII, Maha Jesadabordinthanuson, Somdet Phra Pinklao, Phra Phuttha Yodfa, Phra Pok Klao, The King Taksin , Krung Thon Buri, Bangkok, Bhumibol 1 and Bhumibol 2 bridges.
The special decorations are a part of the final part of the May coronation ceremony and will feature barge processions along the Chao Phraya.c The bridges will be lit up from 7pm to 10pm each night, and 6pm to midnight on October 24.
The move is meant to show the unity of Thai people and project the beauty of the Chao Phraya River to promote tourism.
The Government and TAT have outlined a range of other projects to Cabinet, including concerts, festivals, expos, tourism discount promotions and even a 'Ganja World Festival' in Buriram, in efforts to push the international tourist numbers past 40 million.
In a challenging year, the tourism numbers started well with forecasts of over 40 million for 2019. But March, April and May saw some changes to the demographics and some of the traditional favourite locations noted big drops in numbers. But the numbers appear to have stabilised since and a drop in overall Chinese tourism has been matched with surges is some other markets.
SOURCE: The Nation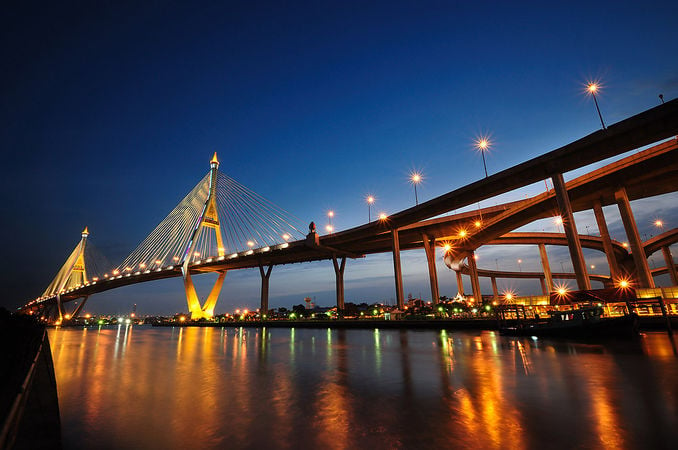 Keep in contact with The Thaiger by following our
Facebook page
.
Policeman falls asleep behind the wheel and crashes into roadside pole in Phang Nga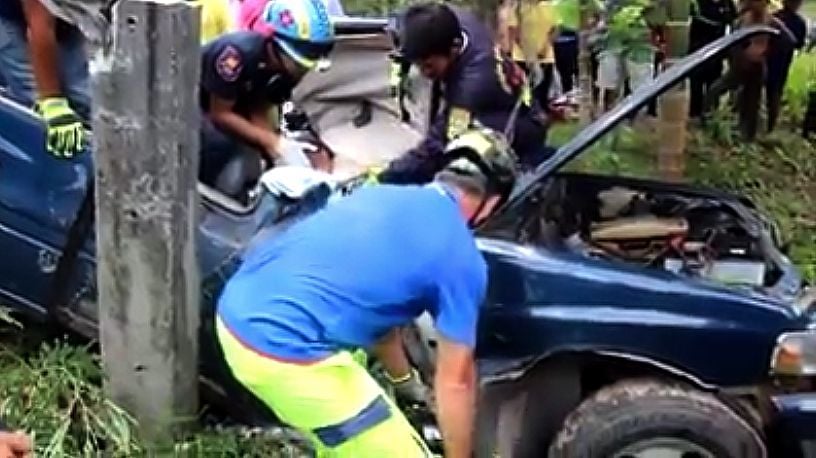 SCREENSHOT: Newshawk Phuket
On October 12, a pick-up truck was involved in a horrific road incident on Ban Dok Daeng – Ban Bangsai, Takuapa, in Phang Nga. Luckily the driver, a local policeman, survived but was trapped inside the vehicle while emergency responders figured out how to get him out.
The vehicles was in such bad shape that the rescue team had to use the hydraulic jaws to pry open the car and rescue the trapped driver, Pol. Snr. Sgt. Chainarong Waratikul, from Talad Yai Police Station, in Takuapa.
The blue Isuzu pick-up truck, with Phang Nga plates, crashed into a high-voltage electric pole and almost completely destroyed the front and side of the car, especially on the driver's side where the roof collapsed.
The rescue was difficult as the crushed roof was pressing the driver into the seat and the team had to use a machine to cut open the roof into pieces, which took about half an hour, before they managed to get him out and then rushed him to the Bangsai Hospital.
He told the team that he was driving alone from the police station and when he arrived at the scene of the crash, a sharp curve, he was feeling exhausted and probably fell asleep, losing control of the car resulting in the accident.
STORY: Newshawk Phuket
🔴 พังงา-นาทีชีวิต กู้ภัยใช้เครื่องตัดถ่างงัดร่าง ดาบตำรวจขับกระบะชนเสาไฟฟ้าหวิดดับ วันที่ 12 ตุลาคม 2562 ที่ถนนสายบ้านดอกแดง-บ้านบางไทร บริเวณบ้านดอกแดง ม.5 ต.บางไทร อ.ตะกั่วป่า จ.พังงา เจ้าหน้าที่กู้ภัยสว่างเมฆาตะกั่วป่า พร้อมเจ้าหน้าที่กู้ภัยเขาหลัก และหน่วยกู้ชีพโรงพยาบาลบางไทร เร่งให้ช่วยเหลือผู้ชายคนหนึ่งออกจากรถกระบะตอนครึ่ง ยี่ห้ออีซูซุ สีน้ำเงิน หมายเลขทะเบียน บง 1924 พังงา ซึ่งเกิดอุบัติเหตุ มีสภาพพังยับเยินทั้งคัน โดยเฉพาะฝั่งคนขับที่ชนฟาดกับเสาไฟฟ้าแรงสูงจนหลังคายุบ ทำให้การช่วยเหลือเป็นไปด้วยความยากลำบาก เนื่องจากหลังคารถได้ยุบมากดทับที่คนขับทำให้ต้องใช้เครื่องตัดถ่าง ตัดหลังคารถเป็นชิ้น เพื่อที่จะนำร่างผู้บาดเจ็บออกมา ซึ่งใช้เวลาประมาณครึ่งชั่วโมง จึงสามารถนำตัวออกมาได้พร้อมนำส่งโรงพยาบาลบางไทร จากการสอบถามเบื้องต้นทราบว่าชายดังกล่าวคือ ด.ต.ชัยณรงค์ วราธิกุล พนักงานวิทยุ สภ.ตลาดใหญ่ อ.ตะกั่วป่า ซึ่งได้ ขับรถมาคนเดียวจาก สภ.ตลาดใหญ่ อ.ตะกั่วป่า พอมาถึงที่เกิดเหตุเป็นทางโค้ง คาดว่าน่าจะหลับใน ทำให้รถเสียหลักหมุนไปฝาดกับเสาไฟฟ้าแรงสูงจนเสาไฟหักCr. andaman focus อันดามัน โฟกัส

Posted by เหยี่ยวข่าว ภูเก็ต Newshawk Phuket on Sunday, October 13, 2019
Keep in contact with The Thaiger by following our
Facebook page
.