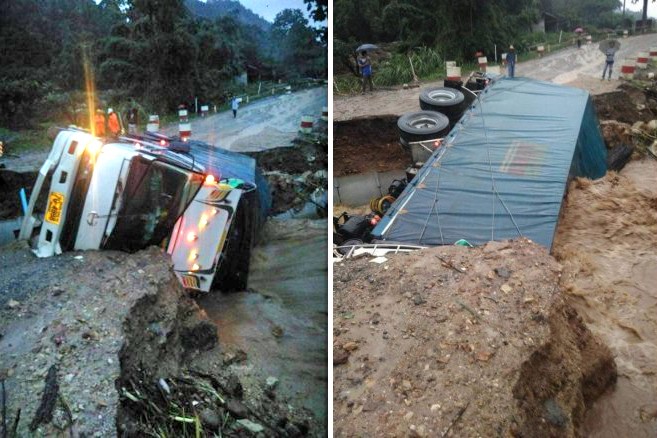 Weather warnings remain current for 38 Thai provinces affected by tropical storm Bebinka which is currently hovering over northern Vietnam, moving west. Meanwhile its affects are already being felt in the north.
Moutain run-off has hit and washed away three sections of the main Chiang Rai-Chiang Mai road early today. The Doi Saket police station in Chiang Rai was alerted at 3am that the run-off had taken out sections of the highway No 118 making the road impassable. The police station issued an urgent warning for motorists to instead use the Chiang Rai-Prao-Chiang Mai route.
The Highway Department is currently trying to provide urgent temporary repairs to the highway.
Meanwhile, a community on the Nan River bank in the downtown of the northern province has been inundated after the river burst a flood levee.
Nan Governor Phaisarn Wimolrat and Muang Nan Municipality Mayor Surapol Thiansutr visited the Ban Suan Tan community shortly after the river burst its flood levee at 6.40am this morning and the water from the bloated river gushed into the community, flooding it. The community was quickly under 30 centimetre-high water, causing problems for small vehicles.
Officials have since said that water has started seeping into other communities along the river.
Surapol said the water level in the river has surpassed the crisis level to now reach 8.4 metres – the same level as during the 2006 "great flood".
But Surapol said the damage this year could be less than in 2006, because flood levees have subsequently been built along the river banks and local residents have been warned in advance of possible flooding.
At 7.10am workers were using sandbags to build flood levees around the Nan Provincial Hospital. At 7.50am, hospital officials closed the bridge near the hospital.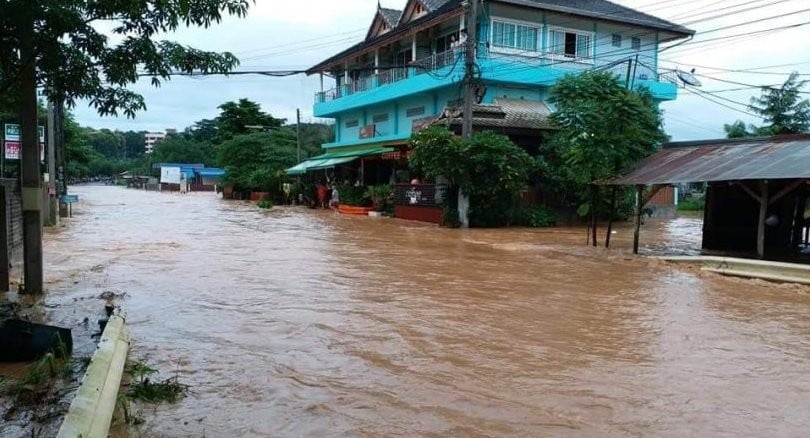 PHOTO: Nan provincial administration's PR office
SOURCE: The Nation