Tourist numbers tumble as Chinese media expose entrenched safety problems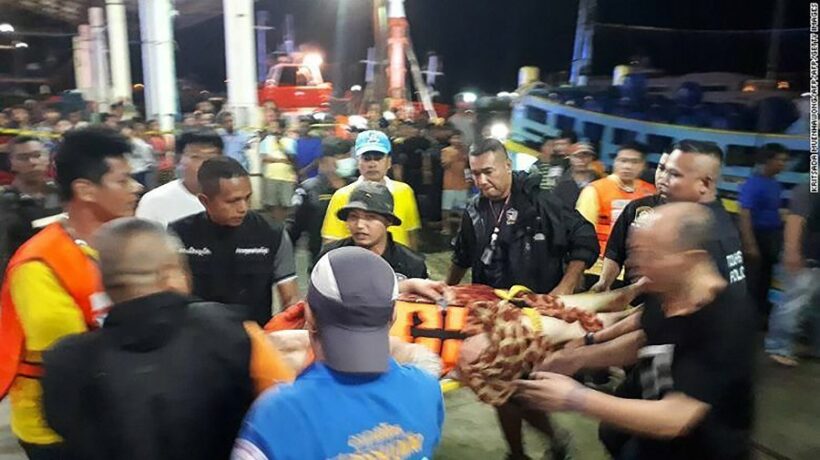 The fallout from July's tragic boat accident are just now starting to bite as tourists, who would have been about to make a booking around the time the accident happened, decided to book an alternate holiday destination instead. Despite the bravado and PR exercises, many Thai business people are secretly worried about the big drop-off in numbers. The drop in Chinese tourist numbers is the first real dent in what's otherwise been a rise and rise in number over the past five years.
Tom Tuoy from the South China Morning Post has written an article which delves into the current Chinese mind-set and the things that are concerning them about travel in Thailand – a long time favourite for the growing outward-bound Chinese tourist market.
Chinese tourists make up a quarter of Thailand's visitors, but after the handling of the recent boat accident in which 47 Chinese tourists died, and with the kingdom's lax attitude to safety, authorities need to act quickly and decisively to retain Thailand's tourism revenue.
The high profile international rescue at Tham Luang took a lot of attention away from what would have otherwise been a massive international story. Many media commentators freely admit that Phuket dodged a news bullet when the reporting wasn't as intense as it would have been in such a disaster.
The SCMP article says that the boat accident that claimed the lives of 47 Chinese tourists last month is shining a stark spotlight on the Kingdom's poor safety record and spread unease among tourism authorities and the government.
Two weeks ago The Thaiger reported that the Thai Ministry of Tourism and Sports had revised down its forecast for the number of Chinese arrivals for the second half of 2018 by 670,000, to 5.1 million, but insisted that Thailand would still achieve its target of 11 million Chinese tourists in 2018.
Many commentators and local operators say, anecdotally, the effect is actually already far greater.
Chinese tourists account for around 25% of the country's 35 million tourist visitors (2017 statistics from the Tourism Authority of Thailand). That number was expected to swell to 40 million, a staggering 25% rise in just three years. 20 million tourists have already visited Thailand in the first six months of 2018.
But even eternally upbeat accommodation association leaders were forced into facing the harsh reality.
The SCMP article quotes Kongkiat Khuphongsakorn, president of the Thai Hotels Association Southern Chapter…
"The booking rate has fallen sharply by 80 per cent to 90 per cent at Patong beach, and by 50 per cent across the province [Phuket] after the boat disaster."
Phuket's weekly paper, The Phuket News, published a withering editorial "The Deadly Face of Shame" asking the question "Just how bad can Thailand handle a disaster situation?" The article tore shreds off incompetent emergency operations in the critical hours and days following the sinking of Phoenix. The article then notes the bad taste charm offensive that followed… "repeated explanations of how to claim your loved one's body" and the "despicable handing out of 'commiseration gift baskets' to those overwhelmed with grief at the hospitals".
The Thaiger wrote an opinion piece asking even more questions…
Who ticked off on the design of 'Phoenix' – that the boat would be suitable for carrying up to 100 passengers and crew, safely? Who checked the construction of the boat as it was being built, and then when it was completed and launched to ensure that all the requirements of the engine, construction, engineering, equipment and safety equipment were met? Who was responsible for the qualifications of the Captain and crew and their fitness to handle a vessel of this size with up to 100 passengers? What safety training did the crew receive to handle an emergency? And who ticked off on their certification of 'Phoenix' – the final paperwork allowing to operate at sea as a tour boat?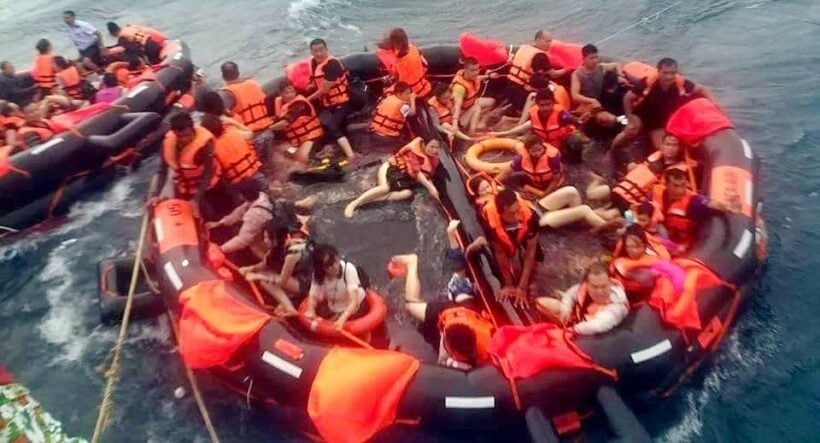 The Thai PM Prayuth Chan-o-cha, like a deer in the headlights, called for an "urgent safety review". The new Minister of Tourism and Sports Weerasak Kowsurat, followed on… "we must have safety and management procedures in place and leave no room for compromise. If we become known as a country that does not compromise on safety, it will become another plus point for us to be recognised for not being lax in our standards".
Clearly there's plenty of work to be done in changing that perception.
The SCMP article covers one of the most bizarre pieces of post-Phoenix PR…
More recently, it was announced that five airports across the country have opened special lanes with Mandarin-speaking immigration officials in an attempt to make the process more efficient – and presumably win back the hearts and minds of Chinese tourists.
The article also lists a litany of other reported incidents on Phuket in recent years…
Figures from the Ministry of Tourism and Sports show the number of foreign tourist related accidents in Thailand in 2017 increased by 25.12 per cent year on year, to 936, including 265 deaths. Without providing a specific number, the ministry said most of the deaths were Chinese nationals.
The Phoenix was carrying 105 people – mostly Chinese – when it faltered, capsized and sank in rough seas while returning from a snorkeling trip south-west of Phuket. It was among three vessels that headed out to sea that day in spite of a weather warnings.
SOURCE: South China Morning Post

Want more from the Thaiger family?
📱 Download our app on Android or iOS for instant updates on your mobile
📧 Subscribe to our daily email newsletter
👍 Like/Follow us on Facebook
🔔 Subscribe to or Join our YouTube channel for daily video updates
Covid-19 mask violators in Phuket forced to exercise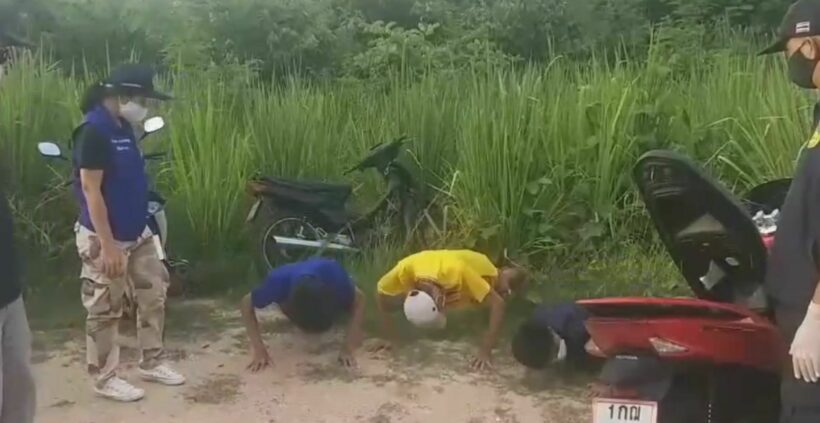 For those who have more pounds on their body than pounds in their pocket, exercise punishment seen in Phuket yesterday for mask violators may or may not be welcome. Officials have walked back the strict 6,000 baht punishment for the first warning against someone not wearing a mask and were spotted forcing those who have gone out without a mask to do exercise on the street.
The people forced to exercise were at a Covid-19 checkpoint in the Rawai subdistrict, where the Chalong Police along with local medical workers were checking people yesterday. The checkpoint was set up in an effort to push one hundred per cent mask compliance to stop the spread of Covid-19 on Phuket.
Not only were they checking everyone who passed by to make sure they had their masks, but also to correct those who were wearing their masks improperly. We've all seen the people who seem to think that a mask on their chin or underneath their nose is somehow just as effective as a properly worn mask, or at least that they can get away with "wearing a mask" while limiting their personal inconvenience.
Officials were quick to point out that the overwhelming majority of people passing through the checkpoint, both foreigners and Thai, did have their masks with them and were wearing them properly. But they did catch more than 10 people not wearing their face mask or not using them correctly.
Authorities decided to let them off with a first soft warning by moving bodies instead of moving baht. Police made violators do exercise right there on the street in hopes of shaming them into making better decisions next time. All violators did have their names and details taken down with a promise that if they were caught again proper traditional fines would be handed down.
No word yet on any plans to make this punishment into a Tik-Tok Channel.
SOURCE: The Pattaya News
Want more from the Thaiger family?
📱 Download our app on Android or iOS for instant updates on your mobile
📧 Subscribe to our daily email newsletter
👍 Like/Follow us on Facebook
🔔 Subscribe to or Join our YouTube channel for daily video updates
Thai public health and tourism ministers on Phuket to push the July 1 Sandbox reopening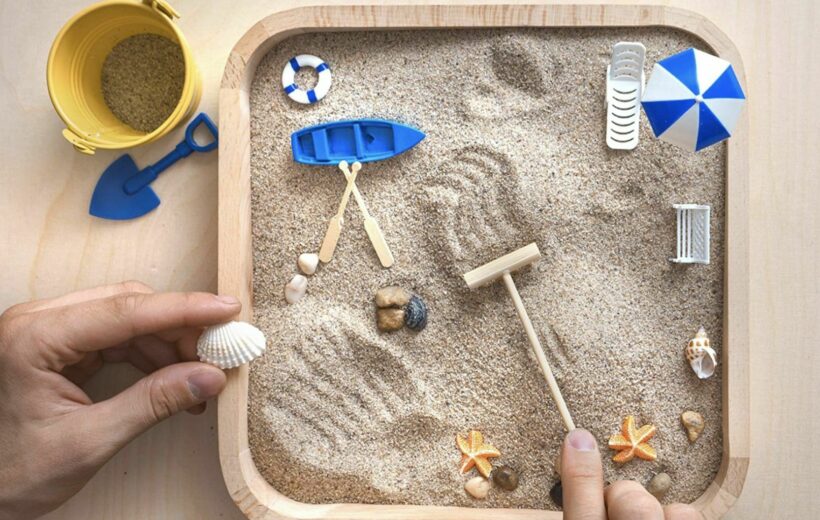 Bangkok has sent a couple of ministerial heavyweights to Phuket today to keep pushing the July 1 'Sandbox' bandwagon, insisting that Phuket will open to fully vaccinated tourists from July 1.
The Deputy PM and Public Health Minister Anutin Charnvirakul ,along with the Sports and Tourism Minister Phiphat Ratchakitprakarn, are doing the island PR tour today delivering a message from the PM Prayut Chan-o-cha who is confirming that Phuket will open to fully vaccinated international tourists from the start of July.
Phuket has continued to rack up between 10-20 new Covid infections each day over the past week and still has hundreds of people listed as 'active cases'. As of today 22% of the island has been vaccinated.
The original Phuket Sandbox model was intended to be quarantine-free. That issue was not made clear during today's PR trip from the 2 ministers. The full details of how Phuket will open to international tourists, how those tourists might get to Phuket, or where they will visit on an island with its tourist infrastructure shutdown, have not been provided at this stage. It has also not been discussed how long the international tourists will have to remain on Phuket before travelling to other parts of the country.
The Phuket Governor welcomed the prime ministerial delegation to Provincial Hall at lunchtime saying that Phuket would progress with its plans to launch the Phuket Sandbox from July 1.
"All stakeholders who are frontline warriors working to solve the problem of the Covid epidemic situation have earned the goodwill and concern from Prayut Chan-o-cha, who also believes that Phuket is ready to prepare for the opening of the Phuket Tourism Sandbox on July 1 for sure."
Phuket Province generated several hundreds of billions of baht of income for the country per year and Thailand relies heavily on tourism income. Indeed, second to Bangkok, Phuket was the government's golden goose delivering decades of high tourism receipt returns.
Speaking to The Phuket News, Anutin said…
"The government is ready to act as soon as possible. This has been clearly proved, such as by the large number of vaccine doses that Phuket has been allocated to vaccinate the people in the area to cover all groups and be as safe as possible as the 'Phuket Model'.
"When the economy is good, everyone gets better, so use patience to believe that good things will follow".
Another 100,000 Sinovac vaccines arrived on the island to be formerly handed over today by Minister Anutin. An additional 100,000 doses will arrive on Tuesday.
AstraZeneca vaccines are also due to arrive from June, daily reserved for people over 60 years old or people who have other health conditions which require the AZ vaccine instead of the Chinese manufactured Sinovac.
SOURCE: The Phuket News
Want more from the Thaiger family?
📱 Download our app on Android or iOS for instant updates on your mobile
📧 Subscribe to our daily email newsletter
👍 Like/Follow us on Facebook
🔔 Subscribe to or Join our YouTube channel for daily video updates
Phuket may ditch light rail and build smart bus system instead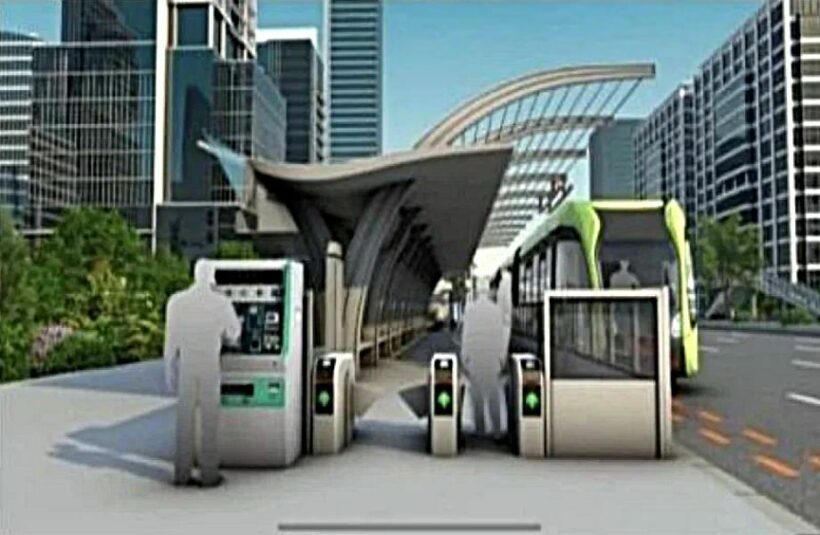 A proposal to drop the light rail planned for Phuket and replace it with a smart bus system is under an in-depth review as ordered by Phuket Transport Minister. Advocates for the smart bus – automated driverless buses on city streets – say that the project would bring mass transportation to Phuket Island for 15.2 billion baht cheaper than a light rail would.
The analysis was ordered Thursday in a phone meeting to check progress on regional transport projects. The Mass Rapid Transit Authority of Thailand has suggested changing the plan in Phuket from light rail to a smart bus system. The MRTA had been dead set on the light rail system but have now launched preliminary research on a driverless bus system.
HERE'S a previous story with more details about how the bus system would work, instead of a light rail.
But critics say the planned light rail system was almost unworkable with its routing not going through the main population centres and its complete avoidance of the tourist areas, was doomed from the start. The 5 years it was expected for construction would have caused major traffic snarls on the main island arteries and then reduced traffic flow on those arteries for the life of the light rail project.
Initial investigations show that an automated rapid transit bus system would shave about 9 months off the construction time and 15.289 billion baht from the budget. Cost-saving measures like precast concrete and launching gantries will further reduce construction expenses.
As a result, the bus system could be run with lower passenger fares than a light rail train would. The project was considering 3 bus fares… local in Phuket Town, local outside of Phuket Town, and transport between towns around the island.
The MRTA and the Office of Transport and Traffic Policy and Planning have coordinated with the Expressway Authority in Thailand to consider the smart bus plan and its effect on traffic. Unfortunately, the group is worried that building the smart bus system plan to be ready by 2026 while working on the Patong tunnel project scheduled to open in 2028 would create long-term detrimental traffic jams. They're considering a postponement to a 2030 launch (the Patong tunnel project has been in 'planning' mode for 20 years and will never happen).
The Transportation Minister has requested proposals for 2 different timelines to be delivered within the next 2 weeks, and plans to have the MRTA and EXAT come to Phuket for public hearings after Covid-19.
SOURCE: The Phuket News
Want more from the Thaiger family?
📱 Download our app on Android or iOS for instant updates on your mobile
📧 Subscribe to our daily email newsletter
👍 Like/Follow us on Facebook
🔔 Subscribe to or Join our YouTube channel for daily video updates