The new, non-flammable, Samsung Galaxy Note 8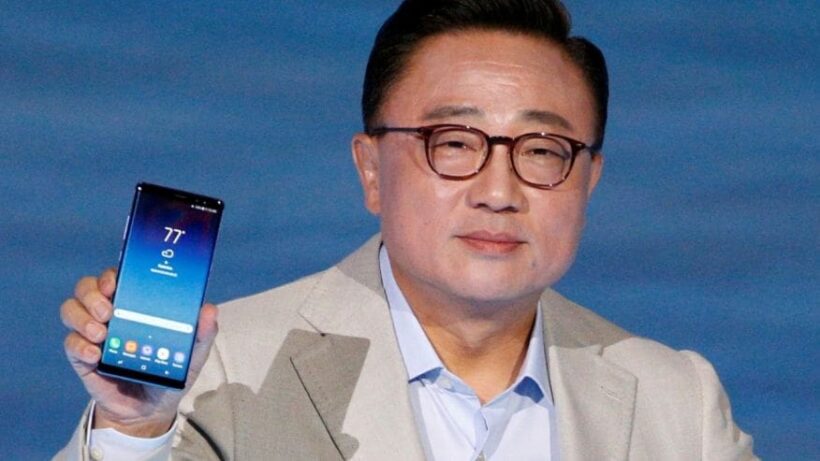 It's impossible to appraise the sleek new Samsung Galaxy Note 8 without recalling it's fiery predecessor, the Note 7. It got somewhat of a reputation for with catching fire or even exploding, being banned on aeroplanes and eventually just about everywhere else. It was a costly and embarrassing gaff for the South Korean electronics giant.
The Galaxy Note 8 phablet was going to have to be good, particularly with the new iPhone 10th anniversary launch coming up next month.
It's not cheap at US$930 – will surely be over 305,000 Bt by the time it comes to Thailand – but the Note 8 kicks off a list of upcoming premium-priced handsets just five months after the release of the Galaxy S8 smartphone.
Last October's recall of the Note 7 cost Samsung billions of dollars along with their reputation as a steady, conservative and reliable designer and builder of premium phones.
The reputation has been partially salvaged with its market share remaining up around 22 percent for the second quarter of 2017, higher than its main competitors, Apple and China's Huawei.
With the US$900+ price-tag, the US$1,000 high-bar looks out to be breached by the new-gen of smartphones coming onto the market. The new Note 8 still has the stylus; the screen size is only fractionally larger than an up-sized Galaxy S8. The screen is part of a new design reality where screens cover a large proportion of real estate on the phone's front face, in this case 16cm, corner to corner.
The new phone also has dual rear cameras for the first time, which will provide improved photographic options, control and picture quality. Other features include facial recognition as well as fingerprint and iris scanning. And here comes 'Bixby', Samsung's voice-command assistant, the Samsung AI-equivalent of Siri and Alexa. Yes, it does have a headphone jack, probably more of a cheap jab at rival Apple who dispensed with the old mini-jack in its last phone.
The phone comes with 64GB of internal storage, though you will be able to upgrade to more storage in the future. There's also a MicroSD card slot, so you can add your own external storage as well. The Note 8 has lots of built-in sensors as well, including the standard accelerometer, barometer, gyro and fingerprint sensor. There's also a heart rate sensor. The new model is water-resistant, not quite water-proof, so it'll survive up to 30 minutes at a depth of up to 1.5 metres.
Then there's the S Pen, a feature of the entire Note series. As usual, it's stored on the bottom of the phone and does all the fancy S Pen tricks as on the ill-fated Note 7. You can make notes, edit and add more notes, and even post them to the display so you don't forget about them. It's more refined and intuitive than the S Pens of the past but you really need to watch a few of the YouTube tutorials about how to use the S Pen feature to get the best out of this signature feature.
Keep in contact with The Thaiger by following our
Facebook page
.
Never miss out on future posts by
following The Thaiger
.
Chinese travellers CAN depart China and travel to Thailand on the STV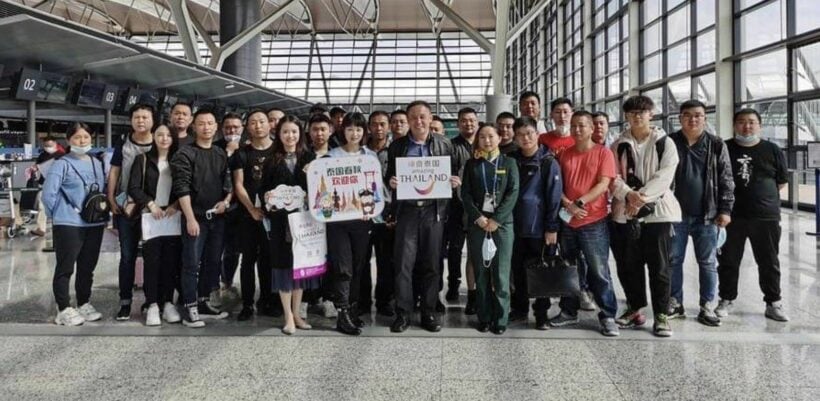 Another day and another day of confusing news and discussion about the Special Tourist Visa and, specifically, the Chinese arrivals. BKK Post posted this yesterday, without clarification.

The headline said…
"China says will maintain ban on outbound tours due to virus risk"
The story, whilst not incorrect, confused a lot of readers who thought that meant ALL Chinese travellers and then deduced that the stories about Chinese arrivals on the STV in Bangkok this week must have been 'bogus'.
The report that outbound Chinese group tours will remain banned by the Chinese Ministry of Culture, due to "concerns around the Covid-19 Coronavirus worldwide", is true.
But the Chinese have NOT been given special concessions. They are NOT the only people allowed to apply for Thailand's STV. They are NOT all businessmen coming up to "google up" bargain businesses in Thailand. The arrival of the first Chinese travellers had NOTHING to do with the lifting of the State of Emergency in Bangkok (there was any array of other comments and conspiracy theories offered following the BKK Post article).
To clarify, only Chinese operated and owned tour companies remain banned from organising tour group travel. Individual travellers, tourists or privately organised "groups" by citizens or companies and organisations from other countries are allowed to depart China under the current arrangements.
There is no blanket ban on departure for Chinese citizens, although there are restrictions. During 2019, most Chinese arrivals were FIT (free and independent travellers), not on tour groups. 27% of all international arrivals in 2019 were from China.
Thai officials maintain that the Chinese travellers and tourists are being tested, quarantined and tracked (via and app) whilst they are in Thailand and that they are being given no special dispensations. Most have organised their own bookings, including ASQ (quarantine) and then around the country. Some have booked onward travel to Phuket and Chiang Mai following their 14 day quarantine in Bangkok.
The first 39 travellers arrived this week from Shanghai, mostly Chinese nationals and some returning Thais. They are the first 'tourists' to arrive in Thailand since the borders were closed in March.
SOURCE: Bangkok Post
Keep in contact with The Thaiger by following our
Facebook page
.
Never miss out on future posts by
following The Thaiger
.
Thailand News Today | State of Emergency lifted, Quarantine latest, Phuket Light Rail | October 22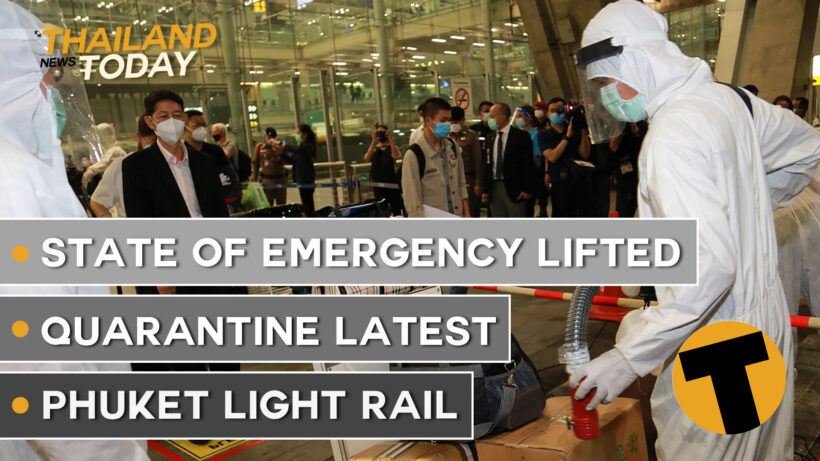 Today's latest news and information about Thailand. Like and subscribe to our YouTube channel too. Go on, right now 🙂 You can also LIKE our Facebook page https://facebook.com/thethaigernews to get even more information about Thailand.
Government lifts Bangkok's State of Emergency
Bangkok's State of Emergency has been lifted, according to a statement published in the Royal Gazette, making it official.
The order, that banned public gatherings over 5 people, and censoring critical media commentary, was imposed last Thursday morning by PM Prayut Chan-o-cha, leading to the breaking up a protest and the arrests of a number of activists.
Despite the State of Emergency, protesters ignored the orders and rallies only grew over the past week.
The emergency order also banned content on websites and social media considered to be a "threat to national security." Some Thai media outlets covering the protests were under fire, and authorities tried to suspend them under the emergency order. The court dismissed the requests to block those media companies, saying the Thai Constitution does not give the court power to shut down media platforms.
Large protest group amassed at Government House
The lifting of the State Emergency follows two key events last night.
A large, prepared protest group that marched on Government House demanding the resignation of the Thai PM – they even prepared a letter for him all ready to sign. Police had 2 buses, barbed wire and water cannon trucks, along with riot police, awaiting them. Both sides seemed poised for a confrontation but protests leaders peacefully dispersed the crowd at 9.35pm. The other was an address on national TV by Prayut Chan-o-cha, asking protesters to stand down and participate in dialogue with the government.
Negative Covid-19 results for first group on the Special Tourist Visa
Surely, the most anticipated and followed tourists ever to grace Thailand's shores. All 39 visitors who flew in from China this week on the new Special Tourist Visa have tested negative for Covid-19. While it's a small group, they're the first foreign tourists to arrive since travel restrictions were imposed in late-March.
More international tourists are expected to arrive next week under the auspices of the new Special Tourist Visa. If there are no positive Covid-19 cases in the first groups, the government says they could start to lift restrictions, like cutting down the mandatory quarantine period, or allowing more applicants under the STV.
Groups from China and Scandanavian countries are the next arrivals under the STV in the next few weeks.
Health Minister says quarantine could be reduced to 10 days, maybe eventually zero
Health officials have confirmed that they are ready to reduce the mandatory quarantine period for foreign tourists, provided other relevant bodies agree.
The current quarantine period is set at 14 days, but the Public Health Minister says this could be reduced to 10. He adds that if the reduction is successful, quarantine could be further reduced, eventually reaching a point where quarantine is no longer a requirement.
"The truth is, the Public Health Ministry is ready for the change, but other relevant agencies still have requested time to adjust. So, we have to wait and work together."
4.4 million methamphetamine pills seized near Laos border
Police seized 4.4 million methamphetamine pills worth more than 400 million baht after a police chase in the northeast near the Thai-Laos border.
Thai media reports that the alleged drug traffickers threw black bags full of the drugs out onto the road during the police chase and drove off into a rubber farm in the Bung Kla district.
Police had received a tip about drugs allegedly being trafficked across the Mekong River and were tracking a truck driving fast by the river.
Police searched the bags which contained over 4 million methamphetamine pills. Police also found 2,970 ecstasy pills.
Since October 1, the Royal Thai Navy has been involved in 18 drug trafficking busts, seizing methamphetamine, ecstasy, heroin and marijuana, totalling around 2.7 billion baht.
Phuket light rail study goes to Cabinet for approval
The Mass Rapid Transit Authority of Thailand has approved the findings of a study on Phase 1 development of a light rail system in Phuket.
The first phase, budgeted at 35 billion baht, will run 42 kilometres from Phuket Airport to Chalong intersection.
The findings of the study will be tabled in the Cabinet in 12 months time. If approved, bidding for joint investment will begin in early 2022, with trams expected to start running in 2026.
The service will have 21 stations, of which 19 will be at ground level, one at elevated level and one underground.
Critics say the route won't do much to benefit local communities and that the main Thepkasattri Road artery will be severely disrupted during the years of construction.
Keep in contact with The Thaiger by following our
Facebook page
.
Never miss out on future posts by
following The Thaiger
.
Expat in Koh Samui Prison on drug charges, nearly $3,000 raised to get her out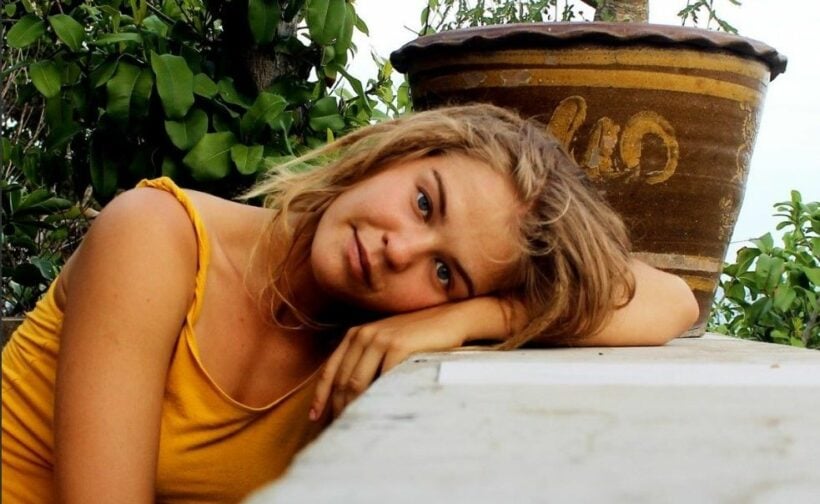 A 21 year old South African woman is locked in Thai prison after she allegedly signed for a package containing 250 grams of MDMA, an ingredient in ecstasy, according to a GoFundMe account. People say she's innocent and have raised $2,966 USD to get her out. She's apparently facing drug charges that carry life imprisonment.
Ashley Oosthuizen has been living in Thailand for more than 2 years. She worked as a teacher at an international school in Koh Samui, according to her Facebook page. The GoFundMe page says Ashley started Hot in the Biscuit, a breakfast and brunch restaurant on the island.
"She is well known in the community and liked by all who meet her. She is truly a wonderful human being with a heart of gold."
While Ashley was at work, a package was delivered and addressed to her former boss. She signed for the package, but didn't open it and set it aside. Later, the police raided the shop and searched the package, finding 250 grams of MDMA, according to the GoFundMe page.
Apparently, Ashley was arrested and charged with importation with intent to distribute a Category 1 narcotic. Importing a Category 1 substances carries a penalty of up to life imprisonment and a fine of 1 million to 5 million baht under Thailand's Narcotics Act.
"The case against her is absolutely horrible – there is no evidence excepting the unopened package addressed to her former friend but because the package contained 250 grams of drug they are holding her as the one responsible."
The GoFundMe page says Ashley was drug tested and came out negative. Her friends say they expect the case to be dismissed, but say Thai courts move "painfully slow" and they don't want Ashley spending time behind bars waiting for a court date.
"Thai prisons are not like Western prisons. She cannot stay there so long. She is only 21 years old. She is an innocent victim."
To donate to the GoFundMe account, or to read about Ashley's story, click HERE.
Keep in contact with The Thaiger by following our
Facebook page
.
Never miss out on future posts by
following The Thaiger
.