Weird World News: The Superhero of Seattle, Moss Man and Superman fan in high jinks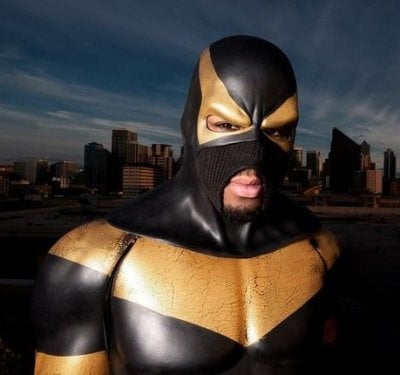 PHUKET: Superheroes and villains made headlines around the world this week in bizarre, botched and bone-headed acts of super silly proportions.
Masked 'superhero of Seattle' arrested for assault
IN SEATTLE, Washington, they really do have a superhero watching over the city at night. But there's just one problem: He was arrested this week for assault.
The "superhero of Seattle", also known as the masked man Phoenix Jones and Guardian of Seattle, was arrested for pepper-spraying partygoers as they left a nightclub.
Jones, who broke his nose protecting his city earlier this year, approached a group from behind as they left the nightclub heading for their car.
Police said the group were dancing and having a good time when they were attacked by Jones.
However, a video report appears to show two men fighting under a bridge as Jones runs into the scene.
After Jones pepper-sprayed the group, two men chased him. Jones was arrested shortly after the incident and charged with four counts of assault.
Police confiscated Jones's black and gold custom-made body armor and bullet-proof vest, tights, mask and his pepper spray.
On his Facebook page, he posted the following: "I would never hurt or harm another person if they were not causing harm to another human being."
Seattle police have warned Jones repeatedly not to take the law into his own hands with his vigilante justice and urged him to hang up his tights for good, but to no avail.
Jones is the leader of the Rain City Superhero Movement, which currently has 10 members. Other members are: Buster Doe, Red Dragon, Green Reaper, Thorn, Gemini, Catastrophe, Thunder, Penelope and No Name.
'Moss Man' goes underground
A SUSPECTED burglar, arrested while dressed head-to-toe in a camouflage moss suit, has gone into hiding after failing to show up for trial this week.
Police in Oregon, United States, have issued a warrant for "Moss Man" Gregory Liascos who was rumbled last October as he was attempting to break into Rice Northwest Museum of Rocks and Minerals while dressed as a mound of moss, AFP reported.
When police responded to a suspected burglary at the museum, at first they found nothing, apart from a bike and bag abandoned in the grounds of the building.
But when the police dog began biting at a huge patch of moss – there was a cry of pain.
Liascos, who was wearing a full-body "Ghillie" suit (the same kind snipers wear to blend in with vegetation), was promptly arrested and carted off to jail.
But after being released on bail he failed to show for his trial this week.
A warrant has been issued for his arrest.
Superman fan's obsessive surgery
A SUPERMAN fan who has undergone a decade of surgeries to look like his idol told his story to Reuters this week.
Filipino Herbert Chavez has had surgery on his nose, lips, chin, cheeks and thighs, as well as a series of injections to whiten his skin, in his quest to look like Superman.
"Superman is my idol. I want to look like him," the 35-year-old said.
Chavez works as a dress designer and often wears thick-rimmed glasses at work to emulate Superman's alter ego Clark Kent.
But Chavez also keeps his Superman T-shirt on just in case it's needed.
He said his "super power" is teaching good values to people instead of using his superhuman skills, which he has yet to acquire.
Chavez has been a fan of Superman his whole life and has amassed a huge collection of memorabilia over the years. He even designs his own Superman apparel.
Super Chavez plans to have metal inserted into his legs to make him taller and have abdomen sculpting work done in the near future.
Remember to check back next week for more of the Phuket Gazette's new Weird World News round-up.
Thailand News

Join the conversation and have your say on Thailand news published on The Thaiger.
Thaiger Talk is our new Thaiger Community where you can join the discussion on everything happening in Thailand right now.
Please note that articles are not posted to the forum instantly and can take up to 20 min before being visible. Click for more information and the Thaiger Talk Guidelines.