Thailand sporting round-up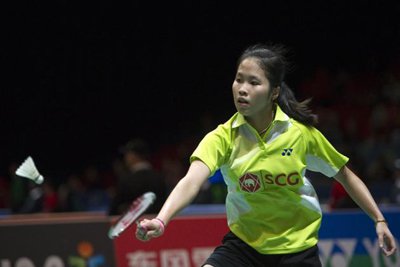 – Thailand news compiled by Gazette editors for Phuket's international community


Ratchanok and doubles players in semis
PHUKET (The Nation): Teen sensation Ratchanok Inthanon overpowered the in-form Sung Ji-hyun in a thrilling hard-fought encounter on Friday. The 17-year-old, who has won the world junior meet three times in succession and is ranked No 11 in the world, was the lone Thai singles player to advance further than the second round in this tournament.

World No 10 Sung, who won two major titles – the Korea GP Gold and Chinese Taipei Open – had handed Ratchanok a first-round exit in the same event last year where she went on to capture the silver medal. Last week at the All-England Championships, Sung sent the Thai teen packing in the second round.

Against the same opponent in the quarter-finals of the $US225,000 Basel meet, Ratchanok took the opening game comfortably at 21-14, but the South Korean counterpart struck back to win the second game at 21-14.

The decider saw the promising Thai race to a commanding 17-13 lead. To everyone's astonishment, Sung produced several well-placed shots and effective drops to level scores at 19-19. However, the Thai girl still had enough to hold off her formidable rival. She won the last two crucial points to win the hotly-contested game and earn a semi-final berth.

The win helped Ratchanok to edge closer to Sung 2-4 in their head-to-head meetings. In yesterday's semi-finals, Ratchanok was due to go up against world No 3 Wang Shixian. The much stronger Chinese second seed captured the recent Korea Open title besides entering the semi-final of the Malaysia Open and the All-England Championships.

Meanwhile, the all-Thai mixed doubles quarter-final tussle between Sudket Prapakamol/Saralee Thoungthongkam and Maneepong Jongjit/Savitree Amitrapai saw the former beat their rivals 21-13 21-9. Sudket and Saralee were due to challenge He Hanbin/Bao Yixin in the semi-finals. The Chinese duo pulled out a dramatic 2-1 (21-18 18-21 21-18) victory over Taiwanese second-seeds Chen Hung Ling/Cheng Wen Hsing in another quarter-final match on Friday.


Manus free to make decision regarding career
PHUKET (The Nation): Thailand's former Olympic boxing champion Manus Boonjamnong has decided to shun the 2012 London Olympics.

Instead, he wants to clean up his bad-boy image, turn pro and challenge the legendary Filipino Manny Pacquiao.

The 31-year-old from Ratchaburi shot to prominence when he thrashed fancied Cuban Yudel Johnson Cedeno on his way to capturing the 64kg-light welterweight boxing gold medal at the 2004 Athens Games.

The victory propelled Manus to superstar status when he returned to Thailand, but he soon became equally well-known for blowing some 18 million baht (around US$600,000) earned after his Olympic victory on card games, soccer betting, playboy antics and a lifestyle of excessive partying.

Things seemingly got better when he stepped back into the ring and made a successful comeback when he was crowned the Asian Games champion in 2006, only to be knocked out early at the World meet a year later in Chicago.

Manus instilled in Thai fans the belief that he was a gold-medal hopeful for the 2008 Olympics. After regaining his fans' trust, he reformed himself by spending time in a Buddhist monastery. He was sent to train intensively in Cuba without money or credit cards. He proved himself to be a fighter who can work miracles if he puts his mind to it. He picked up a silver at the Beijing Olympic Games after a disappointing loss to Dominican Manuel Felix Diaz in the final clash. In the process, Manus became the first Thai to win medals in more than one Olympics.

He was eying another success in the Olympics in London later this year. To everyone's surprise, a chubby Manus won a national selection trial to participate in the 75kg division at next month's Asian Olympic Boxing Qualification Tournament in Astana, Kazakhstan.

It made several people uncomfortable. The carping began. Critics said age has taken its toll on Manus and excessive drinking of alcohol has also made him overweight. They said his movements were slow in the ring and that he gets easily fatigued after heavy training.

Amidst criticism from several quarters, he left the national camp and announced he was quitting. Things turned sour when he ignored the Amateur Boxing Association of Thailand's final request to report to the camp on March 12.

The walk-out has raised many eyebrows in Thailand. Critics said that Manus decided to call it a day because he could not stand Abat's strict adherence to standardized guidelines regarding "what was and what was not acceptable" while athletes attend a national camp.

Manus cleared the air to the Thai fans and was quoted in several local newspapers and agencies, including Reuters, as saying: "I decided to stop the pursuit of my Olympic dreams because I cannot fight without spirit. When an athlete does not have the heart, he'll be depressed and there will be no success. That's why I decided to quit amateur boxing and whether right or wrong, it's my decision. I've quit everything. I just want a normal life."

Manus has not yet won a berth to contest his third Olympics and whether Thailand, having won three London tickets so far, will get an additional place remains a doubt at the Kazakhstan meet. More importantly, the Olympics are kicking-off on July 27 and Abat still has enough time to field a "physically stronger, smarter and more disciplined boxer" instead of the rebellious hero.

Manus's next target is reportedly the Pac-Man and he wants someone to set that up for him. Unless he stands out from others and makes himself a success as a pro, he cannot prove anything. How he fares in a real-life career will be eagerly watched not just by Thailand but by boxing fans around the world from now on.


Major sports events expected to boost ad spending
PHUKET (The Nation): The European soccer tournament in Ukraine and Poland will put on 31 matches from June 8-July 1, while the Summer Olympics in London will run from July 27-August 12. The new English Premier League soccer season and Germany's Bundesliga season will start in August.
Rathakorn Surbsuk, GroupM Trading Partner, told The Nation that GroupM believes that global ad spending will grow by 6.8 per cent.
"When we look at the growth by region, North America and Western Europe will grow about 3-4 per cent, North Asia by 15 per cent and Asean will grow about 18-19 per cent, which is one of the world's fastest growing regions."
Ad spending growth in Thailand will be about the same as global ad spending growth, at 6-7 per cent, he said.
"Normally, if we have two major sport events in a year, ad spending can grow by double digits easily but the floods in late 2011 had a negative impact on ad spending," he said.
Martin Sorrel, founder and CEO of WPP, the world's largest advertising and marketing services group, has said these events along with the US presidential election could boost Thai and global ad expenditures by as much as 1 per cent this year.
An analyst at CIMB Research said major sports events such as the European Championships and the London Olympics are likely to boost the loading for non-prime-time viewing at ThaiTV3. ThaiTV3 is an official broadcast partner with GMM Grammy, the broadcasting rights holder for the European event.
Surin Krittayaphonphun, executive vice president at BEC, said that during the tournament, the company expects ad income from non-prime-time programming to surge by 25-30 per cent.
Under this partnersh
— Phuket Gazette Editors
Keep in contact with The Thaiger by following our
Facebook page
.
Never miss out on future posts by
following The Thaiger
.
Thailand News Today | German Embassy rally, permanent residency prospect, crowds in Pattaya | Oct 26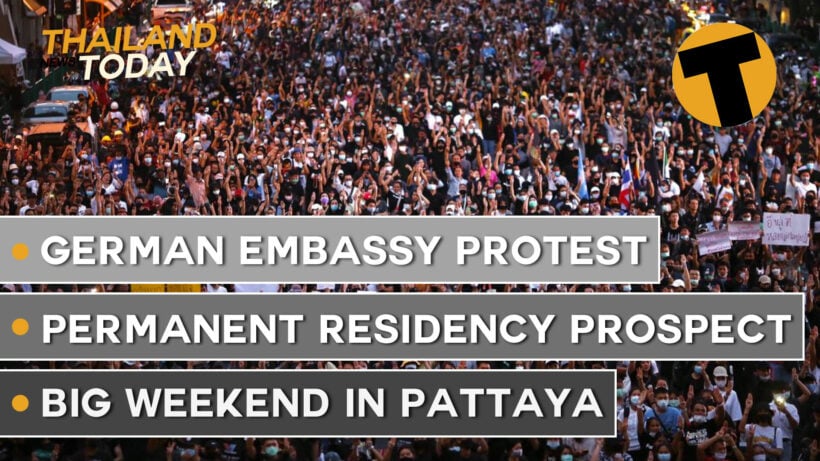 Today's latest news from The Thaiger, looking at the latest in the protests, a surge of crowds in Pattaya and the latest proposals from the Thai government to increase a new stream of revenue.
Permanent residency, changes to quarantine period – Government mulls strategies to revive economy
Thailand's energy minister has outlined a number of new strategies the government is discussing tohelp the Thai economy recover from the fallout of Covid-19 fallout.
Permanent residency for some condo purchases, changes to the mandatory quarantine and incentives for foreign investment are all under discussion.
The Eastern Economic Corridor, the special economic zone covering the eastern provinces of Rayong, Chon Buri and Chachoengsao, continues to eye foreign investors with a number of large infrastructure projects in the pipeline.
Of particular interest in the topics for discussion are that the government is considering offering permanent residency to people buying condos in the Kingdom, provided they don't mortgage, transfer, or sell the units within 5 years of purchase.
In relation to foreign arrivals, he says the government will clarify its plans on any further reduction in quarantine time. He says that if the current 14 day quarantine period is to be reduced, this would only apply to those coming from countries considered "low risk" for Covid-19. It's understood the Public Health Ministry is working on categorising countries into low, medium, and high risk.
Parliament in the middle of a 2 day session to discuss political impasse
An opposition spokesperson opened the special joint session of parliament today with a call for Prime Minister Prayut Chan-o-cha to step down, as anti-government protesters continued to keep up their pressure.
Mr Sompong also called for the release of detained protesters as a goodwill gesture to try and end the current impasse. " He said… The prime minister should be open-minded to the young protesters'demands, and stop delaying the process of writing of a new constitution."
Meanwhile a Palang Pracharath Party MP Paiboon Nititawan defended the PM saying the country needed his leadership to get through the economic crisis and to protect the institution of the monarchy, which was under attack by protesters.
Protesters march on German Embassy in Sathorn Road
Meanwhile protesters gathered at the Sam Yan intersection today at 5pm, near Chulalongkorn University, and marched to the Germany embassy on Sathorn Road, to submit a controversial petition.
Protesters are asking German authorities to look into whether His Majesty the King had violated German sovereignty by exercising his power from German soil. It is the first time a foreign government has been targeted by the anti-governmentprotesters.
Protesters say the intention is to push for the restoration a "truly" constitutional monarchy in Thailand, under law.
A 'spoiler' rally is also underway by government supporters and 'royalists' at Lumpini Park, right in the middle of the march route to the German Embassy.
Protesters massed at the Ratchaprasong intersection in Bangkok last night
Last night crowds gathered at the Ratchprasong intersection, one of the promised locations for a rally in response to Saturday night's refusal of the Thai PM to resign. Thousands gathered, mostly along the Ratchadamri Road, to hear speeches and musical performances.
Messages on some of the banners read "We are the people", "Everyone is a leader", "Thailand is for the people", "Police should protect the people".
Whilst blocking the intersection for 3 hours, with little police presence, the protesters disbanded peacefully just after sunset.
Pattaya springs back to life over the long weekend, more to come
Pattaya, struggling along for the past 7 months with a handful of domestic tourists and Bangkok weekenders, has had its busiest weekend for a long time, albeit a long weekend created by the public holiday in commemoration of King Chulongkorn.
Much of the increased traffic were Thai faces, a big change to the city's old demographic of international tourists and expats.
Tourists flocked to the city for the long weekend which included the Eastern Colorful Food, Culture and Music festival stretching along the Beach Road foreshore.
The focus of the weekend's events was the Beach Road which was visibly busy with locals and tourists joining in the foreshore festival, talent shows, music concerts and local food.
Schools advised to improve online learning in case of second Covid-19 outbreak
Thailand schools are told to get ready for a possible second wave of Covid-19 and prepare to for lockdown measures, just in case, to make sure all children have equal access to education.
A Thai economist warns that the education gap between rich children in urban areas and poor children in rural areas could widen if schools are shut down again and resort to the same online learning measures tried out months ago.
Keep in contact with The Thaiger by following our
Facebook page
.
Never miss out on future posts by
following The Thaiger
.
Expert says all rail crossings should be upgraded after fatal train-bus collision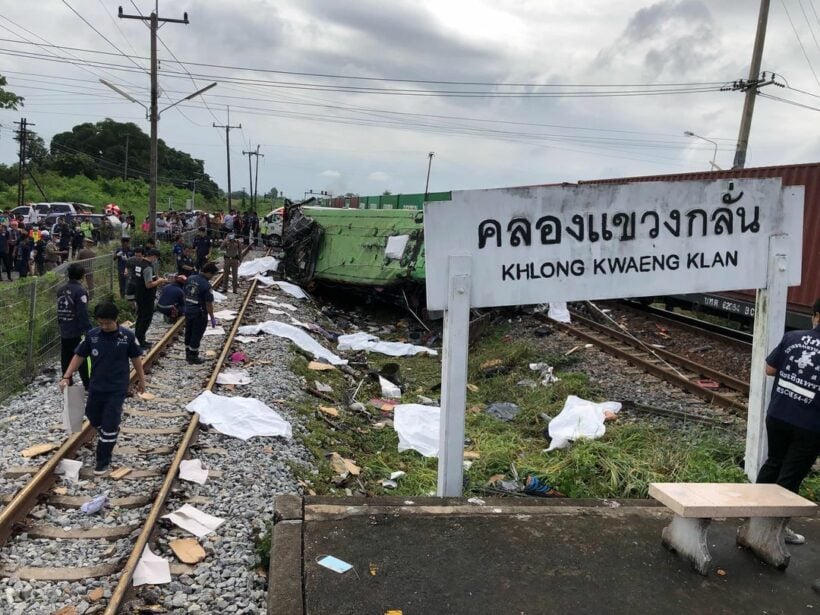 After the fatal freight train-charter bus collision earlier this month, authorities are looking into ways to make the rail crossings safer and to prevent potentially deadly incidents from happening in the future.
An expert in rail engineering says all rail crossings need to upgraded, urgently, while unofficial or illegal crossings should either be permanently closed off or upgraded with the proper safety equipment. Unofficial crossings are those that are used by locals, but are not approved by the State Railways of Thailand.
Chairperson of the Rail Engineering Committee at the Engineering Institute of Thailand, Rattapoohm Parichatprecha, gave suggestions about how to improve the rail crossings after an incident in Chachoengsao. On October 10, a train collided with a charter bus crossing the railway, killing 18 and injuring 44 who were on their way to a merit-making ceremony. Officials say the signal was broken and the crossing didn't have a barrier gate to block traffic.
Then, a passenger train collided with a car, killing a woman and injuring 2 others at a railway crossing in Phetchaburi's Khao Yai district on October 15.
The State Railway of Thailand says an average of 77 railway crossing incidents happen each year, killing an average of 28 people yearly and injuring 74. Some crossings are known as "black spots" where accidents occur more frequently, sometimes up to 4 times a year.
Rattapoohm says all legal crossings upgrade the warning signs and barricades, but warns that revamping the crossings could be expensive. In a previous report, Transport Minister Saksiam Chidchob acknowledged that the State Railways of Thailand's budget to install railroad crossing gates has been cut.
The size of the rail crossing as well as the direction also comes into play, according to Rattapoohm.
"The width of the crossing must not be at least three metres. The road should also cut through the rail tracks in a straight line and not in a diagonal direction which would create blind spots."
He says tree canopies must also be trimmed regularly to prevent branches and leaves from obstructing the view for both train conductors and drivers crossing the railway.
For illegal crossings, Rattapoohm says some can stay put since they are just used by the locals who are familiar with the terrain and know where the blind spots are, but says they should make sure the unofficial crossings stay off Google Maps.
"People outside the areas are unaware of the lurking danger the illegal crossings pose and many just follow directions in Google Map."
SOURCE: Bangkok Post
Keep in contact with The Thaiger by following our
Facebook page
.
Never miss out on future posts by
following The Thaiger
.
Schools advised to improve online learning in case of second Covid-19 outbreak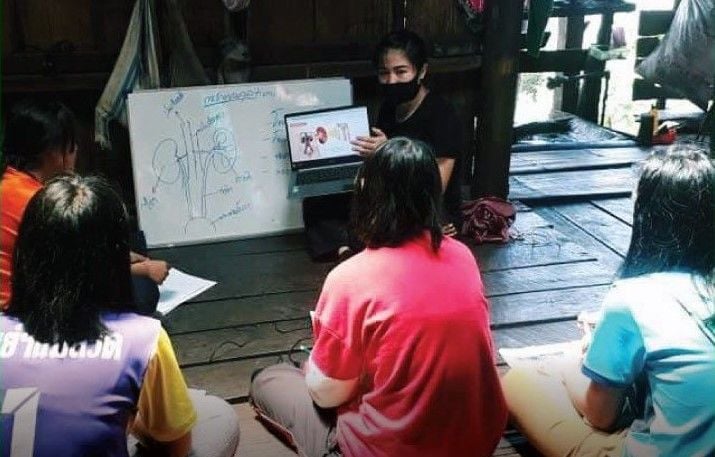 Thailand schools are told to get ready for a possible second wave of Covid-19 and prepare to for lockdown measures – just in case – to make sure all children have equal access to education. An economist warns that the education gap between rich children in urban areas and poor children in rural areas could widen if schools shut down again and resort to the same online learning measures tried out months ago.
In an online seminar called "My school and Covid-19," human development economist Dilaka Lathapitate stressed that school closures and the switch to online learning during the lockdown period led to an increase in the country's education disparity. Dilaka, from the education unit of the World Bank in Bangkok, says Thailand's education system isn't ready for another outbreak.
"The pandemic denied many children, particularly those in rural areas, learning and self-development opportunities."
Thailand tried the "distance learning" experiment during the lockdown, but it was deemed a failure. Many in remote areas had problems like the lack of WiFi, faulty reception and limited to no access to working computers. At one point, hundreds of volunteers were sent out by the Equitable Education Fund teach children in remote areas.
Taking students out of the classrooms and moving to online learning hit poor students the hardest, according to chairperson of the Princess Maha Chakri Award Foundation, Krissanapong Kirtikara. He says those students are often the most in need of comprehensive support.
Thailand isn't ready to implement online learning, Dilaka says. If there was another coronavirus outbreak, the education gap between the rich and the poor would likely widen due to access to technology. Dilaka cited a survey that showed a "digital divide" between children in urban and rural areas.
SOURCE: Bangkok Post
Keep in contact with The Thaiger by following our
Facebook page
.
Never miss out on future posts by
following The Thaiger
.