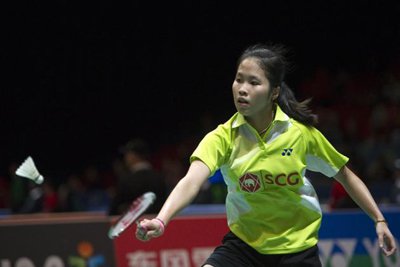 – Thailand news compiled by Gazette editors for Phuket's international community


Ratchanok and doubles players in semis
PHUKET (The Nation): Teen sensation Ratchanok Inthanon overpowered the in-form Sung Ji-hyun in a thrilling hard-fought encounter on Friday. The 17-year-old, who has won the world junior meet three times in succession and is ranked No 11 in the world, was the lone Thai singles player to advance further than the second round in this tournament.

World No 10 Sung, who won two major titles – the Korea GP Gold and Chinese Taipei Open – had handed Ratchanok a first-round exit in the same event last year where she went on to capture the silver medal. Last week at the All-England Championships, Sung sent the Thai teen packing in the second round.

Against the same opponent in the quarter-finals of the $US225,000 Basel meet, Ratchanok took the opening game comfortably at 21-14, but the South Korean counterpart struck back to win the second game at 21-14.

The decider saw the promising Thai race to a commanding 17-13 lead. To everyone's astonishment, Sung produced several well-placed shots and effective drops to level scores at 19-19. However, the Thai girl still had enough to hold off her formidable rival. She won the last two crucial points to win the hotly-contested game and earn a semi-final berth.

The win helped Ratchanok to edge closer to Sung 2-4 in their head-to-head meetings. In yesterday's semi-finals, Ratchanok was due to go up against world No 3 Wang Shixian. The much stronger Chinese second seed captured the recent Korea Open title besides entering the semi-final of the Malaysia Open and the All-England Championships.

Meanwhile, the all-Thai mixed doubles quarter-final tussle between Sudket Prapakamol/Saralee Thoungthongkam and Maneepong Jongjit/Savitree Amitrapai saw the former beat their rivals 21-13 21-9. Sudket and Saralee were due to challenge He Hanbin/Bao Yixin in the semi-finals. The Chinese duo pulled out a dramatic 2-1 (21-18 18-21 21-18) victory over Taiwanese second-seeds Chen Hung Ling/Cheng Wen Hsing in another quarter-final match on Friday.


Manus free to make decision regarding career
PHUKET (The Nation): Thailand's former Olympic boxing champion Manus Boonjamnong has decided to shun the 2012 London Olympics.

Instead, he wants to clean up his bad-boy image, turn pro and challenge the legendary Filipino Manny Pacquiao.

The 31-year-old from Ratchaburi shot to prominence when he thrashed fancied Cuban Yudel Johnson Cedeno on his way to capturing the 64kg-light welterweight boxing gold medal at the 2004 Athens Games.

The victory propelled Manus to superstar status when he returned to Thailand, but he soon became equally well-known for blowing some 18 million baht (around US$600,000) earned after his Olympic victory on card games, soccer betting, playboy antics and a lifestyle of excessive partying.

Things seemingly got better when he stepped back into the ring and made a successful comeback when he was crowned the Asian Games champion in 2006, only to be knocked out early at the World meet a year later in Chicago.

Manus instilled in Thai fans the belief that he was a gold-medal hopeful for the 2008 Olympics. After regaining his fans' trust, he reformed himself by spending time in a Buddhist monastery. He was sent to train intensively in Cuba without money or credit cards. He proved himself to be a fighter who can work miracles if he puts his mind to it. He picked up a silver at the Beijing Olympic Games after a disappointing loss to Dominican Manuel Felix Diaz in the final clash. In the process, Manus became the first Thai to win medals in more than one Olympics.

He was eying another success in the Olympics in London later this year. To everyone's surprise, a chubby Manus won a national selection trial to participate in the 75kg division at next month's Asian Olympic Boxing Qualification Tournament in Astana, Kazakhstan.

It made several people uncomfortable. The carping began. Critics said age has taken its toll on Manus and excessive drinking of alcohol has also made him overweight. They said his movements were slow in the ring and that he gets easily fatigued after heavy training.

Amidst criticism from several quarters, he left the national camp and announced he was quitting. Things turned sour when he ignored the Amateur Boxing Association of Thailand's final request to report to the camp on March 12.

The walk-out has raised many eyebrows in Thailand. Critics said that Manus decided to call it a day because he could not stand Abat's strict adherence to standardized guidelines regarding "what was and what was not acceptable" while athletes attend a national camp.

Manus cleared the air to the Thai fans and was quoted in several local newspapers and agencies, including Reuters, as saying: "I decided to stop the pursuit of my Olympic dreams because I cannot fight without spirit. When an athlete does not have the heart, he'll be depressed and there will be no success. That's why I decided to quit amateur boxing and whether right or wrong, it's my decision. I've quit everything. I just want a normal life."

Manus has not yet won a berth to contest his third Olympics and whether Thailand, having won three London tickets so far, will get an additional place remains a doubt at the Kazakhstan meet. More importantly, the Olympics are kicking-off on July 27 and Abat still has enough time to field a "physically stronger, smarter and more disciplined boxer" instead of the rebellious hero.

Manus's next target is reportedly the Pac-Man and he wants someone to set that up for him. Unless he stands out from others and makes himself a success as a pro, he cannot prove anything. How he fares in a real-life career will be eagerly watched not just by Thailand but by boxing fans around the world from now on.


Major sports events expected to boost ad spending
PHUKET (The Nation): The European soccer tournament in Ukraine and Poland will put on 31 matches from June 8-July 1, while the Summer Olympics in London will run from July 27-August 12. The new English Premier League soccer season and Germany's Bundesliga season will start in August.
Rathakorn Surbsuk, GroupM Trading Partner, told The Nation that GroupM believes that global ad spending will grow by 6.8 per cent.
"When we look at the growth by region, North America and Western Europe will grow about 3-4 per cent, North Asia by 15 per cent and Asean will grow about 18-19 per cent, which is one of the world's fastest growing regions."
Ad spending growth in Thailand will be about the same as global ad spending growth, at 6-7 per cent, he said.
"Normally, if we have two major sport events in a year, ad spending can grow by double digits easily but the floods in late 2011 had a negative impact on ad spending," he said.
Martin Sorrel, founder and CEO of WPP, the world's largest advertising and marketing services group, has said these events along with the US presidential election could boost Thai and global ad expenditures by as much as 1 per cent this year.
An analyst at CIMB Research said major sports events such as the European Championships and the London Olympics are likely to boost the loading for non-prime-time viewing at ThaiTV3. ThaiTV3 is an official broadcast partner with GMM Grammy, the broadcasting rights holder for the European event.
Surin Krittayaphonphun, executive vice president at BEC, said that during the tournament, the company expects ad income from non-prime-time programming to surge by 25-30 per cent.
Under this partnersh
— Phuket Gazette Editors