Thailand News Today | Shorter quarantine, STV update, THAI jets for sale | November 6
Last day of the week and a day full of news about the STV, Chinese travel bubbles and the PM saying he'll step aside if there's someone better to take his job. Thailand News Today, with Tim Newton.
Retired Thai official with Covid-19 dies after returning to Thailand
A 66 year old retired Thai official, diagnosed with Covid-19, died yesterday following his return to Thailand from the United Kingdom. Thailand's total number of Covid-19 related deaths is now at 60.
The man flew into Thailand from the UK on October 19 and tested positive the next day while at a quarantine facility in Chon Buri. The man, who also had diabetes and high blood pressure, died yesterday.
The CCSA also reports 5 new Covid-19 cases detected in quarantine and 3 cases were detected at the Myanmar border, raising the total number of cases to 3,818 with 3,639 recoveries. The Burmese truck drivers were sent back to Myanmar for treatment.
10 day quarantine proposal passes first stage of approval
A health sub-committee of the government's Covid-19 task force has approved a reduction in quarantine from 14 days to 10, for visitors arriving from "safe" countries. They would be those that are at a similar risk level to Thailand, or perhaps slightly higher. Those arriving from countries considered "high risk" will still need to carry out 14 days' quarantine.
The proposal now needs to be approved by the CCSA, which is chaired by the PM, Prayut Chan-o-cha. A CCSA spokesperson has done the maths…
"Reducing quarantine to 10 days only slightly increases risk of infections, from 0.3 people per 1 million in 14-day quarantine to 1.5 per million in 10-day quarantine."
Officials are hoping the reduction in quarantine might encourage more foreign tourists to apply for the STV and visit Thailand.
Thailand considering no-quarantine travel bubble with China
Meanwhile, whilst there are no new Special Tourist Visa applications for November, the Thai government is considering a no-quarantine travel bubble plan with China.
Officials hope that if approved, the scheme could be put into operation in time for Chinese New Year in February. China currently has 22 low-risk provinces, which haven't recorded a Covid-19 case in over 150 days.
The 2 countries' foreign ministries will discuss next steps in establishing the travel bubble. The plan would then require final approval from PM Prayut Chan-o-cha and his Chinese counterpart, President Xi Jinping.
Thai officials are also turning their attention to Switzerland, hoping to attract long-stay Swiss tourists on non-immigrant O-A retirement visas. Also being discussed is the possibility of using golfing resorts as alternative local state quarantine facilities, thereby providing guests with a golfing holiday while in quarantine. It's hoped such a move might attract golfers from places like Japan, South Korea, Taiwan, and China, who would normally spend a few of their winter months training in Thailand.
Thai Airways to auction off 34 used passenger aircrafts
Anyone want to buy an airplane? In the midst of tackling bankruptcy, Thai Airways is auctioning off 34 old passenger aircrafts. The aircrafts are between 12 and 30 years old and are sold on an "as-is, where is" condition.
The airline has been strapped for cash.As part of a debt rehabilitation plan, nearly 5,000 employees – a quarter of Thai Airways staff – applied voluntary resignation. (Basically, they've been politely asked to quit.) With a slowdown in travel due to the coronavirus pandemic, the company has been getting creative to make ends meet.
Your selection includes some old Boeing 737 aircraft, 10 747 jumbos and 777s, Airbus A340s and even a veteran A300 aircraft, a model of Airbus's first commercial passenger planes.
Place a bid by November 13. Email aircraftsale@thaiairways.com
PM says he'd be happy to step aside if someone better comes along
The Thai PM, Prayut Chan-o-cha, says he'd have no problem stepping down if someone better could take over, adding that he's tired of all the power now.
"If in the future, there is a person who is better, more capable and more honest than me, similarly honest, (he or she) would continue the work and be in charge of the country. But being in power is not a fun matter. I exercised a lot of power when I was the army chief for 4 years. I am fed up with using power. I used the power to take care of good people and punish people who do bad things.
He adds that accusations that he has abused his power leave him mystified.
New rules at Bangkok police checkpoints after bribe complaints
Police at Bangkok's Thong Lor station have set up what they say is a "new style" of checkpoints in response to complaints saying drivers were forced to pay police officers.
Along with new rules to prevent corruption and bribery, the officers are also being told to be "polite."
The Thong Lor police station has accumulated a reputation over recent decades. It was also the police station in the middle of the early investigation into the 'Boss' Yoovidhya hit-and-run case. The policeman killed was from the Thong Lor station.
The National Police Chief says the new measures are "transparent" and boost the standards at checkpoints. Thong Lor is the first police station to implement the new rules.
Keep in contact with The Thaiger by following our
Facebook page
.
Never miss out on future posts by
following The Thaiger
.
Thai netizens say pro-government royalists carried out Wednesday's protest shootings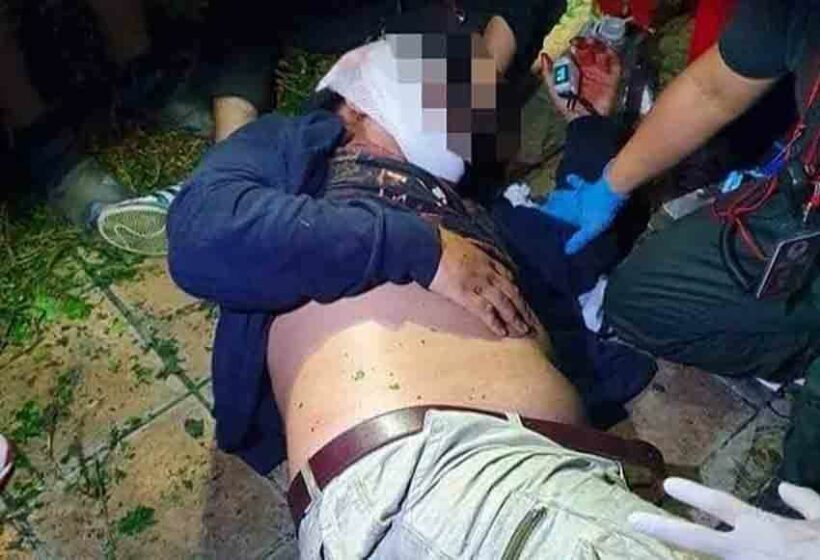 Thailand's netizens are refuting police's claims that pro-democracy protesters carried out Wednesday's rally shootings. The shootings occurred at the rally site near Bangkok's Siam Commerical Bank head office, where the rally site was originally planned but was then moved after protesters tried to avoid a clash with pro-government royalists. However, shots were fired, with police arresting a suspect on charges of attempted murder, shooting in public without reason, and carrying a firearm in public.
The netizens found footage of the scene, in which they say they identified the faces of the offenders. The revelation came after Deputy Metropolitan Police Bureau commissioner Piya Tawichai blamed Ratsadon guards for the shootings and injuries.
Further muddying the investigation, the shooters allegedly claimed they supported the pro-democracy movement, prompting netizens to scour videos that were taken of the rally. In light of the video evidence, Thairath TV has apologised for "blindly accepting" the police statement by accusing the pro-democracy protesters of causing the violence. PM Prayut has also ordered an investigation into the shooting, citing that the government may be blamed for the attack after authorities were reportedly only supposed to maintain peace in the rally, a job that clearly failed.
Meanwhile, the pro-democracy leaders have been called into questionby donors to the movement, as they have criticised how the leaders have used the donations, when a guard was shot and injured. Netizens took to social media to ask what "fairy godmother" Inthira "Sine" Charoenpura and Pakorn "Hia Bung" Pornchewangkurn were buying with the donation money with some online comments mentioning the display of yellow ducks and props as a poor use of donation funds. Some criticisers pointed towards using the donations to buy protective gear for protesters after the shootings occurred, prompting the 2 leaders to issue a statement that they would now use such funds for the injured guards.
SOURCE: Nation Thailand
Keep in contact with The Thaiger by following our
Facebook page
.
Never miss out on future posts by
following The Thaiger
.
Thai protests to continue in full force into December in line with symbolic calendar events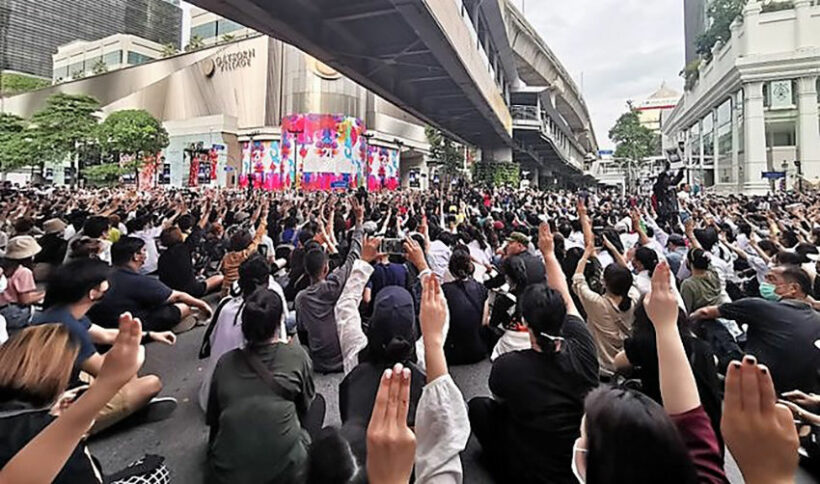 The pro-democracy protests are set to continue well into December, according to Thai security officials. Officials have been preparing to cope with a rise in anti-government activities as symbolic calendar events are coming up. Today the United Front of Thammasat and Demonstration group says a protest will take place outside the 1st Infantry Battalion on Vibhavadi Rangsit Road in Phaya Thai District, giving credit to the predictions that there will no end in sight to the protests.
Thanakorn Wangboonkongchana, a secretary to PM's Office Minister Anucha Nakasai, made the announcement yesterday in light of the Constitutional Court being set to pass a ruling this Wednesday on whether PM Prayut is guilty of occupying a house that is meant for military officials.
Prayut is accused by the opposition of engaging in the conflict of interest by occupying the army residence. Such a move should have ended with his army chief tenure in 2014, according to critics.
Following the upcoming ruling on Wednesday, the symbolic calendar event of Constitution Day falls on December 10, a day which will ignite more protests as one of the main demands of pro-democracy demonstrators is to have a new Thai charter, along with the resignation of Prayut and reform of the Thai monarchy.
But despite the anticipated rise in rallies, security officials have ruled out the possibility of a military coup. Critics remain sceptical as many demonstrators claim the government has put police on the front lines of the protests, dressed in yellow shirts, in an attempt to spark a clash to pave the way for a coup. The current PM, when he was the head of the Thai Army in 2014, also said there would be "no coup" against the elected Yingluck Shinawatra government. A month later the NCPO led a bloodless coup and installed Prayut Chan-o-cha as the interim prime minister.
Piya Tawichai, the deputy commissioner of the Metropolitan Police Bureau, says protesters yesterday gathered near the Imperial World Samrong shopping mall in Samut Prakan before marching to the Bang Na intersection to rally, partially blocking the road. According to Kissana Phathanacharoen, the deputy spokesman for the national police, the protesters did not obtain permission for staging the rally.
Some protesters also reportedly spray-painted traffic police kiosks with messages that criticised the police for "ditching the people," and smashed kiosk windows. Panusaya "Rung" Sithijirawattanakul, a protest leader, posted on Facebook yesterday that she has been summoned for violating Section 112 of the Criminal Code, which bans anyone from criticising the King which states:
"Whoever defames, insults or threatens the King, the Queen, the Heir-apparent or the Regent, shall be punished with imprisonment of three to fifteen years."
Rung says she believes the summons is linked to the September 10 anti-government rally.
SOURCE:The Phuket News
Keep in contact with The Thaiger by following our
Facebook page
.
Never miss out on future posts by
following The Thaiger
.
Ron Howard to direct cave rescue feature film 'Thirteen Lives' in Australia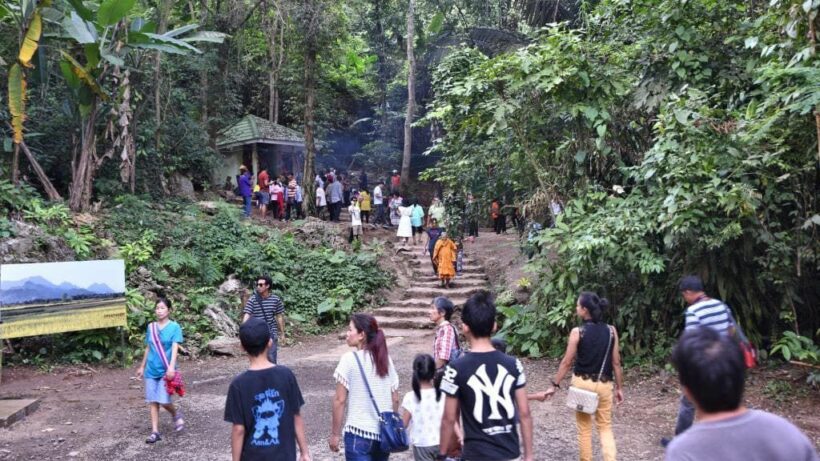 The Australian Government is putting up A$13 million to Imagine Entertainment and film giant MGM to shoot a live-action feature film called Thirteen Lives, based on the Chiang Rai Tham Luang cave rescue story. The film will be shot in Queensland, Australia in the hinterland areas behind the Gold Coast.
The film will be directed by Ron Howard (A Beautiful Mind, Apollo 13, The Da Vince Code, Cocoon, Solo: A Star Wars Story, Splash, Frost/Nixon), and start filming in March 2021. The state's Gold Coast hinterland will double for Thailand with a similar hot, humid climate.
The Australian Minister for Communications, Cyber Safety and the Arts, Paul Fletcher MP, says the production ishould inject more than A$96 million into the Australian economy, "directly creating around 435 jobs for cast and crew".
"Thirteen Lives will tell the remarkable story of the effort by many volunteers, including Australians, to undertake an incredibly complex rescue. And I am proud to say that this story will be told here in Australia."
"I understand this project will also undertake a significant amount of cutting-edge visual effects work here, a great opportunity for our local post, digital and visual effects companies."
Thirteen Lives follows the true story of the 2018 Tham Laung cave rescue of the Mu Pa (Wild Boar) football team, trapped in a cave by heavy rain and flooding in Chiang Rai, far north Thailand. After the team was stuck for days with no supplies and falling oxygen levels, a group of diving and rescue experts from all over the world were called up to work together with their Thai counterparts to save the 13 young men. Among those experts were a group of divers from the United Kingdom and Australia.
The first major feature film about the rescue operation was The Cave, released in October 2019. The film was quite critical of the Thai red-tape which hampered much of the early rescue efforts.
Ron Howard has worked with plenty of Australians in the past.
"From Thirteen Lives to the animated projected I am directing with Animal Logic in Australia, I am excited about the opportunity to film and work in Australia and dramatically expand on that list of collaborators whose sensibilities and work ethic I have long admired and respected."
Imagine Entertainment and MGM's Thirteen Lives will be distributed by Universal Pictures International.
Watch a message from director Ron Howard HERE.
Keep in contact with The Thaiger by following our
Facebook page
.
Never miss out on future posts by
following The Thaiger
.