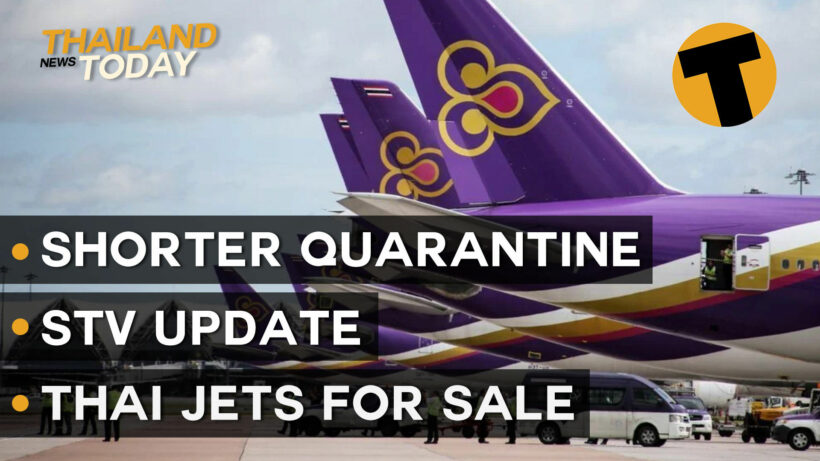 Last day of the week and a day full of news about the STV, Chinese travel bubbles and the PM saying he'll step aside if there's someone better to take his job. Thailand News Today, with Tim Newton.
Retired Thai official with Covid-19 dies after returning to Thailand
A 66 year old retired Thai official, diagnosed with Covid-19, died yesterday following his return to Thailand from the United Kingdom. Thailand's total number of Covid-19 related deaths is now at 60.
The man flew into Thailand from the UK on October 19 and tested positive the next day while at a quarantine facility in Chon Buri. The man, who also had diabetes and high blood pressure, died yesterday.
The CCSA also reports 5 new Covid-19 cases detected in quarantine and 3 cases were detected at the Myanmar border, raising the total number of cases to 3,818 with 3,639 recoveries. The Burmese truck drivers were sent back to Myanmar for treatment.
10 day quarantine proposal passes first stage of approval
A health sub-committee of the government's Covid-19 task force has approved a reduction in quarantine from 14 days to 10, for visitors arriving from "safe" countries. They would be those that are at a similar risk level to Thailand, or perhaps slightly higher. Those arriving from countries considered "high risk" will still need to carry out 14 days' quarantine.
The proposal now needs to be approved by the CCSA, which is chaired by the PM, Prayut Chan-o-cha. A CCSA spokesperson has done the maths…
"Reducing quarantine to 10 days only slightly increases risk of infections, from 0.3 people per 1 million in 14-day quarantine to 1.5 per million in 10-day quarantine."
Officials are hoping the reduction in quarantine might encourage more foreign tourists to apply for the STV and visit Thailand.
Thailand considering no-quarantine travel bubble with China
Meanwhile, whilst there are no new Special Tourist Visa applications for November, the Thai government is considering a no-quarantine travel bubble plan with China.
Officials hope that if approved, the scheme could be put into operation in time for Chinese New Year in February. China currently has 22 low-risk provinces, which haven't recorded a Covid-19 case in over 150 days.
The 2 countries' foreign ministries will discuss next steps in establishing the travel bubble. The plan would then require final approval from PM Prayut Chan-o-cha and his Chinese counterpart, President Xi Jinping.
Thai officials are also turning their attention to Switzerland, hoping to attract long-stay Swiss tourists on non-immigrant O-A retirement visas. Also being discussed is the possibility of using golfing resorts as alternative local state quarantine facilities, thereby providing guests with a golfing holiday while in quarantine. It's hoped such a move might attract golfers from places like Japan, South Korea, Taiwan, and China, who would normally spend a few of their winter months training in Thailand.
Thai Airways to auction off 34 used passenger aircrafts
Anyone want to buy an airplane? In the midst of tackling bankruptcy, Thai Airways is auctioning off 34 old passenger aircrafts. The aircrafts are between 12 and 30 years old and are sold on an "as-is, where is" condition.
The airline has been strapped for cash. As part of a debt rehabilitation plan, nearly 5,000 employees – a quarter of Thai Airways staff – applied voluntary resignation. (Basically, they've been politely asked to quit.) With a slowdown in travel due to the coronavirus pandemic, the company has been getting creative to make ends meet.
Your selection includes some old Boeing 737 aircraft, 10 747 jumbos and 777s, Airbus A340s and even a veteran A300 aircraft, a model of Airbus's first commercial passenger planes.
Place a bid by November 13. Email aircraftsale@thaiairways.com
PM says he'd be happy to step aside if someone better comes along
The Thai PM, Prayut Chan-o-cha, says he'd have no problem stepping down if someone better could take over, adding that he's tired of all the power now.
"If in the future, there is a person who is better, more capable and more honest than me, similarly honest, (he or she) would continue the work and be in charge of the country. But being in power is not a fun matter. I exercised a lot of power when I was the army chief for 4 years. I am fed up with using power. I used the power to take care of good people and punish people who do bad things.
He adds that accusations that he has abused his power leave him mystified.
New rules at Bangkok police checkpoints after bribe complaints
Police at Bangkok's Thong Lor station have set up what they say is a "new style" of checkpoints in response to complaints saying drivers were forced to pay police officers.
Along with new rules to prevent corruption and bribery, the officers are also being told to be "polite."
The Thong Lor police station has accumulated a reputation over recent decades. It was also the police station in the middle of the early investigation into the 'Boss' Yoovidhya hit-and-run case. The policeman killed was from the Thong Lor station.
The National Police Chief says the new measures are "transparent" and boost the standards at checkpoints. Thong Lor is the first police station to implement the new rules.