Thailand News: No retreat from democracy; Reporter freed; Soldiers play cat-and-mouse with protesters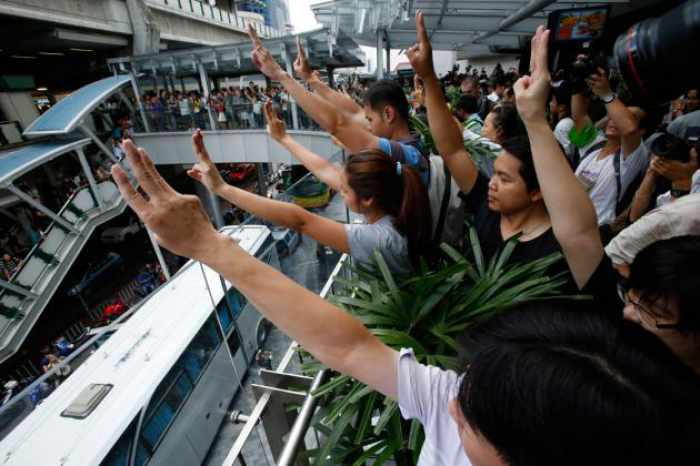 PHUKET MEDIA WATCH
– Thailand news compiled by Gazette editors for Phuket's international community
'No retreat from democracy'
The Nation / Phuket Gazette
PHUKET: Thailand is not retreating from democracy and seeks understanding from its economic and strategic partners while the country undergoes political reforms, a top Thai official said yesterday.
Sihasak Phuangketkeow, Thailand's permanent secretary for foreign affairs, was responding to criticism by US Defence Secretary Chuck Hagel who noted Thailand's "retreat from democracy" and announced that the Pentagon was suspending military assistance and engagements with Thailand.
"We urge the Royal Thai Armed Forces to release those who have been detained, end restrictions on free expression, and move immediately to restore power to the people of Thailand through free and fair elections," Hagel said on Saturday at the Shangri-La Dialogue in Singapore.
"Until that happens, as US law requires, the Department of Defence is suspending and reconsidering US military assistance and engagements with Bangkok," Hagel said.
In a press conference in Singapore, Sihasak said he hoped the US would look at the relationship in the long-term.
"Thailand is not going to disappear. It is the second-largest economy in Asean," Sihasak said.
"We are an economic force to reckon with. We will continue our engagement with the international community. We hope our friends will take that fact into consideration.
"We are committed to staying the course of democracy. We want to consolidate. If you look at the events in Thailand, before the actions taken by the National Committee for Peace and Order, we did not have the kind of democracy we should have.
"There was protracted political conflict and violent incidents and our society was headed towards greater divisiveness. The government was not functioning. Had we continued in that direction, that would have been detrimental to Thailand's stability, to the region's stability."
The US, which has close ties with Thailand's armed forces, cancelled a military exercise.
Sihasak said all those detained had been freed and curbs on the freedom of expression were being lifted.
Warrants sought for nine over attacks on PDRC
The Nation / Phuket Gazette
PHUKET: Police will issue arrest warrants for nine people wanted in relation to violent incidents during the anti-government protest, Deputy National Police Chief Pol General Aek Angsananont said yesterday.
The incidents include grenade attacks that killed and injured many people, the shooting of a Ramkhamhaeng University student, clashes at Din Daeng and the brutal attack on a People's Democratic Reform Committee event in Trat.
Aek was speaking after a meeting of top police called by acting National Police Chief Pol General Watcharapong Prasarnrajakit, who wants investigations sped up.
Some 28 people were killed and more than 800 injured over the past six months. The victims were mostly anti-government protesters.
Under the former national police chief Adul Saengsingkaew, the police were not able to capture anyone for these offences. After the declaration of martial law by the National Council for Peace and Order, the military has discovered at least four caches of war weapons that belong to pro-government supporters.
The NCPO transferred Adul and eight key police to inactive posts, They included Department of Special Investigation chief Tarit Pengdith.
Aek said police had issued arrest warrants for suspects wanted for alleged committing lese majeste. They are Ekapop Luara, who is also known as Tang Archiva, and Pathum Thani red hard-liner Wuthipong "Ko Tee" Kotthammakhun.
Aek said he would check to see if it was true that both suspects had fled the country. If they had, he would request their extradition. Police would also speed up investigation into allegations of lese majeste against Chatwadee "Rose"Amornpat.
Watcharapong said police must resolve every case as soon as possible and explain to the public who was behind the violence.
Military, protesters in cat-and-mouse game
The Nation / Phuket Gazette
PHUKET: The military and fast-moving anti-coup protesters played a cat and mouse game yesterday as security measures were stepped up at about seven prime locations in Bangkok and major provinces.
Security forces descended on key business centres in the capital and the provinces, including Chiang Mai in the north and Nakhon Ratchasima in the northeast, after receiving intelligence that anti-junta protesters would demonstrate.
In Bangkok, Victory Monument, Ratchaprasong, King Taksin Monument, Democracy Monument and the Central shopping mall in Bang Na were closed shortly before noon in the wake of demonstrations.
Pro-democracy activist Sombat Boongnarmanong, who is wanted by the junta, used Facebook to call for demonstrations in Bangkok.
At around noon, a small number of people appeared at the Ratchaprasong intersection but dispersed inside the Terminal 21 shopping centre at Asok when security forces appeared.
However, security forces arrested a 60-year-old woman at the Ratchapasong intersection who wore a mask to show her disapproval of the coup.
As police arrested her, she shouted "help me" and said she did nothing wrong.
The ruling junta has prohibited groups of more than five people assembling in public for political purposes, but the woman said she had come alone before she was taken to nearby Lumpini Police Station.
Meanwhile, rapid-deployment forces rushed to Asok intersection a few kilometres away to block protesters. Hundreds of people held anti-coup signs and shouted their objection to military seizing power.
Terminal 21 was closed and trains did not stop at Asok BTS station. The BTS announced earlier that trains would not stop at Ploenchit, Chit Lom and Ratchadamri in a bid to stop protests.
Deputy national police chief Lt-General Somyot Pumpanmuang oversaw the operation at Ratchaprasong. Although demonstrators left quickly, plainclothes officers were left at trouble spots in a bid to prevent protesters from returning. Police will check with fast-food giant McDonalds to find out how many branches it has in the capital, with officers dispatched to restaurants. Activist Sombat usually arranges protests from these fast-food outlets.
In Chiang Mai, numerous small protests popped up. They expressed their views, sprayed anti-military graffiti on roads but disappeared before security officials arrived. The graffiti included "No Coup" and "Democracy was seen in Chiang Mai".
In Nakhon Ratchasima, the pro-democracy White Korat group gathered briefly at The Mall shopping centre before running away.
No protesters in Chiang Mai and Nakhon Ratchasima were arrested.
Security officials stepped up measures in many other provinces, including Samut Prakan, Lamphun and Ratchaburi, but there were no protests.
Junta chief General Prayuth Chan-ocha monitored the protests closely and instructed troops to handle them accordingly, the Army's deputy spokesman Veerachon Sukhontapatipak said.
The operation to subdue protests woul
— Phuket Gazette Editors
Keep in contact with The Thaiger by following our
Facebook page
.
Never miss out on future posts by
following The Thaiger
.
Facebook, Twitter may face charges for allegedly allowing lèse majesté content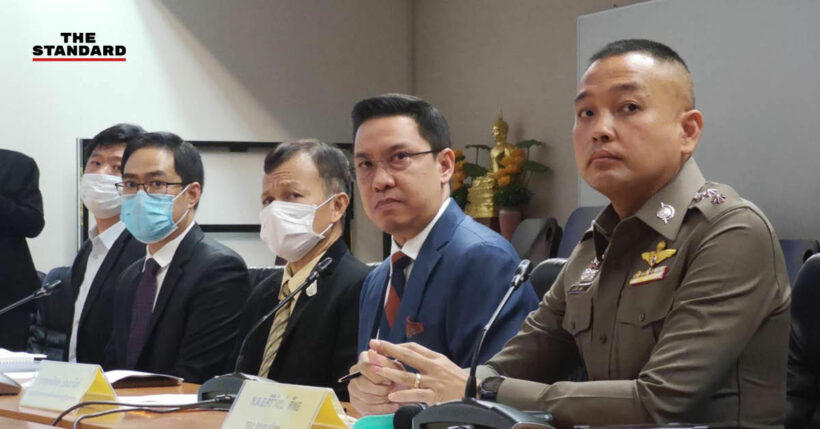 Facebook and Twitter could face charges for failing to block so called lèse majesté posts that allegedly violate Thailand's Computer Crime Act. The Ministry of Digital Economy and Society says the social media platforms were warned about Thailand's laws regarding content that insults the Thai Monarchy or threatens national security and peace, but failed to remove all the illegal posts.
Letters were sent out to the operators of Facebook, Twitter and YouTube giving them 15 days to take down the illegal posts or charges would be pressed, according to Minister of Digital Economy and Society Buddhipongse Punnakanta. Since not all the posts were removed, the ministry has asked the Technology Crime Suppression Police to step in and prosecute the social media platforms.
The Thai government has been using the blunt tool of "shooting the messenger" in its battle against content deemed disrespectful of the Thai Monarchy under its lèse majesté laws.
"It is the first time in Thailand that the (computer crime) law is exercised to prosecute the service providers. Charges will go to the parent company of all the organisations. The police will use Thai laws because the offences happened in Thailand. I believe the police can do it."
The minister says Facebook was told to take down 661 posts, but they only removed 225. Twitter was told to remove 69 posts, he says, but only took down 5. YouTube was told to remove 289 posts and all of them were blocked. Social media platforms that violate the Computer Crime Act could face an up to 200,000 baht fine per illegal post and a daily fine of up to 5,000 until the content is removed.
Buddhipongse filed the complaint which also cited nearly 1,000 social media posts that allegedly violate the act. They say the posts offending the Thai Monarchy were made during the pro-democracy protest in Bangkok last weekend.
SOURCE: Bangkok Post
Catch up with the latest daily "Thailand News Today" here on The Thaiger.
Keep in contact with The Thaiger by following our
Facebook page
.
Never miss out on future posts by
following The Thaiger
.
Thailand News Today | Visa amnesty, sealing Burmese border, Thai airways creditors | September 24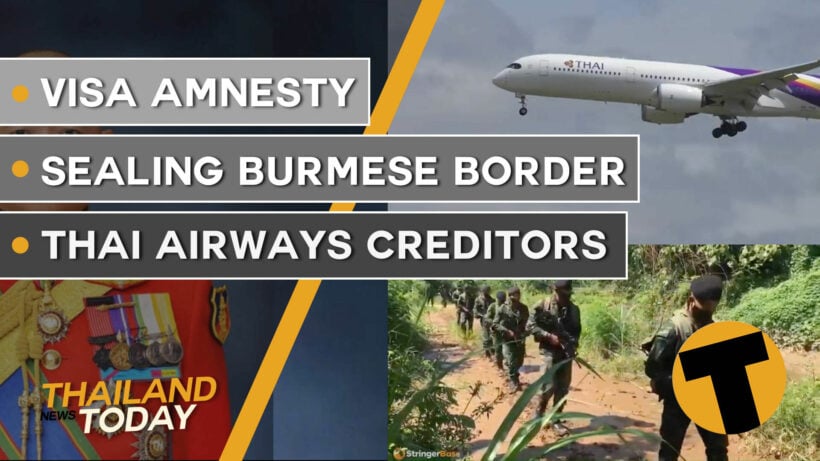 Latest update for September 26 deadline of visa amnesty.
Deadline set for THAI creditors
A date has now been set for creditors to recover their money from Thai Airways. Applications for debt repayment through corporate bonds started yesterday. Applications filed by private individuals are being received at the Securities and Exchange Commission office in Bangkok. The deadline for applications is November 2. It's ben reported that there are some 10 million creditors. The airline's total debt stands at 352.4 billion baht.
Thailand seals its 2,000 kilometre border with Myanmar
Thailand's Department of Disease Control remains on alert, and patrols increased along the Thai/Myanmar border, as Thailand's western neighbour continues to register a spike in new Covid 19 cases. Between 430 and 670 people each day, over the past 4 days, have tested positive for Covid-19. The DDC's director-general says that Thai "business operators should stop hiring foreign workers, especially Burmese people, to help prevent a second wave of Covid-19 infections in Thailand." Myanmar's number of confirmed cases has now reached 7,177 with 129 Burmese succumbing to the virus at this stage. Yesterday the four national papers suspended circulation, waiting out the sudden surge of cases. In some border districts, police have placed barbed wire along the leaky jungle border to deter people from crossing the 2,000 kilometre-long border illegally.
Deputy PM says "Big Joke" transfer not necessarily unlawful
Deputy PM Wissanu Krea-ngam says former immigration chief, Surachate Hakparn, shouldn't assume his transfer to an inactive post in the PM's Office was unlawful. Surachate, known by the nickname "Big Joke" headed up Thailand's Immigration Bureau until he was unceremoniously side-lined by the PM, Prayut Chan-o-cha early last year. It's understood he is now planning to sue the PM, claiming that the lack of any investigation against him shows there were no grounds for the transfer. For his part, Deputy PM Wissanu says Surachate has the right to sue the PM if he so wishes but shouldn't assume his transfer is similar to that of the former National Security Council chief, who was transferred under former PM Yingluck Shinawatra in 2011. That transfer was subsequently deemed unlawful by the Supreme Administrative Court. Wissanu doesn't rule out the possibility of Surachate being re-instated. For his part, Surachate claims his petitions to the PM have fallen on deaf ears.
New army chief declares he'll protect Thailand's monarchy and restore peace
Thailand's new army chief says he pledges to restore peace and protect the country's monarchy. In a ceremony formerly saying farewell to retiring generals, incoming army chief Narongphan Jitkaewtae (jit-gow-tear) said he would restore peace and be loyal to the Thai Monarchy. His statement comes at a time when many people are speaking out against Thailand's military-run government, and calling for changes to the constitution (voted for by referendum in 2017). He said… "Protecting the monarchy with absolute loyalty and supporting the government to resolve national problems and working to advance the country are tasks for which the generals deserve the honour."
Thailand's Social Security Office forced to explain investment in Sri Panwa Phuket Resort trust fund
The Social Security Office, a department under the direction of Thailand's Ministry of Labour, is being asked to explain its investment in the trust fund of Phuket's Sri Panwa Phuket Resort. The demand comes as members of the opposition and political activists call for an investigation into the property's ownership of the land. The owner of Sri Panwa Phuket, Vorasit Issara, has faced flak online recently, with his property attracting multiple negative reviews as a consequence, after he criticised one of the student anti-government protest leaders. Thai PBS World reports that the Civil Society for State Welfare is calling on the SSO to clarify its investment in the Sri Panwa Hospitality Real Estate Investment Trust, thought to be worth around 500 million baht. Meanwhile, review site Tripadvisor has had to suspend reviews for the Sri Panwa resort, as the travel review website has been flooded with negative reviews.
Bangkok officials issue advice to motorists to avoid parliament area due to protest
Bangkok motorists have been told avoid the roads around Thailand's new parliament building today, with a political rally taking place there as we speak. The rally was announced by anti-government protesters at the end of their weekend demonstration. The Metropolitan Police Bureau advise drivers to avoid Kiak Kai Road, in front of the parliament building, as well as a number of other roads in the vicinity. The Thaiger will bring you some of the latest vision from the protest this afternoon which you can watch on our Facebook page with a full report on tomorrow's Thailand News Today.
Keep in contact with The Thaiger by following our
Facebook page
.
Never miss out on future posts by
following The Thaiger
.
982 lèse majesté social media posts cited in police complaint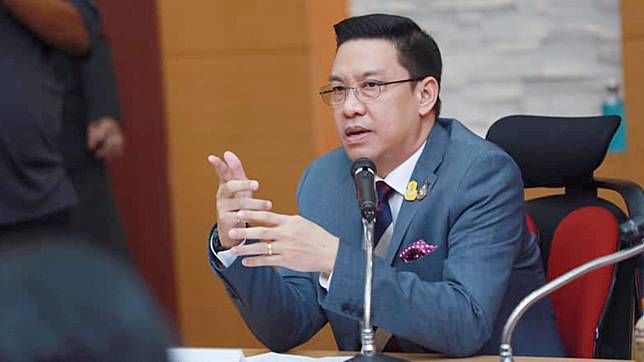 Nearly 1,000 so called lèse majesté posts on social media have been cited in a police complaint for allegedly violating Thailand's Computer Crime Act, some allegedly criticising and insulting the Thai Monarchy. The complaints were filed by Digital Economy and Society Minister Buddhipongse Punnakanta.
The police report says the social media posts were shared during the pro-democracy protest over the weekend. Altogether, 982 social media posts allegedly violate Thailand's Computer Crime Act. The ministry has also applied for a warrant to block content on Facebook, YouTube and Twitter at violate the act.
In Thailand, lèse majesté (insulting the monarch) is criminalised by Section 112 of the Thai Criminal Code… Since 2018, there have been no known new (lèse majesté) cases, but the authorities have invoked other laws, such as the Computer Crimes Act and sedition laws, to deal with perceived damages and insults to the monarchy. – Wikipedia
The complaints and subsequent legal threats, are a rear-guard action by a government and officialdom rattled by the number of protesters and by the extent of their demands, touching on the culturally taboo topic of Thailand's revered monarchy. Another protest is on today at the front of the Thai parliament in Bangkok.
Out of the 982 posts, 661 were on Facebook, 289 were on YouTube, 69 were on Twitter and 5 were on other websites. Buddhipongse says 2 Facebook posts and 3 Instagram posts violate an Article 14 in the Computer Crime Act which regards posts that many cause damage to the country's national security or cause a public panic. Those who violate Article 14 face up to 5 years in prison and an up to 100,000 baht.
Social media platforms could also face charges for violating the act's Article 27 for failing to comply with orders from the court to take down the posts. They could face a fine up to 200,000 baht and a daily fine of 5,000 until the posts are taken down.
Other posts allegedly violate the act's Article 20 which prohibits the spread of information online that might have an impact on national security, or that might be contradictory to the peace. The Nation Thailand says each post that violates Article 20 could face a 200,000 baht fine.
Click HERE to read an unofficial English translation of the Computer Crime Act.
SOURCE: Nation Thailand
Catch up with the latest daily "Thailand News Today" here on The Thaiger.
Keep in contact with The Thaiger by following our
Facebook page
.
Never miss out on future posts by
following The Thaiger
.