Thailand
Thailand News: No retreat from democracy; Reporter freed; Soldiers play cat-and-mouse with protesters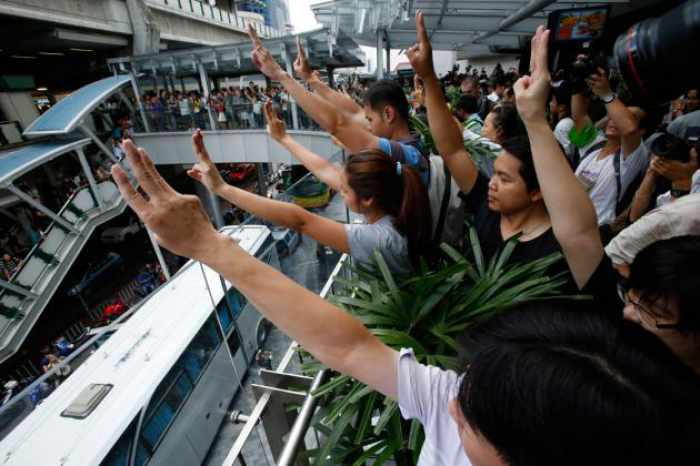 PHUKET MEDIA WATCH
– Thailand news compiled by Gazette editors for Phuket's international community
'No retreat from democracy'
The Nation / Phuket Gazette
PHUKET: Thailand is not retreating from democracy and seeks understanding from its economic and strategic partners while the country undergoes political reforms, a top Thai official said yesterday.
Sihasak Phuangketkeow, Thailand's permanent secretary for foreign affairs, was responding to criticism by US Defence Secretary Chuck Hagel who noted Thailand's "retreat from democracy" and announced that the Pentagon was suspending military assistance and engagements with Thailand.
"We urge the Royal Thai Armed Forces to release those who have been detained, end restrictions on free expression, and move immediately to restore power to the people of Thailand through free and fair elections," Hagel said on Saturday at the Shangri-La Dialogue in Singapore.
"Until that happens, as US law requires, the Department of Defence is suspending and reconsidering US military assistance and engagements with Bangkok," Hagel said.
In a press conference in Singapore, Sihasak said he hoped the US would look at the relationship in the long-term.
"Thailand is not going to disappear. It is the second-largest economy in Asean," Sihasak said.
"We are an economic force to reckon with. We will continue our engagement with the international community. We hope our friends will take that fact into consideration.
"We are committed to staying the course of democracy. We want to consolidate. If you look at the events in Thailand, before the actions taken by the National Committee for Peace and Order, we did not have the kind of democracy we should have.
"There was protracted political conflict and violent incidents and our society was headed towards greater divisiveness. The government was not functioning. Had we continued in that direction, that would have been detrimental to Thailand's stability, to the region's stability."
The US, which has close ties with Thailand's armed forces, cancelled a military exercise.
Sihasak said all those detained had been freed and curbs on the freedom of expression were being lifted.
Warrants sought for nine over attacks on PDRC
The Nation / Phuket Gazette
PHUKET: Police will issue arrest warrants for nine people wanted in relation to violent incidents during the anti-government protest, Deputy National Police Chief Pol General Aek Angsananont said yesterday.
The incidents include grenade attacks that killed and injured many people, the shooting of a Ramkhamhaeng University student, clashes at Din Daeng and the brutal attack on a People's Democratic Reform Committee event in Trat.
Aek was speaking after a meeting of top police called by acting National Police Chief Pol General Watcharapong Prasarnrajakit, who wants investigations sped up.
Some 28 people were killed and more than 800 injured over the past six months. The victims were mostly anti-government protesters.
Under the former national police chief Adul Saengsingkaew, the police were not able to capture anyone for these offences. After the declaration of martial law by the National Council for Peace and Order, the military has discovered at least four caches of war weapons that belong to pro-government supporters.
The NCPO transferred Adul and eight key police to inactive posts, They included Department of Special Investigation chief Tarit Pengdith.
Aek said police had issued arrest warrants for suspects wanted for alleged committing lese majeste. They are Ekapop Luara, who is also known as Tang Archiva, and Pathum Thani red hard-liner Wuthipong "Ko Tee" Kotthammakhun.
Aek said he would check to see if it was true that both suspects had fled the country. If they had, he would request their extradition. Police would also speed up investigation into allegations of lese majeste against Chatwadee "Rose"Amornpat.
Watcharapong said police must resolve every case as soon as possible and explain to the public who was behind the violence.
Military, protesters in cat-and-mouse game
The Nation / Phuket Gazette
PHUKET: The military and fast-moving anti-coup protesters played a cat and mouse game yesterday as security measures were stepped up at about seven prime locations in Bangkok and major provinces.
Security forces descended on key business centres in the capital and the provinces, including Chiang Mai in the north and Nakhon Ratchasima in the northeast, after receiving intelligence that anti-junta protesters would demonstrate.
In Bangkok, Victory Monument, Ratchaprasong, King Taksin Monument, Democracy Monument and the Central shopping mall in Bang Na were closed shortly before noon in the wake of demonstrations.
Pro-democracy activist Sombat Boongnarmanong, who is wanted by the junta, used Facebook to call for demonstrations in Bangkok.
At around noon, a small number of people appeared at the Ratchaprasong intersection but dispersed inside the Terminal 21 shopping centre at Asok when security forces appeared.
However, security forces arrested a 60-year-old woman at the Ratchapasong intersection who wore a mask to show her disapproval of the coup.
As police arrested her, she shouted "help me" and said she did nothing wrong.
The ruling junta has prohibited groups of more than five people assembling in public for political purposes, but the woman said she had come alone before she was taken to nearby Lumpini Police Station.
Meanwhile, rapid-deployment forces rushed to Asok intersection a few kilometres away to block protesters. Hundreds of people held anti-coup signs and shouted their objection to military seizing power.
Terminal 21 was closed and trains did not stop at Asok BTS station. The BTS announced earlier that trains would not stop at Ploenchit, Chit Lom and Ratchadamri in a bid to stop protests.
Deputy national police chief Lt-General Somyot Pumpanmuang oversaw the operation at Ratchaprasong. Although demonstrators left quickly, plainclothes officers were left at trouble spots in a bid to prevent protesters from returning. Police will check with fast-food giant McDonalds to find out how many branches it has in the capital, with officers dispatched to restaurants. Activist Sombat usually arranges protests from these fast-food outlets.
In Chiang Mai, numerous small protests popped up. They expressed their views, sprayed anti-military graffiti on roads but disappeared before security officials arrived. The graffiti included "No Coup" and "Democracy was seen in Chiang Mai".
In Nakhon Ratchasima, the pro-democracy White Korat group gathered briefly at The Mall shopping centre before running away.
No protesters in Chiang Mai and Nakhon Ratchasima were arrested.
Security officials stepped up measures in many other provinces, including Samut Prakan, Lamphun and Ratchaburi, but there were no protests.
Junta chief General Prayuth Chan-ocha monitored the protests closely and instructed troops to handle them accordingly, the Army's deputy spokesman Veerachon Sukhontapatipak said.
The operation to subdue protests woul
— Phuket Gazette Editors