Thailand News: Police to replace soldiers in Bangkok; EC warms to Abhisit's reforms; NACC refuses more Yingluck witnesses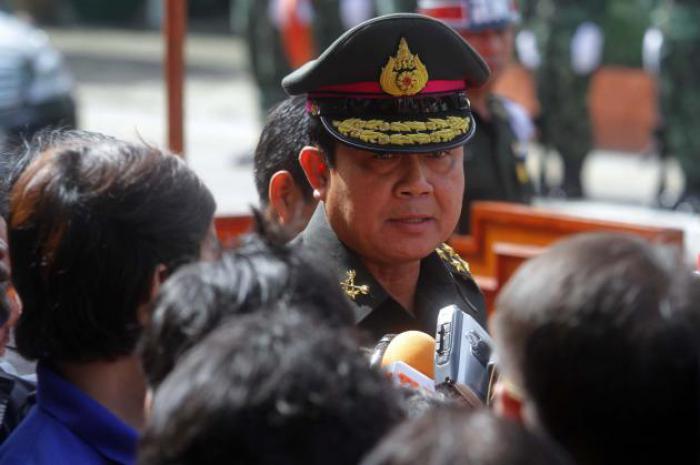 PHUKET MEDIA WATCH
– Thailand news compiled by Gazette editors for Phuket's international community
Prayuth against use of force to end impasse
The Nation / Phuket Gazette
PHUKET: Army chief Gen Prayuth Chan-ocha yesterday voiced concerns about some local leaders and political groups opting for violence to end the prolonged political conflict.
"There are several groups that talk about violence. You know which groups I am referring to. We need to look back and see what is causing the problem. If you can resolve the symptoms but not the cause, then you cannot end this crisis," he said.
Prayuth also called on all sides to refrain from issuing threats or making remarks that might deepen the current impasse, adding that it would take time to remove the root cause of the problems faced by Thailand.
"As long as the conditions from which the conflicts originate remain, we cannot move forward. Don't depend on the military to find a way out because we have to do our job of maintaining security," he said.
Prayuth also threatened to file lawsuits against newspapers that published reports accusing him of not doing anything.
"I will take legal action against some papers that have published reports accusing me of doing nothing because I have allegedly accepted some interests. Nobody can 'buy' the military. We will not change no matter what is offered to us. Nobody wants so much power that one has to accept all sorts of offers.' he said.
He also warned different groups to refrain from widening ongoing conflicts, pointing out that respected senior figures had good intentions for the country, but were misunderstood due to miscommunication. "Look at their intention – whether they achieve their purpose depends very much on the mechanisms in place. There are legal and Constitution-related obstacles," he pointed out.
Prayuth was referring to retired supreme commander Gen Saiyud Kerdphol's announcment on Saturday that Privy Council President General Prem Tinsulanonda had accepted his group's plan to seek help from His Majesty to end the political crisis. Prem later had his aide deny this report, saying Saiyud had misunderstood the elder statesman.
Separately, Prayuth said he had informed the Centre for Administration of Peace and Order to look into allegations that former supreme commander General Chaiyasith Shinawatra had established a militia and was behind armed personnel being trained in Nakhon Ratchasima. "I am getting the Internal Security Operation Commands monitor and report to me about what kind of training is being done," Prayuth said.
However, Chaiyasith has flatly denied the allegation, saying he had gone to Si Sa Ket province in the Northeast to visit old military colleagues.
Prayuth also said he would speak to the Centre for the Administration of Peace and Order about its plan to adjust security measures for the capital by replacing soldiers with police.
"We have to find out if the police can ensure public safety without our support. I have no problems in working with anyone, I just want the country to be safe and sound,' Prayuth said.
Police to replace military for security duties: CAPO
The Nation / Phuket Gazette
PHUKET: The Centre for the Administration of Peace and Order (CAPO) will adjust the deployment of troops to provide security in Bangkok by replacing soldiers with police, the caretaker deputy premier said on Tuesday.
Surapong Tovichakchaikul, as CAPO chief adviser, said that once the caretaker cabinet approved extending enforcement of the Internal Security Act (ISA) for another 61 days until June 30, the number of the military would be reduced while police would be increased.
There were currently 58 companies of soldiers deployed in Bangkok and adjacent provinces for security, he said, but now the police will assume wider responsibility More details will follow in one to three days, he said. The adjustment is designed to ensure more effective law enforcement. The Army will remain in place at Government House.
The change is in part a result of the easing situation, with the number of protesters shrinking and the progovernment United Front of Democracy against Dictatorship (UDD) announcing they would not confront rival groups, Surapong said.
EC warms up to Abhisit's ideas for election reform
The Nation / Phuket Gazette
PHUKET: The Election Commission (EC) yesterday agreed to take into consideration the proposal of Democrat party leader Abhisit Vejjajiva to reform the electoral process before holding an election. However, both sides remain concerned whether an election could be held while the political impasse continues.
The Democrat leader yesterday led key party members to meet the poll body to propose a solution to end the country's prolonged political conflict.
EC secretary-general Puchong Nutrawong said Abhisit had proposed eight points to the EC about how to reform the election mechanism to hold a fair, smooth, and peaceful poll in order to convince voters to cast their ballots.
Abhisit's proposal was in line with that of EC commissioner Somchai Srisutthiyakorn, who is in charge of election management, Puchong said.
"We agree that we have to review election regulations or announcements, which have been proposed by Somchai as well," Puchong said.
The eight proposals have not been revealed to the public though the EC said it would consider them.
According to Puchong, Abhisit has proposed that the EC issue regulations to penalise politicians or parties who fail to deliver policies promised in their election campaign. For example, their electoral rights could be revoked if they failed to deliver, he said.
Abhisit has proposed that the EC consider issuing yellow or red cards to candidates within 30 days after the election day, instead of within one year according to the current law. Otherwise it would be difficult to take legal actions against them when they had already taken a political post for a while, he said.
Abhisit said the EC would pass on his proposals to the caretaker government when the EC was scheduled to meet Prime Minister Yingluck Shinawatra today.
"I want to make a plea to the premier to consider my initiative and not rush into holding an early election without having a solution on how to reform the country," he urged.
"The EC and I agree that the current atmosphere makes it difficult for the EC to hold a complete election. Although the EC thinks they can hold a lawful election, there is also concern if the House of Representatives could be convened for its meeting," Abhisit said. "If we can't find a common ground [between the stakeholders before holding an election] the country will remain in stalemate. An election will create more problems. People would rather accept a poll delay," he said.
Asked if his party members would contest the next election if others agreed with Abhisit's proposal, he said he has to make his party accept it, too. Abhisit said he would conclude his proposals and reveal them to the public by this week. Before the meeting, Supachai said he personally believed Abhisit's move could possibly break the impasse and lead to a smooth election.
< — Phuket Gazette Editors


Read more headlines, reports & breaking news in Thailand. Or catch up on your Thailand news.
King Power's duty free monopoly under review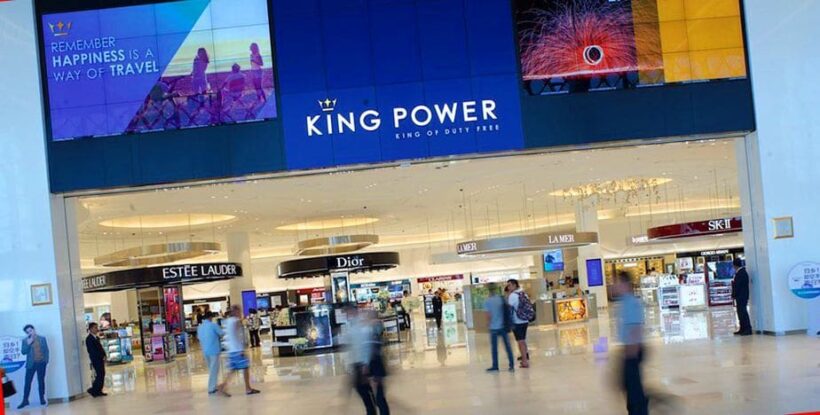 King Power Duty Free's monopoly of duty free concessions at some of Thailand's busiest airports may be coming to an end.
The Thai PM has warned against the "monopolisation" of the country's airport duty free sector ordering a review of the auctioning process that could threaten the multi-billion-dollar empire of current concession holder King Power.
Thailand expects to welcome over 40 million foreign visitors this year, mostly through its airports which rake in an estimated US$1.9 billion a year in duty free sales.
Airports of Thailand (AoT) awarded King Power the sole concession back in 2006 but is set to expire in September 2020. AoT is a state-run enterprise.
King Power was founded by Vichai Srivaddhanaprabha, the tycoon who made billions from duty free stores and invested in everything from hotels, property and, famously, the Leicester City football club. His helicopter crashed outside the club's home ground in October last year. According to Forbes Magazine, Vichai had handed his empire to his youngest son Aiyawatt. At his death the company was valued around US$5.8 billion,
The new contract for duty-free sales, AoT says, will be managed by a single company with a proven track record of experience in the sector, creating fears of a prolonged monopoly.
But PM Prayut Chan-O-Cha has stepped in saying the government has received complaints from interested parties "on the issue of monopolisation". He assigned an urgent review of the bidding to find a "suitable process to be fair".
Thailand's Mall Group and shopping empire Central Group are eyeing entry into duty-free while South Korean giant Lotte is also wanting to bid for the valuable concession.
Last year, a Thai court rejected an attempt to sue King Power for hundreds of millions of dollars in unpaid revenue to the airport authority.
SOURCE: The Nation
One dead, kids injured in school bus accident in Prachinburi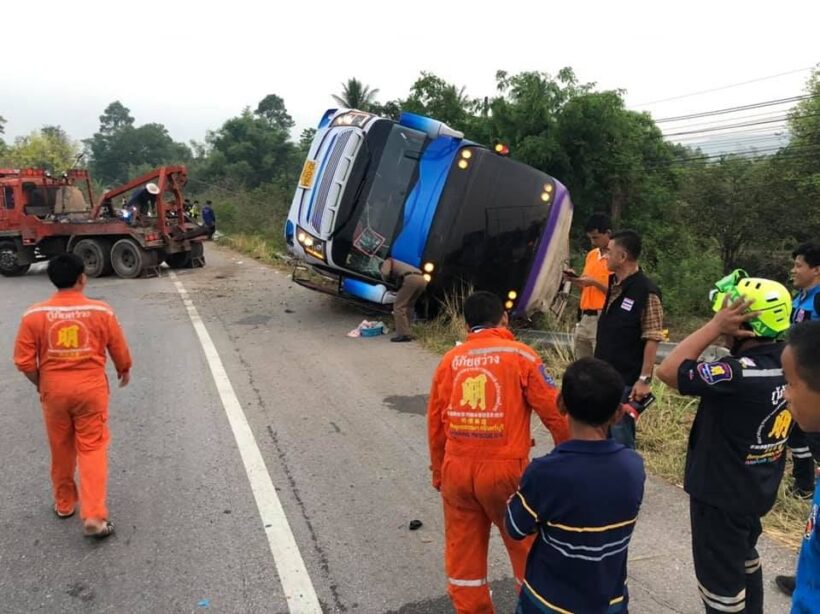 Photo: Prachinburi PR Office
A bus has crashed just north-east of Bangkok, killing one and injuring another 10.
Wangkhon Police in Prachinburi were notified of the accident at 4:40am early today.
The bus was travelling from Nong Bua Lamphu, north east of Thailand, to Prachinburi. The bus was carrying 20 high school students and 19 teachers.
When the bus arrived at the section of the road at Nadee in Prachinburi, the bus careered off the side of the road and overturned.
One female student died instantly while others 10 passengers sustained injuries. They were rushed to the Nadee Hospital.
Police are continuing their investigation this morning.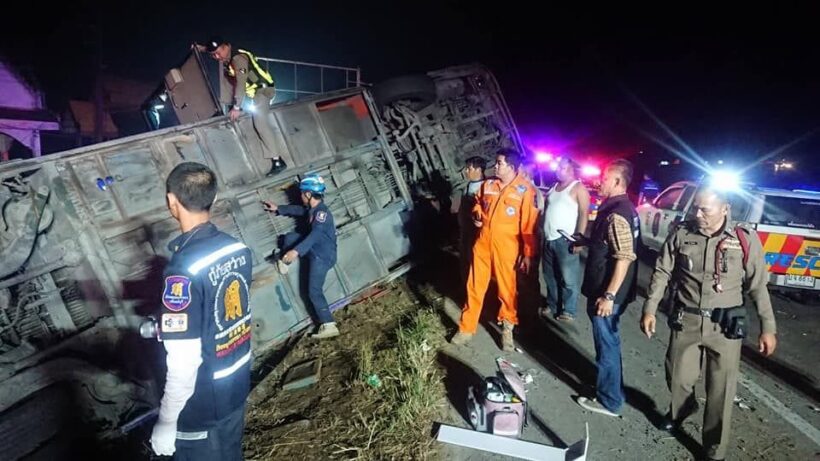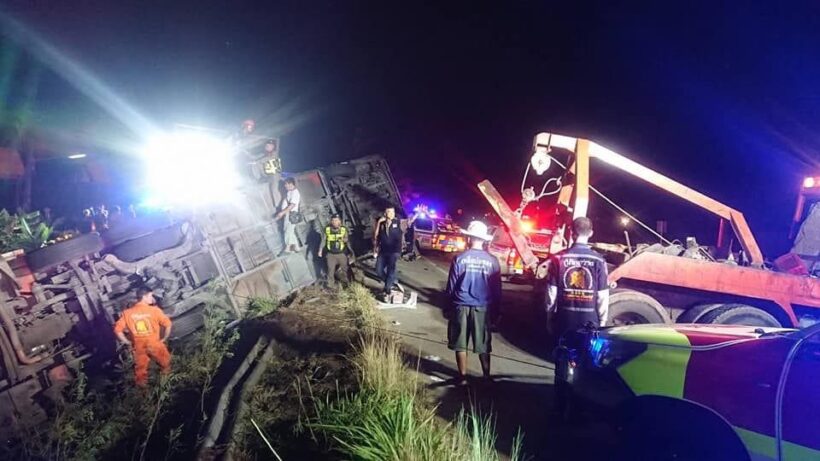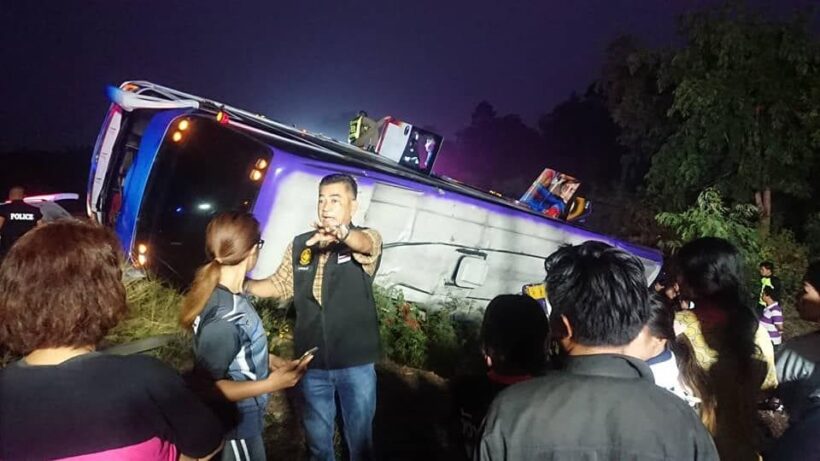 Thai driver puts in an excellent weekend at Australian GP finishing 14th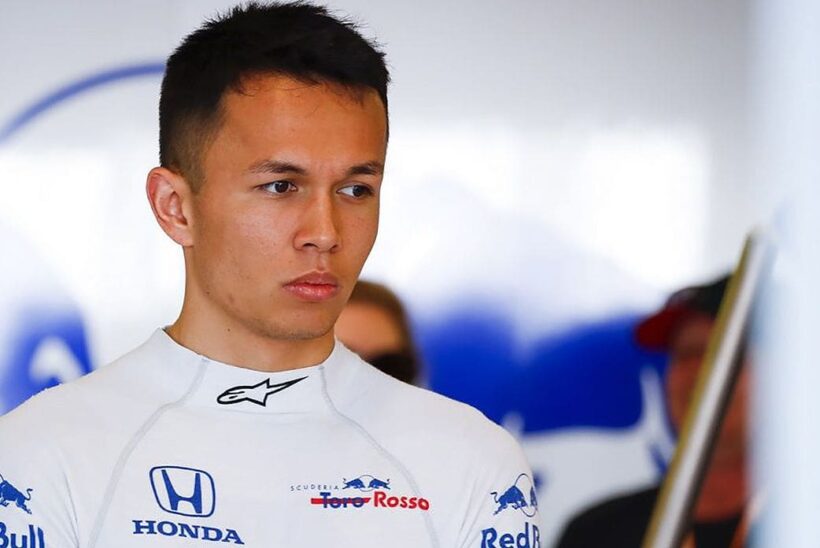 PHOTO: Alex Albon makes a splash in Melbourne with the first crash of the season and then a sparkling result against the odds
Alex Albon, the Thai-English F1 driver, says he was was satisfied with yesterday's work in Melbourne after the first Thai driver in Formula 1's modern era threatened a huge shock before settling for a respectable 14th place at the Australian Grand Prix.
In Friday's practice, Albon suffered the dubious honour of becoming the first driver of the season to crash out, sending his Toro Rosso car spinning into the barriers.
Further evidence the Thai might be out of his depth at the top level came with a panicked message from his cockpit: "Oh my God … I got my fingers stuck in the headrest and nearly hit the wall."
But then Saturday's qualifying saw him unexpectedly surge past his more experienced Russian teammate Daniil Kvyat into 13th place on the grid. Kvyat, with a season of F1 already under his belt, was two grid places behind as the red lights blinked out and the Thai stomped on the accelerator yesterday.
The result was a lightning start for Thailand's new era at the top of global motorsports.
"The race started off very well, I dropped the clutch and thought 'great, that was okay!' I made up two positions straight away and at that time we were in the mix, as I was already one position away from the points," said Albon, after yesterday's racing. Tyre problems
"That was pretty much as good as it got for me, though," he added, complaining that the Toro Rosso tyre strategy failed to pay off.
"We were in a battle with Alfa Romeo's Antonio Giovinazzi, I think he was struggling with his tyres and everyone on that strategy lost out."
Despite losing ground to more experienced rivals as his tyres began to wear, Albon declared himself satisfied with his performance in Melbourne.
"All of the guys who stayed out on the harder compound behind overcut us. That compromised our race but I'm still happy with how my weekend went. I think we could have had points so that stings a little, but it was a good experience and I came away with a clean weekend, relatively speaking!"
Team Principal Franz Tost was impressed by Albon's driving accuracy on Melbourne's tricky street circuit.
"Alex did a great job … because this was his first race in F1 and it's not an easy circuit around here. Nevertheless, he didn't make any mistake and learned a lot throughout the weekend. After the first race weekend, we feel we have a strong package, so I'm optimistic for the next races."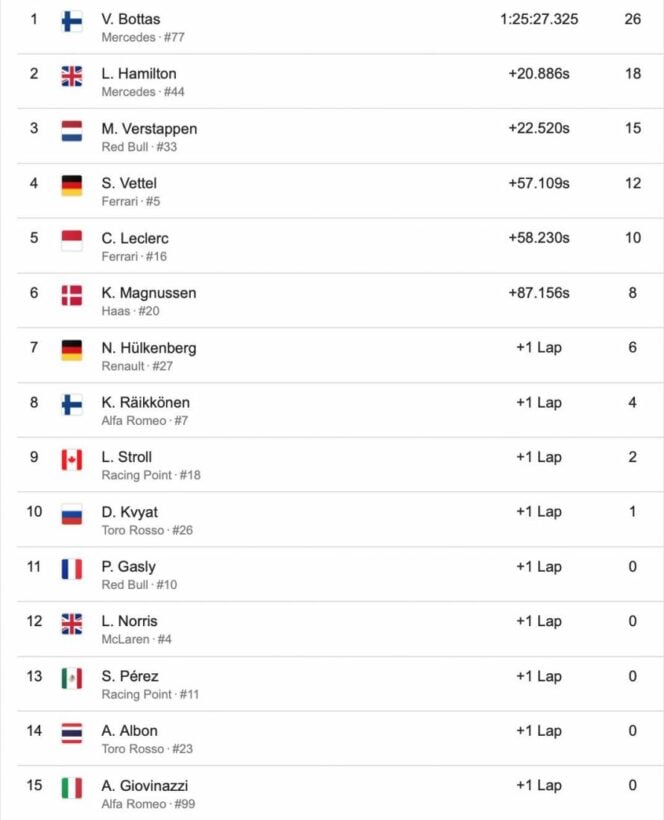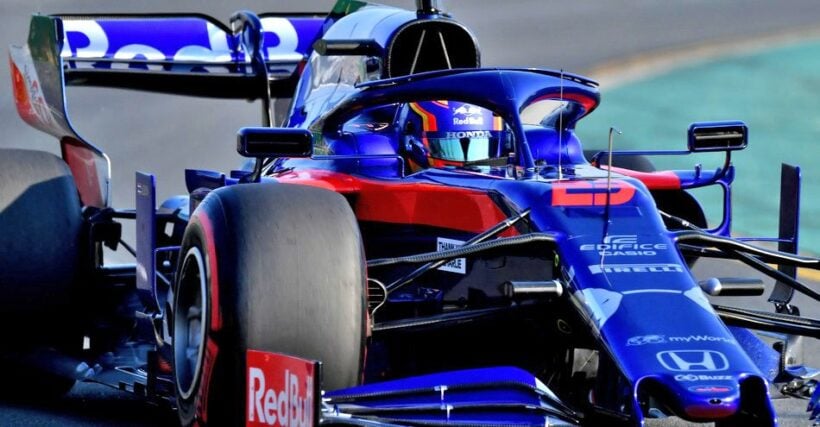 SOURCE: The Nation