Thailand News: Govt warns scammers; ACMECS single visa today; optimism for tourism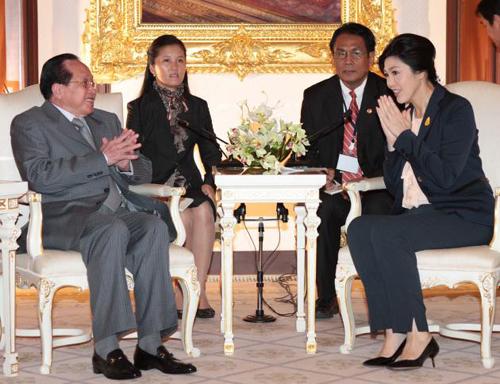 PHUKET MEDIA WATCH
– Thailand news compiled by Gazette editors for Phuket's international community
Govt warns scammers as Thailand is named top destination
The Nation / Phuket Gazette
PHUKET: Thailand has long been ranked as one of the world's best tourist destinations, with so many awards under its belt. However, the Kingdom's tourism industry is not untainted.
Now that Thailand has finally made it to the
Huffington Post's
list of top 20 destinations for New Year celebrations, the government is calling on all Thais to look after tourists in their neighborhoods.
This plea comes as Thailand's reputation continues getting dealt one blow after another from reports about scams and crimes against foreigners.
Just recently, the
Sydney Morning Herald
published an article warning Australian tourists to be wary of extortion gangs in Phuket, some of who are allegedly in cahoots with local police.
Australian Ambassador to Thailand James Wise and his British counterpart, Mark Kent, have joined the Tourism Ministry's campaign to tackle tourist scams in the resort-island of Phuket. The key scams involve taxi and jet-ski operators in both Phuket and Pattaya, the article said.
In addition to all this, two Russian nationals were robbed and raped in Chon Buri late on Christmas Day.
The women, in their early 30s, told police that they were forced into a pick-up truck at gunpoint while they were walking back to their hotel. They claimed they were attacked by three men, who did not just rob them of their cash, cellphones and jewellery, but also assaulted them sexually.
The women, who were left to fend for themselves in a forested area, came upon a house and begged for help. The owners of the house contacted the police for them.
"We will hunt down the attackers," Pattaya police inspector Pol Lt-Colonel Patsa Dejparkkul promised.
Thailand needs to take serious steps in stopping crimes against tourists, otherwise its appeal as a great destination might fade.
Foreign Minister Surapong Towichukchaikul said yesterday that the issue of travelers' safety had been raised and discussed in the latest Cabinet meeting. He said that while the authorities will do their best in strictly enforcing the law, ordinary citizens should also lend a hand.
"Please take care of foreigners. If anything happens to them, please step in to help," Surapong said.
He added that Prime Minister Yingluck Shinawatra had also instructed all relevant authorities to ensure the safety of tourists especially during the holidays.
"Don't hurt Thailand's tourism industry," he said, adding that criminals targeting foreigners ruin the country's image.
Tourists can call the 1672, (02) 134 4077 or (02) 356 0650 hotlines for assistance any time of the day or night, he said. (For the T
ourist Police in Phuket call: 1155.
)
Meanwhile, Surat Thani Governor Chatpong Chatphut promised to introduce measures that would protect tourists from scammers in the jet-ski, car and boat rental services.
He said this after a tourist complained that a jet-ski operator on Chawaeng beach attacked him after he refused to pay the exorbitant fees demanded. Four suspects have been arrested in the case.
"If all operators are required to buy insurance policies, this problem should reduce," he said.
Single-entry visa for Thailand, Cambodia
The Nation / Phuket Gazette
PHUKET: From today, tourists from 35 countries need only apply for one visa to visit both Thailand and Cambodia. This is part of ACMECS Single Visa – the first step toward an ASEAN version of the European Union's Schengen Visa scheme.
Visitors who want to visit both countries can apply for a visa at either country's embassy.
The ACMECS Single Visa should boost tourism in both countries as well as fulfil Thailand's objective to become a regional hub for tourism, said Foreign Minister Surapong Towichuk-chaikul, who jointly chaired a joint commission on bilateral cooperation with his Cambodian counterpart Hor Namhong yesterday.
ACMECS stands for the Ayeyawady-Chao Phraya-Mekong Economic Cooperation Strategy, which groups Cambodia, Laos, Myanmar, Thailand and Vietnam. All ACMECS members are part of ASEAN, and the ACMECS Single Visa is expected to pave the way for an ASEAN Common Visa.
The original idea to have a Schengen-style tourist visa was introduced at a meeting in Bagan, Myanmar in 2003 between leaders of Cambodia, Laos, Myanmar and Thailand. At the meeting they launched the "four countries-one destination" scheme, which Vietnam joined later. Foreign ministers of Acmecs then agreed at a 2005 meeting in Siem Reap that Thailand and Cambodia would try to implement the single-visa strategy first. "If the initial project is successful, then the remaining Acmecs members will join the scheme," Surapong told the press.
Hor Namhong said the two nations would most certainly benefit from the single-visa scheme as it would make travel between the two countries more convenient.
As for concern that traffickers might exploit the scheme, both countries have a "pre-clearance" system.
For instance, if a visitor applies for a visa at a Thai embassy, the documents will be forwarded to its Cambodian counterpart for approval, which will have the authority to reject the application, and vice versa. Also, visa fees for both countries will have to be paid. For instance, the Thai embassy will charge 1,000 baht for entry into Thailand and the tourist will have to pay the Cambodian visa fee upon arrival in that country and vice versa.
As per details provided by the Thai Foreign Ministry, neither country will issue a "multiple-entry" visa.
Up to 21 million people have visited Thailand this year, while Cambodia has had 2.3 million visitors in the first eight months of 2012.
Piyamarn Tejapaiboon, president of the Tourism Council of Thailand, said the scheme will be slightly more beneficial for Cambodia, as tourists visiting Thailand will be able to extend their stay.
Sisdivachr Cheewarattanaporn, president of the Association of Thai Travel Agents, added that the scheme should help boost tourism in Thailand because travel agents will now be able to offer Cambodia as an additional destination.
Apart from the single visa, the two ministers also discussed several cooperation strategies at the meeting yesterday, including joint efforts in the security, economic, social and cultural spheres. They also agreed to set up a permanent border checkpoint between Ban Nong Aian in Sa Kaew province and Stung Bot in Cambodia's Banteay Meanchey province, as well as a temporary checkpoint at Sa Kaew's Ban Non Mak Moon and Banteay Meanchey's Ban Pray Chan.
Thailand will also do a feasibility study on upgrading a road linking the Stung Bot checkpoint to Cambodia's Highway No 5 to Phnom Penh. The State Railway of Thailand will also provide assistance in building a railway bridge connecting Sa Kaew's Kongluek village with Poi Pet in Cambodia to facilitate trade and tourism.
So far, the two countries' annual bilateral trade is worth about US$2 billion (Bt61 billion), Hor Namhong said. "Both countries have agreed to increase some 30 per cent of trade annually, but I exp
— Phuket Gazette Editors
Keep in contact with The Thaiger by following our
Facebook page
.
Never miss out on future posts by
following The Thaiger
.
Thailand News Today | German Embassy, More STV tourists, Thanathorn in trouble | October 27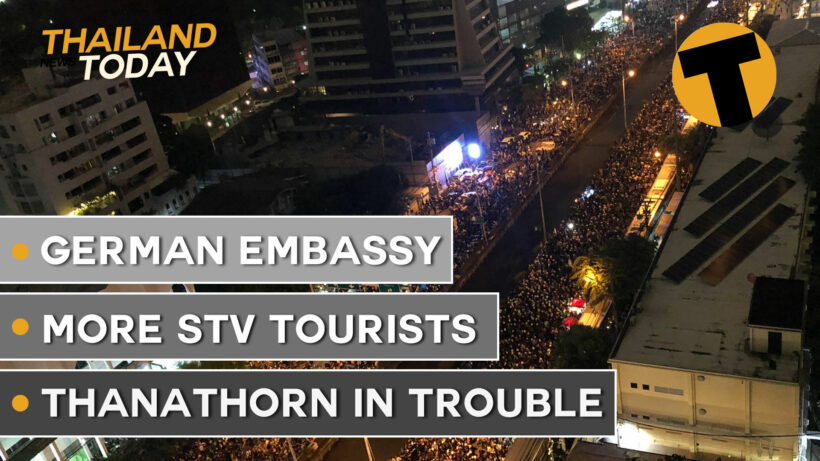 Today's latest Thai news from The Thaiger, hosted by Tim Newton with full, echoey sound! Sorry about the minor audio issues!
From Bangkok to Berlin – protesters deliver letter to German Embassy
Protesting students last night submitted a letter to the German Embassy, to be passed on to the German Government. The protest started around 4pm when the rally gathered at the Sam Yan intersection, near the Chulalongkorn University, and made its way along Rama IV Road to the German Embassy in Sathorn Road, some 1.5 kilometres.
After some 10,000+ students descended on the Embassy compound in Sathorn Road, the German embassy said it would be "ready to receive the petition and convey it to Berlin on condition it was conveyed in a peaceful manner".
The rally disbanded peacefully at around 9pm. Here are a few lines from the letter… the full contents are published on thethaiger.com
Addressed to His Excellency German Ambassador to Thailand.
During the last few days, we believe that Your Excellency have had the occasion to observe numerous alarming human rights violations in The Kingdom, including the excessive use of force against peaceful protestors and the suppression of free speech.
The protestors. at the receiving end of these egregious violations, were advocating for nothing more than democracy and accountability from the Government.
One of the most significant and courageous demands from the protestors is the accountability of the monarchy as an institution under the constitution.
In this regard, we are certain that Your Excellency is well aware of the open secret that H.M. does not habitually reside in Thailand, but rather in Bavaria, Germany. Khana Ratsadon International profoundly believes that this violates International custom, law, as well as Article I of the German Constitution.
We sincerely hope that Your Excellency would convey our grievances to the German Government.
Yesterday's Germany's Foreign Minister responded directly to the situation out side the German Embassy in the German parliament….
"Of course we are following developments taking place in Thailand, and know there are demonstrations and people taking to the streets for their rights. And, of course, I am also watching what the Thai King gets up to in Germany."
Earlier yesterday a group of some 500 supporters of the government and royalists dressed in yellow shirts also demonstrated outside the gates of the German Embassy voicing their support for His Majesty and a continuation of the current system.
Both rallies outside German Embassy broke the law – deputy police chief
Meanwhile both of the rallies outside the German Embassy in Bangkok – the royalists and government supporters earlier yesterday afternoon and the pro-democracy protesters in the evening – have been deemed illegal by Thai police.
Deputy Metropolitan Police Chief says both rallies held outside the embassy on Sathorn Road did not have the permit required to hold a gathering and demonstrators violated Covid-19 prevention measures under the emergency order (presumably the Covid 19 emergency decree as the State of Emergency was rescinded last Thursday by the Thai PM).
Around 500 royalists got to the embassy first in the afternoon to show support for the Thai Monarch. Most were dressed in yellow, the colour representing the Thai Monarchy, and many waved the Thai flag and held up photos of the Royal family.
6 face extortion charges after allegedly posing Thai immigration police officers
Police have arrested 3 people and issued arrest warrants for 3 others on extortion charges after they allegedly posed immigration police officers in Rayong and visited business owners with migrant staff, asking them for money.
Police say 6 men wearing immigration police uniforms visited business owners in Rayong on September 15. They allegedly asked for money from the businesses with migrant labourers.
Investigators where able to track down 3 of the suspects and found the immigration police uniforms they allegedly used.
145 more on Special Tourist Visa arrive in Bangkok
145 people on the new Special Tourist Visa arrived in Bangkok yesterday from Guangzhou, China, the second group after Thailand's 7 month ban on international tourists.
39 people on the new long stay visa arrived last week, a small, yet significant step forward for Thailand as it pries open the borders for tourists, albeit with a lot of paperwork, restrictions AND the 14 day quarantine.
In 2019, nearly 40 million tourists visited Thailand.
3 Chinese casino workers arrested with 8 million baht after illegal crossing from Myanmar
Officers from the Thai police and military have arrested 3 Chinese nationals after they crossed illegally into Thailand from the Burmese town of Myawaddy.
The 2 women and 1 man were workers at a casino in Myanmar and were arrested in possession of 8 million baht in Mae Sot, Northern Thailand. Officers detained them as they were getting into 2 cars allegedly arranged for them by 2 Thai men .
Thanathorn, other former Future Forward Party officials, are facing criminal charges
16 people from the dissolved Future Forward Party, including the former leader Thanathorn , could face criminal charges pressed by the Election Commission.
The charges are over a large donation that allegedly exceeds the maximum allowed under the Political Parties Act. The timing of the politically-charged legal action coincides with a peak of anti-government protest activity.
The 191 million baht loan, which exceeds the limit of 10 million baht per donor per year, led the Constitutional Court to dissolve the Future Forward Party back in February. The Court also ordered the party's executive MPs be stripped of their parliamentary status and banned from politics for 10 years.
Keep in contact with The Thaiger by following our
Facebook page
.
Never miss out on future posts by
following The Thaiger
.
Don't forget to extend your visa! Thai Immigration warns about fines for late applicants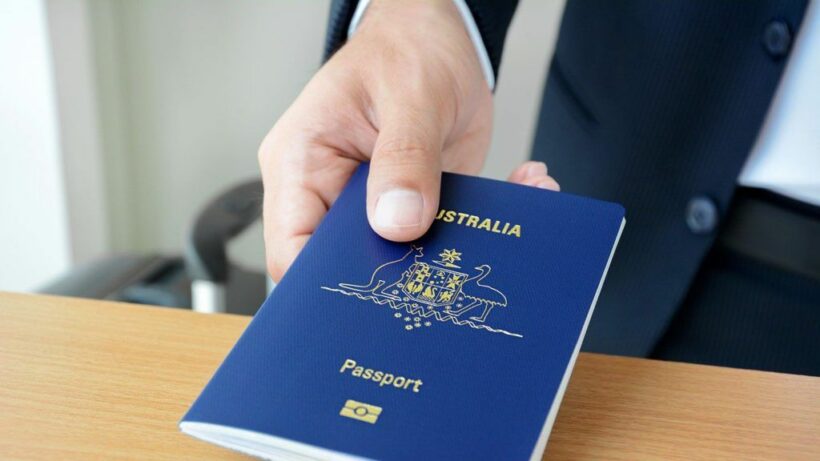 Still need to extend your visa? You have until Halloween, October 31. With the visa amnesty deadline approaching, Thai Immigration Bureau is reminding foreigners to get their visa in order by the end of this month. Late applicants will be fined, they say.
No matter when the visa is extended, as long as it's before the deadline, it will go into effect on November 1 and allow a 60 day stay. The immigration bureau says foreigners should file an application with their local immigration office.
Since the recent amnesty period was put in place a few days after the initial September 26 deadline, those who paid 1,900 baht for 30 day visa extensions last month are now allowed to stay until November 30, but they need to go to immigration to get a stamp with the new expiration date.
The amnesty was first put in place in April due to travel restrictions and the global spread of the coronavirus. The grace period was set to end in July, then extended to late-September, and then extended again after many were unable to leave the country or get their visa in order before the deadline.
SOURCE: Thai Immigration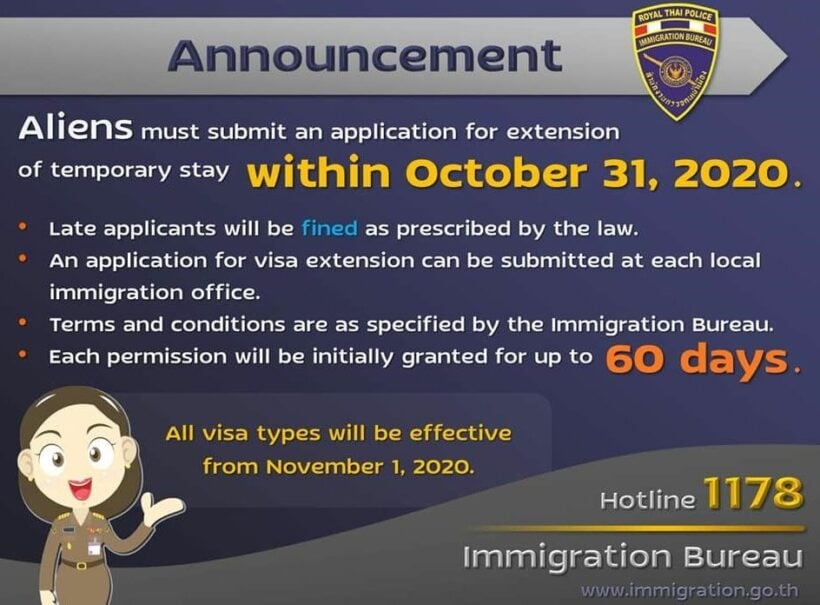 Catch up with the latest daily "Thailand News Today" here on The Thaiger.
Keep in contact with The Thaiger by following our
Facebook page
.
Never miss out on future posts by
following The Thaiger
.
145 more on Special Tourist Visa arrive in Bangkok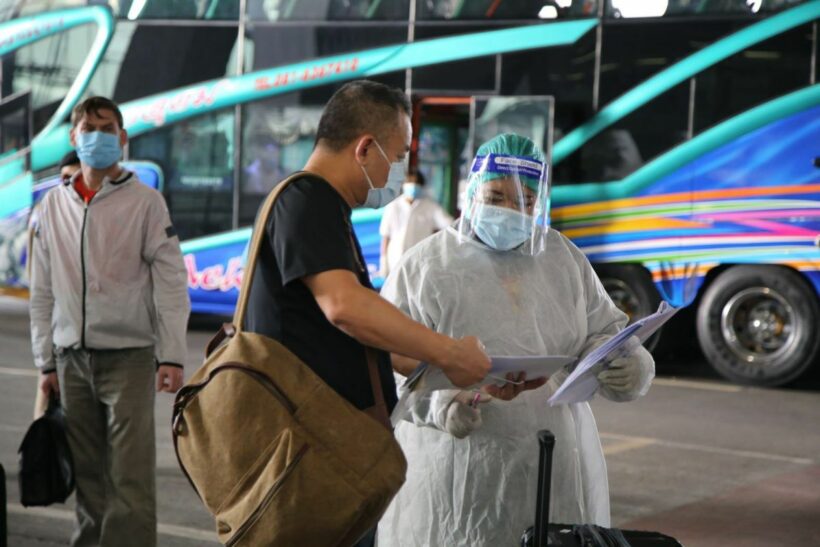 145 people on the new Special Tourist Visa arrived in Bangkok yesterday from Guangzhou, China, the second group after Thailand's 7 month ban on international tourists. 39 people on the new long stay visa arrived last week, a small, yet significant step forward for Thailand as it pries open the borders for tourists, albeit with a lot of paperwork, restrictions AND the 14 day quarantine.
The country went from welcoming millions of tourists each month before the pandemic to zero from late-March until a few weeks ago. In 2019, nearly 40 million tourists visited Thailand.
All the tourists passed the Covid-19 screening upon arrival at the Suvarnabhumi Airport. They are now required to go through a 14 day quarantine at an approved hotel or facility before travelling the country.
The tourists were on the same China Southern Airlines flight as 118 foreigners with Thai work permits who were entering Thailand for business purposes, according to the airport's deputy director Kittipong Kittikachon. 16 Thais were also on the flight, travelling back home from China.
While some have been concerned that opening the borders to foreign tourists could cause another outbreak (even though the tourists are also required to quarantine), Kittipong says there is "no chance" that the coronavirus will spread from the tourists. He says strict health measures are in place and the tourists are coming from areas that are considered a "very low risk" with no recent local transmissions of the virus.
SOURCE: Pattaya News
Catch up with the latest daily "Thailand News Today" here on The Thaiger.
Keep in contact with The Thaiger by following our
Facebook page
.
Never miss out on future posts by
following The Thaiger
.