Thailand leads ASEAN nations in annual suicide rate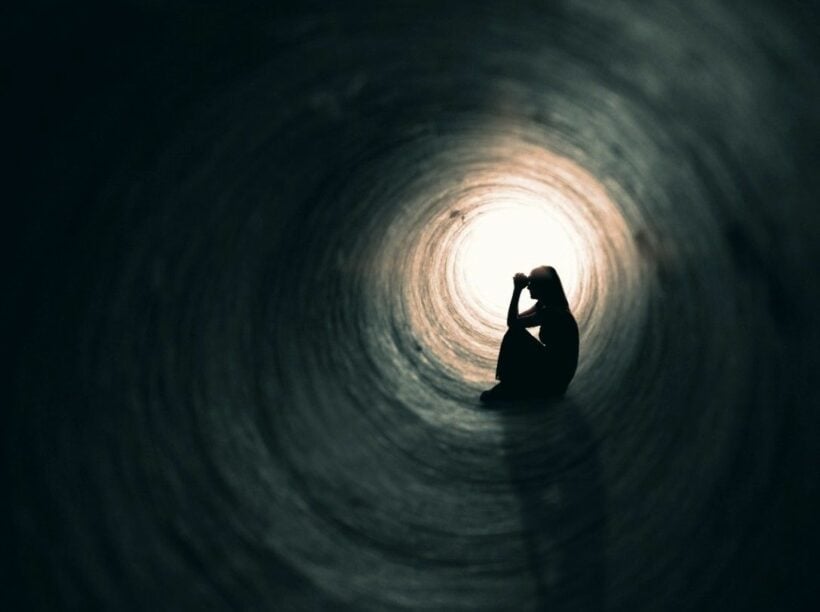 "Thailand, which ranks in 32nd place with 14.4 of suicides per 100.000 population – or nearly 10,000 suicide deaths last year."
Every 40 seconds, someone loses their life to suicide and nearly 800,000 people die due to suicide every year, according to the World Health Organisation.
World Suicide Prevention Day in held on September 10 each year. Suicide is the second leading cause of death among 15-29 year olds, after road injury.
Thailand, which ranks in 32nd place with 14.4 of suicides per 100.000 population – or nearly 10,000 suicide deaths last year – holds the unenviable position of number 1 among ASEAN countries on the WHO suicide list, followed by Singapore (Rank 67 with the ratio of 11.2) and Laos (Rank 84 with the ratio of 8.6. The Philippines has the ASEANS's least rate (Rank 163 with the ratio of 3.2). Brunei wasn't on the 183-country list.
While noting that the number of countries with national suicide prevention strategies had increased to 38 in the five years since the publication of WHO's first global report on suicide, WHO Director-General Dr Tedros Adhanom Ghebreyesus stressed that this was still far too few and governments need to commit to establishing them.
"Despite progress, one person still dies every 40 seconds from suicide," said Ghebreyesus.
"Every death is a tragedy for family, friends and colleagues. Yet suicides are preventable. We call on all countries to incorporate proven suicide prevention strategies into national health and education programmes in a sustainable way."
If you or anyone you know is in emotional distress, please contact the Samaritans of Thailand 24-hour hotline: 02 713 6791 (English), 02 713 6793 (Thai) or the Thai Mental Health Hotline at 1323 (Thai).
World Suicide Prevention Day has been observed every year since 2003 to raise public awareness of suicide around the world and what people can do to help prevent it.
Also today the WHO, in collaboration with global partners, launched a "40 seconds of action" campaign, which will culminates on World Mental Health Day on October 10. The theme this year is suicide prevention.
The "40 seconds of action" campaign gives an opportunity for people to help improve awareness of the significance of suicide as a global public health problem; improve knowledge of what can be done to prevent suicide; reduce the stigma associated with suicide; and let people who are struggling know that they are not alone.
The WHO also urged people to share their messages, photos, illustrations and videos that are not of a private nature on Twitter or Instagram using the hashtag #40seconds and #WorldMentalHealthDay.
SOURCE: The Nation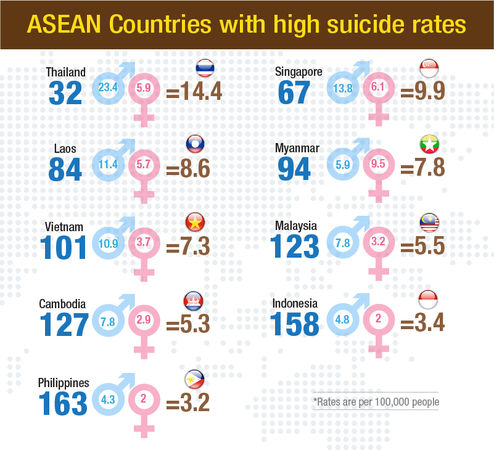 Keep in contact with The Thaiger by following our
Facebook page
.
Thailand ranked sixth best in the world for healthcare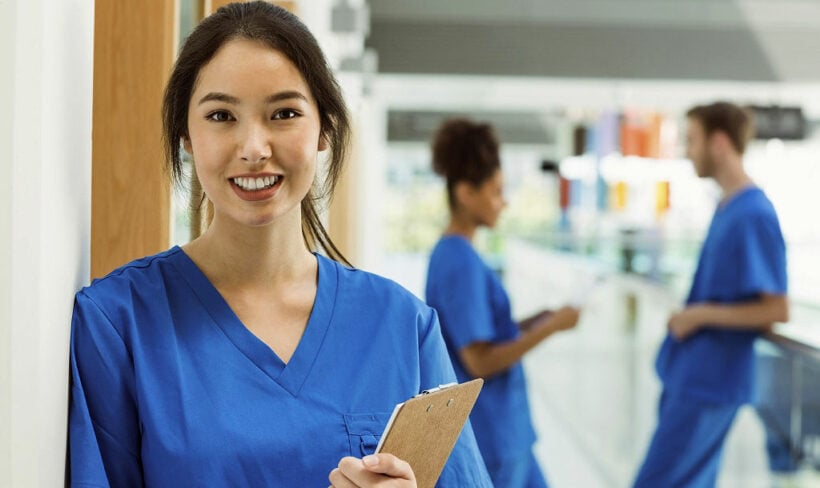 Sixth best healthcare system in the world! Well done Thailand.
The Kingdom is gaining worldwide recognition for quality healthcare services after placing sixth in a ranking of countries with the best healthcare systems. The ranking was conducted by the US magazine CEOWORLD who do annual rankings of a number of world businesses and services. The rankings came out last month.
The annual Health Care Index is a statistical analysis of the overall quality of a country's healthcare system.
Thai Public Health Minister Anutin Charnvirakul says the ranking as an indication of Thailand's success in developing a sustainable and valued healthcare sector.
According to CEOWORLD Thailand is among few Asian countries which managed to place in top 10 in 2019. Thailand joins South Korea who reached second place and Japan in third place.
But European countries dominate the list – Austria leading at fourth place, followed by Denmark (5th), Spain (7th), France (8th) and Belgium (9th). Australia rounded out the top 10 at 10th place.
Taiwan's health care topped the the list of 89 countries, scoring 78.72 out of 100 on the Health Care Index. At the opposite end of the spectrum, with a score of 33.42, Venezuela was named the country with the worst health care system in 2019.
The Health Care Index rates a number of factors in a country's health care services, including infrastructure; health care professionals' (doctors, nursing staff, and other health workers) competence, cost, availability of quality medicine, and government readiness.
The Public Health Minister, responding to the great result, says that the government must not rest on its laurels, "as mere rankings do not matter as much as how well the ministry performs its duty of maintaining public health".
SOURCE: Bangkok Post
To find the latest medical procedure info and make bookings, go HERE.
Keep in contact with The Thaiger by following our
Facebook page
.
Travel giant Thomas Cook teetering on financial collapse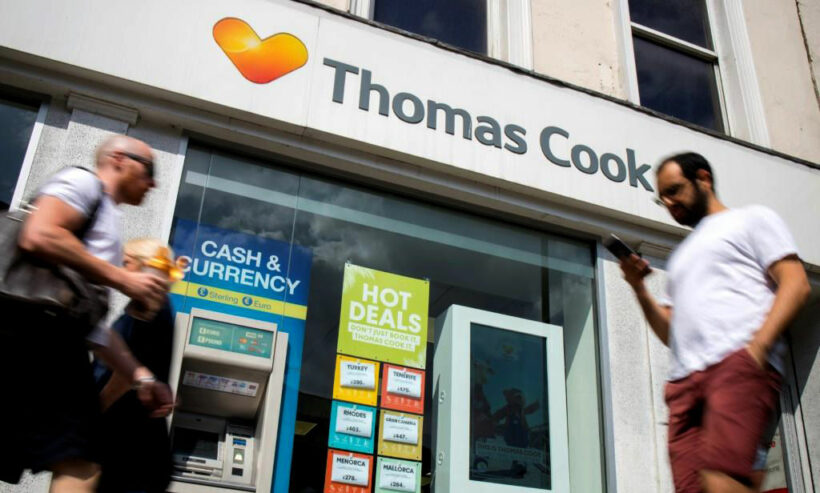 Unable to adapt to the move online as smaller, nimbler travel companies thrive, Thomas Cook, the household name in international travel, is close to financial collapse. And the collapse could leave up to 150,000 British tourists stranded overseas.
The iconic British travel giant Thomas Cook say they've failed to find any further private investment to stave off collapse and now relies on an unlikely government bailout. The group is blaming "Brexit uncertainty" as the major problem with their current malaise.
The operator announced they needed £200 million (US$250 million) – in addition to the £900-million rescue deal secured last month – or else face administration, which could potentially trigger Britain's largest repatriation since World War II – customers who are currently overseas.
A source close to the negotiations told AFP the company had failed to find the £200 million from private investors and would collapse unless the government intervened. Without another bailout by its Chinese major shareholder Fosun, the brand's financial options are few.
But ministers are unlikely to step in due to worries about the pioneering operator's longer-term viability leaving it teetering on the brink of collapse and stranding up to 150,000 British holidaymakers abroad.
"We will know by tomorrow if agreement is reached," the source told AFP. The firm's shareholders and creditors are scheduled to meet from 9 am (0800 GMT) on Sunday morning, followed by a meeting of the board of directors in the afternoon.
The Transport Salaried Staffs Association, which represents workers at the company, called on the government to rescue the firm.
"It is incumbent upon the government to act if required and save this iconic cornerstone of the British high street and the thousands of jobs that go with it," said TSSA General Secretary, Manuel Cortes.
"The company must be rescued no matter what."
Two years ago, the collapse of Monarch Airlines prompted the British government to take emergency action to return 110,000 stranded passengers, costing taxpayers some £60 million on hiring planes.
The government at the time described it as Britain's "biggest-ever peacetime repatriation".
Thousands of workers could also lose their jobs, with the 178 year old company employing about 22,000 staff worldwide, including 9,000 in Britain.
Chinese peer Fosun, which was already the biggest shareholder in Thomas Cook, agreed last month to inject £450 million into the business. In return, the Hong Kong-listed conglomerate acquired a 75% stake in Thomas Cook's tour operating division and 25% of its airline unit.
Creditors and banks agreed to inject another £450 million under the recapitalisation plan announced in August, converting their debt in exchange for a 75% stake in the airline and 25 percent of the tour operating unit.
Thomas Cook in May revealed that first-half losses widened on a major write-down, caused in part by Brexit uncertainty that delayed summer holiday bookings. The group, which has around 600 stores across the UK, has also come under pressure from fierce online competition.
SOURCE: Agence France-Presse
Keep in contact with The Thaiger by following our
Facebook page
.
Vietnam Airlines opening direct Phuket to Ho Chi Minh City flights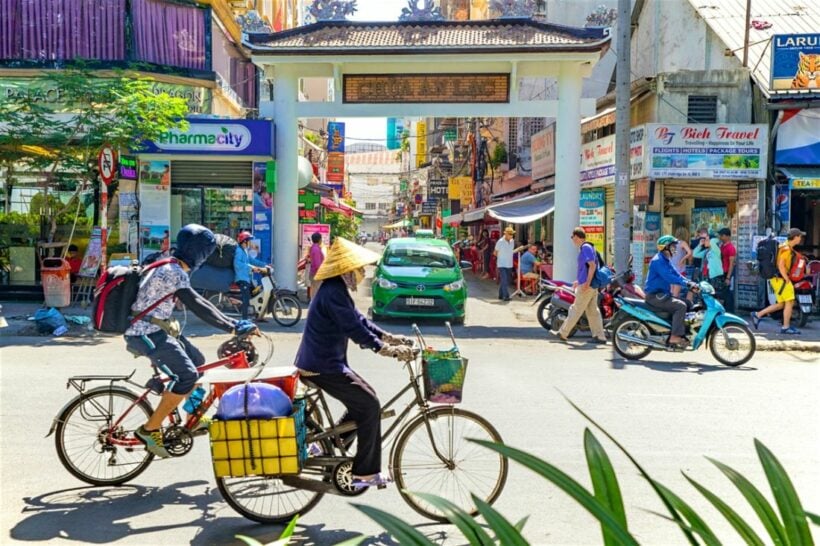 by Bill Barnett c9hotelworks.com
Vietnam Airlines will commence direct flights between Ho Chi Minh City (Saigon) and Phuket on October 27.
Flights will operate three days a week, on Tuesday, Friday and Sunday. The airline is also launching direct Ho Chi Minh City to Denpasar (Bali) service.
Vietjet Air, the popular new low-coast airline out of Vietnam, is currently servicing the increasingly popular route.
Keep in contact with The Thaiger by following our
Facebook page
.