Thai woman faces charges for involvement in "massive scheme" to defraud the US Navy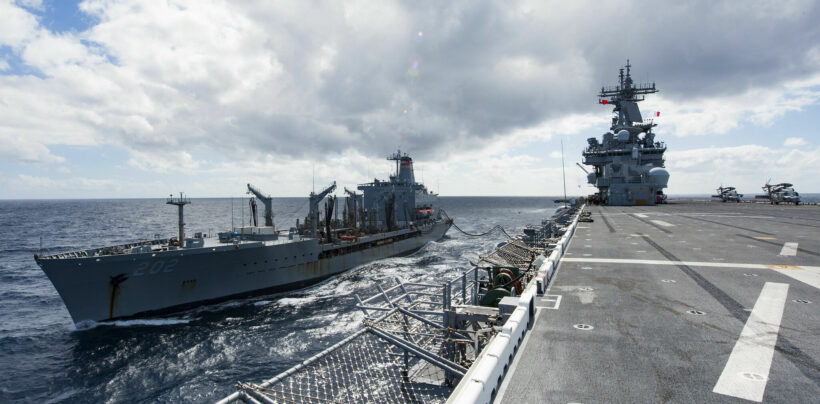 In what the United States Department of Justice calls a "massive scheme" to defraud the US Navy, a Thai woman who oversaw the foreign defense contractor Glenn Defense Marine Asia office in Thailand is facing charges for involvement in submitting false price quotes, claims and invoices to the US Navy which added up to more than $5 million USD. She was extradited from Thailand and appeared in federal court in San Diego, California on Monday.
The Department of Justice says 41 year old Pornpun "Yin" Settaphakorn, a former executive of Glenn Defense Marine Asia from Bangkok, attempted to cover up the fraud by "consistently misrepresenting" the service costs for its ships in Asia. The department says Yin even submitted bogus price quotes from fake companies using a letterhead she created with a graphics found online.
Yin is facing charges for conspiracy to defraud the US, conspiracy to commit wire fraud and multiple counts of making false claims. The charges hold maximum penalties ranging from 5 to 20 years in prison.
The Singapore-based Glenn Marine Group has been under investigation by US officials for the past several years with dozens of people charged including Navy officials. Back in 2015, the owner and chief executive of Glenn Defense Marine Asia, Leonard Glenn Francis, pleaded guilty to bribery and fraud charges.
The Department of Justice says Leonard admitted that he "presided over a massive, decade-long conspiracy involving 'scores' of U.S. Navy officials, tens of millions of dollars in fraud and millions of dollars in bribes and gifts – from cash, prostitutes and luxury travel to Cuban cigars, Kobe beef and Spanish suckling pigs."
Yin was named in a 2014 indictment along with 2 former executives from Singapore, 39 year old Neil Peterson and 44 year old Linda Raja, for submitting false claims of more than $5 million USD.
Peterson and Raja were both sentenced to prison in 2017 for conspiring to submit bogus claims and invoices to the US Navy in what the Department of Justice says was "an effort to win contracts and overcharge the U.S. Navy by tens of millions of dollars as part of a years-long corruption and fraud scheme." Peterson and Raja have served their sentences and have since returned to Singapore.
Yin's extradition to the US is a "significant legal victory," Special Agent in Charge Eric Maddox of the NCIS Economic Crimes Field Office said in a recent press release, adding that law enforcement officials are dedicated to rooting out corruption and fraud that threatens the integrity of the US Navy.
"Settaphakorn's extradition from Thailand to the United States marks a significant legal victory for the U.S. criminal justice system and the U.S. Navy, as Settaphakorn deserves to be held fully accountable in U.S. federal court for her alleged role in GDMA's years-long scheme to defraud the Navy."
Special Agent in Charge of the Defense Criminal Investigative Service Bryan D. Denny also said the extradition is a "monumental step" in the legal process.
"The extradition of Pornpun Settaphakorn from Thailand to the United States is a monumental step in the judicial process to hold Settaphakron accountable for her alleged involvement in the sprawling, years-long scheme to defraud the U.S. Navy and the American taxpayer that was orchestarted by the disgraced Department of Defense contractor Glenn Defense Marine Asia, Ltd. and its chief executive officer Leonard France."
SOURCE: US Department of Justice
📱 Download our app on Android or iOS for instant updates on your mobile
📧 Subscribe to our daily email newsletter
👍 Like/Follow us on Facebook
🔔 Subscribe to or Join our YouTube channel for daily video updates
Nightlife venues ordered to close after midnight tonight, nationwide ban on serving alcohol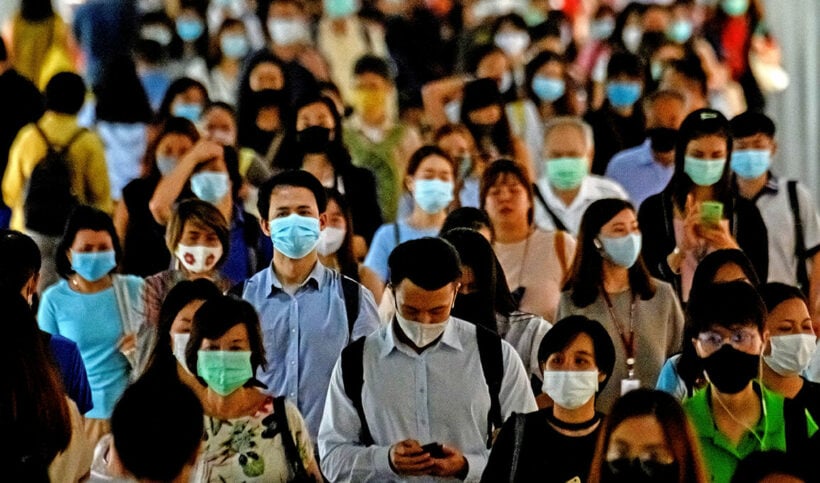 Health officials have announced new Covid-19restrictions targetting Thailand's hardest-hit, or red zone, provinces. The restrictions, which will start tonight after midnight, include ordering all nightlife venues to close. Restaurants cannot serve alcohol and those dining-in must leave no later than 9pm. If you want to get take-away, you must do so before 11pm, unless you are in a province listed as an "orange zone."
This is the 3rd consecutive day of the country reporting a record-breaking amount of infections. After saying that no curfew would be imposed, Taweesilp Wissanoyothin of the national pandemic task force said all gatherings should be kept to no more than 50 people, schools should avoid holding in-person classes, restaurants can no longer serve alcohol, nightlife venues must remain closed and hours limited at a number of businesses where people gather in the nation's COVID-19 "red zones."
At midnight tonight new restrictions come into force for red and orange zone provinces. Here's a list of the "Red Zone" provinces.
1. Bangkok
2. Chiang Mai
3. Chon Buri
4. Samut Prakan
5. Prachuap Khiri Kan
6. Samut Sakhon
7. Pathum Thani
8. Nakhon Pathom
9. Phuket
10. Nakhon Ratchasima
11. Nonthaburi
12. Songkhla
13. Tak
14. Udon Thani
15. Suphanburi
16. Sa Kaeo
17. Rayong
18. Khon Kaen
59 "Orange Zones" restrictions include:
Restaurants can open for diners until 11pm.
Bans on serving on-site alcohol.
FULL LIST OF PRECAUTIONS (starting at 1 minute past midnight Sunday, April 18)
Across all provinces…
• Closures of schools, all nightlife venues, pubs and clubs, karaoke bars and massage parlours
(except for international schools running exams)
• No events can have more than 50 people
• Dining-in allowed until 9pm (but can do takeaway until 11pm)
• Serving of alcohol banned
• Shopping centres and fitness centres to be closed by 9pm
(Sporting fields, exercise places, gyms and fitness clubs must close at 9pm)
• Convenience stores, markets, supermarkets must be closed by 11pm
Everywhere else…
• Dining-in allowed until 11pm
• Serving of alcohol banned
• Shopping centres to be closed by 9pm
Nationwide, all nightlife venues – such as bars, brothels and karaoke parlors – must remain closed until at least April 30. Gyms and fitness centers must close by 9pm. Convenience stores and night markets must close from 11pm to 4am.
The measures are imposed for at least 14 days or two weeks starting Sunday (April 18) before the task force will "consider" if the measures should be implemented further.
Today, the CCSA has announced that there are 1,547 new infections around Thailand, a slight drop from yesterdays' 1,585 reported new cases. Today's additional infections takes the total number in Thailand to 40,585 since the start of the pandemic.
All but 3 of today's newly reported infections were local – 1,544.
Bangkok – 279
Chiang Mai – 140
Chon Buri – 99 (155 cases were reported by Chon Buri officials this morning which will go into tomorrow's national totals)
Prachuap Khiri Khan – 58
Samut Prakan – 27
The CCSA reports that 11,916 people are still under care and supervision in Thai hospitals or field hospital facilities.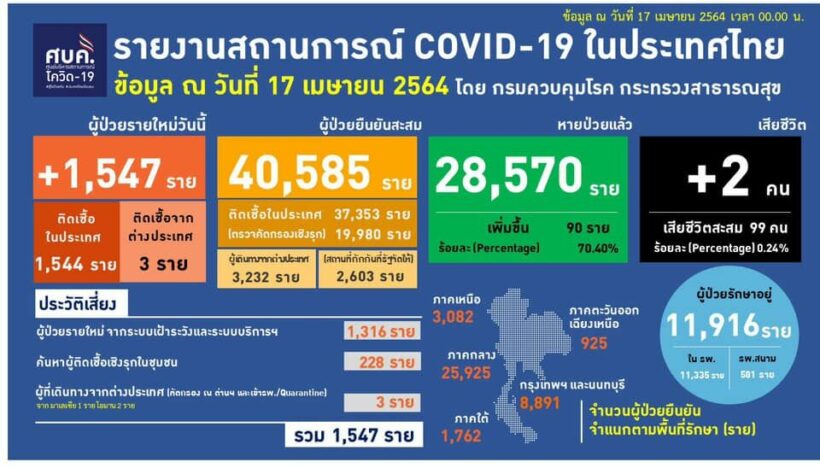 Additionally, people are being discouraged from traveling to "Red Zone" provinces. Businesses are also being 'asked' to allow staff to work from home or introduce other measures to minimise risk of infection at the workplace. These workplace and travel 'advisories' will certainly be ramped up if the number of daily cases continue to rise.
SOURCE: Coconuts
📱 Download our app on Android or iOS for instant updates on your mobile
📧 Subscribe to our daily email newsletter
👍 Like/Follow us on Facebook
🔔 Subscribe to or Join our YouTube channel for daily video updates
Covid-19 vaccinations for June still on schedule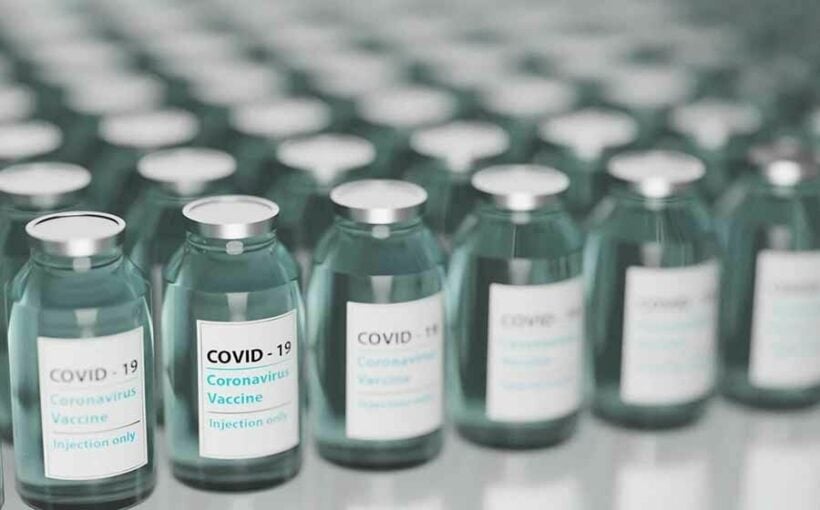 Covid-19 vaccinations in June are still set to proceed as scheduled according to the Department of Disease Control. They have ensured that production and distribution is on track, especially with AstraZeneca producing 6 million jabs domestically now. Local production in Thailand is ramping up, with 61 million AstraZeneca vaccines planned to be manufactured domestically by Siam Bioscience by the end of the year. PM Prayut Chan-o-cha, the Health Ministry, and the Division of Disease Control Emergency Situation have all spoke to reassure the public that distribution will not be delayed and production is on track.
586,000 vaccines, the combined total of AstraZeneca and the Chinese SinoVac jab, have been administered so far and the number is expected to surge as mass Covid-19 vaccinations begin across Thailand. The first batches were distributed across all 77 provinces in the nation with over 510,000 people receiving their first shot already. 75,576 people are fully vaccinated, having received their first and second shot already.
Officials are looking forward to AstraZeneca delivering ts batch of jabs in June when large-scale Covid-19 vaccinations will really get underway. Once delivery begins, AstraZeneca is contracted to send 10 million vaccines per month to Thailand for 5 months, from July to November, with December completing their contract on delivery of the final 5 million shots of the 61 million contracted.
Of the 586,000 vaccines administered already, they were mostly split between medical personnel and residents of high-risk areas, with both demographics receiving just over 40% of the injections each. The remaining 20% was split between officials, who received about 10% of the jabs, those over 60 years old, who accounted for 5%, and people with non-communicable diseases, making up just over 4% of the Covid-19 vaccinations.
In Bangkok, a new Covid-19 testing station has been set up and is prepared to test about 3,000 people per day. The station is for Social Security Fund members who believe they are at risk of being infected with Covid-19, and registration can be done online here. The testing location can be found at the Bangkok Youth Centre.
SOURCE: Bangkok Post
📱 Download our app on Android or iOS for instant updates on your mobile
📧 Subscribe to our daily email newsletter
👍 Like/Follow us on Facebook
🔔 Subscribe to or Join our YouTube channel for daily video updates
Thai government hospital staff forced to quarantine after patients lied about Covid-19 contacts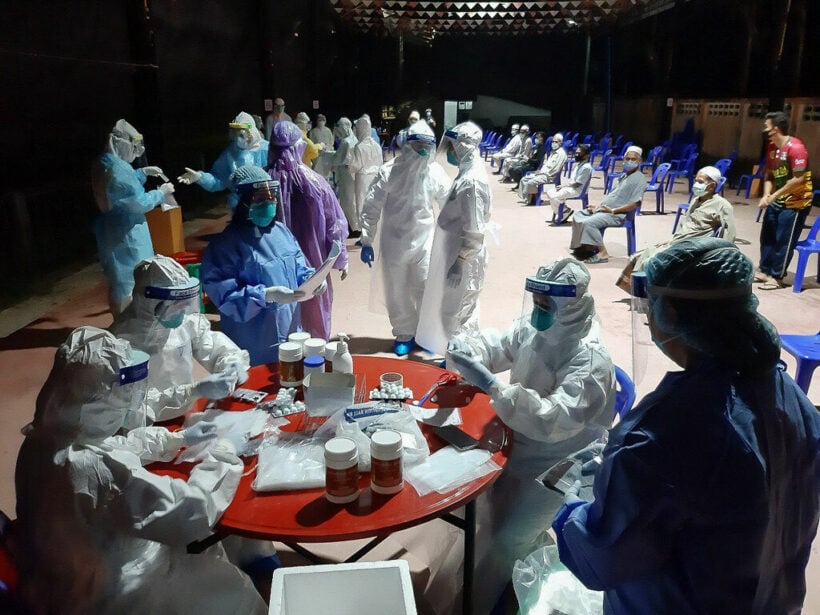 Over 100 of Thailand's government hospital workers are now undergoing quarantines after their patients allegedly lied about being in contact with someone who was infected with Covid-19. Khon Kaen Hospital ordered 105 medical staff to immediately enter a quarantine, according to its Director, Nataya Mills. The hospital was forced to stop receiving new cases and has closed 2 medical wards and 1 paediatric ward.
"These personnel have been in contact with Covid-19 patients, so they are now treated as a high-risk group and need to go into a 14-day quarantine."
Bhumibol Adulyadej Hospital, which is located on Royal Thai Air Force premises in Bangkok, has also stopped receiving any new Covid cases from today until April 30 after medical personnel came into contact with Covid-19 patients. But the hospital did not disclose how many staff would be entering a quarantine.
Samut Prakan Hospital also said on Facebook that 2 doctors, 9 nurses and 6 others had been forced to self-isolate after a patient failed to provide information about having come into contact with an infected patient.
The hospital also warned it would take legal action against any patients who refused to provide full details of their contacts with Covid-19 infected people, an offence that carries a maximum fine of 20,000 baht. Samut Prakran yesterday reported 40 new Covid-19 cases, 27 local ones — 21 in Muang district and 6 in Bang Phli district — and 13 which originated in other provinces.
In Narathiwat, Naradhiwas Rajanagarindra Hospital reported that 6 medical staff had contracted Covid-19 from patients who failed to give clear information about their previous contacts. The hospital said the infected medical staff had been admitted to a special ward, while those at risk had been quarantined for 14 days and would be tested. The facility has also been disinfected.
In Ratchaburi, Photharam Hospital also carried out a thorough cleaning and announced a brief closure of its emergency department, plus an indefinite closure of its dental, physical therapy and Thai traditional medicine departments, after finding that 6 medical staff had contracted the virus.
Health officials say those people and entertainment businesses who helped spur a third wave of Covid-19 in Thailand may face legal action against them. A 26 year old woman, who allegedly boarded a plane on April 11 in Bangkok's Don Mueang airport after testing positive for the virus, has been pointed out by Chraspong Sukree, the chief of Nakhon Si Thammarat's public health office. He says health officials are working with authorities in Bangkok to press charges against her.
SOURCE: Bangkok Post
📱 Download our app on Android or iOS for instant updates on your mobile
📧 Subscribe to our daily email newsletter
👍 Like/Follow us on Facebook
🔔 Subscribe to or Join our YouTube channel for daily video updates