Soi Dog sets up mobile clinic on Koh Samui to neuter and vaccinate stray animals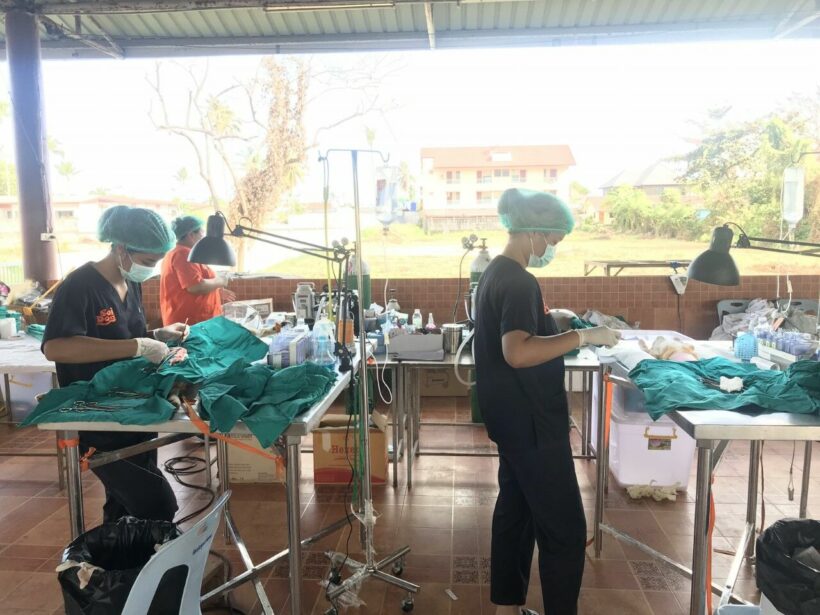 The following is a news release submitted by the Soi Dog Foundation on its new mobile clinic in Koh Samui and plans to neuter and vaccinate thousands of stray animals on the island.
Soi Dog Foundation has set up a mobile sterilisation and vaccination clinic on Koh Samui in collaboration with Koh Samui Municipality and local animal rescue groups. Together, they aim to neuter and vaccinate 6,000 street animals on the island as part of a project that's scheduled to run until July 21.
The clinic is currently located at Wat Bo Phut until March 3 and will resume between March 9-31. It will then move to Wat Si Thaweep between April 6-28 and May 4-26. Finally, it will move to Wat Samret between June 1-23 and June 29-July 21.
Animal rescue officers will survey and pick up street dogs and cats from across the island before bringing them to the mobile clinic for sterilisation and vaccination.
Pet owners and street animal feeders are invited to bring their dogs and cats to the clinic too. Dogs must weigh at least 3kg, and cats must weigh at least 1kg. Owners and feeders are also asked to withhold food from the dog or cat after midnight the night before their sterilisation surgery for the animal's safety. All animals will receive cost-free care; however, donations are gratefully received and will go directly towards Soi Dog's work to improve the welfare of street animals in Asia.
Soi Dog previously held a mobile clinic on Koh Samui between 2017 and 2018, neutering and vaccinating a total of 8,013 animals. However, since the outbreak of Covid-19, the street dog and cat populations there have increased sharply, and the foundation is receiving a growing number of reports concerning sick, injured and abandoned animals on the island in urgent need of help. Many had owners or feeders who have lost their income amidst the pandemic and subsequently left the island.
In November last year, Soi Dog met with Koh Samui Municipality and local animal rescue groups to discuss how each organisation could best contribute towards helping animals in need and sustainably reducing the street dog and cat populations as a whole. Soi Dog explained that, if the island is to control these populations long-term, a programme of CNVR (Catch, Neuter, Vaccinate, Return) must continue after the joint project ends in July.
CNVR is at the very forefront of Soi Dog's operations and is proven to be the most ethical and effective way of managing the street dog and cat populations. The foundation recently celebrated half-a-million street animals neutered through its CNVR programme since 2003 – more than any other organisation in the world.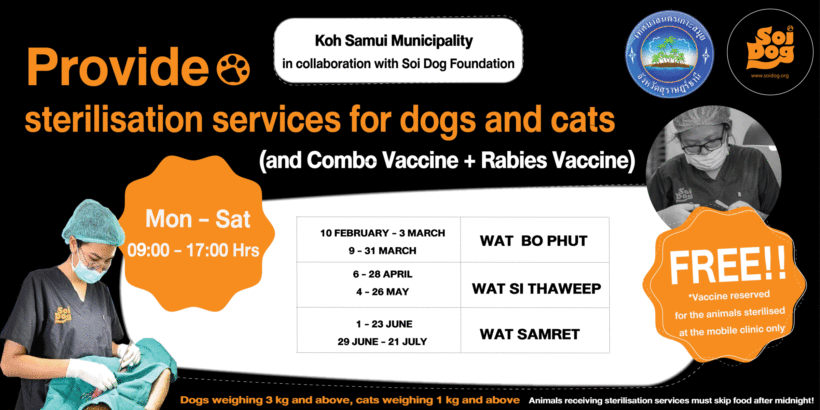 Keep in contact with The Thaiger by following our Facebook page.
Never miss out on future posts by following The Thaiger.
Thailand News Today | Changes to quarantine, 'adult content' ban continues | March 5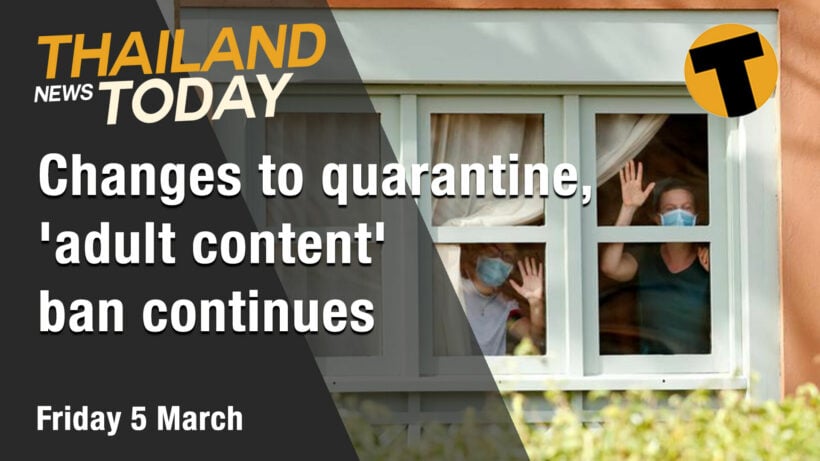 Thailand's Public Health Minister is chairing a meeting next Monday, where a vaccine passport scheme and potential travel bubbles is on the agenda. Anutin says those who've been vaccinated against Covid-19 will be issued with a book to confirm their vaccination. It's hoped this will make international travel easier, as well as boosting the public's confidence and helping life return to some kind of normality.
In related news…. From next month, foreign visitors to the Kingdom will be able to experience the delights of "area quarantine", after the government confirmed the scheme for 5 provinces. Following a meeting with the Public Health Ministry, the Tourism Minister confirmed that Phuket, Krabi, Chiang Mai, Chon Buri and Surat Thani, which includes Koh Samui, have been chosen to pilot the scheme.
P**nhub and other adult websites are remaining blocked in Thailand as they apparently "conflict with good morals for upstanding citizens". The Thai Government says the websites encourage "poor moral standpoints and can affect youth in a negative manner".
The Acting Minister of Digital Economy and Society and current Minister of Culture says that the decision that was made by the previous office holder will be upheld. The decision also includes keeping other popular adult websites blocked as the Thai Government has labelled them to be "obscene". But the move to ban adult content has brought protests with those disagreeing saying such sites are a part of freedom of expression.
A houseowner in the central province of Ang Thong, central Thailand, has discovered 3 skeletons on his land that are thought to be over 3,000 years old. 54 year old Somkiat Briboon says this most recent discovery isn't the first, as the first lot of bones was found last year after preparing his 17 rai plot of land to be rented out for sugarcane farming.
The Thai PM says he's ordered an investigation into allegations that the military has been using fraudulent social media accounts to aggravate the ongoing unrest in southern Thailand. Facebook has announced the removal of 185 accounts and groups that it has accused of "information-influencing", targeting audiences in the deep south of the country, where Muslim insurgents continue to fight for independence. The PM says he's tasked the Defence Ministry with looking into the matter and explaining it to the public.
Keep in contact with The Thaiger by following our Facebook page.
Never miss out on future posts by following The Thaiger.
Pro-democracy group to reach outskirts of Bangkok after almost 250 kilometre walk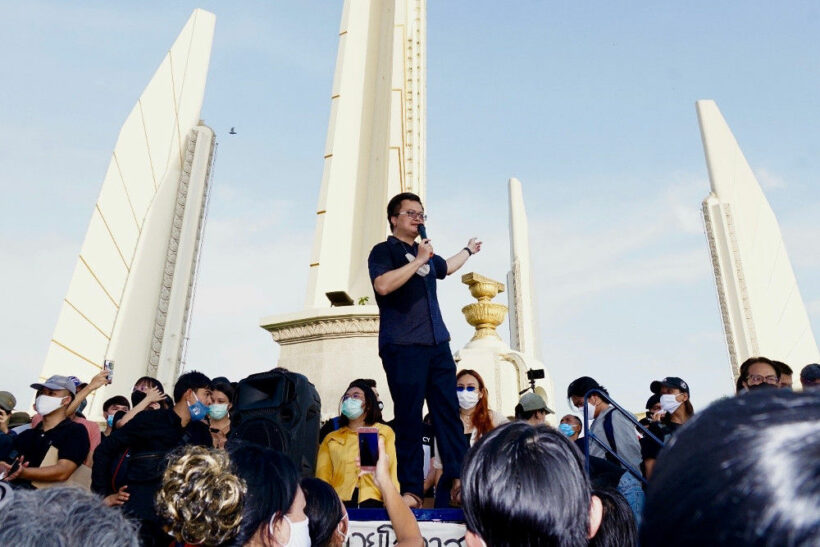 A group of pro-democracy protestors, on an almost 250 kilometre walk, are expected to reach the outskirts of Bangkok today. The group has been walking for 17 days, starting from the Thao Suranaree statue in Korat province's Muang district to protest the imprisonment of 9 pro-democracy demonstrators who are being denied bail.
The demonstrators imprisoned include 4 protest leaders from Ratsadon named Parit "Penguin" Chiwarak, Anon Nampa, Somyot Pruksakasemsuk and Patiwat "Morlum Bank" Saraiyeam. The 247.5-kilometre march, named "Walk Through the Sky: Bring Back the People's Power," started on February 16. Jatupat "Pai Dao Din" Boonpattararaksa, from the student-led protest group Ratsadon, is leading the walking protesters and says they have been held in jail without bail since February 9.
The 4 are facing charges under Article 112, which prohibits lese-majeste, or the defaming of the Thai Royal Monarchy. Lese-majeste carries a jail sentence of 3 to 15 years. They are also facing charges of sedition under Article 116 of the Criminal Code, which carries a jail term of 7 years, as they are accused of organising pro-democracy rallies.
"The ignition and the fuel for the walk is simple. They have started to incarcerate our friends while denying their bail requests, which made it impossible for us to do nothing."
The court has denied the demonstrators bail requests 4 times now, citing that their release would create more unrest.
Pai said he emphathises with the detained protestors as he has been imprisoned for lese-majeste before. He says he spent 2 years and 6 months in prison for sharing a BBC Thai's biography of the monarch on Facebook.
"When I was in jail, there were people outside who were protesting for my release so now that my friends are in jail by an unfair law while being denied their right to political expression, I must come out and do something."
"A walk is a type of a fight against injustice and we choose to fight this way in order to peacefully spread the words about police brutality, the uses of various laws to silence dissidents, the plights of the poor and the mismanagement of the government's covid-relief measures and natural resources."
The walk-in protest group is expected to reach Zeer Rangsit in Pathumthani around 5:30 pm today and will camp out near the department store before marching at the Bang Khen intersection tomorrow. On Sunday, the march is expected to end at Bangkok's Democracy Monument.
SOURCE: Thai Enquirer
Keep in contact with The Thaiger by following our Facebook page.
Never miss out on future posts by following The Thaiger.
79 new cases today-COVID-19 Update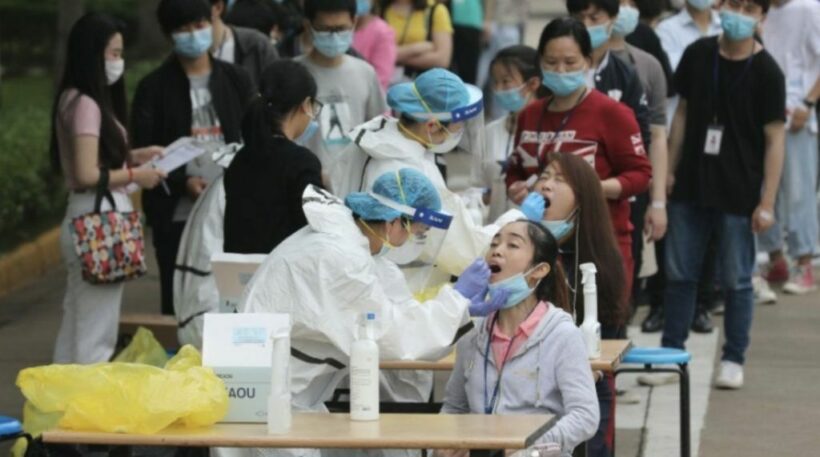 Today, the Thai government is reporting 79 new cases of Covid-19, with 65 locally-transmitted, and 14 imported, raising the total to 26,241 since the pandemic began. 1 new death has been reported, raising the total amount of deaths to 85. The new infections, which are now in the double-digits, shows Thailand's Covid situation as improving according to the assistant spokeswoman for the Centre for Covid-19 Situation Administration, Panprapa Yongtrakul.
"The two-digit level of new cases found at hospitals and communities shows that the local Covid-19 situation is under control."
The CCSA reports that 43 of the 65 local infections were found in communities with 22 of the 65 found in hospitals across 4 provinces.
Samut Sakhon province, the source of the second wave of Covid in the Kingdom, reported 77% of the new cases. Of the 50 cases found in the province, 38 were found in communities and 12 were found at hospitals.
Pathum Thani reported 8 new cases, with 3 being found at hospitals, and 5 in the community. Bangkok reported 6 new cases at hospitals and Chon Buri reported 1 infection found at a hospital. 12 of the 14 imported infections were quarantined arrivals from Russia, The United Arab Emirates, The United States, Slovenia, South Africa, Germany, Libya and Italy.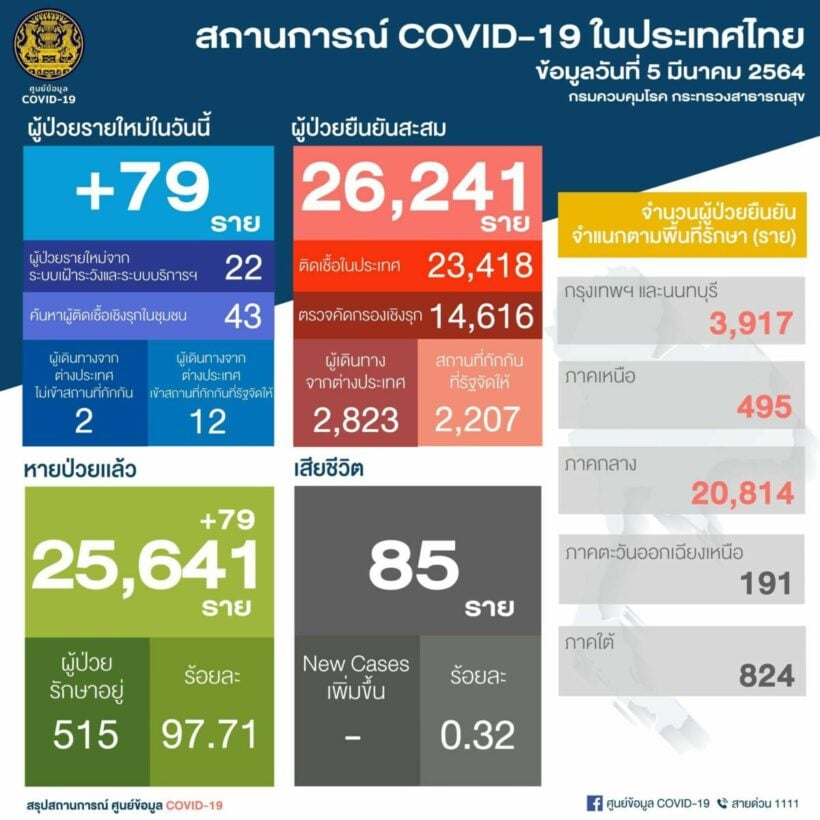 The other 2 imported cases were that of Thai women, who ellegedly returned from Myanmar illegally through a natural border crossing in Tak province, despite the government closing off natural border crossings after the February coup by the military in Myanmar.
Covid-19 cases rose worldwide by 446,747 over the past 24 hours to 116.21 million. The worldwide death toll rose by 9,955 to 2.58 million. The US still has the most cases at 29.53 million, rising by 68,321 over the past 24 hours, and the most deaths at 533,636, rising by 1,993 over the last 24 hours.
In light of the recent downturn in reported cases, Samut Sakhon has recently reopened 22 of its wet markets. However, the seafood market where the second wave of the Covid outbreak began, is not one of them, and it is not yet known when that might reopen.
SOURCE: Bangkok Post
Keep in contact with The Thaiger by following our Facebook page.
Never miss out on future posts by following The Thaiger.