Pro-democracy rally leaders questioned over usage of donated funds after injuries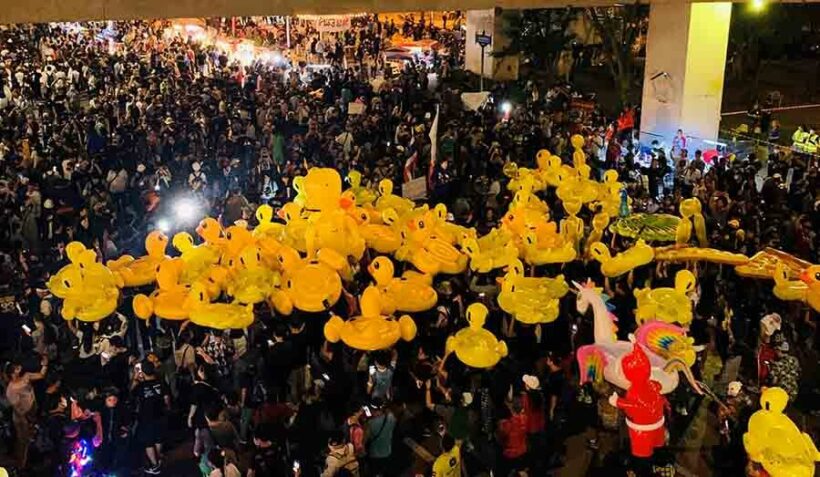 Pro-democracy rally leaders are being questioned by followers over the usage of donation funds after a volunteer protest guard was shot and injured. Netizens took to social media to ask what "fairy godmother" Inthira "Sine" Charoenpura and Pakorn "Hia Bung" Pornchewangkurn were buying with the donation money, prompting them to make an announcement on Thursday.
The announcement came after the rally on Wednesday at the Siam Commercial Bank HG, in which the "magic team" as dubbed by the leaders themselves, said they would channel all their efforts into taking care of injured protesters from December 2 onwards. Such criticisms of how Inthira and Pakorn were spending the donations have been trending on social media for days with questions such as the ones seen below.
"Guards on the frontline have no protective gear, yet 20,000 baht was spent on an army of inflatable aliens."
But the pair of leaders say it was not possible to provide bulletproof vests or anti-riot shields because these were controlled items, and instead they say they bought safety helmets with donors' money. As for the yellow duck props, they say they were donated and the duo spent their own money on matching duck accessories. When asked for a detailed list of how the donations were spent, however, the pair said "it would be too complicated" to explain.
Inthira says an accountant would have to be hired to detail the way in which the donations were used. But she added that she would return the money to donors who were unhappy with how their money was being spent. Furthermore, she says the donors should remain anonymous.
"Just show me a copy of the transfer and I will return your donation."
Despite the criticisms, Friday's protest at Bangkok's Lat Phrao intersection still featured the yellow ducks with Pakorn and Inthira gracing the scene with big smiles. Pakorn took to social media later announcing the return of donations.
"Mine and Sine's bank accounts are now flooded with donations."
Inthira also speculated that maybe the donors don't want them, dubbed "the fairy godparents," to fade from the scene.
SOURCE: Thai PBS World
Keep in contact with The Thaiger by following our Facebook page.
Never miss out on future posts by following The Thaiger.
Thailand's PM asks people to avoid political gatherings over concerns for their health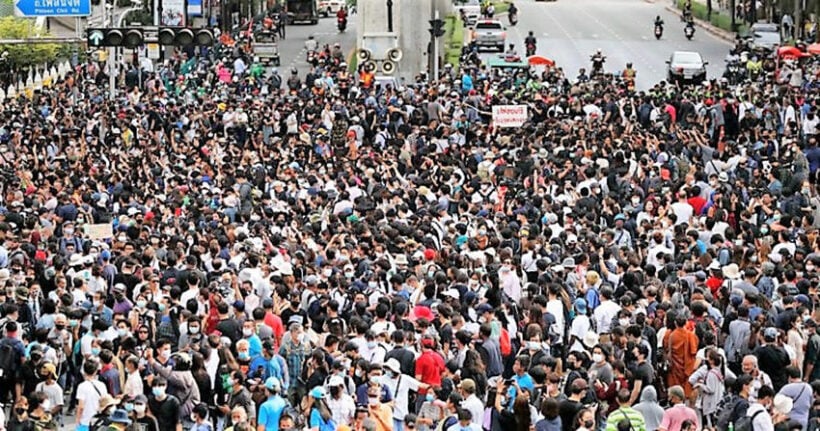 Thailand's PM is asking people to avoid political gatherings over concerns for their health due to the recent cooler weather. As the country is still not out of the woods with the recent Covid-19 breakout, the cold weather, in the northern half of the country, is adding to PM Prayut Chan-o-cha's health concerns for Thai people.
Government spokesman Anucha Burapachaisri says the situation still warrants the government's role to exercise its power under the emergency decree and Communicable Disease Act to help curb the spread of Covid-19.
He says all gatherings should be avoided, but is emphasising political ones and is thanking the "majority who have cooperated." Now, he says the government is set to introduce more measures to help those affected by the new round of Covid and are preparing new economic stimulus programs.
Anucha says another high pressure system from China will cover northern Thailand starting from today and lasting through January 19. The system would see temperatures drop by 2 to 3 degrees Celsius in the northern and central areas of Thailand with the northeastern area seeing a drop of 4 to 6 degrees. PM Prayut has also asked people to be careful when setting up bonfires to keep warm during the cold spell.
SOURCE: Bangkok Post
Keep in contact with The Thaiger by following our Facebook page.
Never miss out on future posts by following The Thaiger.
Student arrested in dormitory at night, charged with lèse majesté offences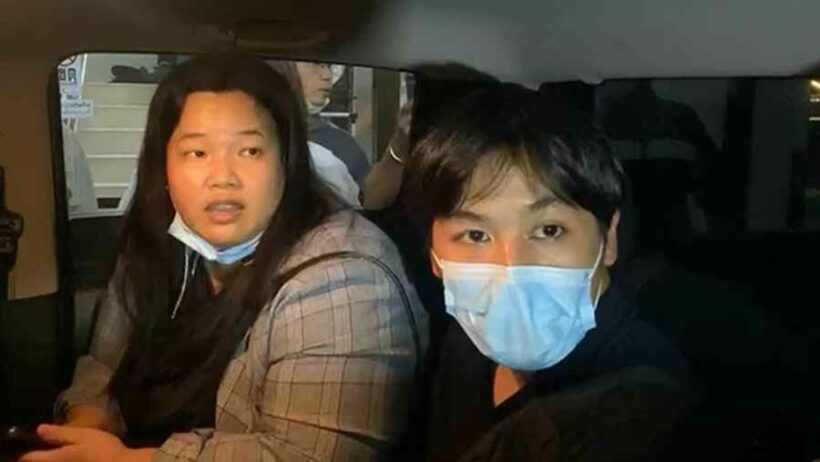 A student at Thammasat University's Rangsit Campus has been arrested and charged with violating Thailand's strict lèse majesté law. Ironically, it was his calls for the law to be abolished that led to Sirichai Natueng, aka, "New", being charged. The group, Thai Lawyers for Human Rights, has confirmed the student's arrest on its Twitter page.
After being taken into custody, the pro-democracy activist was driven to Khlong Luang police station, in the central province of Pathum Thani, just outside Bangkok. Other anti-government activists, including Parit Chiwarak, aka, "Penguin", and Panusaya Sithijirawattanakul ("Rung") followed, accompanied by representatives from TLHR.
Since the arrest, the hashtags #saveนิวมธ (Save New) and #ยกเลิกม112 (Cancel Section 112) have been trending on Twitter. Section 112 of Thailand's Criminal Code is the law governing lèse majesté, which carries a penalty of up to 15 years' imprisonment.
Sirichai, a member of the pro-democracy group United Front of Thammasat and Demonstration, has been charged with 2 lèse majesté offences. He is accused of defacing an image of the Monarchy, as well as the Rangsit campus sign, with graffiti calling for the abolition of the lèse majesté law.
SOURCE: Nation Thailand
Keep in contact with The Thaiger by following our Facebook page.
Never miss out on future posts by following The Thaiger.
Leaders of German Embassy rally meet with police, prosecutors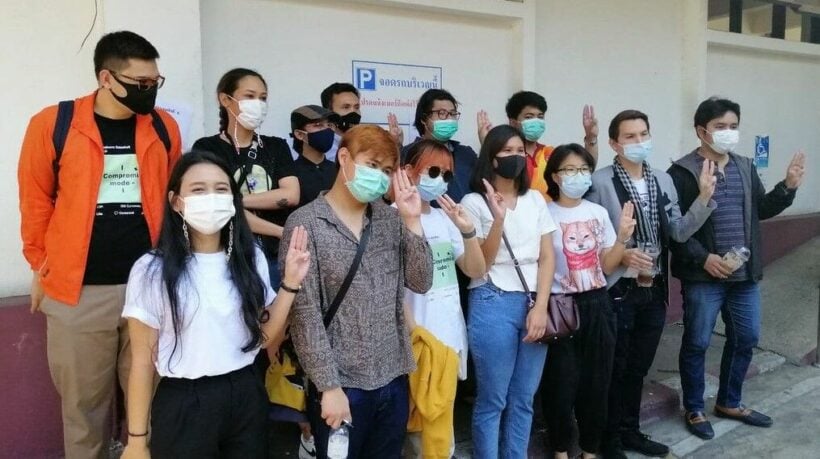 13 political activists who led thousands of protesters to the German Embassy in Bangkok last October have met with police and prosecutors in the capital. They face charges of violating section 112 of the Criminal Code for the October 26 rally at the embassy. The aim of the gathering was to submit a petition calling on the German government to ascertain if His Majesty the King was conducting state business from Germany. Section 112 of the Criminal Code is also known as the lèse majesté law, which prohibits criticism or defamation of the Monarchy. Violators could face up to 15 years in prison.
During yesterday's meeting at Thung Maha Mek police station, officers were on duty in front of the station, to bolster security, while others in plain clothes photographed those who'd turned up in a show of solidarity with the 13 activists. The rally at the German Embassy was organised by the pro-democracy group, Khana Ratsadorn. The group's leaders face multiple other charges in addition to lèse majesté.
One protest leaders, named as Atthapol Buaphat, aka, ""Khru Yai", says the group is waiting to see if prosecutors press ahead with charges. He says they have provided additional handwritten evidence to police and asked officers to question more witnesses. Another leader, Patsaravalee Tanakitvibulpon, says she just received a summons issued 2 months after an October 14 rally. She adds that the resurgence in Covid-19 means pro-democracy activists are pausing their political action but vows that it will resume again at some point.
SOURCE: Bangkok Post
Keep in contact with The Thaiger by following our Facebook page.
Never miss out on future posts by following The Thaiger.