PM concerned over public safety in northern areas because of tropical storm warnings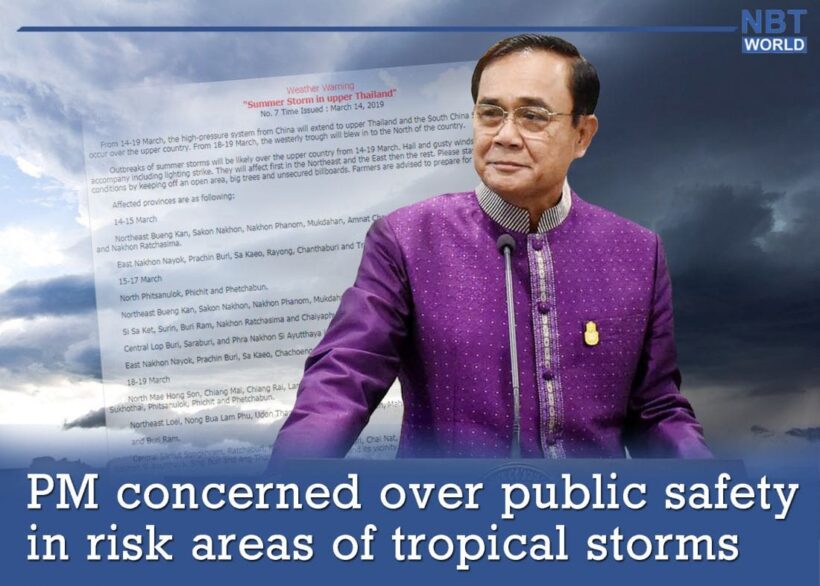 Thai PM Prayut Chan-o-cha says he's concerned over public safety in risk areas of tropical storms that have been forecast for the northern regions up until next Tuesday.
He's instructed all authorities to promptly take preventive and relief measures against potential damage.
Deputy government spokesman Lt. Gen. Werachon Sukondhapatipak says the PM is concerned over the welfare and safety of people in risk areas of tropical storms expected in the upper parts of Thailand during the period March 14 and March 19.
Tropical storms are expected to begin to gather in the northeastern and eastern regions of the country and to prevail over the northern and central regions and Bangkok and outlying provinces at a later date.
The PM called on villagers to closely follow the radio news about the advice of the authorities such as the Meteorological Department.
The villagers are advised to refrain from being in open space or under big trees or instable signboards or buildings. Farmers were advised to brace for possible damage to their farm goods.
In addition, the premier instructed the Ministry of Interior, the Ministry of Agriculture and Cooperatives and the armed forces to continually monitor the situation and alert the villagers in risk areas of tropical storms and to prepare plans for preventive and relief measures in prompt manner.
The weather for the southern part of the country, including the Andaman Coast, is for some potential thunderstorms but mostly fine, according to the Thai Meteorological Department.
SOURCE: NNT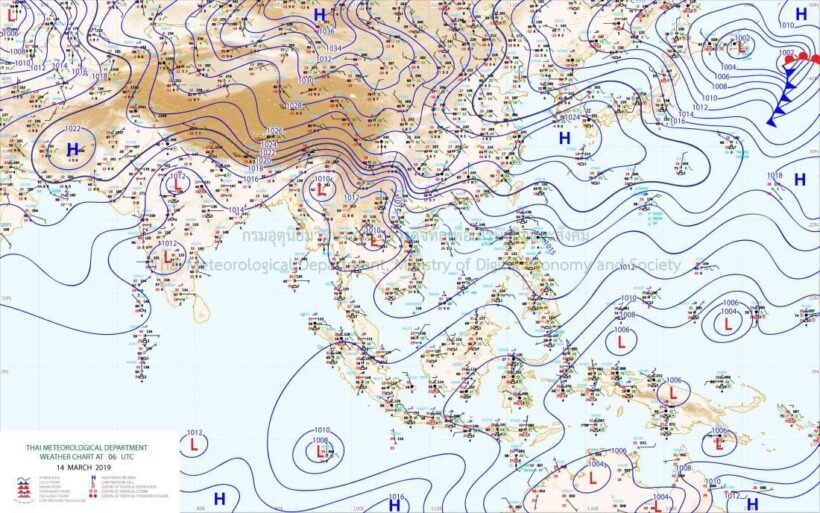 Read more headlines, reports & breaking news in North East Thailand. Or catch up on your Thailand news.
5,000 Buriram citizens register for medical marijuana possession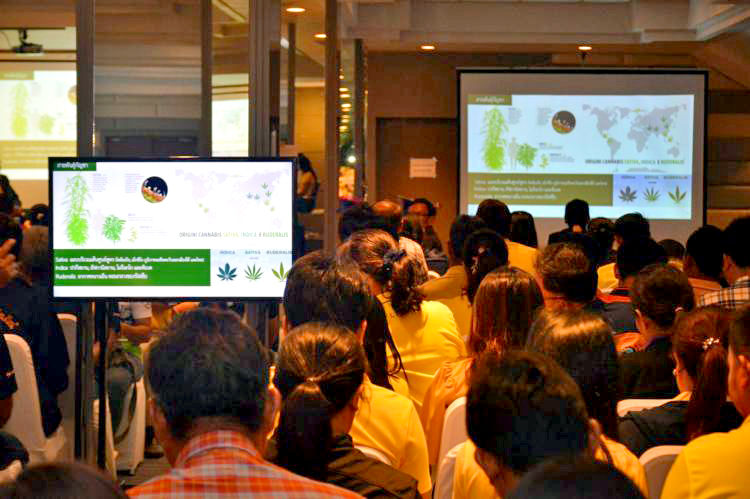 by Tanakorn Sangiam
The 90 day registration period for persons in possession of marijuana, without facing prosecution, end this Tuesday, May 21. 5,000+ persons in Buriram, north-east Thailand, have already registered their possession during this period. A community seminar on marijuana planting and management also took place yesterday to prepare Buriram province as a key manufacturer of medical marijuana.
About 250 people comprising of public health officials, agricultural officials, and community enterprises today joined a seminar on marijuana planting and management for medical usage. The seminar was aimed for participants to further distribute the knowledge on systematic medical marijuana planting and manufacturing management to help promote income distribution in local communities, specifically some 3,000 community enterprises in 23 districts in Buriram province.
These community enterprises will then be evaluated for their preparedness, and will be determined by the Food and Drugs Administration whether Buriram province is ready to become a key medical marijuana manufacturer of the country.
Talking about the end of the moratorium for persons in possession of marijuana, Buriram Provincial Public Health Official Withit Saruesadeechaikul said some 5,000 persons had so far registered as possessors – 2,000 villagers in the Buriram province and 20% of registered possessors being cancer patients.
SOURCE: National News Bureau of Thailand
Two construction workers win big in the National Lottery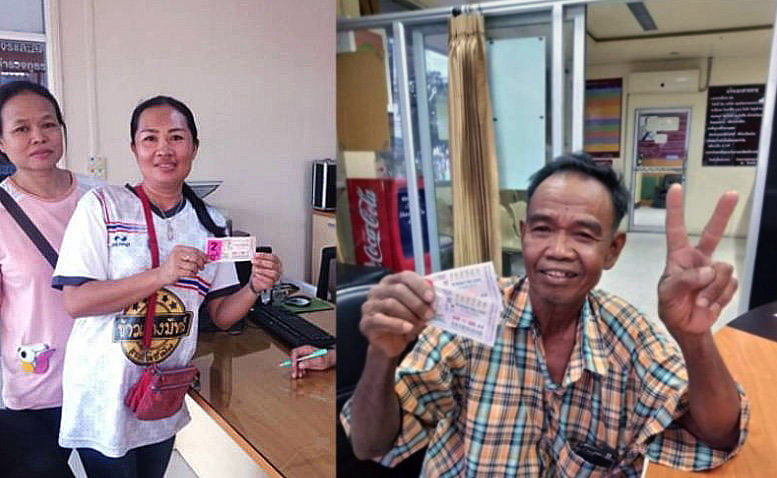 PHOTO: Daily News
Two Thai construction workers have won big in this week's national lottery. Two wins but two very different methods used to select the winning number, 926526.
Wathida Trinet had been visiting Khon Kaen but works in Wang Noi to the north of Bangkok, according to Daily News. There she noticed a gecko clambering over the house number "526" and decided to buy a ticket including that number. She won a whopping 6 million baht thanks to the gecko.
Meanwhile in the north-east 65 year old Charlerm Hettakhu says that a lottery vendor came to his building site to sell the remaining few lottery tickets. He says he could just afford two from a set of three as he only had 200 baht at the time.
He scored a tidy 12 million win. In that case it was just pure luck… "they were the only tickets she had," he said.
SOURCE: Daily News
15 year old girl arrested for trying to bury her baby alive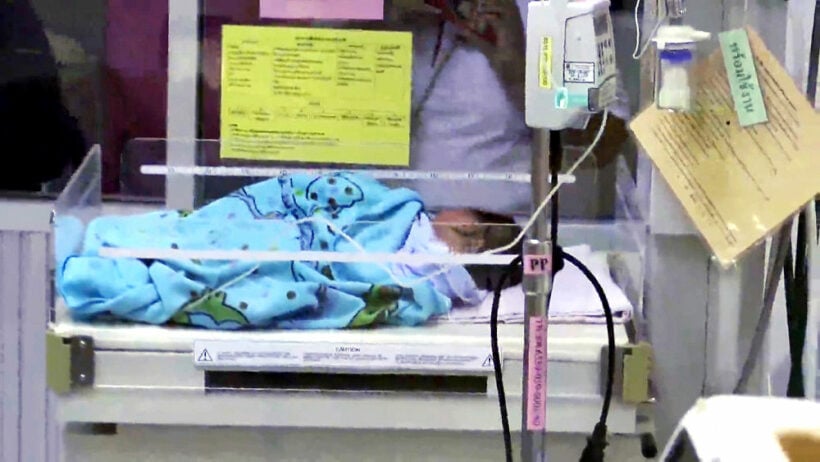 A 15 year old girl is now in protective custody in Nakhon Ratchasima, north-east of Bangkok, just one day after her newly-born baby boy survived being buried alive in a local field.
A villager found the baby in a cassava plantation about one kilometre from Ban Nong Kham village in Tambon Thalad on Wednesday. The infant was taken to the village before being sent to the district hospital.
41 year old Usa Nisaikha says he was herding cows near the plantation when he heard a dog barking and a baby crying. He said he ran to the spot and found the dog clawing at the ground and noticed a baby's leg sticking up from the ground. He said he dug the baby out of the ground and carried him to the village.
Police conducted an investigation and learned that a 15 year old girl living near the spot had bought an unusual amount of sanitary napkins. When police questioned her she admitted she gave birth to the boy and buried him for fear that her father would find out and punish her.
Nakhon Ratchasima's governor Wichian Chantharanothai and Trairat Witthayanumart, the chief of the Chumpuang district, visited the baby at Chumpuang Hospital. Trairat said the baby is healthy. He said that the girl's parents have sought permission to take care of the baby after he is released from hospital.
SOURCE: The Nation