Phuket Gazette Thailand News: Yala bomb suspects on CCTV; Govt in legal fightback; Toxic landfill fire reignites; Storm slams Buri Ram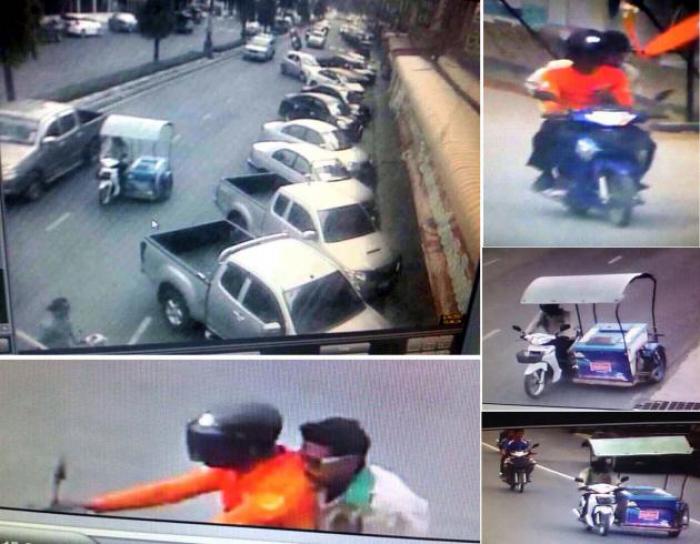 PHUKET MEDIA WATCH
– Thailand news compiled by Gazette editors for Phuket's international community
Police spot Yala bomb suspects on CCTV
The Nation / Phuket Gazette
PHUKET: Police are on a hunt for a group suspected in bombing attacks that caused several casualties and massive damage in Yala last weekend. These suspects have been seen in images captured by closed-circuit TV cameras.
"We believe one group of attackers is responsible for the recent violence," Yala police chief Maj-General Songkiat Wathakul said yesterday, refusing to elaborate.
On Sunday, a pickup truck stuffed with about 100 kilograms of explosives created a big blast in front of a furniture shop on Siroros Road in Yala's Muang district, killing one person and injuring 28 others. A bomb inside a motorcycle with a sidecar also exploded on the same road that day.
Then on Monday, several other bombs went off in Yala causing damage estimated at well over Bt100 million.
Speaking on condition of anonymity, an official in the investigation team said at least four people had played a part in the recent bomb attacks.
"We could clearly see the face of one suspect," the official said, adding that the suspects were seen arriving at the scene in a pickup and two motorcycles, including the one with a sidecar.
National Security Council (NSC) chief Lt-General Paradorn Pattanatabut said April had usually been a violent month in past years as it marked the anniversary of the establishment of insurgent group Barisan Revolusi Nasional (BRN) among other key incidents.
However, he believed that the change in top officials put in charge of suppressing unrest in the deep South was also a factor.
The region comes under the jurisdiction of the Fourth Army Area, which has just got a new chief.
Paradorn, who has attended several rounds of negotiations with the BRN, is also leaving the helm of the NSC. The insurgents want to know if the new NSC chief will adopt the same approach as he did, he said.
Deep South Watch director Assistant Professor Srisompob Jitpiromsri shared Paradorn's views, saying violent attacks usually rose in April, May and June every year and that the disruption of peace talks could also play a role. Another key factor, he said, was that this year marked the 10th anniversary of the resurgence of violence in the deep South.
"Violence has been growing every year," he pointed out.
In the wake of bombing attacks in Yala, Pattani City Municipality Mayor Pitak Korkiatpitak urged residents not to leave anything, be it a stall, a bench or other items, unattended outside their homes to cut down on the risk of hidden bombs.
"If you have shelves in your shops, check them regularly. If you notice any suspicious vehicle, call 191, 199, 1341 or 1881 to alert officials," he said.
Govt stages legal fightback
The Nation / Phuket Gazette
PHUKET: The ruling Pheu Thai Party and politicians in power yesterday pressed for legal action against anti-government protest leader Suthep Thaugsuban, who had threatened last weekend to nominate a new prime minister after gaining what he termed "sovereign" status.
Pheu Thai spokesman Prompong Nopparit approached the Department of Special Investigation (DSI) yesterday, accusing Suthep and other anti-government protest leaders of sedition. He said Suthep's threat was part of a plot to overthrow the government in a "modern-time coup".
The spokesman also said he would later this week petition the Constitutional Court against Suthep and others over the matter.
DSI director general Tarit Pengdith said yesterday that he believed Suthep and other protest leaders had committed insurrection, in violation of Article 113 of the Penal Code.
Suthep, secretary general of the People's Democratic Reform Committee, announced on Saturday that if the anti-government movement managed to "seize sovereignty back to the people" and gained "sovereign" status, he would nominate a new prime minister for royal endorsement in his capacity as "the people's medium".
He said a "people's assembly" would then be set up to reform the country by amending the Constitution and relevant laws, before a new election would be organised.
Caretaker Prime Minister Yingluck Shinawatra yesterday said Suthep's remarks had led to questions because his claim of sovereign status was not lawful.
People could not simply set up a cabinet or a legislative assembly, she said, adding, "We have to follow the law if we want to have credibility in the international community."
The premier also said she believed Army commander-in-chief General Prayuth Chan-ocha, in his capacity as deputy director of the Internal Security Operations Command, already had a standpoint in regard to Suthep's claim of sovereign status.
"I think he should [already] have a standpoint [on this]. In fact, he should know how to react in this case. The security sector should act even-handedly. No question is needed; I think he has the answer in his mind," Yingluck said.
The Army had earlier filed police complaints when red-shirt supporters of the government raised the idea of dividing the country and declaring "independence" for the northern part of Thailand.
Meanwhile, US Ambassador Kristie Kenney yesterday met Yingluck, who is also the defence minister, for about 40 minutes at the Defence Ministry to discuss the current political situation. Also present was Daniel Russel, the US assistant secretary of state for East Asian and Pacific affairs. Russel handed the PM a letter from US Secretary of State John Kerry, Foreign Minister Surapong Tovichakchaikul said.
Kerry expressed concern over the current political situation and said the US government hoped there would be no coup in Thailand, Surapong said.
The foreign minister said yesterday that he would have Suthep's statement translated into English, and would send the translation to all foreign embassies in Thailand.
"Suthep has already faced a charge of sedition, and what he said [most recently] clearly underlines his wrongdoing," Surapong said.
Pheu Thai yesterday issued a statement calling on the people, relevant state officials and independent agencies not to cooperate with Suthep about his threat to seize power from the government.
The ruling party said the authorities should take legal action against him.
"The Pheu Thai Party sees an election as the country's best solution. We call on the Election Commission and the government to issue a law for a new election to be organised as soon as possible," said Bhokin Bhalakula, a senior legal expert of the party.
Labour Minister Chalerm Yoobamrung, who heads the government's Centre for the Administration of Peace and Order, yesterday said that Suthep's remark about sovereign status was tantamount to committing political suicide. His plan was clearly an act of sedition, he added.
Caretaker Deputy Commerce Minister Nuttawut Saikuar, a red-shirt leader, yesterday called on the Army chief to make it clear whether he would tolerate Suthep's action.
"If Suthep is successful, will the Army chief allow Suthep to appoint himself to have the highest power in the country?" he said. "Will the Army chief be ready to report himself to Suthep and lead the Army to be under Suthep's command, unconditionally?"
Illegal border crossings bringing in new Covid-19 infections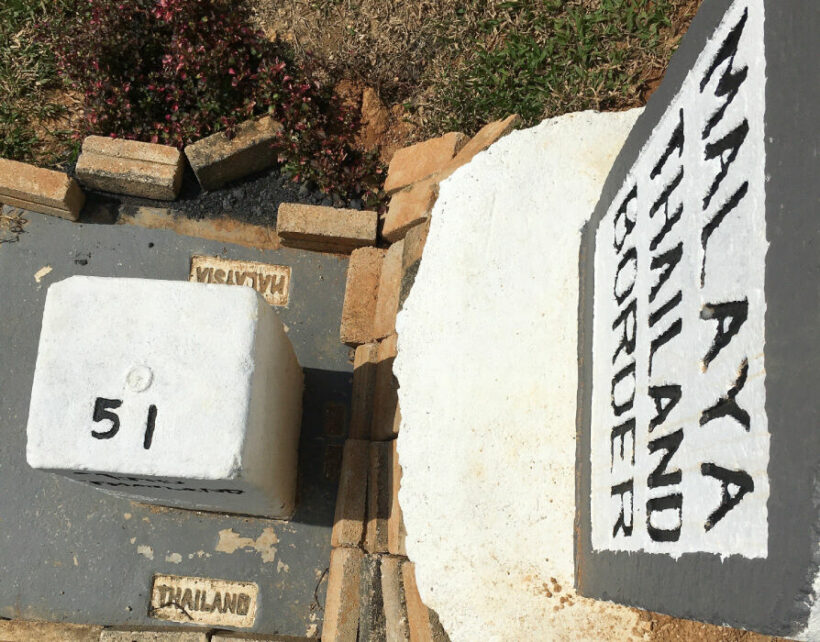 Authorities are worried about illegal border crossings into Thailand bringing in the Coronavirus after 5 recent Covid-19 infections from such crossings. Bypassing all health and security checkpoints along the border, 5 Thai nationals were identified today as being positive for Covid-19 after they snuck into the country, according to the Centre for Covid-19 Situation Administration.
Authorities nabbed 2 after border crossings from Malaysia illegally on April 28 and May 3rd, while another snuck across the Burmese border into Tak on May 2. The last 2 came from Cambodia on Thursday across the Sa Kaeo border. All 5 illegal border crossers are now in state hospitals for Covid-19 treatment.
According to CCSA data in the first four months of 2021 a total of 15,378 people were arrested by Thai authorities while sneaking across borders. Even after security forces increased patrolling along the borders, people managed to sneak in from Myanmar, Malaysia, Laos, and Cambodia. 6,700 of those who crossed the border were Burmese citizens, while another 1,700 of them were Thai nationals.
With nearly 400 lives lost to Covid-19 and over 83,000 people having been infected in the pandemic, the CCSA declared that Prime Minister Prayut Chan-o-cha and National Security Council Secretary-General Natthapol Nakpanich agree that these illegal border crossers without Covid-19 screening are a serious problem.
Many Thai people work in Malaysia and as the pandemic drags on they are sneaking across the border, desperate to make it home to their family. Another recent case found illegal Burmese border hoppers in a taxi en route to Hat Yai after they crossed into Thailand from the Malaysian border. They were trying to travel incognito across Thailand in order to cross the border again back into their home country of Myanmar.
The dilemma is even worse at the Burmese border as the often violent protests following the February 1 military coup has been pushing much of the country into poverty, and creating refugees who are flocking to the border in hopes of crossing over to safety. Many are seeking to escape the conflict and find work in Thailand.
SOURCE: Bangkok Post
Want more from the Thaiger family?
📱 Download our app on Android or iOS for instant updates on your mobile
📧 Subscribe to our daily email newsletter
👍 Like/Follow us on Facebook
🔔 Subscribe to or Join our YouTube channel for daily video updates
Thailand Consumer Confidence Index hits record low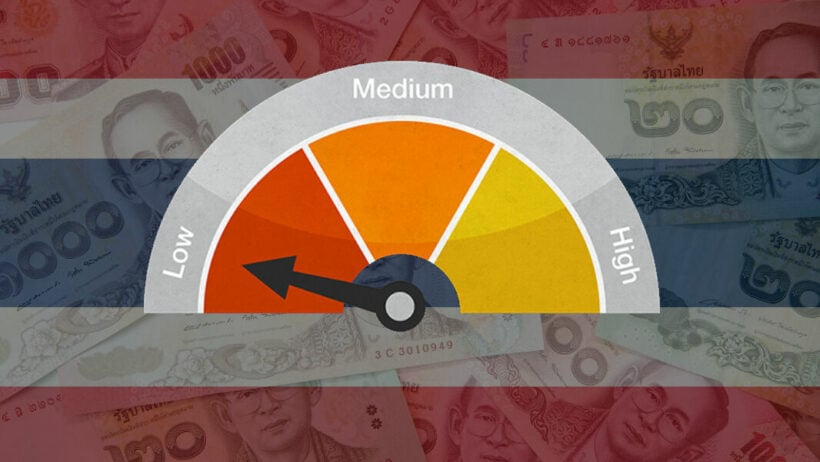 The University of the Thai Chamber of Commerce has reported that the Consumer Confidence Index has hit another new record low of 46.0 in April. The Covid-19 global pandemic has had a devastating effect on the economy and consumer confidence has fallen frequently to the lowest points that it has seen since 1998.
The president of the UTTC believes that consumers generally don't feel like there has been much of a recovery for the economy since the global pandemic began and without a stimulating event to motivate economic growth, the index is expected to continue to fall further. The university estimated that if the third wave of Covid-19 continues past the end of May the economy can expect to lose 400 to 600 billion baht.
The UTTC president stressed that the government should hasten to step up relief measures and make sure they continue relief and economic stimulus throughout the pandemic to avoid economic catastrophe. He predicted that the economy and the Consumer Confidence Index will continue on a downward slope without any hope of improvement until the vaccine rollout gets well underway towards herd immunity, and new Covid-19 infections are decreased dramatically.
Today saw another 2,101 new Covid-19 infections and 17 deaths in Thailand. Vaccination efforts are continually being stepped up, but still remain woefully slow.
The Consumer Confidence Index first started falling last year, with a drop below the previous record low in 1998 in April of 2020, when it fell to 47.2. A few months later, by July of last year, it had recovered significantly, climbing back over 50. But by March of this year, the index had fallen again to 48.5. With April's tumble of 2.5 points, the Consumer Confidence Index pushes once again to a new record low.
SOURCE: Thai Business News
Want more from the Thaiger family?
📱 Download our app on Android or iOS for instant updates on your mobile
📧 Subscribe to our daily email newsletter
👍 Like/Follow us on Facebook
🔔 Subscribe to or Join our YouTube channel for daily video updates
Thailand searches for cow vaccine for lumpy skin disease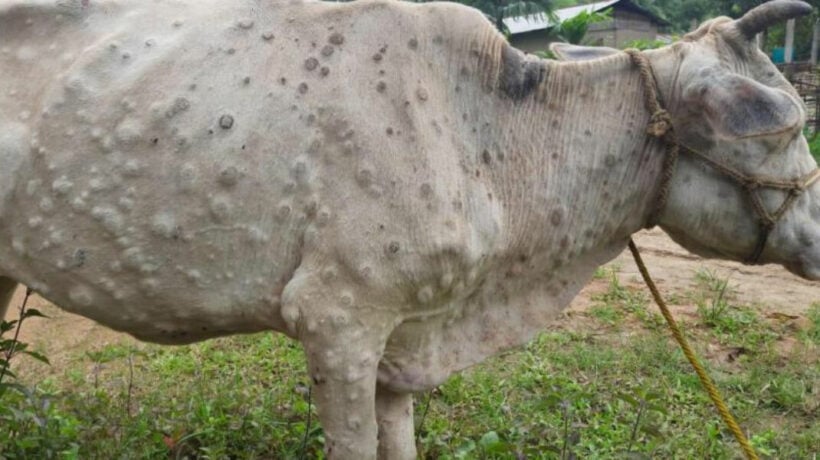 Move over Covid-19 there's a new disease sweeping the country as Thailand's cow population is afflicted with a lumpy skin disease. The Department of Livestock Development is now working on procuring vaccines from overseas manufacturers to import and treat the cattle population in Thailand. The lumpy skin is caused by pustules that are the most visible symptom, perhaps more detectable than other bovine signs such as drooling, loss of appetite and drowsiness.
The cow disease is spreading in the North, Northeast, and Central Plains area of Thailand and has been found in 18 provinces total. First identified in Roi Et, it has now spread in Chiang Rai, Kalasin, Kanchanaburi, Khon Kaen, Maha Sarakham, Nakhon Pathom, and Nakhon Phanom. The first case of the lumpy skin disease was reported in Don Daeng village last month and on April 9th officials reported it to the World Organisation for Animal Health.
The lumpy skin disease is found in cow pens and spread through flies, ticks, and mosquitoes, but the DLD says not to panic, it is not transmissible to humans. The department is distributing important information about symptoms and how the disease spreads to breeders and farmers in the area. They're requiring the breeders to monitor their cattle closely and have imposed measures to control the disease in heavy hit areas.
To prevent the spread of disease in livestock, traders are being requested to not buy and sell cattle within 50 km from disease-stricken regions. And for farmers caring for cattle, the DLD recommends spraying insecticide in all areas to prevent transmission via insects. Finally, in case the cattle were jealous of traveling humans, the DLD is advising farmers to prevent disease spread by isolating any new cow that comes into their farms with a 28-day bovine quarantine where they should be kept under nets to keep insects away.
SOURCE: Bangkok Post
Want more from the Thaiger family?
📱 Download our app on Android or iOS for instant updates on your mobile
📧 Subscribe to our daily email newsletter
👍 Like/Follow us on Facebook
🔔 Subscribe to or Join our YouTube channel for daily video updates