Phuket Gazette Thailand News: Typhoon aid underway; Yingluck to face censure; BOT in good shape; Schools in South strike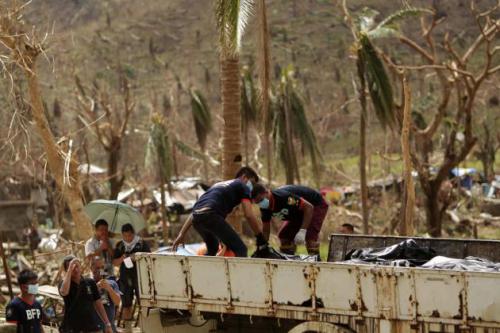 PHUKET MEDIA WATCH
– Thailand news compiled by Gazette editors for Phuket's international community
Doctors, medicines heading to Philippines
The Nation / Phuket Gazette
PHUKET: The Public Health Ministry is expected to send 60 tonnes of medical supplies on an Air Force plane to the Philippines on Monday (Nov 18), with the government announcing yesterday it would initially provide Bt6 million to help people hit by Typhoon Haiyan.
Ministry permanent secretary Narong Sahamethapat said the ministry would also send three medical teams, each made up of 15 doctors, sanitation rehabilitation and mental-health experts – a total of 45 people – to set up a field hospital.
Assessing manpower
Public Health Minister Pradit Sintavanarong said the ministry would hold a meeting today (Nov 15) to ensure the medical teams are ready. Each would stay in the typhoon-hit area for two weeks, and could travel after getting confirmation from the Foreign Affairs Ministry.
After a meeting of agencies yesterday about aid to the Philippines, Department of International Economic Affairs chief Chutintorn Gongsakdi said that besides the Bt6 million, the Cabinet would next week consider dispatching an armed forces' C130 aircraft with supplies and necessities to aid the survivors.
Other relief items would be sent via sea freight, which would take seven days to reach the typhoon-hit country, he said.
Thailand would also send 5,000 tonnes of rice via the Asean+3 (China, South Korea and Japan) mechanism, he said. Other needed items were canned food, drinking water, body bags and tents.
Chutintorn said Thailand would work with the World Food Programme to provide aid over six months – distributing food for two months, then working on rehabilitation for four months.
Donations sought
Prime Minister Yingluck Shinawatra, meanwhile, urged organisations and people to donate money for the victims via a Krungthai Bank saving account, number 067-0-09551-6, named the "Khon Thai Song Kamlangjai Chuayleu Philippines" (Thai people sending support to aid the Philippines).
Supreme Commander General Thanasak Pratimakorn said the military was discussing the fastest way to send aid and ensure it matches the needs of Filipino victims, while the armed forces was preparing the C-130 plane with necessities.
Army commander-in-chief General Prayuth Chan-ocha presented Bt930,000 to Colonel Reuben Basiao, the Philippines' defence and armed forces attache in Thailand, to help the country respond to the crisis.
Prayuth also sent a letter to the Philippine army, expressing regret at the casualties and damage caused by Haiyan and offering Thai Army support upon request.
Prayuth instructed the Army's disaster-mitigation centre to prepare medical supplies and military canine teams for search-and-rescue missions to be sent to the Philippines over the coming days.
Military engineer kits, plus others for producing drinking water, field tap-water systems and electrical generator sets were also ready if requested by the Foreign Affairs and Defence ministries, he said.
Yingluck to be target of censure move
The Nation / Phuket Gazette
PHUKET: The opposition's censure debate late this month will focus on Prime Minister Yingluck Shinawatra, with likely attacks on her leadership skills, according to sources from the Democrat Party.
Opposition MPs taking to the floor during the no-confidence debate would also direct their attack at the Shinawatra family, with Yingluck's big brother and former prime minister Thaksin Shinawatra likely to be the biggest target, the sources said.
The Democrats will file a motion of no confidence either today or on Monday, paving the way for a censure debate before November 28, according to chief opposition whip Jurin Laksanavisit, who is a senior Democrat MP.
"Opposition lawmakers are ready to censure the government," he said.
The current parliamentary session ends on November 28. Jurin said the censure would focus on a number of issues related to the government's performance.
Chief coalition whip Aumnuay Khlangpha said yesterday that a censure debate might be held on November 22, 23 and 24 if the party files a censure motion this week.
The debate appears likely to be held on a weekend because Yingluck is scheduled to travel to Singapore on November 26 and 27, where she will attend the Thai-Singapore Prime Ministers' Retreat.
Jurin said the PM had often used overseas travel as a reason to miss parliamentary events. Government Spokesman Teerat Ratanasevi said the prime minister would definitely attend the censure debate and would be ready to respond to the opposition's allegations.
However, Yingluck's schedule for the Singapore trip would not be changed.
"The schedule was made beforehand, and it is not meant to coincide with the censure debate," Teerat said.
Jurin, meanwhile, voiced concern about the risk of a confrontation between the red shirts and anti-amnesty protesters. He called for the prime minister to intervene and ensure that both sides remain safe.
Former Democrat MP Suthep Thaugsuban announced on Wednesday night that he would step up the rally currently at Democracy Monument from tonight. But before that, anti-government protesters including school and university students are due to march on Rajdamnoen Road.
Meanwhile, the red shirts have scheduled a mass rally at Muang Thong Thani from Monday until Wednesday next week.
Security Council secretary-general Paradorn Pattanatabut said yesterday that the authorities would keep close watch today over the intensified protests, voicing concern that a "third hand" might intervene and cause trouble.
"The protests will likely drag on until the end of this month," the NSC chief said.
Paradorn said rally organisers might expect two events – a judicial ruling on a charter amendment bill related to the Senate or the censure debate, to spur their protests. He added, however, that the outcome of the bill could favour the government, contrary to the organisers' hopes.
Red-shirt chairwoman Thida Thavornseth said anti-amnesty rallies had lost momentum because of the end of the amnesty push by the government. Thida said the Democrats wanted the protests to persist in order to manipulate public sentiment.
She pointed out that the red shirts' rally site was in a closed compound at Muang Thong Thani to avoid a confrontation between rival protesters. She said the red shirts suspected that the anti-amnesty move was just a pretext to try to bring down the government.
"The reds rally is not meant to sway the Constitutional Court in the upcoming judgement for the charter amendment bill but to send a signal to the opposing side," she said.
The Constitutional Court, whose office is at the Government Complex on Chaeng Wattana Road, has scheduled Wednesday to announce its ruling on a charter amendment bill related to the election and qualifications of senators.
Thida said the red shirts disagreed with any bid to change government via extra-constitutional means.
Anucha Romyanant, deputy spokesman of the Peacekeeping Operations Centre, said yesterday that the Metropolitan Police would ask protesters occupying the streets in the city to return the area to prepare for celebrations for His Majesty the King's birthday early next month.
Currently, there are three stages for pol
— Phuket Gazette Editors
Keep in contact with The Thaiger by following our
Facebook page
.
Never miss out on future posts by
following The Thaiger
.
News of American sued over bad Koh Chang hotel review has everyone talking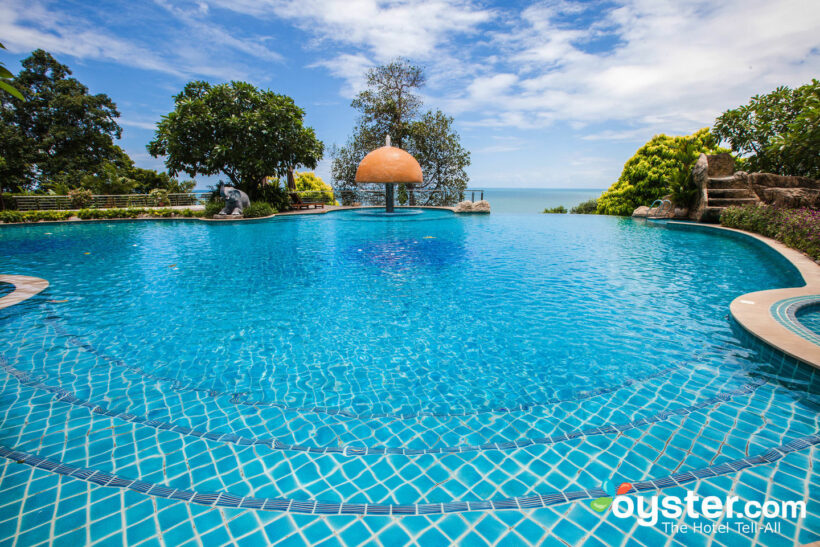 After news hit of an American being arrested and sued for defamation over leaving a bad review about a Koh Chang hotel on TripAdvisor, many are taking to the internet to voice their opinions on the issue. The Sea View Resort owners say it tried in vain to negotiated with Wesley Barnes after he posted the reviews, but he continued to post completely untrue comments.
The owners released a five-page statement after the news of it suing the American gained widespread attention. You can read their response HERE. Then, Barnes submitted his own response detailing the situation which was also published online.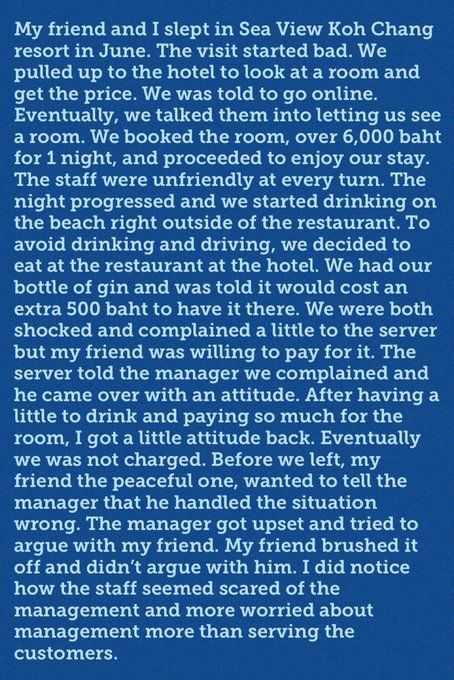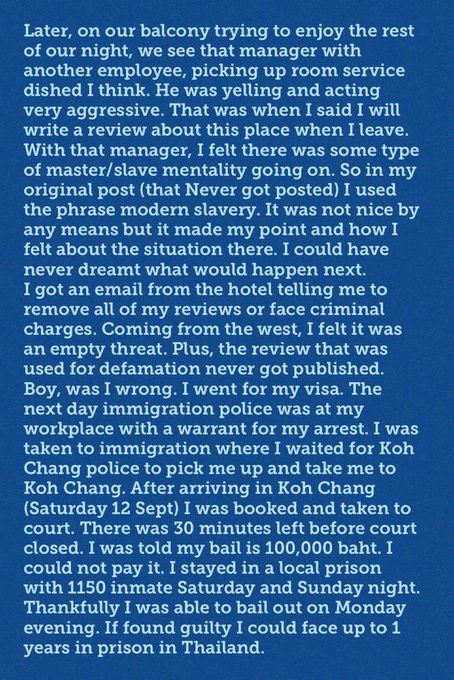 Now, the story has gained even more attention as netizens have begun posting their opinions on the controversial issue of Thailand's defamation laws. Below, are some of those posts on The Thaiger's Facebook page.
"Can someone clarify for me Thailand's position on people leaving honest bad reviews as my girlfriend says it's fine to leave a bad review of a business and it's not defamation if honest of course? I have heard people say that you simply can't leave bad honest reviews at all here but that sounds ridiculous. The thing about many Thais is that they think they're beyond reproach. They can't accept criticism because it's not aligned with their grandiose self-image. Many also have a torrid time when it comes to ownership of their own actions and decision making."
"OMG! He is arrested for a review.?! I know of an expat in Malaysia that wrote a bad review about a Thai-owned resort in Penang and he was sued as well. Be careful with what you share in that neck of the woods."
"It's one thing to leave a bad review but to throw in "modern slavery" remarks escalates to thai defamation law. He shouldn't be arrested for his comments but you need to respect the country laws no matter how crazy they seem compared to your own country. This press is going to negatively affect the business way more than that review would have done though."
"The owner should have settled with the review platforms privately and move on. I would hardly hold up Trip Advisor as a beacon of truth, however some people write extremely personal and vindictive comments that go beyond a review, in an attempt to gain product or refunds in return, this is an absolute fact, and hopefully this might make people think before they start writing reviews that are not exactly honest, I have read stories critical of the General Managers because they didn't contact the guests, some really petty reviews by rather petty people."
If Barnes is indeed found to be guilty of defamation, he could spend up to 2 years in prison and pay up to a 200,000 baht fine.
SOURCE: Chiang Rai Times
Keep in contact with The Thaiger by following our
Facebook page
.
Never miss out on future posts by
following The Thaiger
.
Phuket police arrest 6 after finding large amounts of methamphetamine in raid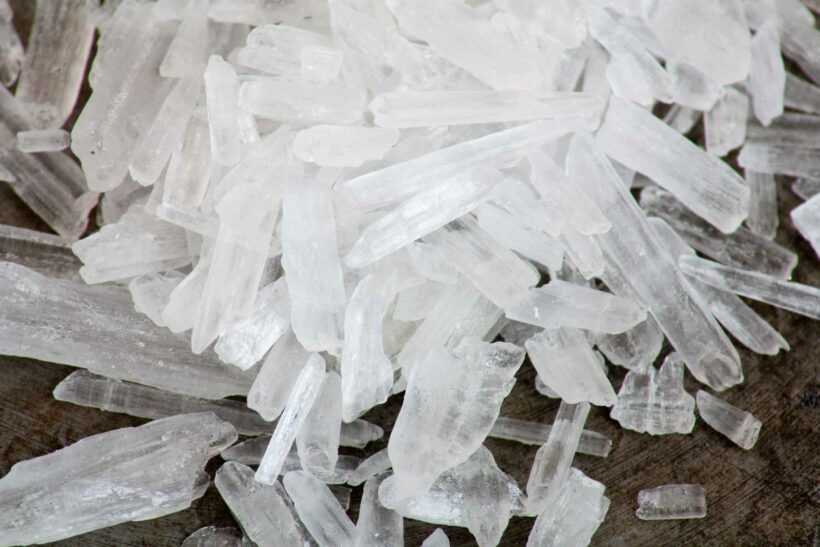 Phuket Provincial Police have arrested 6 people after finding large amounts of methamphetamine and other drugs during a raid. One suspect alone allegedly had 7.6 kilograms of crystal meth (ya ice) and over 12,500 methamphetamine pills (ya bah). 29 year old Surasak 'Bank' Wijit and 27 year old Panida 'Mei' Saeyang were arrested at an apartment car park in Soi Lookkaew, Moo 6, Rassada, in eastern Phuket, after they were found in possession of the drugs.
Police also found 2 mobile phones and a red Honda PCX, registered in Phuket, as evidence. Both suspects have been charged with posessing a Category 1 drug with the intent to sell.
Other suspects arrested at the same time include 36 year old from Chiang Rai, 42 year old Sarawut 'An' Srichanon, from Ranong and 31 year old Pornthep 'Iew' Thepchampa, who were charged with the same crimes in Chalong after police found more drugs in their possession. 33 year old Kamon 'Kung' Sae-ngow, was arrested as well after police found kratom juice and leaves at a house in Rassada. He was taken to Phuket City Police station and was charged with a Category 5 drug possession.
SOURCE:The Phuket News
Keep in contact with The Thaiger by following our
Facebook page
.
Never miss out on future posts by
following The Thaiger
.
Phuket Muay Thai fighter is the first Thai national to compete in UFC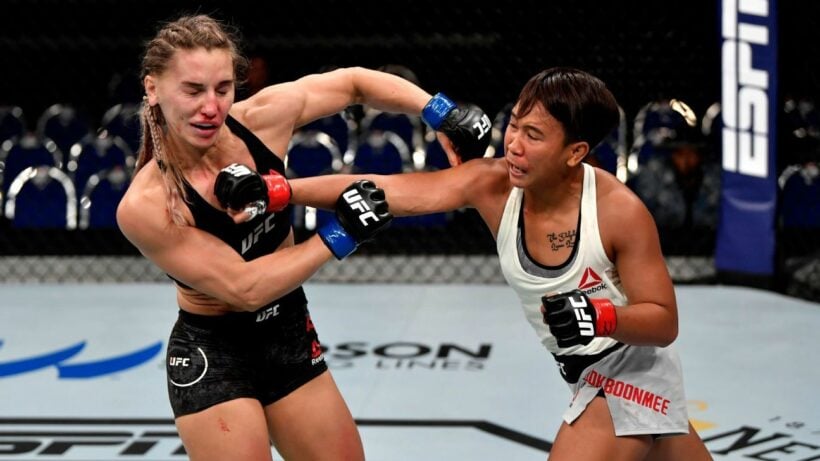 The upcoming Ultimate Fighting Championship Fight Night event in Abu Dhabi will feature Thailand's only national marking her third fight with the UFC, the world's largest mixed martial arts competition. 24 year old Loma Lookboonme, from Burirram in northeastern Thailand, will fight in the event on October 3, 2020.
Loma is a Muay Thai fighter who has adapted her MMA skills to fight in the UFC where she currently trains at the Tiger Muay Thai gym in Phuket. Loma qualified for the national team at the age of 19 and has fought in over 12 nations worldwide. She currently trains 6 days a week starting daily at 6:30am with a 3 kilometre run. In the UFC, she will be competing against China's Angela Lee who is the undisputed champion of the 52 kilogram fist weight category.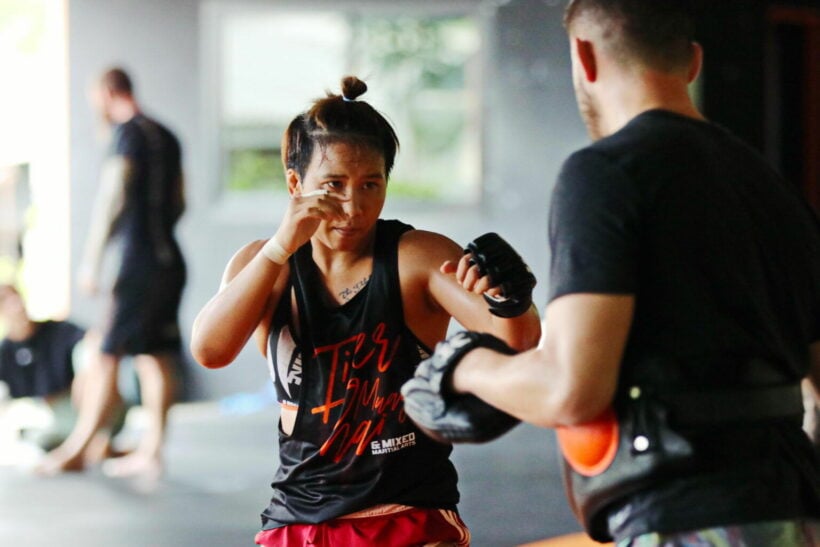 Loma's parents are former Muay Thai fighters and her 2 sisters currently compete as well. She reportedly started training at 8 years old after being inspired by her father, whom she describes as her "hero."
Like most Thais in such fighting sports, Muay Thai offers a way to rise out of poverty-and fighting for the UFC can be financially lucrative. But Loma says her only Thai sponsor is the gym where she trains, with the rest of her sponsors being from foreign brands. She says she is trying to get more Thai sponsors but feels that maybe she needs to win the UFC first before Thai brands notice her.
Loma lost her last fight and says her new opponent gives her nothing to lose. She says her goal is to get into the Top 10, but is not sure when it will happen. Loma says for now, it would be good to fight against someone in the Top 10 to help her prepare for her future.
FULL INTERVIEW: Thisrupt.co
Keep in contact with The Thaiger by following our
Facebook page
.
Never miss out on future posts by
following The Thaiger
.