Phuket Gazette Thailand News: Tortured girl smiles; Curfews possible; Kissing Stevie G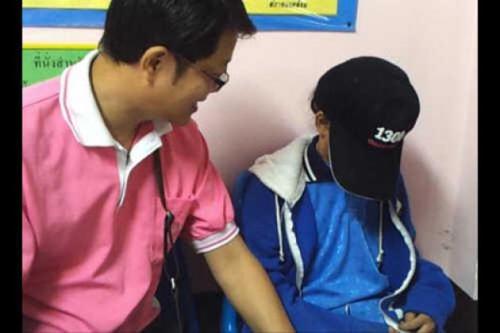 PHUKET MEDIA WATCH
– Thailand news compiled by Gazette editors for Phuket's international community
Tortured slave girl learns to smile again
Phuket Gazette / The Nation
PHUKET: Sympathy and support is pouring in for a Karen girl who was allegedly kidnapped, enslaved, tortured and scarred over half of her body by a couple in Kamphaeng Phet.
Her alleged attackers, Natee Taeng-orn and Rattanakorn Piyaworatham, have denied any wrongdoing and been released on bail. According to neighbors, the couple has not been seen in their neighborhood since February 7.
The young victim told police that for about five years she had to do housework without any pay and help Rattanakorn with bathing dogs at her shop. When the girl made a mistake, she was locked up in a cage and hot water was poured on her.
Since being released, the 12-year-old victim has appeared in front of many news cameras. Her scars have attracted overwhelming public sympathy. But officials have cautioned against showing her scantily clothed body to the public because that could constitute a violation of her human rights.
"Having her wear only underpants while photos and videos were being taken could cause pressure and traumatize her [further]," Sanphasit Koompraphant, a children's rights activist, said.
"Doing so is considered against norms for child victims and witnesses under the protection of the United Nations."
But by yesterday, officials at the Kamphaeng Phet Home for Children and Families said the girl had started to smile again.
"At first, she was depressed, shaken and quiet," an official said.
Deputy Kamphaeng Phet Governor Watcharin Thongsakul yesterday brought doctors to the girl. An initial examination showed more than half of her skin surface sustained damages. In some parts, the damage had reached bone level.
"We will provide treatment for her. If necessary, we will also refer her to a more specialized medical facility," Kamphaeng Phet Hospital's director Kamchai Rangsimanpaiboon said.
The Kamphaeng Phet Home for Children and Families said the Rotary Club of Bangkok's Klong Toei had offered to pay for the treatment too.
Kamchai also disclosed that several foundations had stepped forward to help the young girl.
"We will ensure that she gets protection and rehabilitation," he said.
He added that his provincial authority would also work on the prosecution of her attackers.
Kamchai said the suspects would face an additional charge of violating the 1998 Labour Protection Act. They have already been charged with assault and illegal detention.
Labour Protection and Welfare Department director-general Pakorn Amorncheewin said if convicted of using child labor, the couple would face a maximum fine of Bt200,000 and up to one year in jail. He said the couple could also be required to pay the girl for the work she had done for them over the past five years.
Chalerm: Curfews possible in 'problematic' areas in South
Phuket Gazette / The Nation

PHUKET: The government might impose curfews in "problematic" areas in the South, Deputy PM Chalerm Yoobam-rung said yesterday, while Prime Minister Yingluck Shinawatra instructed officials to separate criminal activity from insurgent acts and equip officials with the latest technology and safety equipment.
Citing his recent meeting with Malaysian PM Najib Razak, Chalerm said both countries we opposed to separatism.
"We did everything but if things aren't improved, we might impose curfews in some problematic sub-districts or districts," Chalerm said. "I think it's inevitable … if in some areas the authorities can't thoroughly cover, there's a necessity, hence [curfew] is a choice we are considering."
A decision on curfews will be made in a meeting of the Southern Border Provinces Administration Centre (SBPAC) on Friday.
The Cabinet yesterday approved 900 of the proposed 2,700 territorial volunteer defence positions to increase security forces in the South.
Yingluck urged the Interior Ministry to draw up plans to fill the remaining 1,800 positions and more.
In the investigation of Sunday's car bombing that killed five soldiers in Yala's Raman district, authorities said a 16-year-old male suspect who allegedly planted road spikes to help the bombers gave useful testimony. It led to the discovery of a garage in Pattani's Kapho district where the bombing was planned and the car was painted. Four other male suspects were detained for questioning.
Meanwhile yesterday, Corporal Suthas Waemayi, 32, was seriously wounded in a shooting in Narathiwat's Rangae district at 1.30pm.
Suthas was talking to villager Marosuli Thoh in front of Marosuli's house in Tambon Bongo, when men hiding in the bushes shot Suthas once in the back of the neck with a handgun.
In Pattani, police announced that Maruding Yusoh, 25, who was killed in a raid on Monday, was an operative insurgent. A 9mm pistol in Maruding's possession yielded evidence linked to 10 other attacks.
Three of his friends, aged 18 to 29, were suspected to be sympathizers of the Ronda Kumpulan Kecil (RKK) insurgency movement and were under investigation.
Stealing a kiss from Stevie G among precious memories for Thai fans
Phuket Gazette / The Nation
PHUKET: Liverpool manager Brendan Rogers will want to quickly forget Monday's 2-0 defeat at Anfield to West Bromwich Albion, but for 16 Reds fans from Thailand memories of the day will last a lifetime.
The Thai Kopites were on the same AP Honda-sponsored trip as their 20 Manchester United-supporting counterparts who watched a 2-0 home victory over Everton on Sunday, but none had any complaints about what they experienced at the Merseyside club's atmospheric ground.
Rather than disappointment at the Reds' failure to avenge their 3-0 loss at the Hawthorns on the opening day of the season, all 16 left the stadium pumped with renewed enthusiasm from their visit to the famed Anfield on a bitterly cold night.
The result dropped Liverpool to ninth in the EPL standings, but the Thais had good reason to be on a high. The day started with an opportunity Liverpool fans around the world would give their right arm for – AP Honda arranged a meet & greet with Reds captain Steven Gerrard at the club's Melwood training ground.
Their Red Devils counterparts may have met 11 Manchester United first-team players, but none are symbolically representative of their whole club in the same way as Gerrard.
Each fan savored every second of their brief time with Stevie G, who lifted the club's fifth European Cup in Istanbul eight years ago following a miraculous comeback from 3-0 down at half-time that saw them beat AC Milan on penalties.
A female Liverpool fan from Sukhothai made the most of the opportunity by kissing Gerrard on the cheek as the England skipper was about to autograph a shirt she presented him.
A few hours later, the smiles gave way to goose bumps as the Anfield crowd struck up a stirring chorus of "You'll never walk alone" before kick-off.
One player the Thai group was eager to see was new signing Coutinho, set to make his debut after joining Liverpool from Inter Milan during the January transfer window.
The Brazilian midfielder seemed to have brought good fortune as he arrived on the scene as a
— Phuket Gazette Editors
Want more from the Thaiger family?
📱 Download our app on Android or iOS for instant updates on your mobile
📧 Subscribe to our daily email newsletter
👍 Like/Follow us on Facebook
🔔 Subscribe to or Join our YouTube channel for daily video updates
Thailand Consumer Confidence Index hits record low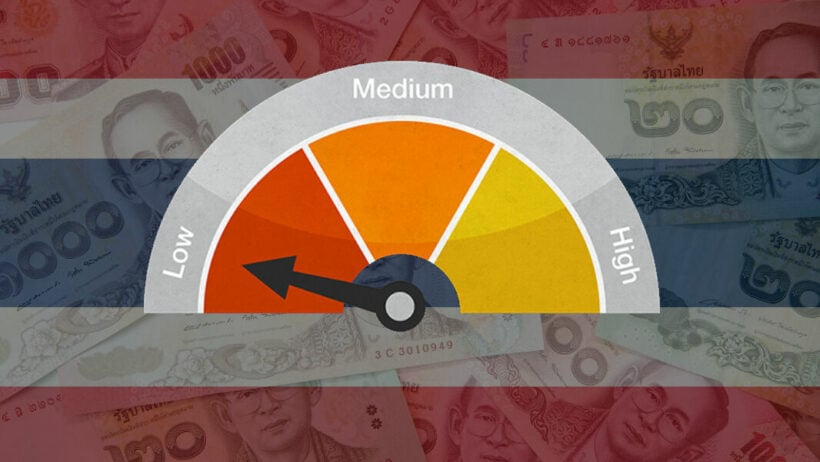 The University of the Thai Chamber of Commerce has reported that the Consumer Confidence Index has hit another new record low of 46.0 in April. The Covid-19 global pandemic has had a devastating effect on the economy and consumer confidence has fallen frequently to the lowest points that it has seen since 1998.
The president of the UTTC believes that consumers generally don't feel like there has been much of a recovery for the economy since the global pandemic began and without a stimulating event to motivate economic growth, the index is expected to continue to fall further. The university estimated that if the third wave of Covid-19 continues past the end of May the economy can expect to lose 400 to 600 billion baht.
The UTTC president stressed that the government should hasten to step up relief measures and make sure they continue relief and economic stimulus throughout the pandemic to avoid economic catastrophe. He predicted that the economy and the Consumer Confidence Index will continue on a downward slope without any hope of improvement until the vaccine rollout gets well underway towards herd immunity, and new Covid-19 infections are decreased dramatically.
Today saw another 2,101 new Covid-19 infections and 17 deaths in Thailand. Vaccination efforts are continually being stepped up, but still remain woefully slow.
The Consumer Confidence Index first started falling last year, with a drop below the previous record low in 1998 in April of 2020, when it fell to 47.2. A few months later, by July of last year, it had recovered significantly, climbing back over 50. But by March of this year, the index had fallen again to 48.5. With April's tumble of 2.5 points, the Consumer Confidence Index pushes once again to a new record low.
SOURCE: Thai Business News
Want more from the Thaiger family?
📱 Download our app on Android or iOS for instant updates on your mobile
📧 Subscribe to our daily email newsletter
👍 Like/Follow us on Facebook
🔔 Subscribe to or Join our YouTube channel for daily video updates
Thailand searches for cow vaccine for lumpy skin disease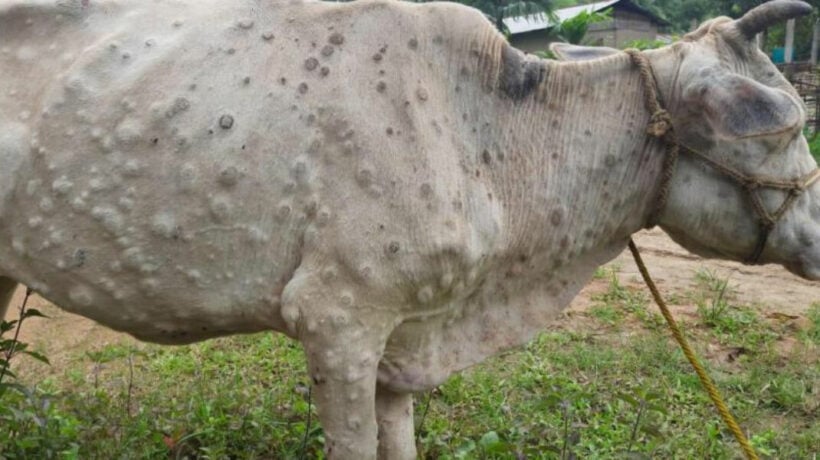 Move over Covid-19 there's a new disease sweeping the country as Thailand's cow population is afflicted with a lumpy skin disease. The Department of Livestock Development is now working on procuring vaccines from overseas manufacturers to import and treat the cattle population in Thailand. The lumpy skin is caused by pustules that are the most visible symptom, perhaps more detectable than other bovine signs such as drooling, loss of appetite and drowsiness.
The cow disease is spreading in the North, Northeast, and Central Plains area of Thailand and has been found in 18 provinces total. First identified in Roi Et, it has now spread in Chiang Rai, Kalasin, Kanchanaburi, Khon Kaen, Maha Sarakham, Nakhon Pathom, and Nakhon Phanom. The first case of the lumpy skin disease was reported in Don Daeng village last month and on April 9th officials reported it to the World Organisation for Animal Health.
The lumpy skin disease is found in cow pens and spread through flies, ticks, and mosquitoes, but the DLD says not to panic, it is not transmissible to humans. The department is distributing important information about symptoms and how the disease spreads to breeders and farmers in the area. They're requiring the breeders to monitor their cattle closely and have imposed measures to control the disease in heavy hit areas.
To prevent the spread of disease in livestock, traders are being requested to not buy and sell cattle within 50 km from disease-stricken regions. And for farmers caring for cattle, the DLD recommends spraying insecticide in all areas to prevent transmission via insects. Finally, in case the cattle were jealous of traveling humans, the DLD is advising farmers to prevent disease spread by isolating any new cow that comes into their farms with a 28-day bovine quarantine where they should be kept under nets to keep insects away.
SOURCE: Bangkok Post
Want more from the Thaiger family?
📱 Download our app on Android or iOS for instant updates on your mobile
📧 Subscribe to our daily email newsletter
👍 Like/Follow us on Facebook
🔔 Subscribe to or Join our YouTube channel for daily video updates
Covid-19 third wave cuts Thai domestic flights predictions by 38%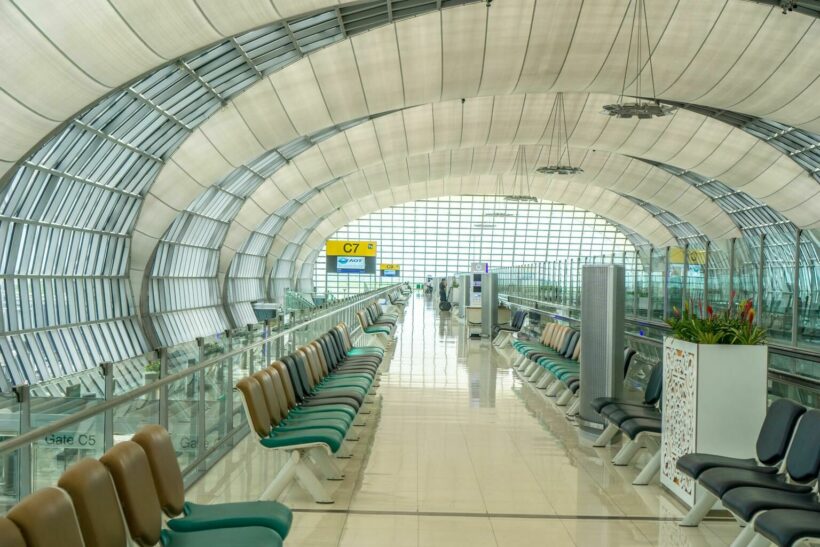 The Aeronautical Radio of Thailand is predicting a 38% drop in travel by domestic flights due to the effect of the third wave of Covid-19. Aerothai is a department under the Ministry of Transport that provides aeronautical communication and air traffic control in Thailand. With Covid-19 experiencing a rapid spread beginning in April and not yet under control, infections across all of Thailand's 77 provinces are projected to drastically hamper local travel until at least September.
The fiscal year, beginning last October, was originally predicted to have almost 519,000 domestic flight. But Aerothai has now reduced those figures down 38% to just over 323,000 flights in Thailand. The executive vice president for operations of Aerothai said that by the second half of April domestic flights had been severely reduced despite remaining relatively stable in early April.
The Civil Aviation Authority has also added increased restrictions on the way passengers are carried, adding another layer of difficulty for the domestic airlines who have slashed their schedules after having a bumper Songkran holiday period and were looking forward to better times ahead.
Flight reductions were a result of attempts to reduce and contain the spread of Covid-19 by implementing strict travel and safety measures. While domestic travel was strongly affected by Thailand's second wave of Covid-19 at the beginning of 2021, the current wave is much worse and Aerothai predicts domestic flights will reach their lowest point by the end of May.
An expectation of recovery beginning next month hinges on international flights starting to slowly creep back into Thailand. The Civil Aviation Authority of Thailand has loosened the restrictions for international travel in preparation for the government's plan to relaunch the tourism industry in key hotspots of Thailand like Phuket and Koh Samui in July. Aerothai is hoping that by August domestic flights will return to the levels seen at the end of 2020 before the second wave of Covid-19, with about 1,095 daily flights.
Aerothai has been tracking flight statistics since it was founded in 1948 by a group of airlines with the approval of the Royal Thai Government. In 1963 the government took on a majority stake in the company from the founding airlines and converted it to a state enterprise operating under the Ministry of Transport.
SOURCE: Bangkok Post
Want more from the Thaiger family?
📱 Download our app on Android or iOS for instant updates on your mobile
📧 Subscribe to our daily email newsletter
👍 Like/Follow us on Facebook
🔔 Subscribe to or Join our YouTube channel for daily video updates