Phuket Gazette World Sports: Celtic "hell"; Too much English; IOC moves surprises wrestling and Pakistan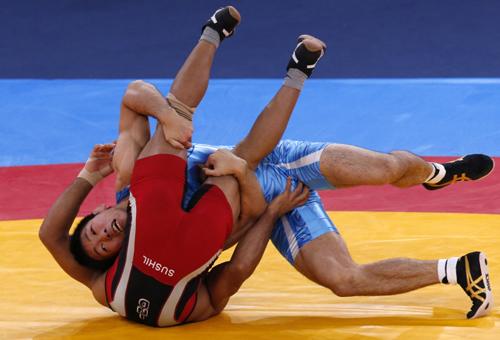 Conte amazed to leave Celtic "hell" with handsome win
Reuters / Phuket Gazette
PHUKET: Juventus coach Antonio Conte has suffered much in recent months but coming away from the "hell" of a noisy and fervent Celtic Park with a 3-0 win in their Champions League last 16 first leg felt like an enormous relief.
The Italian champions, who again lead Serie A despite a recent wobble, were dominated by Celtic in the first half as the Scots besieged the Juve goal and harried every player as they were roared on by almost 60,000 passionate fans.
Juve took a third-minute lead through Alessandro Matri before weathering the storm to wrap up the win and their highly probable passage to the quarter-finals through Claudio Marchisio and Mirko Vucinic in the second half.
Conte, banned for 10 months in August for failing to report match-fixing at ex-club Siena before having his sanction slashed to four months in October, knows the second leg in Turin on March 6 should only be a formality but gave credit to Celtic.
"It has been a very important victory but also one where we suffered. Celtic are a great team when they play at home," Conte told Italy's Sky television.
"I didn't play in a hell like this many times," added the former Juve midfielder, who was in the team when they won their second European Cup in 1996.
"My lads have been superb, it was not easy to play in this atmosphere. We've managed a great result which proves this team has top technical and human values.
"Celtic are not, as a name, among the very best in Europe but it is not an accident that Barcelona lost here in Glasgow and that they eliminated Benfica (in the group stage) who are top of the Portuguese league."
The furious pace of the first half and a number of player spats added to the electric atmosphere but Celtic manager Neil Lennon felt his side could have had at least two penalties with Stephan Lichtsteiner grappling with Gary Hooper at corners.
"I'd like to ask the referee is the game different in Spain and Italy? Every time my player moved in the area it was a foul," he asked of Spanish referee Alberto Undiano Mallenco.
Lions coach frets over picking too many England players
Reuters / Phuket Gazette
PHUKET: British and Irish Lions coach Warren Gatland believes picking too many English players for this year's Australia tour could cause problems because of the extra media focus and their unpopularity among other nations.
The New Zealander, who won the Six Nations grand slam with Wales last year, takes charge of the combined side for the first time for the three-test tour and has been impressed by England in their last three matches.
"At the moment, England are playing well. They did well in the autumn, particularly the outstanding victory against the All Blacks and, if they do well in the Six Nations, there will be a reasonable contingent of English players," Gatland told London's Evening Standard newspaper in an interview published yesterday.
"But that brings a certain element of — how do I say it — other pressures that come with selecting a lot of English players. It becomes a much greater media focus from the English papers; potentially a negative focus from the Australian papers.
"English players are targeted by other countries. (They are) not always the most popular with other countries because of the history. People like having a pop at them."
England lost to France in the 2011 World Cup quarter-finals after a tournament marred by tabloid stories of drinking, partying and dwarf-throwing, while centre Manu Tuilagi jumped off a ferry as a joke.
"It's just being aware of potential issues that may arise," Gatland added. "We all know what happened with England at the World Cup and the circus that was created.
"I've just got to be aware of the possibilities that, if there are a number of English players on the tour, the same sort of things could be instigated, through stings through the media or set-ups trying to create controversy."
There was also further potential bad news for Samoa-born Tuilagi, with Gatland saying his coaching team have discussed whether players born outside Britain and Ireland really understand the magnitude of pulling on a Lions shirt.
"That's a really interesting question. It's something that we've touched on. These are the sort of things that come into consideration when you finally select the squad," Gatland said.
He added that players like England's Chris Ashton would not be excluded from the June and July tour for being too "gregarious".
Wrestling in shock as IOC wields Games axe
Reuters / Phuket Gazette
PHUKET: Wrestling was left in a state of shock after the International Olympic Committee (IOC) made a surprise recommendation to exclude the sport from the 2020 Games.
Contested in the first modern Olympics in 1896 and part of the ancient Games in Olympia, wrestling will now join seven other candidate sports battling for one spot in a revamped programme.
It is unlikely, however, that it will get a reprieve when the IOC session in Buenos Aires votes on the recommendation in September as this would defeat the purpose of Tuesday's vote.
"This is not the end of the process, this is purely a recommendation," IOC spokesman Mark Adams told reporters following an Executive Board meeting. "It is the session which is sovereign."
"It was a decision to look at the core sports, what works best for the Olympic games. This was the best programme for the 2020 Olympics. This is not about what's wrong with wrestling but what is good for the Games."
The vote came as a major shock after other sports, including modern pentathlon and taekwondo, were seen as more at risk of losing out due to their low global appeal.
"FILA was greatly astonished by today's recommendation of the IOC Executive Board not to maintain wrestling among the 25 core sports for the 2020 Olympic Games," the international wrestling federation said in a statement.
It said the federation was represented in 180 countries, "with wrestling being the national sport in a fair amount of them and the only possibility for athletes to represent their country at the Olympic Games, thus contributing to their universality.
"FILA will take all necessary measures to convince the IOC… of the aberration of such a decision against one of the founding sports of the ancient and modern Olympic Games," it said, adding it would meet next week to discuss its next steps.
Board members were given a report on each of the Olympic sports which provided details on 39 criteria such as popularity, finances, tickets sold, anti-doping and governance, before a secret vote.
"There were different rounds of voting necessary to come to this conclusion," said IOC vice president Thomas Bach. "It is an extremely difficult decision to take."
"I cannot look into the heads of my colleagues. Such a decision is never based on one single reason. It is always a series of reasons. Of course, different members take a different approach."
"The common understanding is the purpose of this was to modernise, to look into the future of the Olympics," added Bach, a potential IOC presidential candidate later this year.
The 15-member executive board needed four rounds of voting to decide on wrestling with pentathlon, hockey, canoeing and taekwondo also getting votes to be removed from the Games.
IOC president Jacques Rogge did not vote.
C
— Phuket Gazette Editors
Keep in contact with The Thaiger by following our
Facebook page
.
Never miss out on future posts by
following The Thaiger
.
Phuket's Sri Panwa Resort's land title deed to be investigated for legality by DSI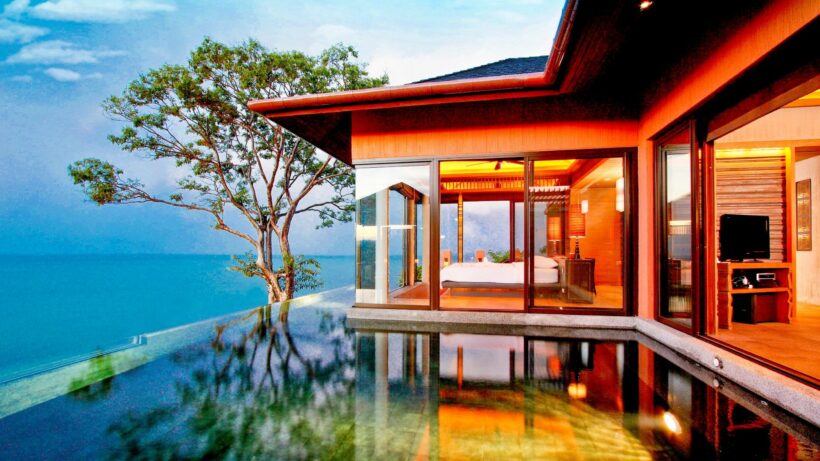 Back in the news again. Phuket's Sri Panwa Resort's land title deed is now to be investigated by the Department of Special Investigation after a petition was filed to determine whether the deed was procured legally. Veera Somkwamkid, the secretary-general of the People's Network Against Corruption, filed the petition along with 167 pages of documents pertaining to his accusations that Thawatchai Anukun, a land fraud suspect, had unlawfully issued land title deeds to plots of land in Phuket before he mysteriously died in a detention room while in DSI custody in 2016.
He was allegedly being investigated for falsifying land deeds between the years of 1998 and 2001. Veera claims before the title deed was issued on the plot, the land was part of a forest known by locals as Pa Kae.
"Back then, 10 families that had occupied the plots for about 40 years had title deed requests rejected. The reason given was the land was part of a forest reserve used by the navy."
However, Watchara Buathong, Phuket's current land official, says the Sri Panwa resort had legally acquired its 56-rai, none of which was ever state land. Local resident Khwanjai Khumban, backed this claim, saying her father and cousins had sold most of the land to the resort, and she could produce documents to account for at least 12 rai of the disputed area.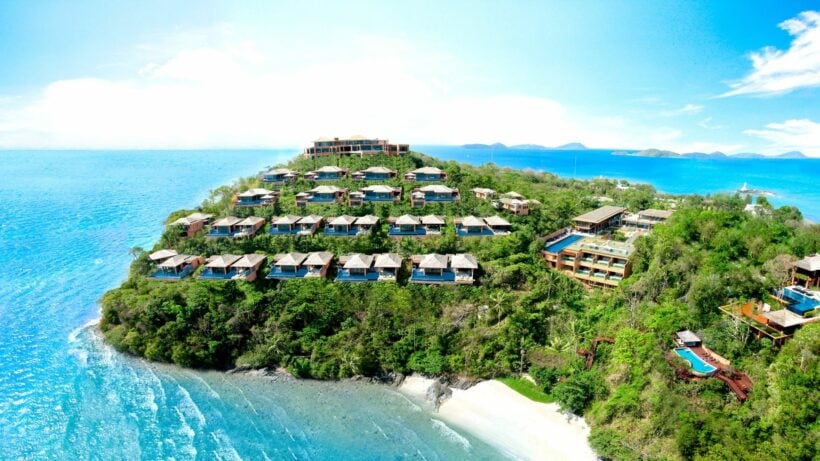 Meanwhile, the Social Security Office, is also
under fire
as it is being asked to explain why it invested in the hotel's trust fund. The department, which is under Thailand's Ministry of Labour, in which its minister says he doesn't know if the property has been legally built and points to the responsibility to the DSI to investigate. This was echoed by at least one opposition MP and anti-corruption activists.
The hotel, situated on Cape Panwa, in Phuket's Muang district, has been under recent scrutiny due to its owner, Vorasit Issara, accusing Panusaya "Rung" Sithijirawattanakul, a co-leader of the anti-government United Front of Thammasat and Demonstration group, of offending the monarchy at last weekend's protest at Sanam Luang.
Vorasit posted on Instagram that Panusaya Sithijirawattanakul should be jailed, further falsely claiming that she is not Thai when, in fact, Panusaya was found to have been born in Nonthaburi and is a Thai citizen.
"This bullshit has got to stop. She is not Thai. Who is she working for? This one needs to be in prison".
Such a statement has received wide backlash from netizens with some taking to Trip Advisor and other websites to post bad reviews of the resort, prompting it to suspend advertising on such sites.
Keep in contact with The Thaiger by following our
Facebook page
.
Never miss out on future posts by
following The Thaiger
.
Female prisoner on the run after escaping from Phuket Hospital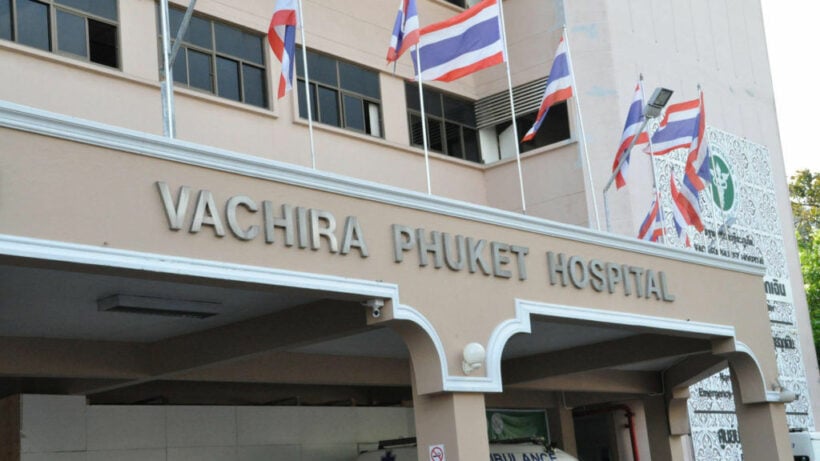 A female prisoner is on the run after escaping from Vachira Hospital in Phuket during a doctor's appointment. 58 year old Siri Phodam allegedly escaped after asking her prison escort officer to use the toilet. But she took a long time to come back, and was found to have escaped. CCTV cameras caught her dressed in a blue hospital patient shirt and a sarong leaving the hospital quickly. A Phuket prison officer says the woman is 158 centimetres tall and has dark skin.
"Some of our own officers are searching for her, and we have also sent the prisoner's description to all Phuket police stations. However, at this stage we have not found any clues."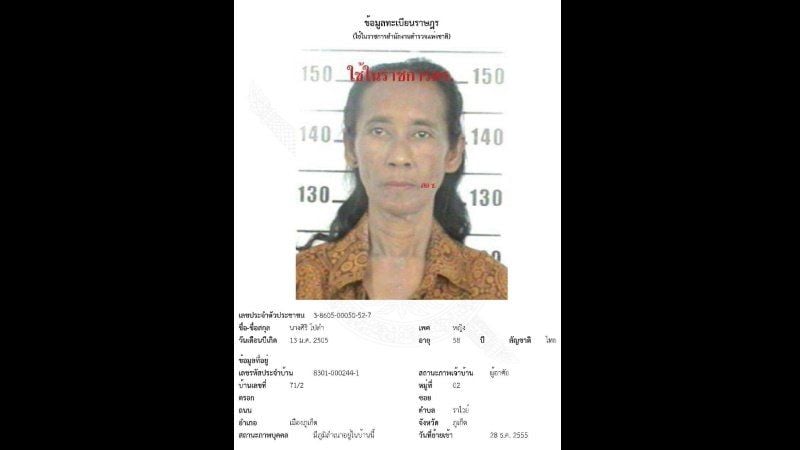 "If anyone finds a person matching the prisoner's appearance, please inform us by calling 076 212 104."
Siri was imprisoned after being charged with posessing illegal drugs and lived in Moo 2, Rawai.
SOURCE: The Phuket News
Keep in contact with The Thaiger by following our
Facebook page
.
Never miss out on future posts by
following The Thaiger
.
Phuket's annual vegetarian festival gets the green light – VIDEO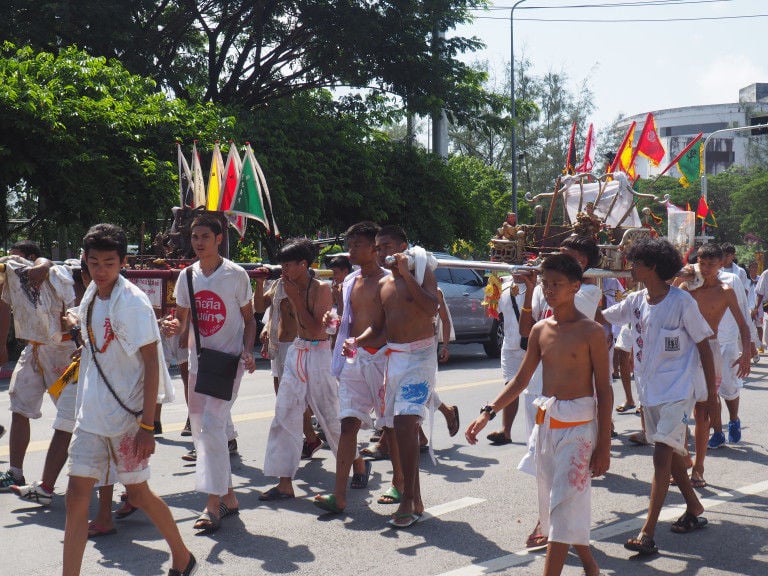 WARNING: The content below contains photos and videos of self-mutilation that some may find disturbing.
Somehow Phuket's annual vegetarian festival is to go ahead next month, but officials say they will ask participants to strictly observe social distancing. Good luck with that! For those who don't know, the festival isn't exactly known for the food. It's known for blood, body mutilation and more blood.
During street processions for the weeklong event, also known as the Nine Gods Festival, so called "mah songs" are known to practice self-mutilation and are said to enter a trance-like state, channeling spirits through their body. "Mah" means horse in Thai, and many suggest the mah song acts like a horse for the spirit to ride.
Many mah songs pierce their checks, ears and lips, some with large swords and thick needles. Some slice their tongues continuously for hours, blood dripping down on the street. Others appear to be in a trace walk barefoot as firecrackers explode on the ground.
Mah songs march down Phuket's streets for hours with a team of devotees to help tend to their wounds, adjust the piercings, wipe away drool and blood, and keep them hydrated. It's understood that devotees wear white as a symbol of purity. It's also reported that they abstain from eating meat, drinking alcohol and having sex during the weeklong festival.
It seems gruesome, but it's actually very spiritual. Business owners and locals line the street, some setting up altars. Mah songs stop at each one and do a quick ritual. Some mah songs carry a black flag, waving it over onlookers who bow their heads and place their hands in the "wai" position. Some spend time blessing the elderly and handing out bracelets to children. During a procession last year, a woman held up a bracelet as said "the 'Spirit' gave this to my mother."
This year, the festival will have to be a little different to abide by coronavirus prevention measures. The Bangkok Post says it's the first festival since the outbreak. The head festival organiser Prasert Fukthongphol says "we will seriously enforce social distancing measures and require all participants to wear face masks."
The grotesque piercings, noisy parades and visits to the shrine, are good news for Phuket's tourism and bad news if you're a vegetable. Many adherents to the Chinese-heritage local festival will go without sex, alcohol and meat for the week of so of the festival. The week of events and ceremonies hopes to scare away the bad gods again but, especially this year, attract some extra visitors to the festival.
Another Vegetarian Festival in Chon Buri has also been given the green light. The event is planned for October 16 to the 26. This year's main event for the festival will be in Naklua at Sawangboriboon Thammasathan Foundation at the Sein Sua Chinese Temple, but many other events will be around the city throughout the week.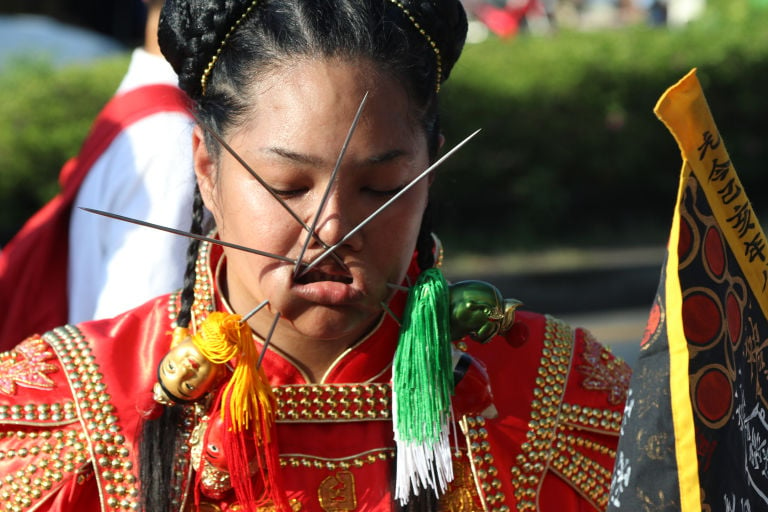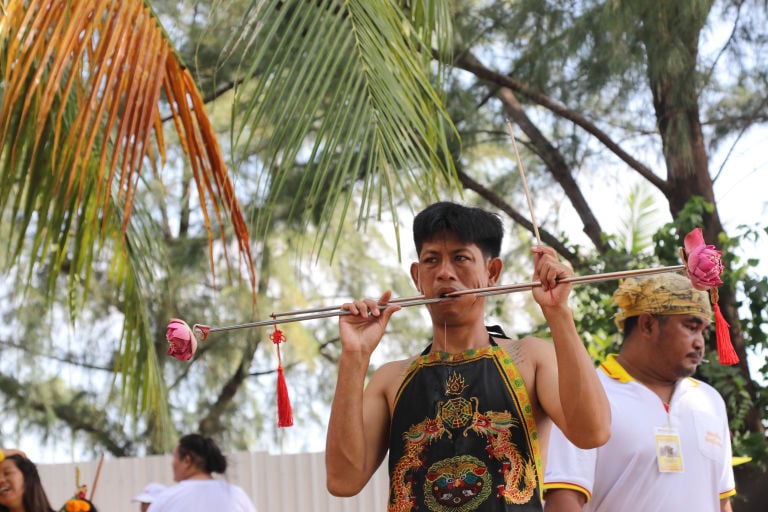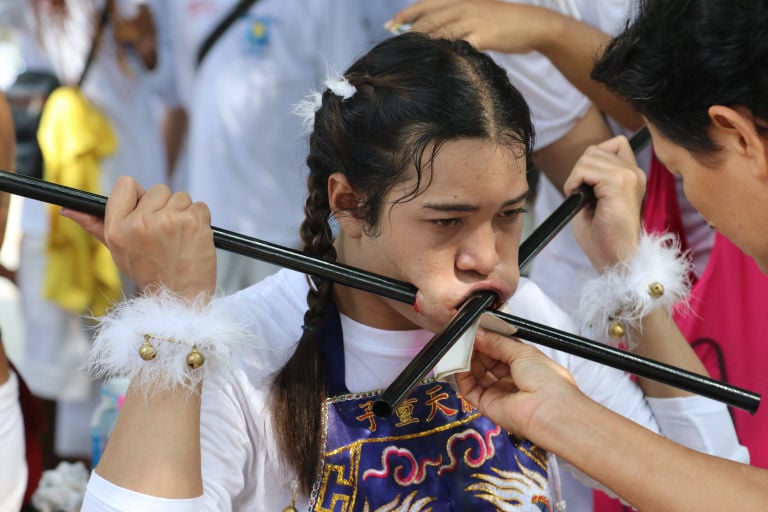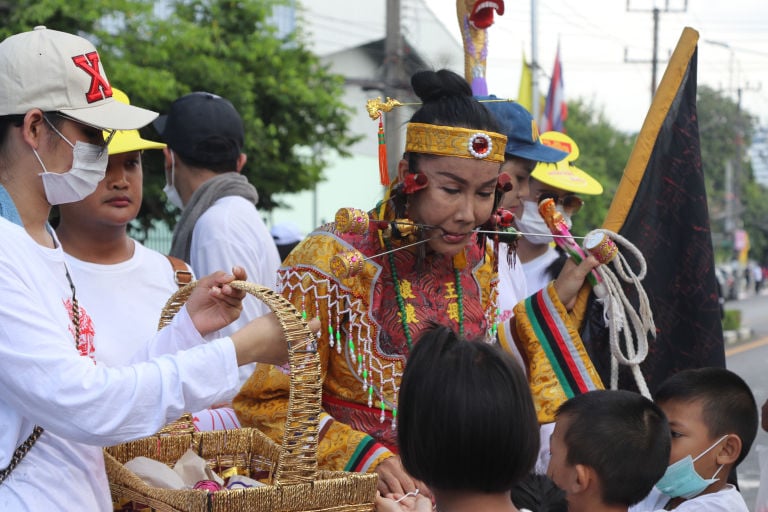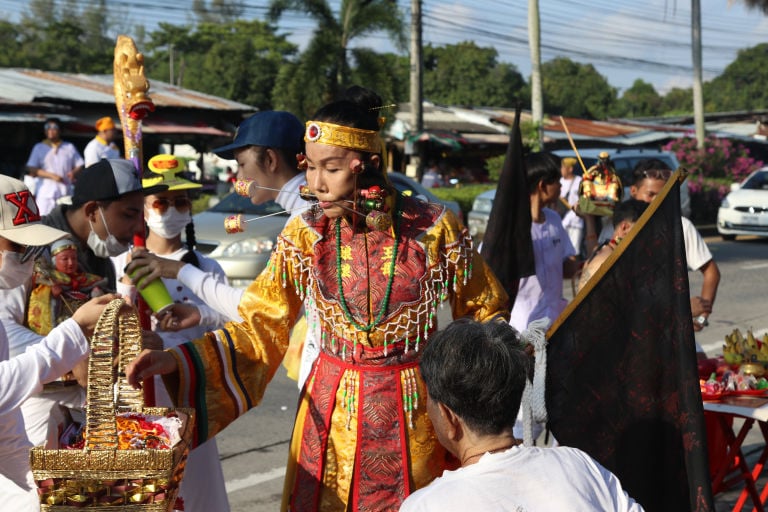 SOURCES: Bangkok Post | Pattaya News
Catch up with the latest daily "Thailand News Today" here on The Thaiger.
Keep in contact with The Thaiger by following our
Facebook page
.
Never miss out on future posts by
following The Thaiger
.