Phuket Gazette Thailand News: Songkran 'Seven Days' begins; Police issue safety tips for South; Malaysian ATM skim gang at work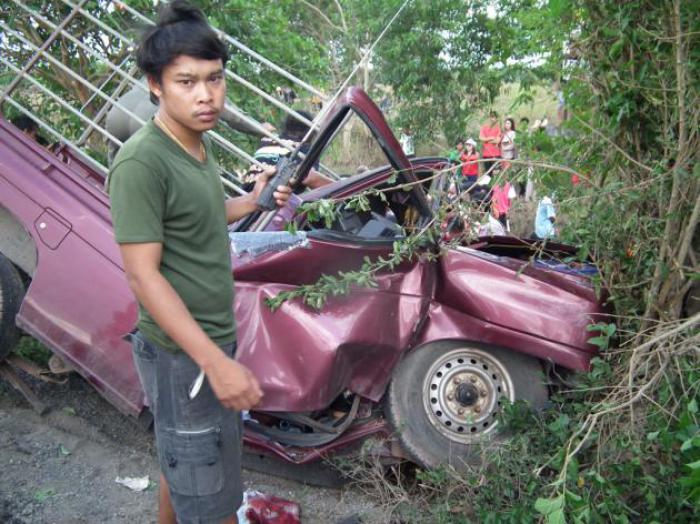 PHUKET MEDIA WATCH
– Thailand news compiled by Gazette editors for Phuket's international community
Songkran holiday 'Seven Dangerous Days' safety campaign begins
The Nation / Phuket Gazette
PHUKET: With the festive Songkran mood in the air, organisations from various sectors have come together to make the upcoming holiday "safe and happy" for everyone.
Caretaker Prime Minister Yingluck Shinawatra yesterday expressed hope that the next seven days would be "days of happiness", not dangerous days.
"We will work with the private sector, foundations and communities to achieve the goal," she said.
While millions of Thais celebrate the Songkran Festival with much joy, the festivities usually see a huge number of accidents with heavy casualties.
According to official statistics, road accidents kill about 33 people in Thailand each day on average. The number jumps to 40-50 during long holidays like New Year and Songkran.
In a bid to promote road safety, the Songkran period has been designated the "Seven Dangerous Days" to remind revellers that they need to reduce risk factors while on the roads.
This year, the "Seven Dangerous Days" associated with the Songkran Festival run from today to April 17.
Yingluck yesterday presided over a meeting to plan road-accident prevention measures for the Songkran holiday break.
She said the efforts addressed the issues of where to splash water, how to drive safely, and when to refrain from alcohol consumption.
Yingluck said relevant authorities should also provide useful telephone numbers to people so they know where to turn when in need of help.
As it did last year, the US Embassy has produced a video clip celebrating the Songkran festival. The clip, lasting 1:34 minutes, shows embassy staff dancing along and lip-synching to a Thai song posted on YouTube.
The Public Health Ministry has vowed to put more than 160,000 medical workers on standby at state hospitals across the country to ensure road-accident victims get prompt attention.
"Call 1669 in the event of a medical emergency," said ministry permanent secretary Narong Sahametapat.
Nakorn Silpa-archa, who heads the Labour Ministry's Department of Skill Development, said his agency and volunteers would operate vehicle check-and-maintenance service booths across the country between today and April 17.
"Motorists can drop in to get the services plus massages and beverages," he said.
– For more information on where the booths are located, call (02) 245 3560.
Police issue safety tips for Deep South
The Nation / Phuket Gazette
PHUKET: As violence escalates in the deep South, with a fresh spate of bombings in Yala, the Central Investigation Bureau (CIB)'s police education project has come up with "self-protective measures" for officials and residents in the region.
Bureau commissioner Pol Lt-General Pongpat Chayaphan assigned a CIB project working team, led by Pol Colonel Theeradech Thamsuthee and Pol Lt-Colonel Songrak Khunsri, to study researches about conflict areas around the world. From their research they compiled a list of self-protective measures for southern police and residents in risky areas.
With the main idea being "don't make yourself an easy target", the list of self-protective measures suggests:
• Avoid routines: one should not follow a routine that would make you vulnerable to attacks.
• Vary routes and times to and from work.
• Exercise (like jogging) on different routes/times and don't exercise alone.
• Vary times/places for shopping, lunch, and other appointments.
• Enter/exit buildings through different doors.
• Don't divulge family/personal information to strangers.
• Be prepared for an unexpected event.
• Maintain a low profile.
• Dress/behave in public consistent with local customs. Avoid wearing uniforms, clothing with flags, logos, etc.
• Avoid department-related stickers, decals, logos on luggage, briefcases, shopping bags, etc.
• Unless necessary, don't wear uniforms or military items in public.
• Shun publicity.
• Be alert for surveillance attempts, suspicious persons or activities, and report them to authorities.
• Be alert to, and aware of, changes in the security atmosphere.
Songrak said his group's studies concluded that the battle against terrorism should not aim for victory over the opposition, but should consider first the safety of people living in conflict areas like the deep South of Thailand.
He urged that abnormal situations in a conflict area required special protocols. These self-protective measures had emerged for individuals to apply to their lifestyles and protect themselves, he added.
Boy, 16, killed in Bangkok bomb blast
The Nation / Phuket Gazette
PHUKET: A 16-year-old boy was killed and his partner badly injured when a bomb exploded in their rented home in Bangkok's Bueang Kum district early yesterday.
The young couple had just moved from Angthong, with their seven-month-old baby, 10 days ago.
Rames Chu-in was killed at the scene, while Namprao Iamwilai suffered wounds to her back, right leg and fingers. "Fortunately, our baby is unharmed," said Namprao, also 16.
The baby was with Namprao's grandmother in the room next door when the explosion took place.
Initial investigation showed that the bomb was home-made, Explosive Ordnance Disposal chief Pol Colonel Kamthorn Uicharoen said.
"The victim may have brought it home from somewhere," he said.
Namprao said Rames was well behaved and diligent and worked at a body and paint shop nearby.
"He had no conflicts with anyone," she said, adding that she had no idea how the bomb hit their home.
"We were lying in bed watching TV. There were no suspicious items nearby."
Namprao's grandmother, Thong-poon Srikos, confirmed that Rames was watching TV before she left his home.
"The explosion woke me up and I found him dead," she said.
Police to seek arrest warrant for key red shirt
The Nation / Phuket Gazette
PHUKET: Police will today ask the court to issue an arrest warrant for a red-shirt leader who allegedly insulted the monarchy in a recent interview with the foreign press, the government's Centre for the Administration of Peace and Order (CAPO) said yesterday.
A video clip showing Wuthipong Kotthammakhun, also known as Ko Tee, giving the interview to a foreign journalist has gone viral.
CAPO said its examination of the clip found that Ko Tee's interview might violate the lese majeste law in Article 112 of the Penal Code.
Caretaker Prime Minister Yingluck Shinawatra has ordered police to take legal action against those involved in this case.
The centre also warned the public not to share or distribute the clip or they could be prosecuted under both the lese majeste and computer crime laws.
National police chief Pol General Adul Sangsingkaew yesterday said that following the premier's expression of concern, he promi
— Phuket Gazette Editors
Keep in contact with The Thaiger by following our
Facebook page
.
Never miss out on future posts by
following The Thaiger
.
News of American sued over bad Koh Chang hotel review has everyone talking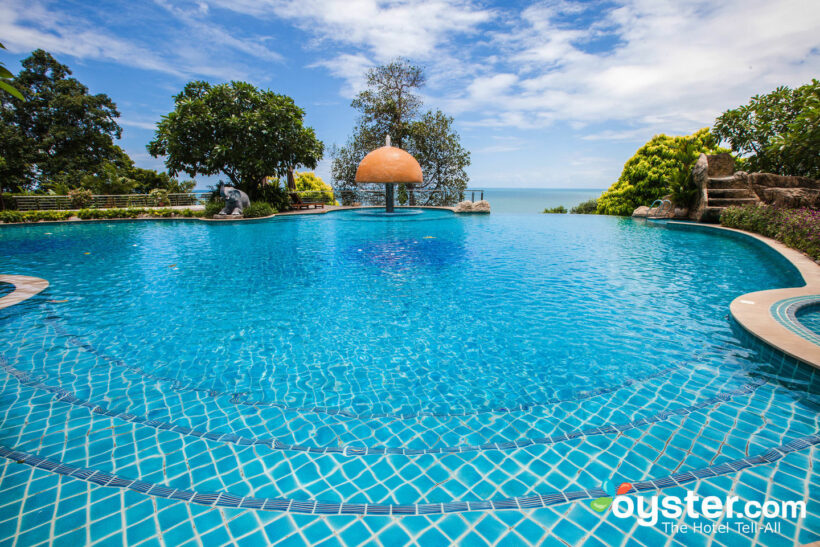 After news hit of an American being arrested and sued for defamation over leaving a bad review about a Koh Chang hotel on TripAdvisor, many are taking to the internet to voice their opinions on the issue. The Sea View Resort owners say it tried in vain to negotiated with Wesley Barnes after he posted the reviews, but he continued to post completely untrue comments.
The owners released a five-page statement after the news of it suing the American gained widespread attention. You can read their response HERE. Then, Barnes submitted his own response detailing the situation which was also published online.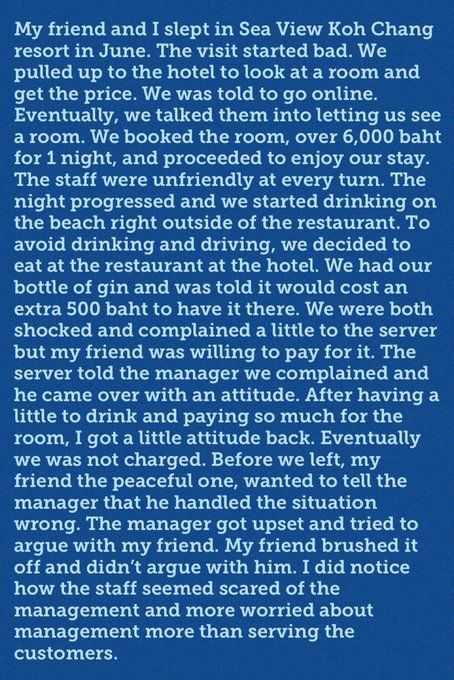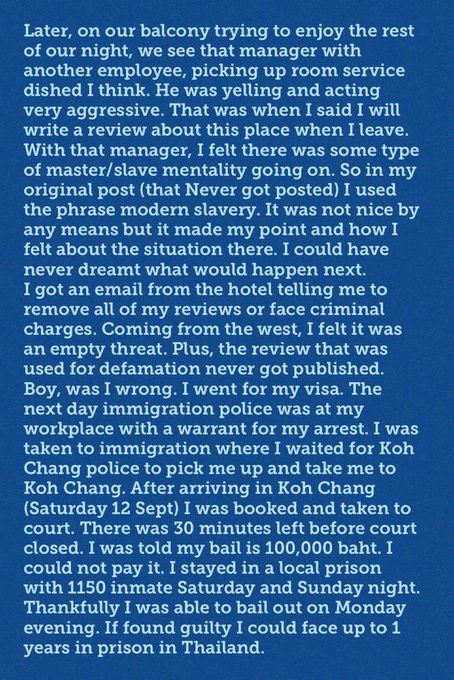 Now, the story has gained even more attention as netizens have begun posting their opinions on the controversial issue of Thailand's defamation laws. Below, are some of those posts on The Thaiger's Facebook page.
"Can someone clarify for me Thailand's position on people leaving honest bad reviews as my girlfriend says it's fine to leave a bad review of a business and it's not defamation if honest of course? I have heard people say that you simply can't leave bad honest reviews at all here but that sounds ridiculous. The thing about many Thais is that they think they're beyond reproach. They can't accept criticism because it's not aligned with their grandiose self-image. Many also have a torrid time when it comes to ownership of their own actions and decision making."
"OMG! He is arrested for a review.?! I know of an expat in Malaysia that wrote a bad review about a Thai-owned resort in Penang and he was sued as well. Be careful with what you share in that neck of the woods."
"It's one thing to leave a bad review but to throw in "modern slavery" remarks escalates to thai defamation law. He shouldn't be arrested for his comments but you need to respect the country laws no matter how crazy they seem compared to your own country. This press is going to negatively affect the business way more than that review would have done though."
"The owner should have settled with the review platforms privately and move on. I would hardly hold up Trip Advisor as a beacon of truth, however some people write extremely personal and vindictive comments that go beyond a review, in an attempt to gain product or refunds in return, this is an absolute fact, and hopefully this might make people think before they start writing reviews that are not exactly honest, I have read stories critical of the General Managers because they didn't contact the guests, some really petty reviews by rather petty people."
If Barnes is indeed found to be guilty of defamation, he could spend up to 2 years in prison and pay up to a 200,000 baht fine.
SOURCE: Chiang Rai Times
Keep in contact with The Thaiger by following our
Facebook page
.
Never miss out on future posts by
following The Thaiger
.
Phuket police arrest 6 after finding large amounts of methamphetamine in raid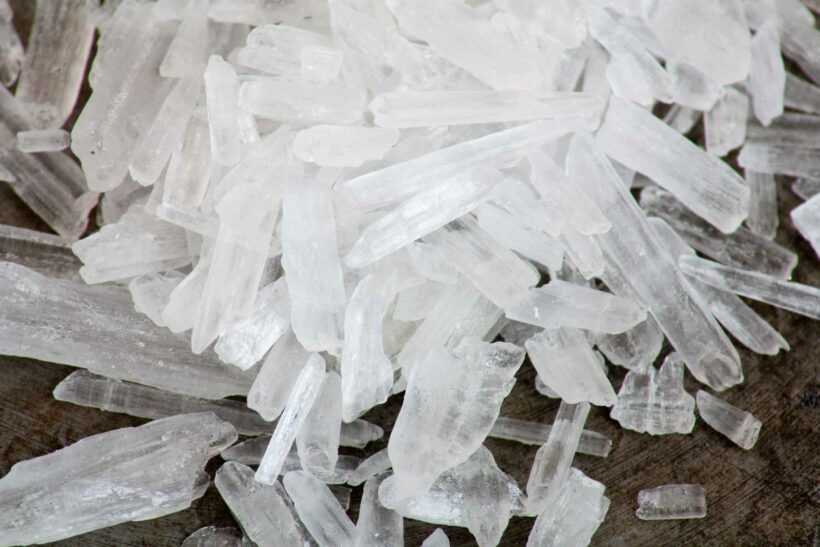 Phuket Provincial Police have arrested 6 people after finding large amounts of methamphetamine and other drugs during a raid. One suspect alone allegedly had 7.6 kilograms of crystal meth (ya ice) and over 12,500 methamphetamine pills (ya bah). 29 year old Surasak 'Bank' Wijit and 27 year old Panida 'Mei' Saeyang were arrested at an apartment car park in Soi Lookkaew, Moo 6, Rassada, in eastern Phuket, after they were found in possession of the drugs.
Police also found 2 mobile phones and a red Honda PCX, registered in Phuket, as evidence. Both suspects have been charged with posessing a Category 1 drug with the intent to sell.
Other suspects arrested at the same time include 36 year old from Chiang Rai, 42 year old Sarawut 'An' Srichanon, from Ranong and 31 year old Pornthep 'Iew' Thepchampa, who were charged with the same crimes in Chalong after police found more drugs in their possession. 33 year old Kamon 'Kung' Sae-ngow, was arrested as well after police found kratom juice and leaves at a house in Rassada. He was taken to Phuket City Police station and was charged with a Category 5 drug possession.
SOURCE:The Phuket News
Keep in contact with The Thaiger by following our
Facebook page
.
Never miss out on future posts by
following The Thaiger
.
Phuket Muay Thai fighter is the first Thai national to compete in UFC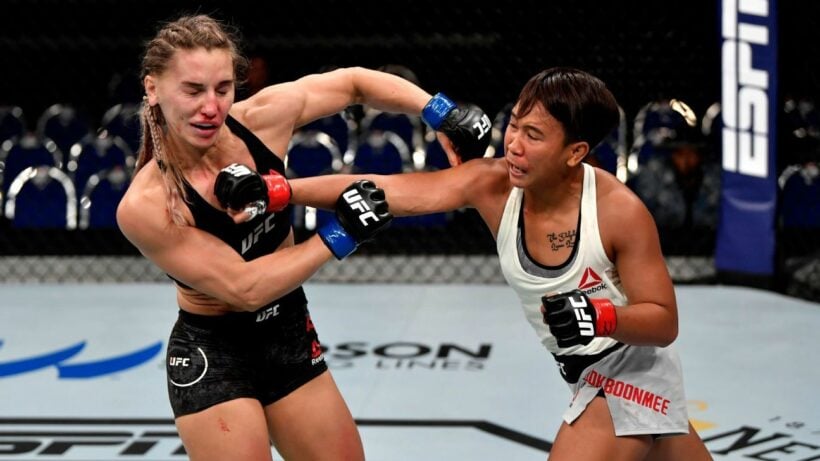 The upcoming Ultimate Fighting Championship Fight Night event in Abu Dhabi will feature Thailand's only national marking her third fight with the UFC, the world's largest mixed martial arts competition. 24 year old Loma Lookboonme, from Burirram in northeastern Thailand, will fight in the event on October 3, 2020.
Loma is a Muay Thai fighter who has adapted her MMA skills to fight in the UFC where she currently trains at the Tiger Muay Thai gym in Phuket. Loma qualified for the national team at the age of 19 and has fought in over 12 nations worldwide. She currently trains 6 days a week starting daily at 6:30am with a 3 kilometre run. In the UFC, she will be competing against China's Angela Lee who is the undisputed champion of the 52 kilogram fist weight category.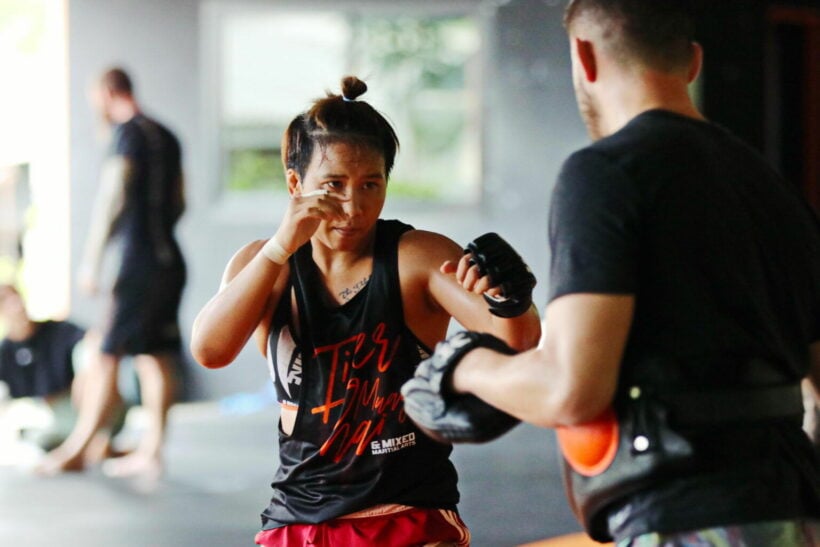 Loma's parents are former Muay Thai fighters and her 2 sisters currently compete as well. She reportedly started training at 8 years old after being inspired by her father, whom she describes as her "hero."
Like most Thais in such fighting sports, Muay Thai offers a way to rise out of poverty-and fighting for the UFC can be financially lucrative. But Loma says her only Thai sponsor is the gym where she trains, with the rest of her sponsors being from foreign brands. She says she is trying to get more Thai sponsors but feels that maybe she needs to win the UFC first before Thai brands notice her.
Loma lost her last fight and says her new opponent gives her nothing to lose. She says her goal is to get into the Top 10, but is not sure when it will happen. Loma says for now, it would be good to fight against someone in the Top 10 to help her prepare for her future.
FULL INTERVIEW: Thisrupt.co
Keep in contact with The Thaiger by following our
Facebook page
.
Never miss out on future posts by
following The Thaiger
.