Special Report: Flaws hinder Thailand's human-trafficking crackdown
PHUKET MEDIA WATCH
– Thailand news selected by Gazette editors for Phuket's international community
Special Report: Flaws hinder Thailand's human-trafficking crackdown
Reuters / Phuket Gazette
PHUKET: After a two-hour trek through swamp and jungle, Police Major General Thatchai Pitaneelaboot halts in a trash-strewn clearing near Thailand's remote border with Malaysia.
"This is it," he says, surveying the remains of a deserted camp on a hillside pressed flat by the weight of human bodies.
Just weeks before, says Thatchai, hundreds of Rohingya Muslim refugees from Myanmar were held captive here by one of the shadowy gangs who have turned southern Thailand into a human-trafficking superhighway.
With Thatchai's help, Thailand is scrambling to show it is combating the problem. It aims to avoid a downgrade in an influential U.S. State Department annual report that ranks countries on their anti-trafficking efforts.
But a Reuters examination of that effort exposes deep problems in how Thailand defines human trafficking, exemplified by its failure to publicly recognize the lucrative trafficking of thousands of Rohingya confirmed in Reuters investigations published in July and December.
In March, Thailand submitted a 78-page report on its trafficking record for 2013 to the State Department. Thai officials provided a copy to Reuters. In the report, Thailand includes no Rohingya in its tally of trafficked persons.
"We have not found that the Rohingya are victims of human trafficking," the Thai Ministry of Foreign Affairs said in a statement. "In essence, the Rohingya question is an issue of human smuggling."
The distinction between smuggling and trafficking is critical to Thailand's assertion. Smuggling, done with the consent of those involved, differs from trafficking, the business of trapping people by force or deception into labour or prostitution.
A two-part Reuters investigation in three countries, based on interviews with people smugglers, human traffickers and Rohingya who survived boat voyages from Myanmar, last year showed how the treatment of Rohingya often constituted trafficking. Reporters found that hundreds were held against their will in brutal trafficking camps in the Thai wilderness (story here).
A record 40,000 Rohingya passed through the camps in 2013, according to Chris Lewa, director of Arakan Project, a humanitarian group.
The Rohingya's accelerating exodus is a sign of Muslim desperation in Buddhist-majority Myanmar, also known as Burma. Ethnic and religious tensions simmered during 49 years of military rule. But under the reformist government that took power in March 2011, Myanmar has endured its worst communal bloodshed in generations.
After arriving by boat to Thailand, criminal networks transport Rohingya mainly into neighbouring Malaysia, a Muslim-majority country viewed by Rohingya as a haven from persecution. Many are held by guards with guns and beaten until they produce money for passage across the Thai border, usually about $2,000 each – a huge sum for one of the world's most impoverished peoples.
Thailand faces an automatic downgrade to Tier 3, the lowest rank in the U.S. government's Trafficking In Persons (TIP) Report, unless it makes "significant efforts" to improve its record, according to the State Department. The agency is expected to release its findings in June.
Grievous rights abuses
A Tier 3 designation would put Thailand alongside North Korea and the Central African Republic as the world's worst centres of human trafficking, and would expose Thailand to U.S. sanctions.
If Thailand is downgraded, the United States, in practice, is unlikely to sanction the country, one of its oldest treaty allies in Asia. But to be downgraded would be a major embarrassment to Thailand, which is now lobbying hard for a non-permanent position on the United Nations Security Council.
Reuters asked New York-based Human Rights Watch to review the report that Thailand recently submitted to the State Department. The watchdog group, which monitors trafficking and other abuses globally, said it was concerned that two-thirds of the trafficking victims cited in the report were Thai nationals.
"Any examination of trafficking in Thailand shows that migrants from neighbouring countries are the ones most trafficked," said Brad Adams, the group's Asia director. "Yet Thailand's identification statistics show far more Thais than migrants are found as victims."
He added that the numbers were also flawed due to the absence of Rohingya among the list of trafficking victims. Thailand failed to recognize "the grievous rights abuses the Rohingya suffer in these jungle camps, and the fundamental failures of the Thai government to do much about it."
The State Department said it is examining Thailand's submission. "We have received the information from the Thai government, and it is currently under review," Ambassador at-Large Luis CdeBaca of the Office to Monitor and Combat Trafficking in Persons said in a statement to Reuters.
Plight of the Rohingya
The next TIP Report will appraise Thailand's anti-trafficking efforts in 2013.
That year ended with the State Department and the United Nations calling for investigations into the findings of a December 5 report by Reuters. That article asserts a secret Thai policy to remove Rohingya refugees from Thailand's immigration detention centres and deliver them to human traffickers waiting at sea.
Thailand made "significant progress" in combating human trafficking in 2013, said its foreign ministry, citing data included in the recent 78-page report Bangkok submitted to the State Department.
According to the Thai report, Thailand convicted 225 people for human trafficking in 2013, compared to 49 people in 2012. (According to the State Department, Thailand convicted only 10 people in 2012.)
The report says Thailand identified 1,020 trafficking victims in 2013, compared to 592 in 2012, and almost doubled the government's anti-trafficking budget to 235 million baht ($7.3 million).
It identified victims by nationality, counting 141 people from Myanmar among the victims. But none were Rohingya, who are mostly stateless. The Myanmar government calls the Rohingya illegal "Bengali" migrants from Bangladesh. Most of the 1.1 million Rohingya living in Myanmar's western Rakhine State are denied citizenship.
In January 2013, said the Thai report, more than 400 Rohingya illegal migrants were found in rubber plantations near the Thai-Malay border in Thailand's Songkhla province. Seven Thai suspects were arrested and charged with smuggling and harbouring of illegal migrants, and were later convicted.
The Thai report describes this group of Rohingya as being smuggled, not trafficked.
However, the Reuters article in December references documents suggestive of a Thai policy to remove those Rohingya from immigration detention centres and deliver them to human traffickers and smugglers waiting at sea. Many Rohingya were then ferried back to brutal trafficking camps in Thailand, where some died, the article reports.
The official Thai report says the government "has made every effort to suppress the smuggling of Rohingyas over the years and to reduce the risk of Rohingyas being exploited by transnational trafficking syndicates."
"The plight of the Rohingyas who left their homeland is essentially one of
— Phuket Gazette Editors
Keep in contact with The Thaiger by following our
Facebook page
.
Points deduction system for drivers to be introduced mid-December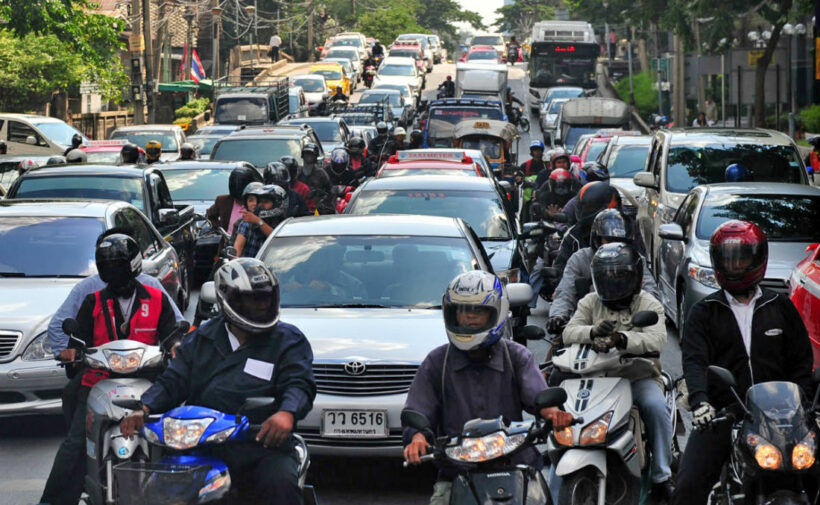 The point deduction system, for traffic and road infringements, is tentatively scheduled for activation for motorists and motorcyclists in mid-December. It is hoped that the system will help reduce road fatalities and injuries on Thai roads.
The deputy commander of Highways Police Command says that every licensed driver will be given an allocation of 12 points. Each time the driver commits a traffic law violation, points will be deducted. When there are no points left, the driver's license will be suspended for 90 days, after which the driver or motorcyclist will have to undergo training administered by the Land Transport Department to get their licence back, and another 12 points.
Those who don't attend the training, however, will have their licence returned after 90 days, but with only 8 points.
Points to be deducted differ, depending on the offence. Offences are divided into four categories:
• One point deduction
Using a cell-phone while driving; exceeding the speed limit; not wearing crash helmets for motorcyclists; not wearing seat belts; not giving way to emergency vehicles, riding on the sidewalk and not stopping for pedestrians on zebra crossings.
• Two points deduction
Running a red light; driving on the wrong side of the road; reckless driving; driving while his/her license is suspended and drunk driving.
• Three points deduction
Organising or promoting street racing without permission; hit-and run; driving while under the influence of narcotics; driving while under the influence of alcohol exceeding 150mg per ml.
• Four points deduction
Driving under the influence of alcohol exceeding 200mg per ml, drunk driving in a way which may cause serious injuries or death to the other people; driving in a manner disregarding the safety of the other people or causing trouble to other people.
SOURCE: Thai PBS World
Keep in contact with The Thaiger by following our
Facebook page
.
Opposition hits out at government's military spending in 2020 budget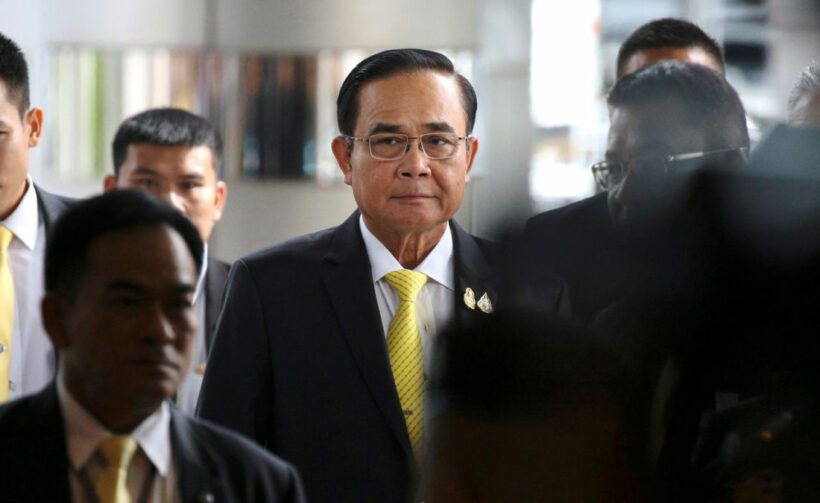 PHOTO: Reuters | The Business Times
The opposition is accusing the government of being more concerned with military arms than the daily struggles of Thai citizens. During a debate in Parliament on the budget bill, the government was accused of caring more about the growth in military spending than citizens' financial woes.
The opposition levied the attack after PM General Prayut Chan-o-cha delivered the 3.2 trillion baht bill to the House of Representatives. The debate on the 2020 budget is expected to continue for two more days and if approved by Parliament, the bill will come into force early next year.
The PM says the budget aligns with the "20 year strategy" to improve the living standards of the nation's citizens while growing the economy, but opponents accuse him of making defence spending a priority.
The leader of the opposition, Sompong Amornvivat, claims that in the five years the PM has been in power, total spending has hit 14.3 trillion baht, with loans of 2.2 trillion baht, without any significant growth in the economy. He accuses the government of spending more than 6 billion baht on defence, with the Interior Ministry getting 25 billion baht more than last year.
It's also understood that the government has also put 518.8 billion baht aside, which it can spend as it wishes, without the consent of Parliament.
The government's tourism stimulus plan, whereby domestic tourists would be given cash incentives, also came under fire as Sompong declared it a waste of money that would do nothing to boost productivity.
The subject of the PM's oath-taking fiasco reared its head again, as the leader of the Seree Ruam Thai Party, Pol General Sereepisut Temiyavej declared the PM and his government unfit to rule or propose a budget bill as a result of it.
Anudit Nakorntab from the Pheu Thai party said the government should postpone unnecessary spending on military arms while the country's citizens battle economic hardship, accusing the previous junta-led administration of also prioritising the military in its spending.
SOURCE: The Nation
Keep in contact with The Thaiger by following our
Facebook page
.
Academics warn of high cost of Thai ban on agri-chemicals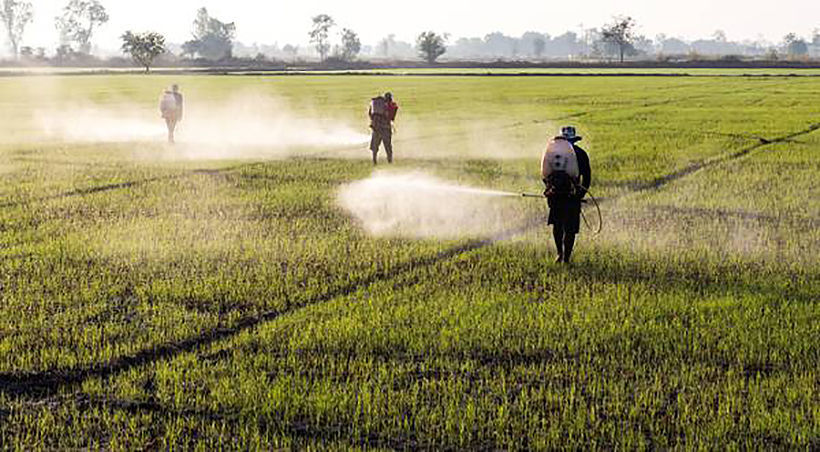 The chairman of the Thai Sugarcane Farmers Association, Thongkam Cheongklad, says a ban on the weed-killer paraquat would have a severe impact on production costs. Academics and Thai sugarcane farmers have also expressed their concern over the ban, saying it could cost the industry up to 570 billion baht.
The Nation reports that up to 1.2 million people working in the sugarcane industry are understood to be against the ban, saying the proposed paraquat substitute is both expensive and ineffective.
The president of the Thailand Society of Sugarcane Technologists, Kitti Choonhawong, says Thailand has approximately 11 million rai dedicated to sugarcane plantations, generating about 300 billion baht a year.
He claims that a ban on agri-chemicals may lower sugar production, which in turn would affect sugar factories and cause the export market to lose as much as 94.6 billion baht. Thailand is currently the world's second biggest sugar exporter, behind Brazil.
A research director from the Thailand Development Institute says the ban could ultimately mean the country is not allowed to produce enough food, unless chemical fertilisers are still allowed if chemical pesticides are banned.
Viroj Na Ranong says production costs will still rise however, along with labour costs, adding that the government needs to do its homework.
"The government has to implement measures based on research, not on social trends and politics."
It's understood that The National Hazardous Substances Committee will meet on October 27 to decide if a ban on three chemicals currently used in farming will go ahead. The substances involved are paraquat, glyphosate and chlorpyrifos and the proposal is for them to be banned from December 1.
SOURCE: The Nation
Keep in contact with The Thaiger by following our
Facebook page
.