Phuket Gazette Thailand News: Riot forces on alert at Govt House; Fears of Bangkok floods rise; Old bangers ban just an idea; School tablets bust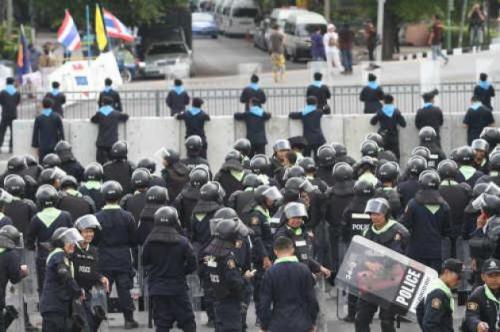 PHUKET MEDIA WATCH
– Thailand news compiled by Gazette editors for Phuket's international community
Police and riot forces on alert at Govt House
The Nation / Phuket Gazette
PHUKET: The Government is concerned that protesters from 56 organisations camped out at Rangsit University may widen their activities and get out of control, the National Security Council secretary-general said yesterday.
"Around October 13, protesters may make a move to link with protesters near Government House," Paradorn Pattanatabutr said.
Paradorn was referring to a rally by the People's Assembly Reform Thailand group, whose coordinators include the Green Group's Suriyasai Katasila.
Paradorn said a rally organised by the People's Army against the Thaksin Regime would not destabilise the government, but the threat could spiral out of control if it teamed up with the protesters at Rangsit.
He said at this juncture there was no evidence of links between various protesting groups, including rubber farmers in Nakhon Si Thammarat. But the government would continue to closely monitor the situation.
He said laws would be enforced in accordance with the intensity of the protests.
At Government House, some 200 to 300 protesters camped out for a second day. Police have shut down roads and deployed about 15 companies of anti-riot police with crowd control gear to keep the peace.
Roads leading to two Government House gates were closed, but traffic to and from the seat of power remains open.
National police chief General Adul Sangsingkaew briefed Deputy Prime Minister Pracha Promnog about crowd control measures.
Police set up three road blocks near the rally site in order to ensure peace, Metropolitan Police commissioner Lt General Camronwit Toopgrajank said.
Government House official Suporn Atthawong said road snarls were unavoidable as protesters moved their rally from Lumpini Park to Government House on Monday evening.
The situation was under control and authorities were negotiating with rally organisers to return to the park, Suporn said.
Protesters should understand that the government will be welcoming a visit by Chinese Premier Li Keqiang on Friday, he said.
He also defended the decision to deploy more police than protesters, saying it was a precaution.
Rally organiser Chai Suwannaphap said any inconvenience to motorists was caused by police and not protesters. Police closed off roads and cut supply routes in order to isolate the protesters, Chai said.
Another organiser, Preecha Iamsuphan, said protesters were rallying under their constitutional right to make peaceful demands.
In the past two years, the government had neglected to address the people's grievances and opted to amend the charter instead, Preecha said.
Protesters wanted to call attention to their plight as well as imminent issues facing the country, such as the dispute over land near Preah Vihear Temple.
He dismissed allegations the rally took place in accordance with a prophecy that on October 8 the government would be overthrown. He said no political parties were behind the rally although he would welcome support from any politicians who shared their outlook.
Bangkok frets as Pasak Dam prepares to release water
The Nation / Phuket Gazette
PHUKET: People living downstream from Lop Buri's Pasak Jolasid Dam have been warned to brace for flooding today and tomorrow, as the dam will discharge more than 700 cubic metres of water per second on both days.
The Bangkok Metropolitan Administration (BMA) has said the situation is worrisome, as the province is just 150 kilometres away.
"The level of the Chao Phraya River around Pak Klong Talad in Bangkok is about 1.97 metres above mean sea level," Adisak Khantee said yesterday in his capacity as chief of the BMA's Drainage and Sewerage Department.
Flood barriers alongside most of the river's stretch in Bangkok stand 2.5-3 metres above mean sea level.
As of press time, the level of flood waters in Lop Buri's Chai Badan district was rising fast because of water discharged from the dam. Adisak said the BMA was also paying close attention to rising water levels in Nakhon Nayok and Prachin Buri.
"We have to watch out for Bangkok's eastern zones," he |said.
He said the BMA had asked the Royal Irrigation Department to divide the excess water between the Chao Phraya and Bang Pakong rivers.
Adisak said that if Nong Chok, Min Buri and Klong Sam Wa districts suffered from huge amounts of water, Bangkok's inner city might also face an impact.
"If that happens, we will need to channel some water into the Saen Saeb Canal that runs through the inner zone," he said.
Banharn Silapa-archa, chief adviser to the agriculture minister, said Bangkok might be flooded for a day or two, though he predicted that the situation for riverside communities in Pathum Thani would be worse.
Old car ban in Bangkok was just an idea
The Nation / Phuket Gazette
PHUKET: The incident that spurred calls to take as many old vehicles as possible off Bangkok's roads took place just a few days ago.
"The other day, two old vehicles broke down on the Rama II Road causing a long tailback," Metropolitan Police Bureau (MPB) deputy commissioner Maj-General Adul Narongsak said yesterday.
He said the malfunctioning vehicles were more than 10 years old.
"It's hard to ease traffic congestion in that situation. Tow trucks found it difficult to reach the cars that broke down on the heavily congested road," Adul said.
The MPB has suggested tax measures be used to discourage Bangkok motorists from using vehicles more than a decade old.
This idea got mixed reactions, including angry outbursts, after it became news.
Willing to consider public opinion, Adul insisted yesterday that the proposal intended to improve traffic flow in the capital, which is infamous for its congested roads.
He explained that it was just an idea, not yet a proposal.
"We will have to hold seminars and discuss the issue with relevant government agencies and the private sector before developing this idea into a proposal for the government to consider," he said.
Adul said there are about 7 million cars and motorcycles in Bangkok, or 30 to 40 per cent are more than 10 years old.
However, he said the police bureau would start being very strict about vehicles parking in unauthorised zones on Bangkok's 10 main roads very soon.
"From October 10, we will issue warnings. From October 20, we will strictly have vehicles that have broken rules towed to police stations and their owners will have to pay both a fine and the towing fee."
The 10 roads are: Lat Phrao, Rama IV, Sukhumvit, Ratchadaphisek, Phaholyothin, North – South Sathon, New Phetchaburi, Ramkhamhaeng, Rajdamnoen Klang, and a portion of Vibhavadi-Rangsit Road.
Chaturon denies 30% of free tablet computers bust in first year
The Nation / Phuket Gazette
PHUKET: Confirming that the Education Ministry would continue its "One Tablet per Child" project next year, Minister Chaturon Chaisang yesterday denied that the 30 per cent of computer tablets rep
— Phuket Gazette Editors
Keep in contact with The Thaiger by following our
Facebook page
.
Never miss out on future posts by
following The Thaiger
.
Thailand News Today | Thai Airways corruption, Southern floods, Border Covid outbreak | Dec 3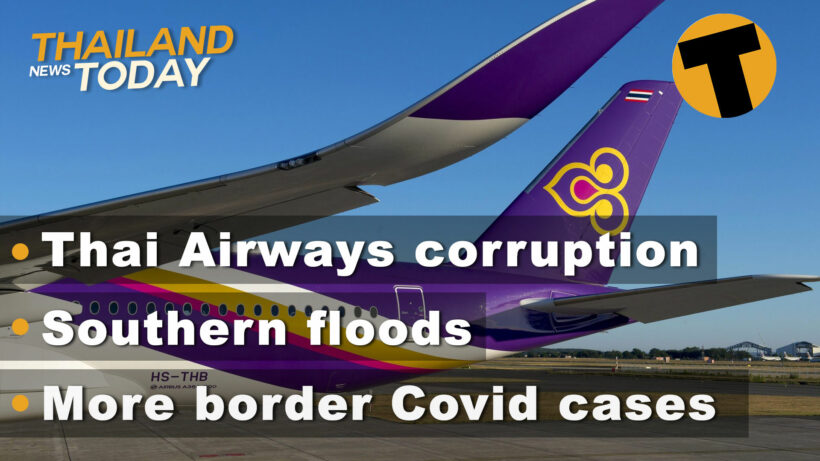 Thursday's edition of Thailand News Today, including the latest in the local cases popping up in Northern Thailand. Thailand's most watched English language news.
20 more people suspected of being involved in corruption at Thai Airways
20 people are now under suspicion of corruption and mismanagement within Thai Airways as accountants unravel the massive losses for the airline, spanning a decade
The news, announced by police and deputy head of the commission investigating the airline, comes as little surprise to anyone who has been following the demise of Thailand's legacy airline. The airline is tackling a debt of around 300 billion baht.
The story follows many other tales of corruption and bad deals that have been part of a larger puzzle that is now being unraveled by accounts and committees who are handling the airlines' bankruptcy.
Now, 20 people are suspected of corruption in 6 different parts of the company's management.
The investigation into alleged corruption at the airline started in August. In September, 18 documents showing evidence of corruption and mismanagement at the airline was submitted to the Finance Ministry, still a major shareholder for Thai Airways.
The airline's decision to buy 10 Airbus A340 aircraft for 100 billion baht in 2004 was catastrophic. The airline lost money on every single flight of these aircraft. All but 1 of them have been decommissioned and stored at the U-Tapao airport.
2 infected Thai women took domestic flights after illegal crossing from Myanmar
2 Thai women, both infected with Covid-19, took domestic flights after entering the Kingdom illegally from Myanmar and bypassing health checks and quarantine.
A total of 10 Thai women have now tested positive for Covid-19 after crossing the border from Myanmar, several having worked in the same hotel and entertainment establishment in the Burmese border town opposite Mae Sai in Chiang Rai.
Health officials are tracking and tracing anyone who could have been in contact with the women, a number well into the 100s. Some have travelled to Chiang Mai and Bangkok.
Thai economists say new local Covid-19 cases will slow tourism recovery
Meanwhile, the National Economic and Social Development Council says that the mini outbreak in Northern Thailand will re-ignite fears of a second wave of infections in Thailand, stifling travel and tourism in the northern cities.
Operators already note that there has been a drop off of bookings and cancellations related to the publicity from the cross border infections. Airline bookings have also dropped off to both Chiang Mai and Chiang Rai.
Government to raise 5-year Elite visa fee by 20%, as foreigners flee Covid countries
As more foreigners opt for one of Thailand's "elite" visas, allowing stays of between 5 and 20 years, and costing anything from 500,000 baht to 2 million, the most popular version is up for a price hike.
The cost of the 5-year "Easy Access" visa will go up by 20% from January, to 600,000 baht.
An additional 2,674 applicants signed up for an elite visa so far this year. That's an increase of nearly 25%, with the scheme generating revenue of 1.6 billion baht.
By the end of September this year, over 11,100 people hold an elite visa in Thailand, as part of 9 different packages offered by Thailand Privilege Card.
Heavy rain wreaks havoc in flood-ravaged Nakhon Si Thammarat
The governor of Nakhon Si Thammarat has put the province on high alert, following 6 days of heavy rain in the southern province.
Nakhon Si Thammarat is directly east of Phuket, on the Gulf of Thailand.
Large swathes of land are underwater after extensive flooding that has affected tens of thousands of people in the region. Floods have been recorded in 351 villages in 15 districts, with some 48,000 people affected.
Heavy rain and flash flood warnings were issued for all southern provinces except Chumphon and Ranong
Keep in contact with The Thaiger by following our
Facebook page
.
Never miss out on future posts by
following The Thaiger
.
5 people killed in Nakhon Si Thammarat flash flooding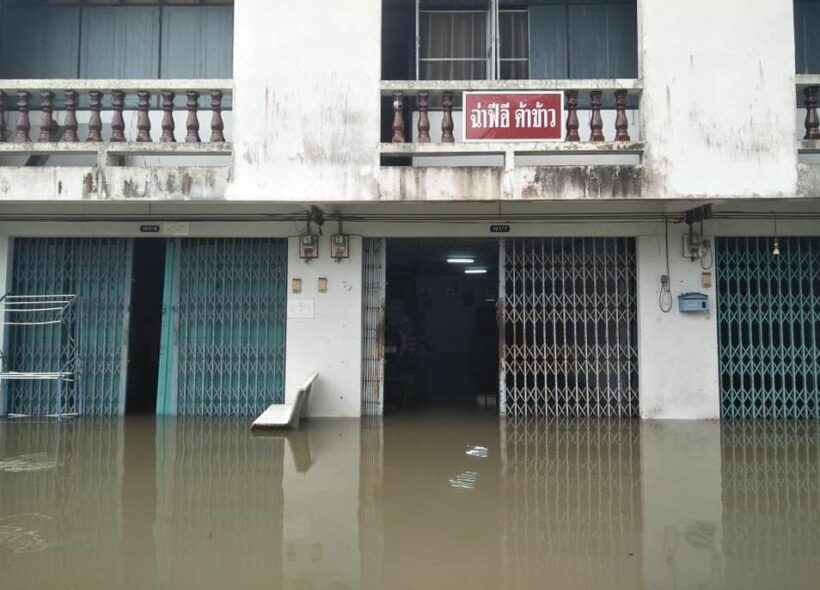 5 people died from the flash floods in Nakhon Si Thammarat after several days of heavy rain, according to Governor Kraisorn Wisitwong. Disaster mitigation officers have rescued locals from several districts who had to evacuate their homes due to the extensive flooding.
The 5 deaths were in the districts Noppitam, Phra Phrom, Chalerm Phra Kiat and Chawang. Thousands of households have been affected by the rising waters. This morning, reports say 942 villages in 19 districts were flooded, affecting more than 180,000 people.
SOURCE: Pattaya News
Keep in contact with The Thaiger by following our
Facebook page
.
Never miss out on future posts by
following The Thaiger
.
4 years until tourism industry gets back to pre-pandemic levels – Finance Ministry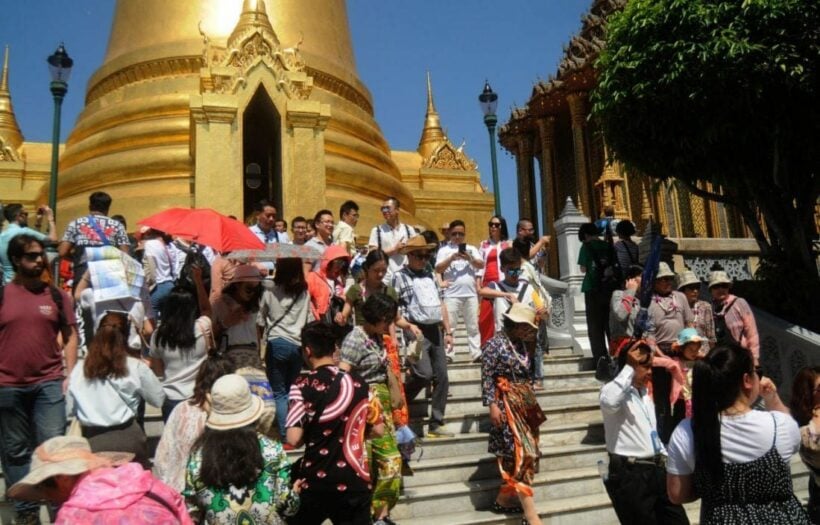 It could take 4 years for Thailand's tourism industry to recover after being battered by the lack of travel due to the coronavirus pandemic, the government's reaction and the economic fallout, according to the Finance Ministry.
While local and international experts project Thailand's economy will continue to recover over the next 2 years, the tourism industry, which directly contributes 12-15% of the country's GDP, is forecasted to take at least 4 years to get back to the pre-pandemic level, if ever. Last year, Thailand had nearly 40 million foreign tourist arrivals, generating 2 trillion baht.
Finance Minister Arkhom Termpittayapaisith says he expects 8 million foreign tourists to arrive in 2021, followed by 16 million in 2022, 32 million in 2023 and 40 million in 2024. But the projections are just broad speculation.
No foreign tourists entered the country between April and September this year. In October, 1,201 foreign tourists were issued Special Tourist Visas for 90 day stays that can be renewed twice, adding up to about 9 months in total. Under the current arrangements there will only be a trickle of tourists coming under the current regime including 14 day quarantine, at the tourist's expense, and lots of paperwork and red tape.
IF Thailand does end up. with 8 million foreign tourist arrivals next year, and the cash subsidy scheme is extended, the country's GDP is expected to expand by 4% to 4.5%, according to the National Economic and Social Development Council.
SOURCE: Bangkok Post
Catch up with the latest daily "Thailand News Today" here on The Thaiger.
Keep in contact with The Thaiger by following our
Facebook page
.
Never miss out on future posts by
following The Thaiger
.