Phuket Gazette Thailand News: Riot forces on alert at Govt House; Fears of Bangkok floods rise; Old bangers ban just an idea; School tablets bust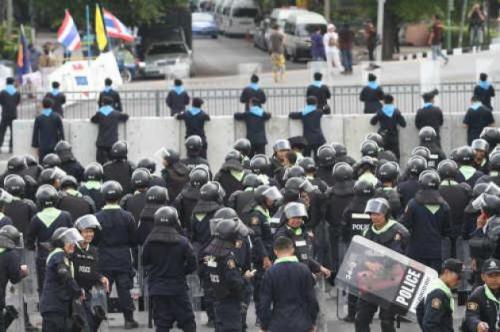 PHUKET MEDIA WATCH
– Thailand news compiled by Gazette editors for Phuket's international community
Police and riot forces on alert at Govt House
The Nation / Phuket Gazette
PHUKET: The Government is concerned that protesters from 56 organisations camped out at Rangsit University may widen their activities and get out of control, the National Security Council secretary-general said yesterday.
"Around October 13, protesters may make a move to link with protesters near Government House," Paradorn Pattanatabutr said.
Paradorn was referring to a rally by the People's Assembly Reform Thailand group, whose coordinators include the Green Group's Suriyasai Katasila.
Paradorn said a rally organised by the People's Army against the Thaksin Regime would not destabilise the government, but the threat could spiral out of control if it teamed up with the protesters at Rangsit.
He said at this juncture there was no evidence of links between various protesting groups, including rubber farmers in Nakhon Si Thammarat. But the government would continue to closely monitor the situation.
He said laws would be enforced in accordance with the intensity of the protests.
At Government House, some 200 to 300 protesters camped out for a second day. Police have shut down roads and deployed about 15 companies of anti-riot police with crowd control gear to keep the peace.
Roads leading to two Government House gates were closed, but traffic to and from the seat of power remains open.
National police chief General Adul Sangsingkaew briefed Deputy Prime Minister Pracha Promnog about crowd control measures.
Police set up three road blocks near the rally site in order to ensure peace, Metropolitan Police commissioner Lt General Camronwit Toopgrajank said.
Government House official Suporn Atthawong said road snarls were unavoidable as protesters moved their rally from Lumpini Park to Government House on Monday evening.
The situation was under control and authorities were negotiating with rally organisers to return to the park, Suporn said.
Protesters should understand that the government will be welcoming a visit by Chinese Premier Li Keqiang on Friday, he said.
He also defended the decision to deploy more police than protesters, saying it was a precaution.
Rally organiser Chai Suwannaphap said any inconvenience to motorists was caused by police and not protesters. Police closed off roads and cut supply routes in order to isolate the protesters, Chai said.
Another organiser, Preecha Iamsuphan, said protesters were rallying under their constitutional right to make peaceful demands.
In the past two years, the government had neglected to address the people's grievances and opted to amend the charter instead, Preecha said.
Protesters wanted to call attention to their plight as well as imminent issues facing the country, such as the dispute over land near Preah Vihear Temple.
He dismissed allegations the rally took place in accordance with a prophecy that on October 8 the government would be overthrown. He said no political parties were behind the rally although he would welcome support from any politicians who shared their outlook.
Bangkok frets as Pasak Dam prepares to release water
The Nation / Phuket Gazette
PHUKET: People living downstream from Lop Buri's Pasak Jolasid Dam have been warned to brace for flooding today and tomorrow, as the dam will discharge more than 700 cubic metres of water per second on both days.
The Bangkok Metropolitan Administration (BMA) has said the situation is worrisome, as the province is just 150 kilometres away.
"The level of the Chao Phraya River around Pak Klong Talad in Bangkok is about 1.97 metres above mean sea level," Adisak Khantee said yesterday in his capacity as chief of the BMA's Drainage and Sewerage Department.
Flood barriers alongside most of the river's stretch in Bangkok stand 2.5-3 metres above mean sea level.
As of press time, the level of flood waters in Lop Buri's Chai Badan district was rising fast because of water discharged from the dam. Adisak said the BMA was also paying close attention to rising water levels in Nakhon Nayok and Prachin Buri.
"We have to watch out for Bangkok's eastern zones," he |said.
He said the BMA had asked the Royal Irrigation Department to divide the excess water between the Chao Phraya and Bang Pakong rivers.
Adisak said that if Nong Chok, Min Buri and Klong Sam Wa districts suffered from huge amounts of water, Bangkok's inner city might also face an impact.
"If that happens, we will need to channel some water into the Saen Saeb Canal that runs through the inner zone," he said.
Banharn Silapa-archa, chief adviser to the agriculture minister, said Bangkok might be flooded for a day or two, though he predicted that the situation for riverside communities in Pathum Thani would be worse.
Old car ban in Bangkok was just an idea
The Nation / Phuket Gazette
PHUKET: The incident that spurred calls to take as many old vehicles as possible off Bangkok's roads took place just a few days ago.
"The other day, two old vehicles broke down on the Rama II Road causing a long tailback," Metropolitan Police Bureau (MPB) deputy commissioner Maj-General Adul Narongsak said yesterday.
He said the malfunctioning vehicles were more than 10 years old.
"It's hard to ease traffic congestion in that situation. Tow trucks found it difficult to reach the cars that broke down on the heavily congested road," Adul said.
The MPB has suggested tax measures be used to discourage Bangkok motorists from using vehicles more than a decade old.
This idea got mixed reactions, including angry outbursts, after it became news.
Willing to consider public opinion, Adul insisted yesterday that the proposal intended to improve traffic flow in the capital, which is infamous for its congested roads.
He explained that it was just an idea, not yet a proposal.
"We will have to hold seminars and discuss the issue with relevant government agencies and the private sector before developing this idea into a proposal for the government to consider," he said.
Adul said there are about 7 million cars and motorcycles in Bangkok, or 30 to 40 per cent are more than 10 years old.
However, he said the police bureau would start being very strict about vehicles parking in unauthorised zones on Bangkok's 10 main roads very soon.
"From October 10, we will issue warnings. From October 20, we will strictly have vehicles that have broken rules towed to police stations and their owners will have to pay both a fine and the towing fee."
The 10 roads are: Lat Phrao, Rama IV, Sukhumvit, Ratchadaphisek, Phaholyothin, North – South Sathon, New Phetchaburi, Ramkhamhaeng, Rajdamnoen Klang, and a portion of Vibhavadi-Rangsit Road.
Chaturon denies 30% of free tablet computers bust in first year
The Nation / Phuket Gazette
PHUKET: Confirming that the Education Ministry would continue its "One Tablet per Child" project next year, Minister Chaturon Chaisang yesterday denied that the 30 per cent of computer tablets rep
— Phuket Gazette Editors
Keep in contact with The Thaiger by following our
Facebook page
.
500 people own 36% of equity in Thai companies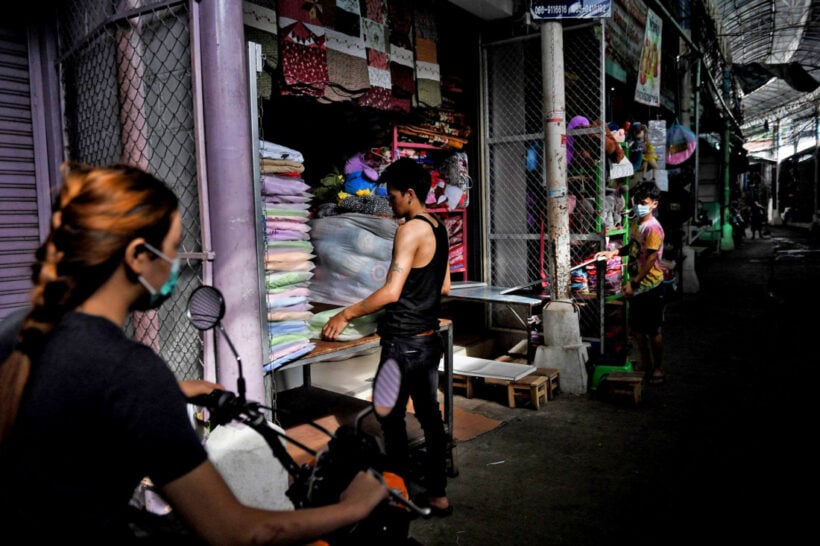 Roughly 36% of Thailand's corporate equity is held by just 500 people, highlighting wealth inequality in the Kingdom, according to a study released by the Bank of Thailand's research institute.
Each of these 500 amass some 3.1 billion baht (102 million USD) per year in company profits, according to the report from the Puey Ungphakorn Institute for Economic Research. In contrast, average yearly household income in Thailand is around 10,000 USD.
A report out this week from the Economic and Business Research Centre for Reform at Thailand's Rangsit University also pointed to divisive and polarised politics being another root cause of the economic divide.
Thailand's private sector is dominated by tycoons running sprawling conglomerates. According to the World Bank, the gap between the mega-wealthy and the rest of the Thai population of 69 million is among the many economic challenges for Thailand. According to Bloomberg, the perception of a divide, exacerbated by an economic slowdown, is a major political fault line.
"Magnates arise in Thailand from institutional factors that privilege certain businesses," said the executive director of PIER, author of the study.
The institute said Thailand needs to promote competitiveness to reduce profits from monopoly power and bolster entrepreneurship to create a more equitable distribution of corporate wealth.
The research is based on analysis of 2017 Commerce Ministry data on the 2.1 million shareholders in Thai firms, and was funded by the University of California San Diego.
SOURCE: Bangkok Post
Keep in contact with The Thaiger by following our
Facebook page
.
Survey – Thais not taking sides and 66% prioritise health care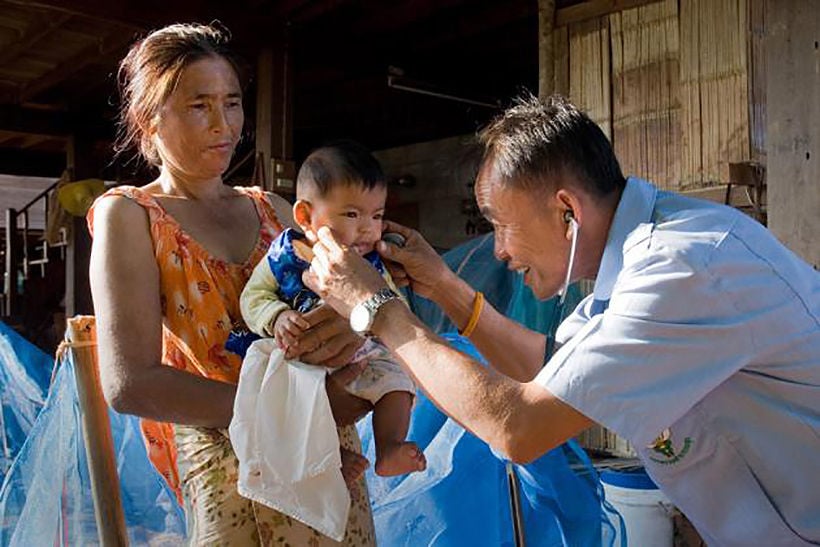 The majority of respondents to a Super Poll survey, say that they are still waiting to see where they will put their future support. For now they're saying they neither support the Government or Opposition, preferring to wait to assess their performance.
Super Poll conducted the survey on 1,069 people from a wide range of occupations nationwide between October 15–19.
The director of Super Poll, Noppadol Kannikar, says that one interesting finding was that 67.2% of respondents admitted that they prefer not to take sides, with the Government or Opposition, because both are currently under-performing and they want to wait to assess their performance.
But 16.9% of the respondents are supportive of the coalition Government, compared to 15.9% who oppose it.
On the question of Government spending, the survey showed 65.9% want quality health care as their top priority, 59.8% want good and secure jobs, 54.3% want security for their lives and property, 50.8% want increased road safety, 48.2% want government help for small and medium-size enterprises and 37.0% want government to provide them with housing.
SOURCE: Thai PBS World
Keep in contact with The Thaiger by following our
Facebook page
.
Top 10 English news sources in Thailand (2019)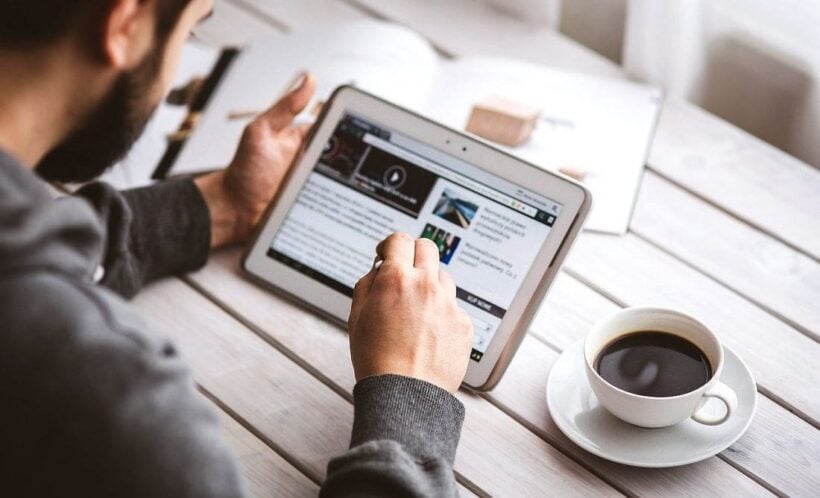 …in English, in no particular order.
This post is mainly for newbies, tourists and people-interested-in-Thailand. Locals already have their home favorite news sources. But all these Top 10 do it well, in their own way. All are trying to navigate their way through the labyrinth of modern media, some better than others, whilst punching out daily news. We think they're all stars because doing media in Thailand, in English, is a tough gig.
These are all news and information sources and the list doesn't include the myriad of excellent blogs around – a topic for another Top 10.
1. Bangkok Post
Traditional news, still delivered as a daily newspaper, but with an expansive and thorough website. It's been going since 1946 and reported on a coup or two, or three. As far as making the move into digital media is concerned, Bangkok Post is doing it better than most. Editorially it has has taken a, mostly, neutral political stance with a few exceptions. But, as newspapers go, it walks down the middle fairly reliably. It is currently the leading English language news portal in Thailand and deserves its position on top.
2. The Thaiger
Please indulge us as we put our own website and news in the Top 10. The Thaiger, only running as a national website since April 2018, remains the fastest growing English-speaking online-only news and information site in the Kingdom (according to the 'stats').
The Thaiger curates the news and chooses topics it believes will be interesting, important or newsworthy, in English, Thai and now Vietnamese too. The Thaiger bought out the Phuket Gazette's digital assets in August 2017 but now has a national and regional focus, whilst continuing to pay homage to its home turf in Phuket. Currently has the second highest readership of any English-speaking news website in Thailand.
3. The Nation
The Nation was the other major daily coming out of Bangkok, well for 48 years anyway, was a lot newer than Bangkok Post when it started up in 1971. The Nation took a more partisan line, famously turning its editorial voice against PM Thaksin Shinawatra. In latter years the paper struggled with circulation and was taken over by Sontiyan Chuenruetainaidhama, founder of conservative outlets T News and INN News. Falling circulation and advertising revenues eventual killed off the printed daily version. Final issue June 28, 2019. The Nation changed their domain name (suicidal) and continues as an online-only news source with an excellent coverage of local Thai politics.
4. ThaiVisa
Used to be the biggest and most popular news website in Thailand (in English). If it moves or breathes, you'd find the story on ThaiVisa. It's full of news copied and pasted from partners who agree to share their news on the site. It's also famous, or infamous, for its hugely popular forums where keyboard warriors dispense their opinions and wisdom on everything, usually tearing just about everything in Thailand to shreds. Whilst it was once the biggest English-speaking news website in Thailand for a decade it is now being challenged by new sources moving into the same web space. Plenty of info, a lot out of date, about visas and other snippets about living in Thailand.
Fresh, selective, well-written and a rising star in real Thai english-language journalism. An offshoot of it's much bigger Thai-language sister. To the point, original stories with a modern journalistic spark. They tend to choose their stories and provide excellent insight when they do. Original and deserving of your daily read.
6. Coconuts
Most would agree that when Coconuts started it was the best and cheekiest news blog for its time. Actually covering all of South East Asia, it's Bangkok blog was a daily log-on for most hip expats. Now they've taken the brave 'paywall' option (because people want to pay for good journalism they say) which seems to have killed off some of their web traffic but the company says they will persist with the subscription model. In our opinion it's lost a bit of its verve but it's still a healthy and reliable daily read for Thailand and the region. Singapore it its most popular location, Thailand is third.
A shameless aggregator, they copy and paste headlines and a few paragraphs with a link to the original story. Designed to rank in Google, the site is still in its early days. To avoid any copyright issues, the stories usually include a photo library 'look-a-like', instead of the real photo from the story. For all we know the entire site could be run by cleverly-coded robots.
There is no sign of a human touch anywhere. Rather than a contributor to the world of Thai journalism, the site is just a parasite using everyone else's news. Bottomline, it's nicely set up and has, well, most of the stories around Thailand, all in one neat package.
Chiang Rai Time is a local website that is regularly updated, nicely laid out, aggregates most of the main international stories and has plenty of local news relevant to the residents of northern cities of Chiang Rai and Chiang Mai. You may notice a similarity with The Thaiger as they used the same WordPress theme – we'll take it as a compliment. There's also Chiang Mai City Life which is a bit less 'newsie' and has plenty of northern lifestyle info in addition to the local news.
Whilst the rest of Thailand does things one way, Pattaya does things differently, in every aspect, including its media. But The Pattaya News does a better job than most with daily content, some original, and translating stories from Thai media. Easy to navigate, clear and readable, unlike a lot of others!
10. Thai PBS World
A government news agency but has demonstrated its independence over the years. As a website it's had more face-lifts than Joan Rivers but remains solid, reliable and surprisingly (especially as it's run by a quasi-military government) unbiased. Also tends to cover stories the other news sources don't.
Keep in contact with The Thaiger by following our
Facebook page
.