World
Phuket Gazette World News: Bangladesh garment factory blazes; Turkey lifts headscarf ban; Italy seeks EU help after boat tragedy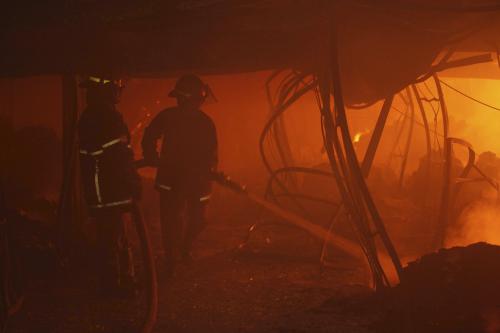 PHUKET MEDIA WATCH
– World news compiled by Gazette editors for Phuket's international community
Turkey lifts generations-old ban on Islamic head scarf
Reuters / Phuket Gazette
PHUKET: Turkey lifted a ban on women wearing the Islamic head scarf in state institutions on Tuesday, ending a generations-old restriction as part of a package of reforms the government says are meant to improve democracy.
The ban, whose roots date back almost 90 years to the early days of the Turkish Republic, has kept many women from joining the public work force, but secularists see its abolition as evidence of the government pushing an Islamic agenda.
The new rules, which will not apply to the judiciary or the military, were published in the Official Gazette and take immediate effect in the majority Muslim but constitutionally secular country.
"A regulation that has hurt many young people and has caused great suffering to their parents, a dark period, is coming to an end," Prime Minister Tayyip Erdogan told a meeting of his AK Party, which has its roots in Islamist politics.
The debate around the head scarf goes to the heart of tensions between religious and secular elites, a major fault line in Turkish public life.
Erdogan's critics see his AK Party as seeking to erode the secular foundations of the republic built on the ruins of an Ottoman theocracy by Mustafa Kemal Ataturk in 1923.
His supporters, particularly in Turkey's pious Anatolian heartlands, say Erdogan is simply redressing the balance and restoring freedom of religious expression to a Muslim majority.
"There was a witch hunt for civil servants with a head scarf," said Safiye Ozdemir, a high-school teacher in Ankara who for years had to remove her head scarf at work against her wishes, but had started to defy the ban in recent months.
"Today it became clear that we've been right. So we are happy, and we are proud. It's a decision that came in very late, but at least it came, thank God."
Intrusiveness
The lifting of the ban, based on a cabinet decree from 1925 when Ataturk introduced a series of clothing reforms meant to banish overt symbols of religious affiliation for civil servants, is part of a "democratisation package" unveiled by Erdogan last week.
The long-awaited package – in large part aimed at bolstering the rights of Turkey's Kurdish community – included changes to the electoral system, the broadening of language rights and permission for villages to use their original Kurdish names.
An end to state primary school children reciting the oath of national allegiance at the start of each week, a deeply nationalistic vow, also took effect on Tuesday.
But Erdogan's opponents have found little to suggest he is curbing what they see as his puritanical intrusiveness into private life, from his advice to women on the number of children they should have to his views on tobacco and alcohol.
They leapt on the dismissal on Tuesday of a television presenter – after she was criticised by AK Party deputy chairman Huseyin Celik for wearing a revealing evening dress – as evidence that the government's tolerance went in only one direction.
"These policies … show not only the government's attitudes to women but also its understanding of freedoms," said Sezgin Tanrikulu, deputy head of the main opposition Republican People's Party (CHP), which was founded by Ataturk.
"There are countries which interfere in the outfits worn by television presenters, but in those countries we can't talk about democracy," he said in a statement.
Celik dismissed such criticism, emphasising that he had not specifically named the television channel or presenter involved.
"As an individual, a TV viewer or a politician, it is my right and freedom of expression to express my opinion," he said on his Twitter account. "To exploit my comments by saying it is intervention in lifestyles is malicious."
Italy seeks EU support after Lampedusa refugee tragedy
Reuters / Phuket Gazette
PHUKET: Italy is asking for more European Union support and an overhaul of the bloc's immigration rules after last week's shipwreck off Sicily that killed hundreds of African migrants who risked a dangerous sea crossing in search of a better life.
Divers again descended to the wreck submerged at a depth of more than 40 metres (132 feet) to recover bodies. After 43 more corpses were recovered on Tuesday, the confirmed death total rose to 274, the Coast Guard said.
More than 300, mostly Eritreans, may have perished in the seas off the small island of Lampedusa, according to the 155 survivors, making it the one of the worst tragedies in the history of the EU's long immigration crisis.
Italian Prime Minister Enrico Letta and European Commission President Jose Manuel Barroso will visit Lampedusa together on Wednesday. Barroso said he will seek to provide more help to Italy, without giving details.
Italian officials want it to be made easier for asylum seekers granted refugee status after arriving in Italy to be settled elsewhere in Europe.
"It is just not possible that the EU continues to accept that these people enter Europe in this horrendous fashion," Giusi Nicolini, Lampedusa's mayor, told Reuters on Tuesday. "And so we will ask him for new policies on asylum."
The latest incident has come in the middle of a bitter debate about immigration. Integration Minister Cecile Kyenge, Italy's first black minister, has faced a stream of insults from politicians from the anti-immigration Northern League.
With Lampedusa just over 110 km (70 miles) from Tunisia, Italy has borne the brunt of migration from North Africa for more than a decade, but reception centres remain inadequate.
More than 900 migrants, most of them likely eligible for asylum, continue to be packed inside a gated immigration centre on Lampedusa built to house 250. Hundreds are sleeping outside and have been drenched by torrential rains in recent days.
Asylum
Unlike in previous years, almost all the seaborne migrants could qualify for refugee status, in part as a result of the Arab Spring uprisings that led to political instability across the southern fringes of the Mediterranean, United Nations refugee agency spokeswoman Barbara Molinario told Reuters.
As of a week ago, about 30,100 migrants had reached Italy by sea this year, she said. Of those, 7,500 fled the Syrian civil war, 7,500 political oppression in Eritrea and 3,000 violence in Somalia, she said.
EU refugee rules, known as the Dublin regulations, were drafted a decade ago, and they establish strict limitations as to which country each migrant can apply for refugee status.
In most cases, asylum must be sought in the country where a person enters the EU, putting the burden on border countries like Italy and Greece.
Italian EU Affairs Minister Enzo Moavero Milanesi called on Tuesday for work to begin on wide-ranging changes to EU asylum and immigration directives.
"Evaluating and possibly revising the Dublin rules must not be taboo," Moavero Milanesi told Avvenire newspaper, which is published by the Catholic bishops association. The minister's spokesman confirmed the comments.
He said the EU had to adapt common rules for every aspect of the immigration crisis, as it did when it drew up strict budget rules to tackle the euro zone debt crisis.
The badly overcrowded Lampedusa immigration centre sho
— Phuket Gazette Editors

Join the conversation and have your say on Thailand news published on The Thaiger.
Thaiger Talk is our new Thaiger Community where you can join the discussion on everything happening in Thailand right now.
Please note that articles are not posted to the forum instantly and can take up to 20 min before being visible. Click for more information and the Thaiger Talk Guidelines.