Phuket Gazette Thailand News: PM seeks Japanese transportation deal; People's Army on the move; Thaksin no terrorist; Floods not a crisis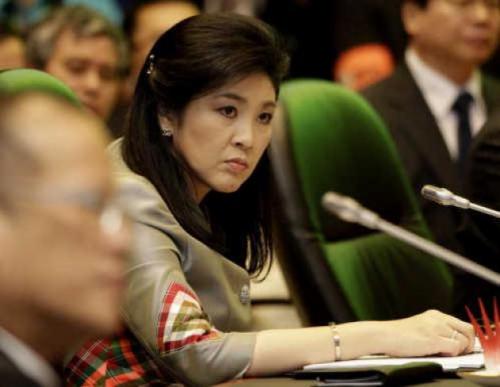 PHUKET MEDIA WATCH
– Thailand news compiled by Gazette editors for Phuket's international community
PM seeks Japanese role in Bt2-tn transportation project
The Nation / Phuket Gazette
PHUKET: Prime Minister Yingluck Shinawatra has invited Japan Inc to take part in Thailand's Bt2-trillion transportation development project.
She also proposed to Myanmar to jointly develop a "trilateral highway", creating land bridges between India, Myanmar and Thailand.
She discussed these issues during bilateral talks with Japanese Prime Minister Shinzo Abe and Myanmar President Thein Sein on the sidelines of the 23rd Asean Summit in Brunei, PM Office's spokesman Teerat Ratanasevi said yesterday.
She briefed Abe on the progress of the mega-infrastructure project. She also asked his government and Japan's private sector to join the project.
Teerat said Abe was interested in having state agencies and the private sector become involved. Japan is not only keen to help roll out the high-speed train network but also to provide consulting services on train operations and ticketing systems.
Abe expressed sympathy over the flood situation in Thailand and asked the Yingluck government to take special care of Japanese factories.
Yingluck told Thein Sein that Thailand was ready to help Myanmar in achieving its reform agenda and to collaborate in trade and the development of the Dawei special economic zone.
The two leaders discussed the problem of smuggling across their borders, which cost the countries in lost tax collections.
Thailand was also eager to work with Myanmar on the implementation of the National Single Window, an electronic system ensuring secured and efficient electronic exchange of trade-related documents through a single point of entry.
The 23rd Asean Summit ended yesterday in Bandar Seri Begawan. In a statement, it was revealed that the grouping grew 5.7 per cent last year, was able to maintain its level of Foreign Direct Investment inflows at US$108.2 billion and recorded $2.47 trillion in total merchandise trade.
The leaders were also of the view that against the backdrop of weaker global growth, regional growth is expected to moderate in the immediate term. Nonetheless, in the longer term, economic activities in the region are expected to remain robust.
A number of measures – 279, or 79.7 per cent – of the AEC Blueprint have been implemented, encouraging the leaders that the regional integration would be completed by 2015, which would enhance Asean's competitiveness and continue deepening and broadening the regional economic integration.
To spur infrastructure development in the region, Asean also looked forward to the commencement of the Asean Infrastructure Fund's (AIF) lending operations this year. "We believe that AIF is an integral component of Asean's efforts to strengthen regional physical connectivity, and narrow the infrastructure development gaps in Asean."
Thaksin escapes terrorism charge
The Nation / Phuket Gazette
PHUKET: Public prosecutors have dropped terrorism charges against fugitive former prime minister Thaksin Shinawatra in connection with the unrest and riots of 2010, due to "weak evidence", attorney-general Athapol Yaisawang said.
He said it was a decision taken by his predecessor Chulasingh Vasantasingh, who cited weak evidence as reason not to prosecute Thaksin.
The Department of Special Investigation (DSI) submitted its reports on the terrorism charges to the Office of the Attorney-General. In addition to Thaksin, charges were also filed against 23 red-shirt protesters, allegedly connected with the 2010 political violence.
Athapol said yesterday that prosecutors had reviewed the charges against Thaksin as a separate case, because the accused was a fugitive.
Chulasingh had the final word on whether to try Thaksin because the alleged offence happened outside the country.
Office of the Attorney-General spokesman Nanthasak Pulsuk said Thaksin had only phoned in from abroad and there was no clear evidence that he had instigated people to take part in terrorism.
"Thaksin's address [to the red shirts] did not call on the protesters to violate the law by burning city halls, embassies, consulate offices, or by toppling the Constitution. The violence at the Ratchaprasong intersection was because the government used military force to reclaim the protest area – with armoured vehicles and war weapons – to disperse the red-shirt protest, leading to many injuries and deaths," he said.
DSI chief Tarit Pengdith said yesterday that the attorney-general's decision was deemed final and the DSI would not reopen the case.
People's Army moves rally from Govt House to Lumpini Park
The Nation / Phuket Gazette
PHUKET: The group that calls itself People's Army to Overthrow the Thaksin Regime has agreed to move its rally site back to Lumpini Park, although it said it reserved the right to protest outside Government House.
Police and rally organisers struck a deal ahead of today's visit by Chinese Premier Li Keqiang.
"The protest leaders have decided to vacate the Government House area and relocate to Lumpini Park," rally organiser Preecha Iamsuphan said yesterday.
Preecha said the organisers would decide whether to return to the seat of the government after the departure of the Chinese delegation.
The announcement to relocate the rally site came yesterday afternoon following 30 minutes of talks between organisers and deputy national police chief General Worapong Chewpreecha.
Rally organisers said the relocation should not be construed as conceding defeat.
They said they would not back down despite the enforcement of the Internal Security Act.
A number of protesters voiced disappointment with the decision, saying it was tantamount to retreating.
They disagreed with the argument that the relocation should be seen as aimed at protecting the country's good image at a time when the Chinese premier is paying a visit.
Police withdrew riot forces to pave the way for the clean-up and beautification of Government House.
Protesters continued to congregate near the Nang Lerng area before moving on to Urupong intersection, which is not covered by the ISA.
Earlier, Deputy Prime Minister Pracha Promnog refused to hold talks with People's Army to Overthrow the Thaksin Regime as requested by the group leaders.
He said he would answer a motion submitted by MPs during a House meeting. "I have assigned the representatives of the Peacekeeping Centre to talk to protesters," he said.
He also said had he joined in the talks, he might have violated the law as the mandate had already been given to the Peacekeeping Centre.
Pol Maj-General Thawat Boonfueng, who is deputy secretary-general to the prime minister for political affairs, said the government had prepared 15 buses to transport the protesters to their destinations. Meanwhile, the Internal Security Act would remain in effect in three Bangkok districts until next Friday.
He refused to reveal other conditions negotiated between the protest leaders and the Peacekeeping Centre.
Temple wants remains from graveyard removed
British tourists come forward about being attacked on Koh Tao in 2013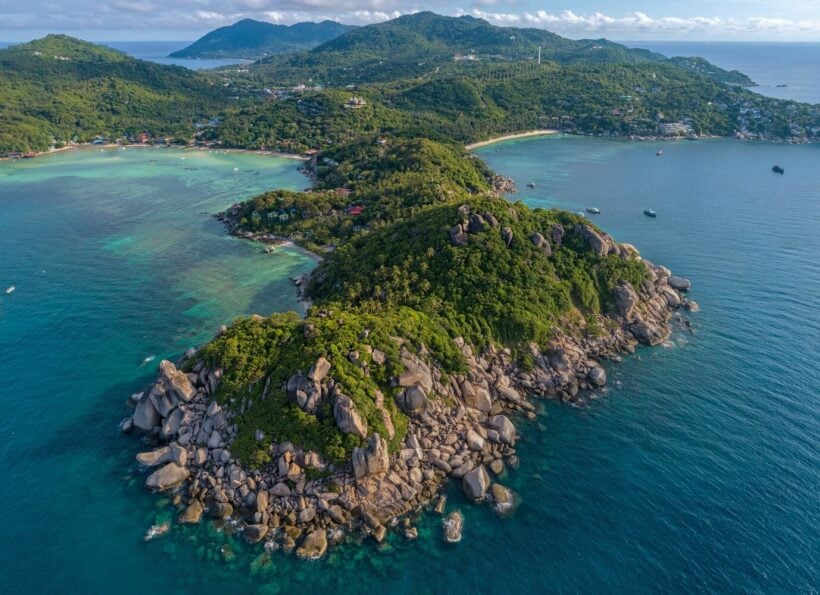 Many continue to contend that Zaw Lin and Wai Phyo, the 2 Burmese young men convicted for the 2014 murder of 2 tourists on Koh Tao's Sairee Beach, are innocent. Now 2 tourists who were attacked on the same beach, just a year before the murder, are now coming forward to help prove that the conviction could have been unreliable.
In September 2014, the bodies of British tourists 23 year old Hannah Witheridge and 24 year old David Miller were found on the beach. Police say Hannah had been raped and David had been hit several times on the head with a garden hoe.
Zaw and Wai were arrested soon after the killings. Some say the investigation was accelerated in an effort to gain back tourist confidence and keep visitors coming to the island. Numerous activists, criminologists, and others have spoken out against the conviction, saying the evidence was bungled.
Just a year before, British tourists Sam Venning and Carla Bartel survived an attack on the same beach. Sam, who was 22 at the time, was talking to Carla, who was 20, on the beach when 2 men wearing V for Vendetta masks attacked them, hitting Sam in the head with a rock.
Sam and Carla came forward to Thai officials after the killings to help with the investigation, but say no one got back to them. Sam says he had emailed the Thai Embassy in London, but no one contacted him. Carla says she contacted the UK Foreign Commonwealth Office who then passed her on to the UK National Crime Agency. She was told that the information was sent to Thai police, but officers did not follow up with her.
SOURCE: Mirror.UK
Want more from the Thaiger family?
📱 Download our app on Android or iOS for instant updates on your mobile
📧 Subscribe to our daily email newsletter
👍 Like/Follow us on Facebook
🔔 Subscribe to or Join our YouTube channel for daily video updates
Fishermen find space debris off the coast of Phuket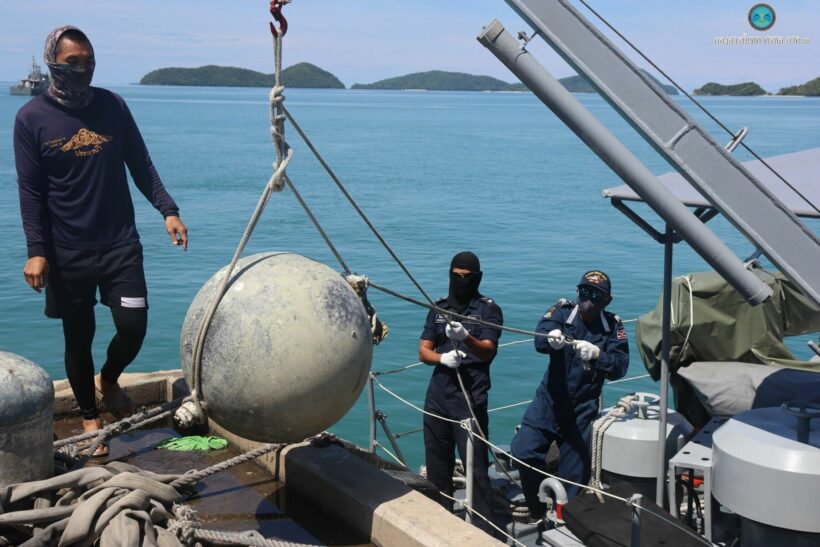 Local fishermen found space debris, possibly from a satellite or space shuttle, on the seabed just 6 metres below the surface by Koh Ael in Phuket. At first, no one knew exactly what it was.
Specialists from a Navy explosive ordnance disposal unit were first called to look at the round, hollow metal object which was about 45 centimetres in diameter. 3rd Naval Area commander Vice Admiral Choengchai Chomchoengpaet told reporters at a press conference that the team took photos of the object and found it appeared to be a rocket fuel tank, possibly used to launch a satellite or shuttle into space. He said it matched photos online.
Both the Geo-Informatics and Space Technology Development Agency, or GISTDA, and the National Astronomical Research Institute of Thailand, agree that the object was most likely a fuel tank for a rocket.
Since the fuel tanks usually contain harmful chemicals like ammonia or hydrogen, divers examined the space debris to make sure there were no chemical leaks before bringing the object to shore and taken to the navy headquarters. The space debris will be taken to the GISTDA to be studied.
"If other objects similar to this one are found elsewhere, people should not touch them. They could contain hazardous chemicals. They should immediately inform Region 3 Thai-MECC or local officials."
SOURCE: Bangkok Post
Want more from the Thaiger family?
📱 Download our app on Android or iOS for instant updates on your mobile
📧 Subscribe to our daily email newsletter
👍 Like/Follow us on Facebook
🔔 Subscribe to or Join our YouTube channel for daily video updates
UPDATE: 2 Americans and a Thai arrested over Bangkok kidnap attempt, Thai policeman involved | VIDEO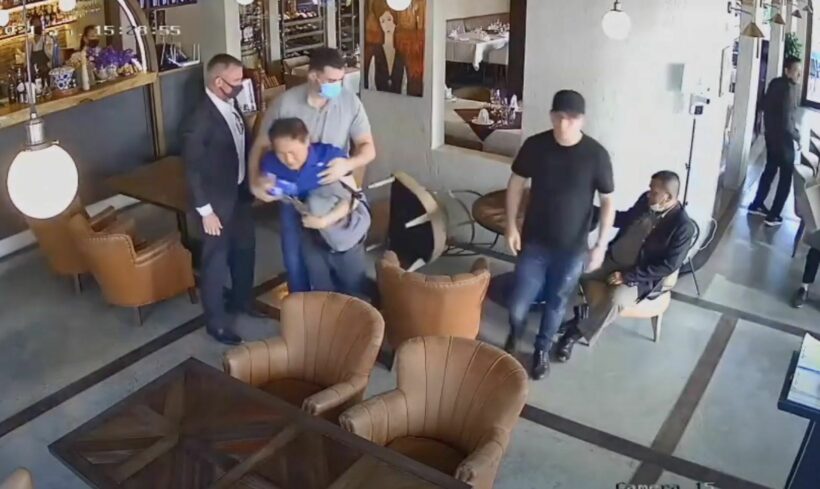 Screenshot: THAICRIME
UPDATE:
Following up from the earlier story involving 2 Americans, a Thai, a Taiwanese businessman, and an Israeli security goon, we have the following update (original story below)…
Police have examined CCTV from the restaurant in Thong Lor where the Taiwanese businessman was kidnapped. It's also been revealed that a "senior Thai policeman" was involved in the alleged abduction case. The abduction took place on March 28.
The meeting had been called to "resolve" some disagreements over a large purchase of rubber gloves that had gone wrong.
After arriving at a meeting at the L'Oliva restaurant in Sukhumvit Soi 26, Mr. Wen Yu Chung was manhandled, put in a headlock and dragged out of the premises. Daily News reports that a "lieutenant colonel" ranked Thai policeman was also captured on the CCTV supervising the events as they happened inside the restaurant. He is reported as being a former traffic policeman.
Mr. Chung was then held to ransom at the condo NT Court. Attempts were made to contact Mr Chung's family and business associates to extract a ransom – allegedly 1 and 2 million baht – but they refused to pay.
The 3 men have been identified as 41 year old Jeremy Hughes Manchester, 52 year old Louis William Ziskin, both Americans, and Ekbodin Prasitnarit, Thai.
Mr Louis Ziskin has a somewhat chequered history with his story catalogued on Wikipedia. Summarised…
Ziskin was taken into custody in December 7, 2000 and charged over transactions from November 1999 to December 22, 1999. Ziskin was convicted of smuggling 700 pounds of ecstasy into Southern California via FedEx and other various shipping companies, the largest-ever US government seizure of the drug. There was another indictment a year later.
Following his incarceration, Ziskin lost a double jeopardy appeal for the second indictment. The US government settled all claims against Ziskin for a 188 month sentence and a US$9 million fine.
Daily News also reported a man 'Mike' who allegedly invited the policeman to be involved in the incident. Earlier this man was described as "Mr. Michael Greenberg, an Israeli operating a detective company".
Here's video showing the arrest of Mr. Ziskin…
EARLIER STORY:
Thai police have arrested 2 American citizens and a Thai for the alleged kidnap of a Taiwanese businessman for ransom. 5 other arrest warrants are also waiting to be executed over the incident. Police allege a "business conflict" over the purchase of plastic 'nitrile' gloves as the motive.
The 3 men have been identified as 41 year old Jeremy Hughes Manchester, 52 year old Louis William Ziskin, both Americans, and Ekbodin Prasitnarit, Thai. All 3 have denied the charges including illegal assembly, attempted murder, abduction for ransom and extortion. They were formally charged at the Thong Lor police.
According to Bangkok Post, in late 2020 Mr Ziskin appointed the Collection Company to negotiate the purchase of a large quantity of plastic gloves with the Paddy The Room Trading Company.
Police allege that there was an ongoing conflict between the two sides which was responsible for Mr Ziskin accumulating 93 million baht in damages.. So, according to police, Mr Ziskin hired Mr. Michael Greenberg, an Israeli operating a detective company in Thailand to negotiate and retrieve the losses.
Police allege that Mr Greenberg hired Thai and foreign collaborators to plan an abduction as leverage in the retrieval of their losses. They contacted a 60 year old Taiwanese man from the Collection Company in Thailand to procure a supply of rubber gloves from Paddy The Room Trading Company.
They made an appointment to meet Wen Yu Chung at a restaurant in Bangkok's in Bangkok's Tong Lor are off Sukhumvit Road on March 28. Police allege that Mr Greenberg and hired associates arrived, handcuffed the Taiwanese businessman and then took him to the NT Place, 200 metres further south down the same Soi, Sukhumvit 36.
They then called Mr Chung's boss demanding US$2 million, and then called the man's family demanding another US$1 million. Both contacted police and did nothing to accede to the demands for ransom..
The abductors then headed to a restaurant in Soi 24, with Mr. Chung, eventually letting him go. The Taiwanese man went, first to hospital, then to Thong Lor police station to relate his story. Eventually 8 arrest warrants were issued over the alleged abduction. Soon after police arrested Mr Manchester, Mr Ziskin and Mr Ekbodin.
We'll continue to follow this story.
SOURCE: Bangkok Post
Want more from the Thaiger family?
📱 Download our app on Android or iOS for instant updates on your mobile
📧 Subscribe to our daily email newsletter
👍 Like/Follow us on Facebook
🔔 Subscribe to or Join our YouTube channel for daily video updates