Phuket Gazette Thailand News: MP shortfall may annul Feb 2 election; Holiday road toll hits 86 dead; Cold-weather boozing feared lethal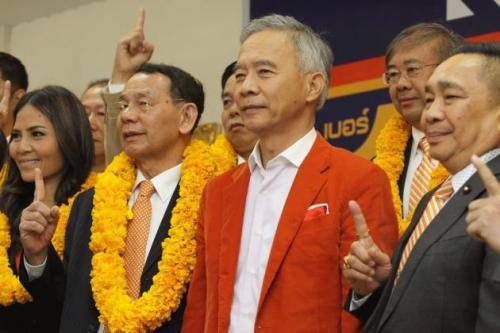 PHUKET MEDIA WATCH
– Thailand news compiled by Gazette editors for Phuket's international community
MP total could fall short if blockades continue
The Nation/ Phuket Gazette
PHUKET: Fears that protests will keep 95% minimum from being met; EC to discuss possible poll delay with govt, PDRC
A former election commissioner warned yesterday of an impending political deadlock that could make a new House of Representatives unable to function properly.
Sodsri Sattayathum, former member of the Election Commission (EC), expressed her concern yesterday that the February 2 election may end up producing fewer than the required minimum of 95 per cent of House members.
Meanwhile, Election Commissioner Somchai Srisuthiyakorn said yesterday it was likely that some commissioners would resign if pre-election violence threatened to escalate. However, he added that he did not think any such resignations would take place in the near future.
"When no other way out is available for the country, the EC members will assess the situation and make our decision when the time is right. We may use this option [resignation] to ease the situation and end the problem," Somchai said.
He met government representatives yesterday to discuss ways of easing the conflict ahead of the February 2 poll. Protests occurred in many southern provinces after candidacy registration for constituency MPs began on Saturday.
Somchai said he would meet with three high-ranking representatives of the government at an undisclosed location, but he declined to identify them.
The discussion would focus on whether the election could be postponed to avoid further violence, he said.
He would also meet representatives of the main group organising anti-government protests, the People's Democratic Reform Committee (PDRC), later today.
PDRC spokesman Akanat Promphan said yesterday the group was happy to meet with election commissioners about the matter.
Sodsri said yesterday that she feared that as candidacy registration was blocked in many provinces, the number of MPs would fall short of the 95-per-cent threshold required to open Parliament.
The Constitution states that the House of Representatives shall be deemed duly formed when a general election returns at least 480 members of the House of Representatives, but not less than 95 per cent of the total number of members.
The House of Representatives is made up of 375 constituency members and 125 "proportional representation" members selected from party lists.
Registrations in seven southern provinces with a total of 32 constituencies remain blocked by anti-government protesters. Sodsri noted that it would only require 25 constituencies to fail to complete registrations for the number of MPs to fall below the 95-per-cent threshold due to Thailand's "proportional representation" method.
She noted that when she was in office, the EC faced a similar problem when no candidates showed up for by-elections after Democrat MPs in the South resigned. Under the current election law, there is no clause to break this "deadlock".
At that time, the EC was prepared to have the Auditor General's Office seek a ruling from the Constitutional Court, she said.
Meanwhile, caretaker Deputy Prime Minister and Foreign Minister Surapong Tovichakchaikul said yesterday that 53 countries and two international organisations have issued statements backing Thailand's election. He said they believed that the election would be an internationally accepted means to return power to the people, he said.
The latest statements were issued by Colombia and Mexico, which praised the planned election as a way to promote public participation and benefit Thailand. They said they would closely monitor the situation in Thailand and hoped for a peaceful, democratic and constitutional solution, according to Surapong, who is also in charge of the government's Centre for the Administration of Peace and Order.
New attack on guards at STR rally site injures six
The Nation / Phuket Gazette
PHUKET: Bloody incidents have continued at the rally sites of anti-government demonstrators in Bangkok, with six more civilians injured yesterday afternoon.
One of the victims suffered an injured right eye while protesting in the Makkhawan-Rangsan Bridge area and, as of press time, he was still being treated at Ramathibodi Hospital.
Following the latest incident, Metropolitan Police Commissioner Lt-General Camronwit Toopgrajank said he seriously wanted to catch the culprits to clear any distrust and rumours that police officers may be behind these attacks.
"The police work for Thai people and the demonstrators are also Thai people," he said.
He added that one policeman was also killed during confrontations between police and demonstrators at the Thai-Japan Stadium on Thursday, and suggested that a third party might be instigating violence.
"If you have still photos or video recordings of violent incidents, please forward them to the police. We have cash rewards for useful tip-offs," Camronwit said.
He added that up to Bt2 million in donations had been given to the police to use as rewards in order to facilitate investigations.
A guard for the anti-government protesters was also killed in the gun attack at 3am on Friday.
Assoc Prof Dr Surasak Leelaudomlipi, director of the Ramathibodhi Hospital, said four protesters had been rushed to the hospital with injuries yesterday afternoon.
"They are between 18 and 26 years old. We have already allowed three of them to return home," Surasak said.
The patients had been hit by unknown objects, he said.
According to Bangkok Metropolitan Administration's Erawan Emergency Medical Services Centre, the first person to hurt was a 24-year-old man. He had injuries to his face, right eye and right arm, and he was still undergoing treatment at the hospital as of press time.
The second patient brought in was a 26-year-old man, who had sustained wounds to his left hand.
The third victim was a 20-year-old man who suffering injuries to the left side of his face and his left knee, while the last victim was an 18-year-old man with wounds on the right side of his forehead.
The Makkhawan-Rangsan Bridge area has been a protest site for demonstrators under the leadership of the Students and People's Network for Thailand's Reform (STR) and the Dharma Army.
Samdin Lertbut, a coordinator for the Dharma Army, said the people were injured after two men on a motorcycle hurled giant firecrackers into a tent of volunteer guards at about 1.30pm yesterday.
"Six people were injured. We rushed four to Ramathibodi Hospital," he said.
PDRC protesters disrupt second day of registration in South
The Nation / Phuket Gazette
PHUKET: Anti-government supporters of the People's Democratic Reform Committee (PDRC) continued to disrupt constituency registration of MPs in the South on the second day of registration yesterday.
In Phatthalung, Nakhon Si Thammarat and Surat Thani, protesters laid siege to premises where registrations were being held and blocked entrances to prevent candidates and election officials from entering.
Pheu Thai candidates in Surat Thani's six constituencies, led by core red-shirt leaders Yossawit C
— Phuket Gazette Editors
Keep in contact with The Thaiger by following our Facebook page.
Never miss out on future posts by following The Thaiger.
Thailand tourism sector seeks to reopen the country by July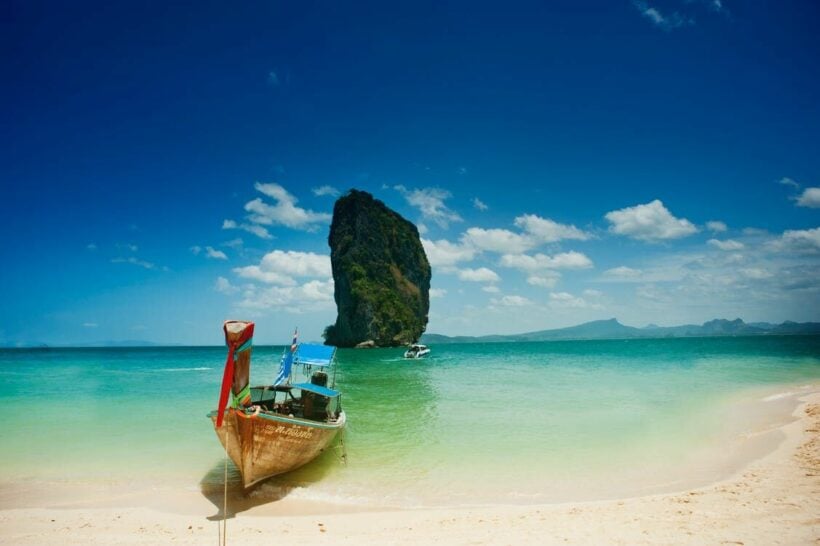 The following was submitted by Open Thailand Safely, a campaign pushing the Thai government to reopen Thailand to international tourism by July 2021.
Leading international tourism companies in Thailand have launched a campaign to reopen the country's borders from 1 July 2021.
The #OpenThailandSafely campaign was launched 2 March with the support of over 15 major companies including YAANA Ventures, Minor Group, Asian Trails, Capella Hotels and Resorts, EXO and many others. (The full launch list is here)
The Open Thailand Safely campaign has laid out its arguments in a petition which will underpin a formal request to the Royal Thai Government to respond favourably to the rollout of Covid-19 vaccination programmes underway in Europe, USA and other Thailand tourism source markets.
The petition is open to anyone in Thailand or around the world who would like to see the country reopen.
The campaign argues that 1 July is an appropriate date for five reasons: the majority of citizens in many source markets will have been vaccinated by then; it gives time to Thai medical authorities to vaccinate both front line staff in hospitality settings in Thailand and/or vulnerable citizens around the country; it gives international travellers time to make travel plans and bookings; the date gives time to airlines, hotels, tour operators and others to start marketing and sales and get ready for tourism operations to commence; and it will take Thailand at least a year, and maybe longer, to return to the large numbers of international visitors that it had before the Covid-19 crisis.
To ensure the safe reopening of Thailand, the petition argues that "international tourists can be asked to satisfy any safeguards the Thai Government may require. This may, for example, include showing officially recognised proof of a Covid-19 vaccination from their home country, purchasing health insurance, showing proof of a negative Covid test within 72 hours of departure, and so on."
#OpenThailandSafely was the initiative of leading Bangkok-based private sector travel companies YAANA Ventures, Minor Group and Asian Trails.
The CEO of YAANA Ventures, Willem Niemeijer [pictured right], said: "The 1 July reopening would be a strategic opportunity for Thailand to show a leadership role among Asian countries and prepare the way for a solid recovery of the Thai economy in 2022."
In the coming days, the Open Thailand Safely campaign will also send the 1st July request to Thailand Prime Minister General Prayut Chan-o-cha, the Minister of Tourism and Sports, Mr Phiphat Ratchakitprakarn, and the Governor of the Tourism Authority of Thailand, Mr Yuthasak Supasorn.
According to the Bank of Thailand and official sources in Thailand, tourism, pre-Covid, was worth about 2.9 trillion baht (US$96.5 billion). Some 39.7 million international visitors in 2019 helped sustain up to 8.3 million jobs. However, arrivals fell to 6.7 million in 2020 making between two and four million people unemployed.
Meanwhile, destinations such as Seychelles, Maldives, Greece and Sri Lanka have either opened borders already or are in discussions to do so in light of successful Covid vaccine rollouts in their key source markets.
People can sign the petition for Thailand to reopen on 1 July at www.OpenThailandSafely.org.
Keep in contact with The Thaiger by following our Facebook page.
Never miss out on future posts by following The Thaiger.
Thailand News Today | Dodgy vaccine doctor nabbed,Pattaya club raided for 'explicit' shows | March 3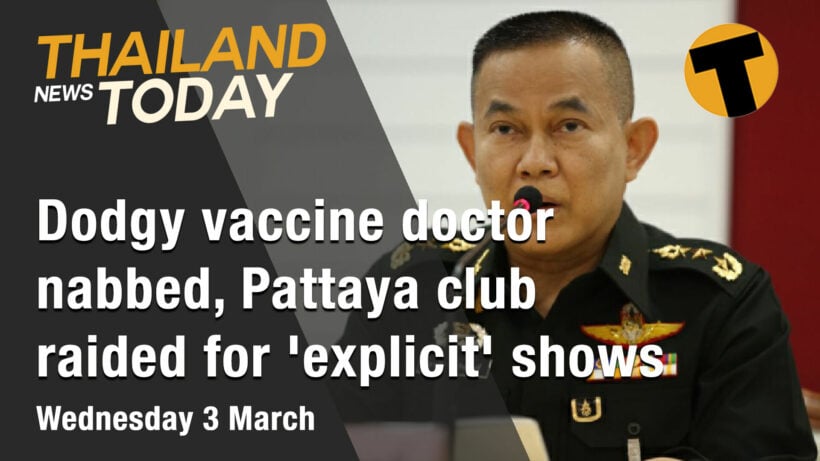 The Bangkok Military Court has issued an arrest warrant for a Royal Thai Army medic who is accused of injecting troops with a fake Covid-19 vaccine. He reportedly made more than 100,000 baht by charging troops, who were on a UN mission, 500 baht each for a tetanus vaccine and a fake Covid-19 vaccine, which an internal army investigation determined was simple saline solution…. Harmless but not very effective.
The Thai Army held a press conference after the medic's fake vaccine scam made headlines, saying the incident had tarnished the army's image. The field medic, who was also a lieutenant, injected more than 250 Thai troops stationed in South Sudan on a UN peacekeeping mission with the fake vaccine, claiming it was the head doctor's order. An Army spokesperson says the medic was in the Thai-South Sudan Horizontal Military Engineering Company and "is a serious disciplinary offence and also violates ethical standards as the wrongdoer is a doctor."
The governor of the central province of Samut Sakhon is slowly recovering after more than 2 months battling Covid-19. Weerasak Wichitsangsri tested positive for the virus in late December and subsequently ended up on a ventilator for over 40 days. It's understood Weerasak's time on the ventilator was a record for the hospital and, at times, medics were unsure if he would recover.
Pattaya City Police inspected a nightclub after reports that the venue was hosting pornographic shows over the weekends. Although the nightclub, named as Dragon Man Club in Thai media, wasn't presenting a sexually explicit show when officers dropped in, the owner was arrested for operating an entertainment business and selling alcohol without the proper permit.
The Thai government has approved a budget of over 6 billion baht to procure an additional 35 million doses of Covid-19 vaccines. The budget was approved at a Cabinet meeting yesterday.
The Covid-free gulf islands of Koh Samui, Koh Phangan, and Koh Tao are offering special discounts and privileges to tourists until the end of April. Over 80 tourism operators are taking part in the program.
In an act of good will, navy officials have rescued 4 cats from a ship that had caught fire and began to sink about 13 kilometres off Koh Adang in the southern province of Satun. The ship's 8 member crew had jumped off the sinking vessel and were rescued by a passing fishing ship, but the cats were left onboard.
Keep in contact with The Thaiger by following our Facebook page.
Never miss out on future posts by following The Thaiger.
UPDATE: Thai singer "Ammy" arrested for allegedly setting fire to royal portrait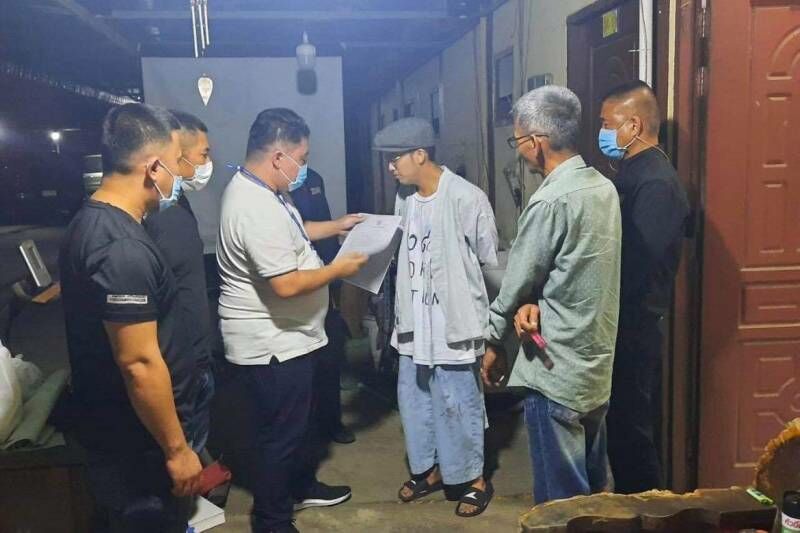 UPDATE: A popular Thai singer from the band Bottom Blues was arrested in Ayutthaya on lèse majesté charges for allegedly setting a portrait of HM the King on fire. Yesterday, the Criminal Court issued arrest warrants for those suspected of burning a portrait of HM the King outside a Bangkok prison on Sunday. Police earlier denied arresting the singer, Chai-amorn Kaewwiboonpan, aka"Ammy."
Police say the singer was arrested in a rented room at around 12:40am this morning. He told police was sick and requested to be taken to the hospital.
Ammy wrote a post on his Facebook page confessing to burning the royal portrait, saying he is ashamed and disappointed in himself and it was a foolish idea that put him in danger. He adds that there is a hidden, symbolic meaning being the burning of the portrait and he hopes everyone understands it.
Original story…
The Metropolitan Police Bureau has denied reports that the Thai musician and anti-government activist, Chai-amorn Kaewwiboonpan, aka, "Ammy" has been arrested. The musician and 2 other people are suspected of setting fire to a portrait of His Majesty the King. The Bangkok Post reports that his whereabouts are currently unknown.
Piya Tawichai from the MPB says there is no record of the musician being taken into custody. He was responding to local media reports that Chai-amorn had been arrested.
"We haven't received any report that Mr Chai-amorn was arrested or put in police custody."
Chai-amorn and 2 others face charges of lèse majesté, arson, and violation of the Computer Crimes Act. They are suspected of setting fire to a portrait of His Majesty the King outside Klongprem Central Prison in the Chatuchak district of Bangkok in the early hours of Sunday morning. They also face charges of damaging state property.
It's understood officers conducted a search for the musician yesterday, following the Criminal Court's approval of arrest warrants for the 3 suspects. Piya says the MPB has sufficient evidence to back up the charges, including CCTV footage at the scene of the crime. It's reported that Chai-amorn got out of a vehicle in order to set fire to the portrait, while the other 2 suspects remained in the car.
SOURCE: Bangkok Post
Keep in contact with The Thaiger by following our Facebook page.
Never miss out on future posts by following The Thaiger.