Phuket Gazette Thailand News: Man jailed for lese majeste; Deep South peace dialogue stumbles; B2trn loan under fire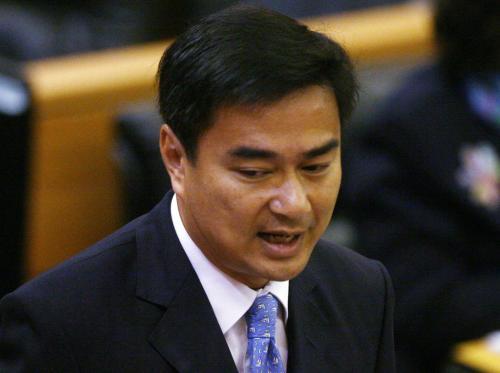 PHUKET MEDIA WATCH
– Thailand news compiled by Gazette editors for Phuket's international community
Man jailed for 3 years and 4 months for lese majeste
The Nation / Phuket Gazette
PHUKET: A man who was arrested in March 2011 for selling pirated copies of an Australian documentary critical of the Thai monarchy, as well as WikiLeaks papers, was sentenced to three years and four months in jail yesterday for violating the lese majeste law.
The Criminal Court found Ekachai Hongkangwan guilty of violating the Constitution's Article 8, which stipulates that the monarchy must be held in reverence. The judges said the content of the documentary produced by the Australian Broadcasting Corporation (ABC) defamed the Crown Prince, his consort and the monarchy in general.
WikiLeaks papers, which were found inside Ekachai's satchel when he was arrested, contained text defamatory to Her Majesty, the court said. The court said Ekachai should consider "the feelings of [Thai] people" who revere the monarchy and that his intention to "make people believe in this information caused damage to the monarchy's reputation".
The original sentence was five years, but as the defendant admitted to owning and selling the material, judges decided to cut it to three years and four months. He was also fined 66,666 baht for selling videos without permit.
The 37-year-old was visibly disappointed and said he would appeal the verdict, insisting that both the documentary and the WikiLeaks papers were only a simple criticism, not slander. He was waiting for the result of his bail request at press time.
Nine of 15 delegate members attend Southern peace dialogue
The Nation / Phuket Gazette

PHUKET: Only nine of the original 15 members of the Thai delegation turned up in Malaysia for a peace dialogue with insurgents' representatives yesterday. The dialogue is taking place at a police facility in Kuala Lumpur.
The delegation of the Barisan Revolusi Nasional Coordinate (BRN), representing the insurgents, had also shrunk to just five, including Hassan Taib, chief of the BRN liaison office in Malaysia.
Details of the discussion were kept confidential, pending a statement from both sides.
The nine Thais included National Security Council secretary-general Paradorn Pattanathabutr and South Border Provinces Administrative Centre director Tawee Sondsong, as well as former members of the police, the Army and civilians. No explanations were given as to why the team had shrunk.
After arriving on Wednesday, the delegates held a meeting to work out what issues would be on the agenda. Paradorn said a late change in conditions for the number of attendees meant each side would include the same number of people at the talks, but did not say yesterday how many were present.
Army chief General Prayuth Chan-ocha yesterday responded to reports that insurgents had demanded the withdrawal of troops from the far South as a precondition for ending their armed struggle, saying such a move was possible. Paradorn has since denied that any such precondition was ever proposed, while Deputy Prime Minister Chalerm Yoobamrunghas blamed the media.
Prayuth said a bomb attack yesterday in Narathiwat, which killed three soldiers, was not connected to the peace dialogue. The next round of talks will take place in Indonesia next month, a source said.
Loans not needed: Abhisit
The Nation / Phuket Gazette
PHUKET: The opposition yesterday agreed that the country needs massive infrastructure investment but found fault with the government's plan to seek a Bt2-trillion project loan through issuing a special decree and bypassing the annual budget, which could lead to lax fiscal discipline and ballooning public debt.
During the House-Senate debate on the bill authorising the Finance Ministry to arrange the loan, opposition leader Abhisit Vejjajiva said the government has no need at all to ask for Bt2 trillion from the financial market, the biggest borrowing in Thailand's history, because it could rely on the annual budget or run additional budget deficits. That would be enough to finance the projects without pushing public debt up to the ceiling as a percentage of gross domestic product (GDP), said the Democrat Party leader.
While the government estimates the total financing cost at Bt5 trillion – Bt2 trillion in principal and Bt3 trillion in interest – this assumes that interest rates will remain low throughout the 50-year repayment period. That is rather doubtful given the global economic uncertainty. The resulting rise in public debt per GDP, which is currently at 45 per cent, was a major concern, he added.
Finance Minister Kittiratt Na-Ranong said the borrowing would not upset the fiscal balance. While it will take time to completely pay off the debt, what the country will get in return is infrastructure assets, which will serve the country for decades.
The government could accelerate debt repayment by just paying more principal back to reduce the interest burden.
Most of the funds will come from the local market, so the income from interest payments will end up in the pockets of the Thai people.
To ensure spending transparency, the projects proposed by state agencies will be scrutinised by the Finance Ministry, NESDB and Budget Bureau, he added.
Kittiratt said the government wants to maintain its goal of achieving a drop in the budget deficit until it achieves a balance.
Abhisit said the government could also employ existing mechanisms such as the public-private joint venture law to encourage private sector investment to support the projects. Then the government might not need to seek such a huge loan.
Transport Minister Chatchart Sithiphan said the government should be the main investor while the private sector would be encouraged to take part in some projects on a case-by-case basis.
These projects are not aimed at generating revenue, but rather at developing the economy and cutting the country's logistics costs. If the private sector played a role, they might charge high fees or fares for people to use the infrastructure, he said.
Abhisit said the government must exercise strict fiscal discipline and prioritise which projects it would finance. The government has spent heavily on its populist policies and it would be better to channel some budgets of populist policies to this infrastructure development scheme, he said.
Kittiratt said the country needs to build up its resources to boost the economy, promote connectivity within the country and with neighbours and enhance the country's competitiveness. The borrowing will also ensure the continuity of project development to completion.
Abhisit said the government should not just spend profusely on upgrading infrastructure and ignore spending to improve other not less important areas such as education and healthcare.
MP Boonjong Wongtrairat, from the opposition Bhum Jai Thai Party, said at yesterday's House debate that the Finance Ministry did not have any clear plans about how it would repay the huge public debt, adding that there would probably be a tax hike.
Boonjong said he was also not convinced that the transport minister would be able to manage the projects successfully, judging from the fact that its State Railway of Thailand was making big losses.
Prime Minister Yi
— Phuket Gazette Editors
Keep in contact with The Thaiger by following our
Facebook page
.
500 people own 36% of equity in Thai companies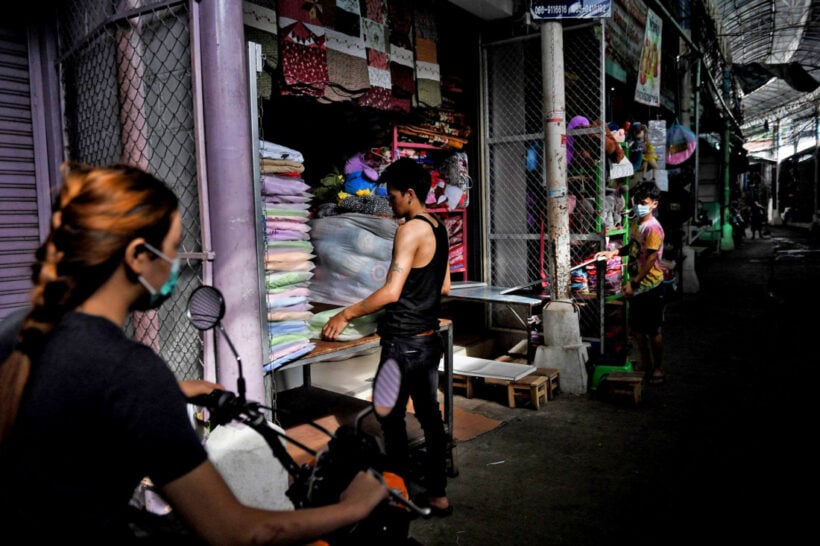 Roughly 36% of Thailand's corporate equity is held by just 500 people, highlighting wealth inequality in the Kingdom, according to a study released by the Bank of Thailand's research institute.
Each of these 500 amass some 3.1 billion baht (102 million USD) per year in company profits, according to the report from the Puey Ungphakorn Institute for Economic Research. In contrast, average yearly household income in Thailand is around 10,000 USD.
A report out this week from the Economic and Business Research Centre for Reform at Thailand's Rangsit University also pointed to divisive and polarised politics being another root cause of the economic divide.
Thailand's private sector is dominated by tycoons running sprawling conglomerates. According to the World Bank, the gap between the mega-wealthy and the rest of the Thai population of 69 million is among the many economic challenges for Thailand. According to Bloomberg, the perception of a divide, exacerbated by an economic slowdown, is a major political fault line.
"Magnates arise in Thailand from institutional factors that privilege certain businesses," said the executive director of PIER, author of the study.
The institute said Thailand needs to promote competitiveness to reduce profits from monopoly power and bolster entrepreneurship to create a more equitable distribution of corporate wealth.
The research is based on analysis of 2017 Commerce Ministry data on the 2.1 million shareholders in Thai firms, and was funded by the University of California San Diego.
SOURCE: Bangkok Post
Keep in contact with The Thaiger by following our
Facebook page
.
Survey – Thais not taking sides and 66% prioritise health care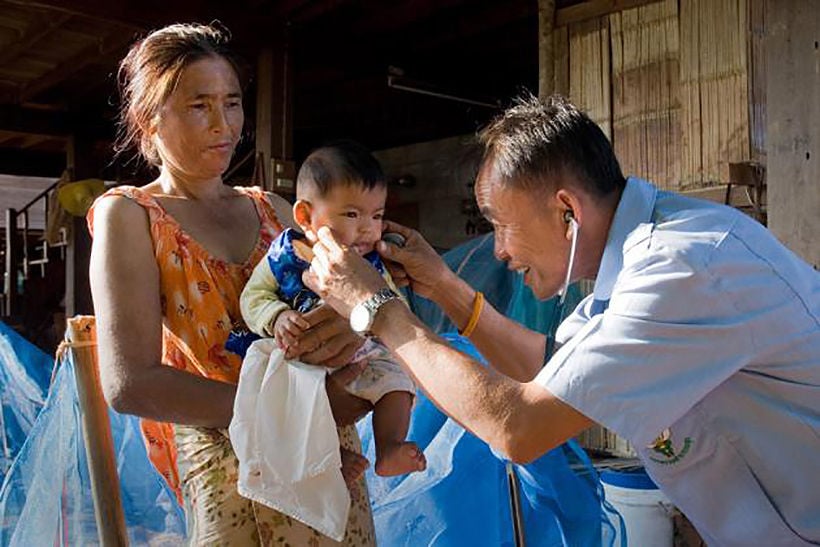 The majority of respondents to a Super Poll survey, say that they are still waiting to see where they will put their future support. For now they're saying they neither support the Government or Opposition, preferring to wait to assess their performance.
Super Poll conducted the survey on 1,069 people from a wide range of occupations nationwide between October 15–19.
The director of Super Poll, Noppadol Kannikar, says that one interesting finding was that 67.2% of respondents admitted that they prefer not to take sides, with the Government or Opposition, because both are currently under-performing and they want to wait to assess their performance.
But 16.9% of the respondents are supportive of the coalition Government, compared to 15.9% who oppose it.
On the question of Government spending, the survey showed 65.9% want quality health care as their top priority, 59.8% want good and secure jobs, 54.3% want security for their lives and property, 50.8% want increased road safety, 48.2% want government help for small and medium-size enterprises and 37.0% want government to provide them with housing.
SOURCE: Thai PBS World
Keep in contact with The Thaiger by following our
Facebook page
.
Top 10 English news sources in Thailand (2019)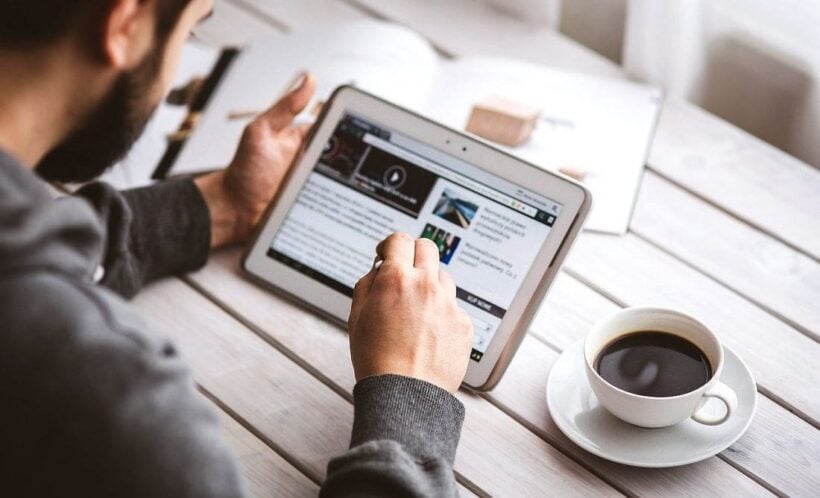 …in English, in no particular order.
This post is mainly for newbies, tourists and people-interested-in-Thailand. Locals already have their home favorite news sources. But all these Top 10 do it well, in their own way. All are trying to navigate their way through the labyrinth of modern media, some better than others, whilst punching out daily news. We think they're all stars because doing media in Thailand, in English, is a tough gig.
These are all news and information sources and the list doesn't include the myriad of excellent blogs around – a topic for another Top 10.
1. Bangkok Post
Traditional news, still delivered as a daily newspaper, but with an expansive and thorough website. It's been going since 1946 and reported on a coup or two, or three. As far as making the move into digital media is concerned, Bangkok Post is doing it better than most. Editorially it has has taken a, mostly, neutral political stance with a few exceptions. But, as newspapers go, it walks down the middle fairly reliably. It is currently the leading English language news portal in Thailand and deserves its position on top.
2. The Thaiger
Please indulge us as we put our own website and news in the Top 10. The Thaiger, only running as a national website since April 2018, remains the fastest growing English-speaking online-only news and information site in the Kingdom (according to the 'stats').
The Thaiger curates the news and chooses topics it believes will be interesting, important or newsworthy, in English, Thai and now Vietnamese too. The Thaiger bought out the Phuket Gazette's digital assets in August 2017 but now has a national and regional focus, whilst continuing to pay homage to its home turf in Phuket. Currently has the second highest readership of any English-speaking news website in Thailand.
3. The Nation
The Nation was the other major daily coming out of Bangkok, well for 48 years anyway, was a lot newer than Bangkok Post when it started up in 1971. The Nation took a more partisan line, famously turning its editorial voice against PM Thaksin Shinawatra. In latter years the paper struggled with circulation and was taken over by Sontiyan Chuenruetainaidhama, founder of conservative outlets T News and INN News. Falling circulation and advertising revenues eventual killed off the printed daily version. Final issue June 28, 2019. The Nation changed their domain name (suicidal) and continues as an online-only news source with an excellent coverage of local Thai politics.
4. ThaiVisa
Used to be the biggest and most popular news website in Thailand (in English). If it moves or breathes, you'd find the story on ThaiVisa. It's full of news copied and pasted from partners who agree to share their news on the site. It's also famous, or infamous, for its hugely popular forums where keyboard warriors dispense their opinions and wisdom on everything, usually tearing just about everything in Thailand to shreds. Whilst it was once the biggest English-speaking news website in Thailand for a decade it is now being challenged by new sources moving into the same web space. Plenty of info, a lot out of date, about visas and other snippets about living in Thailand.
Fresh, selective, well-written and a rising star in real Thai english-language journalism. An offshoot of it's much bigger Thai-language sister. To the point, original stories with a modern journalistic spark. They tend to choose their stories and provide excellent insight when they do. Original and deserving of your daily read.
6. Coconuts
Most would agree that when Coconuts started it was the best and cheekiest news blog for its time. Actually covering all of South East Asia, it's Bangkok blog was a daily log-on for most hip expats. Now they've taken the brave 'paywall' option (because people want to pay for good journalism they say) which seems to have killed off some of their web traffic but the company says they will persist with the subscription model. In our opinion it's lost a bit of its verve but it's still a healthy and reliable daily read for Thailand and the region. Singapore it its most popular location, Thailand is third.
A shameless aggregator, they copy and paste headlines and a few paragraphs with a link to the original story. Designed to rank in Google, the site is still in its early days. To avoid any copyright issues, the stories usually include a photo library 'look-a-like', instead of the real photo from the story. For all we know the entire site could be run by cleverly-coded robots.
There is no sign of a human touch anywhere. Rather than a contributor to the world of Thai journalism, the site is just a parasite using everyone else's news. Bottomline, it's nicely set up and has, well, most of the stories around Thailand, all in one neat package.
Chiang Rai Time is a local website that is regularly updated, nicely laid out, aggregates most of the main international stories and has plenty of local news relevant to the residents of northern cities of Chiang Rai and Chiang Mai. You may notice a similarity with The Thaiger as they used the same WordPress theme – we'll take it as a compliment. There's also Chiang Mai City Life which is a bit less 'newsie' and has plenty of northern lifestyle info in addition to the local news.
Whilst the rest of Thailand does things one way, Pattaya does things differently, in every aspect, including its media. But The Pattaya News does a better job than most with daily content, some original, and translating stories from Thai media. Easy to navigate, clear and readable, unlike a lot of others!
10. Thai PBS World
A government news agency but has demonstrated its independence over the years. As a website it's had more face-lifts than Joan Rivers but remains solid, reliable and surprisingly (especially as it's run by a quasi-military government) unbiased. Also tends to cover stories the other news sources don't.
Keep in contact with The Thaiger by following our
Facebook page
.