Phuket Gazette Thailand News: Insurgent suspect testifies; 5 hurt as Army helicopter ditches; Bangkok dengue; Supercar duo called to surrender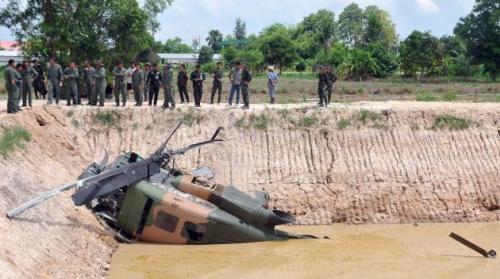 PHUKET MEDIA WATCH
– Thailand news compiled by Gazette editors for Phuket's international community
Suspect names leaders behind bombings, murders and van heist in South: official
The Nation / Phuket Gazette
PHUKET: A suspected insurgent now in custody, Sakariya Tohtayong, has implicated alleged masterminds of the movement behind unrest in the deep South, a senior official said yesterday.
Sakariya gave useful testimony that may allow the authorities to solve many security cases.
They include bombings at the CS Pattani Hotel and the Diana shopping complex, the robbery of a security van carrying cash for a bank, and an attack on a grocery shop in which six people, including a baby, were killed.
Over Bt5.8 million was stolen from the security van.
"His answers during the interrogation have allowed us to know who are the masterminds and who are members of the movement," Colonel Komkrit Rattanachaya said, in his capacity as head of the 47th Paramilitary Regimental Taskforce.
Sakariya was arrested in Muang district in Pattani early on Saturday in an operation that saw security officials shoot Ameen Dareng dead during a 15-minute gunfight. Both Sakariya and Ameen, 31, were wanted for alleged roles in many incidents.
Komkrit said Sakariya told interrogators Ameen had ordered attacks on the grocery shop and the robbery of the security van. "We are in the process of solving major cases in the deep South," he said.
Five injured as Army helicopter ditches in pond
The Nation / Phuket Gazette
PHUKET: A military helicopter made an emergency landing in Nakhon Nayok yesterday morning due to a broken sling in its rudder.
Five of the eight soldiers on board were injured in the incident.
After taking off from Lop Buri on a trip to Sa Kaeo, the helicopter became unresponsive over Nakhon Nayok and the pilot decided to ditch the aircraft in a pond.
Army Deputy Spokesman Winthai Suwaree said yesterday that the helicopter belonged to the Army's fleet of rotary-wing aircraft.
The Army Aviation Centre, the 2nd Infantry Division the Royal Guards, and the aviation safety committee have also examined the helicopter in a bid to determine the cause of the broken sling.
The five inured in the accident – Master Sergeant Sornravit Intor, Captain Tumrongkeat Chattoranong, Sergeant Tawatchai Siriwong, Major Tosapon Nutsaryu and Captain Kachen Sai-ting – are being treated at Royal Chulachomklao Military Academy Hospital.
More than 4,300 dengue cases in Bangkok in past six months
The Nation / Phuket Gazette
PHUKET: Dengue fever has hit 4,374 Bangkok residents and claimed one life in the capital during the past six months.
The Bangkok Metropolitan Administration has implemented a variety of measures in a bid to control the disease.
"We will spray chemicals to kill mosquitoes, the carrier of the disease. The next round of spraying will run from [Thursday] until June 30," Bangkok Governor MR Sukhumbhand Paribatra said yesterday.
He was speaking at the Mahanak Mosque in the capital's Pom Prab district. Of all the communities in the district, the Mahanak community has the second highest incidence of dengue.
According to Sukhumbhand, monthly surveys are now conducted to identify mosquito-breeding grounds, which will be eliminated.
"We will also pay special attention to risky places like schools, religious sites and medical facilities. Such places need strict measures to ensure the eradication of mosquito breeding grounds," he added.
Thai diplomat accused of assault acted in self-defence: Foreign Ministry
The Nation / Phuket Gazette
PHUKET: A female Thai diplomat who allegedly assaulted an Egyptian woman at a Cairo hotel had acted in self-defence, Thai Foreign Ministry deputy spokesman Jakkrit Srivali said on Monday.
He quoted Kakanang Amaranand, first secretary of the Thai Embassy in Egypt, as dismissing news reports in Egyptian media that she attacked and injured Rana Ashraf.
Ashraf's husband was quoted as saying that Kakanang had "pushed [Ashraf] on the couch, kicked her more than five times in the face and head with her heels, pulled her hair out, bit her until she bled, and through all of this my wife was not grabbing or attacking her.
"Whenever we tried to pull her off, she would bite or pull harder. It was a completely one-sided fight."
He also alleged that Kakanang was drunk at the time.
Jakkrit reported that Thai Ambassador to Egypt Chalit Manittayakul had defended Kakanang's character, saying he had never seen her drunk to the point of losing self-control. The embassy has said it will investigate the incident.
Meanwhile, it still remains unclear as to whether Ashraf has filed a complaint with police.
Duo linked to luxury-car scam urged to surrender
The Nation / Phuket Gazette
PHUKET: The Department of Special Investigation called yesterday for two businessmen allegedly involved in the transport of six luxury cars that caught fire and revealed a tax avoidance scheme to turn themselves in before warrants are taken out for their arrest.
Director-general Tarit Pengdith said the identity of the two men was known among law-enforcement officials and they still had time to surrender to the DSI.
He said there was proof verifying transactions overseas involving tens of millions of baht by the pair, and that the six vehicles with suspect registration – four of which were gutted by fire – may have been smuggled into Thailand from Malaysia.
The two men were known to be key figures in the importing of luxury cars, he said, adding that the DSI had obtained security camera footage showing links between the pair and a suspect called Nathee Rewthong, who is on the run.
Nathee has been accused of |hiring a truck company to transport the six vehicles, which were on a |trailer that mysteriously caught fire last month while being driven through Nakhon Ratchasima.
An ad-hoc centre opened by the DSI to verify ownership and registration documents of 548 luxury cars, which had market prices of up to Bt5 million, began operating yesterday.
People owning or possessing the vehicles are required to authenticate all documents.
Those with vehicles installed with LPG or CNG fuel systems need to have the cars inspected next Monday.
Meanwhile, a deputy chief of the Customs Department, Rakhop Srisuppha-at, denied that customs officials had helped make illegally imported luxury cars appear legitimate so they could benefit from being auctioned legally at higher prices. "I admit that the 'car-laundering' scheme does exist but it is conducted at a lower level," he said, without explaining.
Rakhop said a Rolls Royce owned by Deputy Prime Minister Chalerm Yoobamrung was legally imported, after former senator Ruangkrai Leekitwattana publicly called for an inspection to determine whether it was smuggled, or underwent the tax avoidance process.
— Phuket Gazette Editors
Keep in contact with The Thaiger by following our
Facebook page
.
Never miss out on future posts by
following The Thaiger
.
Phuket Immigration handing out 'conditional' 14 day visas, pending investigations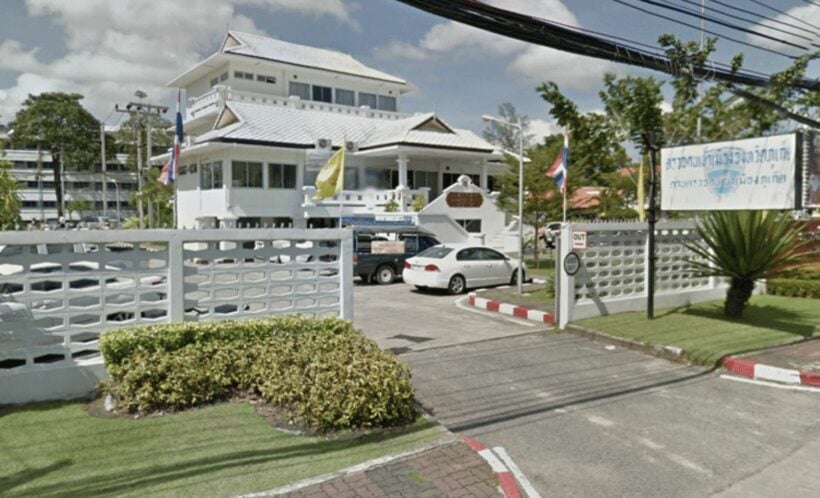 Confusion reigns. It was predictable and many people, despite months of warnings, have left their visa extensions to the last minute. Meanwhile Thai immigration don't appear to be making the process easy as The Thaiger has received multiple comments from foreigners visiting the various immigration offices around the country and encountering 'local' applications of the published guidelines and, in some cases, demands for additional paperwork.
A note to The Thaiger, we won't publish the person's name, from Phuket where a person applying for an extension to their visa has been given something less than the 30 days promised by the government.
"On Monday Phuket Immigration was only giving 14 day 'conditional' VISA extensions from the date of application, not from September 26. They announced this was to allow time to "investigate and verify" the need for the extension.
So basically we paid 1900 baht for a 14 day extension. After announcing this many people left as many que numbers were called and nobody came up. They said if that were the case they would come back later in the week.
So we have to go back on October 5 (or a few days later is ok they announced) to see if we're approved for the 30 day extension from September 26. If not we would be immediately "overstaying" at 500 baht/day.
Thank you
C
Another writer, speaking about the same matter, said that they were still being charged the non-refundable 1900 baht fee for the 2 week extension….
"They still collected the non refundable 1900 baht fee."
Yesterday a person, who had been living in Bangkok under the auspices of the visa amnesty on a lapsed Non Immigrant B (Business) visa, ended up visiting three different offices to get his paperwork sorted out. This is after first contacting immigration by phone to confirm the particular office to attend. He had a letter from the US Embassy explaining that he would be unable to return to the US at this stage due to lack of flights and the current Covid-19 situation in the US. He made an appointment online, as instructed, and it still didn't go very smoothly.
The instructions he received….
If your Visa was cancelled during the Covid-19 crisis, and you are currently under the amnesty grace period set to expire September 26, you will need to schedule an appointment online to queue in with the Immigration Division 1 at Muang Thong Thani (near Don Mueang Airport). You will need…
Online appointment with Immigration Division 1
Passport
TM 6 Departure Card
1,900 Baht fee for short term extension
Letter from embassy specifically stating inability to leave Thailand due to lack of repatriation flights and or a high risk of contracting Covid-19 in one's home nation.
US Embassy letter request can be made online here
Portrait photo to affix to short term extension application 3.5 cm x 4.5 cm in dimension
After going to Counter K and Counter J (2 separate buildings), he ended up being asked to go to the Chaeng Wattana office instead, and then was shuffled off to yet another office. Additional paperwork was also requested, beyond what had been asked for. After nearly a full day he ended up with a visa stamp for a 30 day extension in his visa.
He also noted that there is NO ATM around the Mueang Thong Thani immigration offices and our reader had to take a 60 baht motorcycle taxi ride to get cash.
Probably worse, he said that the Immigration officials (clearly overworked at this time), were "extremely rude" and that the facilities (apparently temporary) are "less-than-adequate", especially the Counter K, which was basically a parking garage with seats… no fans.
Additionally, contrary to the clear advice on the Thai Immigration website, most people getting their extensions were from the date of their visit and NOT the end of the September 26 amnesty.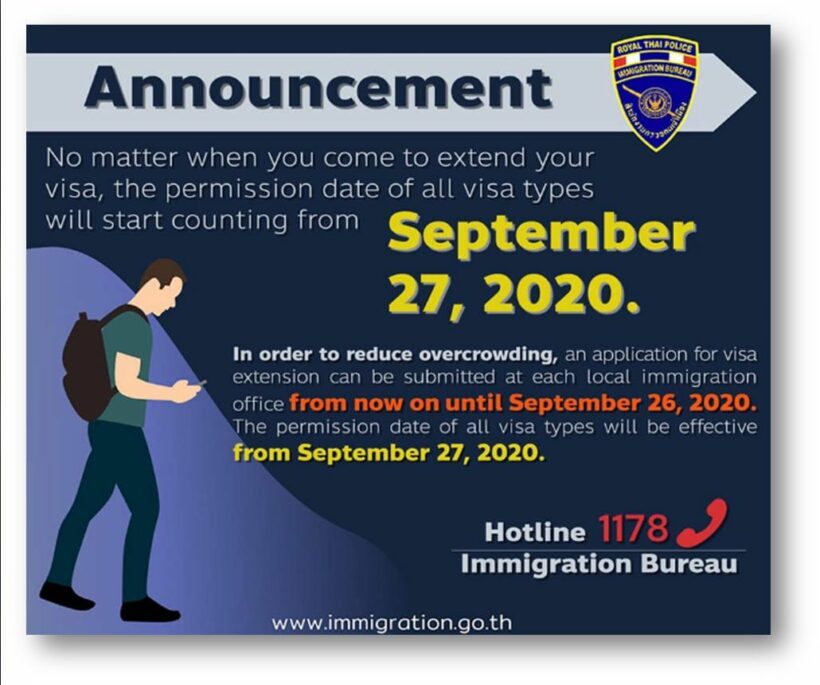 The moral of this tiny microcosm of stories is that it's probably the busiest week for Thai immigration in history. The officials will be stressed and stretched, there will be long queues and there will be confusion. We should also mention that we've had a few foreigners contact us saying that things went very smoothly for their extensions, so well done to all concerned in those examples!
Be prepared, take ALL your paperwork, expect to asked to produce more evidence, make sure you have all your photos and copies of your passport, TM 6 departure card, plus filled-in applications before you head to the Immigration offices.
Keep in contact with The Thaiger by following our
Facebook page
.
Never miss out on future posts by
following The Thaiger
.
Isaan woman finds her husband and 2 sons dead in well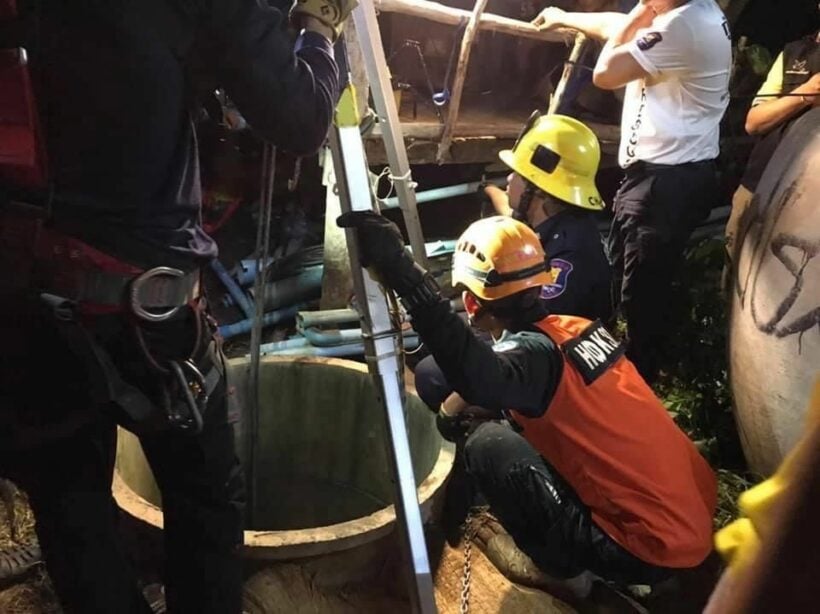 A woman found the bodies of her husband and 2 sons in the bottom of a well in the Isaan province Chaiyaphum. The father and his sons reportedly went to repair the family farm's well, but did not return.
56 year old Thong-in says her husband and sons went to repair the well in the morning. They didn't come back for lunch. When she went to check on them, she found them dead in the well.
Rescuers suspect the father, 56 year old Boonterm Buathong, and his 2 sons, 29 year old Chareonchat and 26 year old Preecha, drowned to death. The well is about a metre wide and 13 metre deep. Rescuers wore breathing apparatuses to dive to the bottom of the well to get the bodies.
SOURCE: Nation Thailand
Keep in contact with The Thaiger by following our
Facebook page
.
Never miss out on future posts by
following The Thaiger
.
Thailand News Today | Protesters face arrest | Phuket "in a coma"| September 22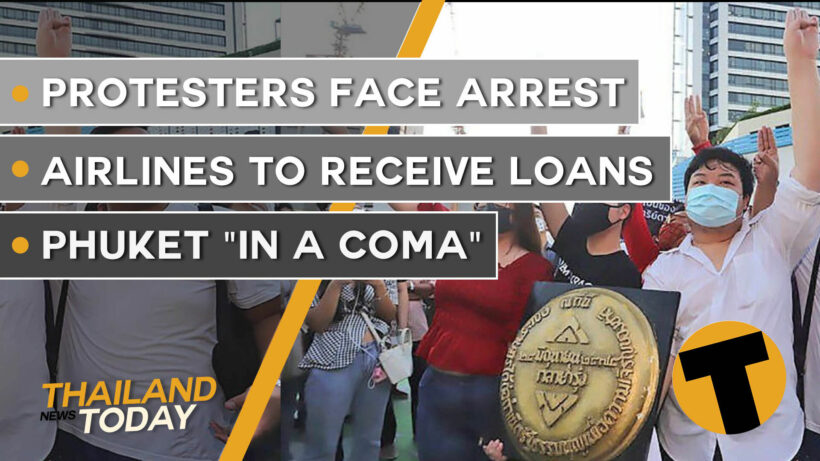 Thailand News Today with Tim Newton. Daily news from around Thailand.
Struggling airlines to get reprieve through small loans, extension to fuel tax cut
Airlines in Thailand are being offered a financial lifeline, as the Government Savings Bank announces soft loans for carriers left struggling as a result of the current Covid-19 'disruption'.
The GSB is offering the loans over a 60 month period, with an annual interest rate of 2%. The bank's chairman says the proposal will be put to Cabinet for approval.
Airlines have been left financially devastated by the fallout from the ongoing Covid-19 pandemic, with countries closing their borders, passenger numbers plummeting, and carriers forced to slash the number of flights on offer. The services available, including the food services, were also curtailed early on as a preventative measure but that restriction has since been lifted.
In a further effort to ease the financial crisis faced by Thai airlines, the Excise Department says it will extend the fuel tax cut for low-cost carriers by another 6 months from the end of this month.
Protest leaders face charges for violating Thailand's lèse majesté law and for installing the plaque
Leaders of the weekend's pro-democracy protest in Bangkok are facing charges for violating Thailand's lèse majesté laws and for installing a symbolic plaque at a "registered historical site". Police filed complaints to between 10 to 16 protesters.
It's unclear how many protesters will be charged, but a Royal Thai Police spokesperson says charges will be pressed against those who "pulled the strings." Under Thailand's lèse majesté law, it is illegal to insult or defame the Thai Monarch or royal family. Police say they will take the strongest legal actions possible against those who undermined the Monarchy, although earlier this year the Thai PM said that His Majesty had requested that such charges not be brought against Thai citizens.
Charges are also being brought against the protesters who installed a commemorative plaque in the forecourt of Sanam Luang, next to the Grand Palace. The Fine Arts Department and the Bangkok Metropolitan Administration have filed complaints with police over the installation of the plaque, saying the protesters broke the law by causing damage to an archaeological site.
Phuket's governor calls for help in restoring island's economy
The governor of Phuket has likened the southern province to a "patient in a coma", as he pleads for help to restore its devastated economy. The governor highlighted the economic crisis caused by the ongoing ban on international tourists. The island's international airport closed in April, cutting off the supply of international tourists, and cutting off the flow of international money coming into the island's tourist economy.
The latest figures show that Phuket has lost over 400 billion baht since the start of the Covid-19 pandemic. The island's economy is, either directly or indirectly, 90% reliant on a steady flow of international tourists, and has seen a massive tourist infrastructure boom over the past 20 years.
Governor Narong predicts the province will face similar hardship next year, and is calling on the government to organise conferences and other events that could attract more visitors to the province.
Sri Panwa Phuket getting social media flak after owner criticises pro-democracy protest leader
Meanwhile, the owner of the Sri Panwa Phuket resort is facing a social media storm after condemning the current pro-democracy movement and one of its main organisers. Taking to Instagram, Vorasit Issara, owner of the five-star Sri Panwa Phuket Resort, singles out the female protest leader saying "she should be in prison".
"This bullshit has got to stop. She is not Thai. Who is she working for?
Sharing a photo of Panusaya, he adds, "arrest this child." Vorasit incorrectly asserted that Panusaya wasn't Thai. In fact she was born in 1998 in Nonthaburi and IS a Thai citizen.
His post has since gone viral, prompting outrage from those who support the anti-government movement. A hashtag calling for a boycott of his Sri Panwa Phuket resort has taken off on Twitter, at a time when almost all hotels are battling for survival, especially on Phuket.
Myanmar's Covid-19 spike causes mass lockdowns as Thai authorities scramble to seal the border
Myanmar is currently suffering a wave of Covid-19, causing concern in Thailand as its western border authorities bump up security measures and patrols.
Burmese authorities have been introducing increasingly draconian restrictions to control the sudden spread of the virus over the past 4 weeks. Whilst the case load is still relatively small, the concerns are focussing on the porous western borders of Myanmar onto adjacent Bangladesh and India, as well as the spike in cases in the largest city Yangon.
Yangon is now under a very tight lockdown as the city is quickly turning into the country's hotspot of Covid-19.
There were 610 and 6 new deaths in the past 24 hours. Yesterday 671 new cases of Covid-10 were reported
Indonesia's economy shrinks for the first time in 22 years
Indonesia's economy will contract for the first time since the Asian financial crisis in 1997/1998.
Gross domestic product is forecast to decline over 1% this year according to the country's Finance Minister. He said…
Southeast Asia's largest economy is struggling to contain the coronavirus pandemic as the number of new cases each day continues to set records. The worsening outbreak prompted the renewal of social-distancing curbs in Jakarta, measures that had battered growth in the second quarter this year.
Keep in contact with The Thaiger by following our
Facebook page
.
Never miss out on future posts by
following The Thaiger
.