Thailand
Phuket Gazette Thailand News: Insurgent suspect testifies; 5 hurt as Army helicopter ditches; Bangkok dengue; Supercar duo called to surrender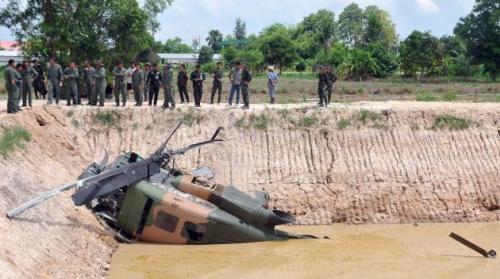 PHUKET MEDIA WATCH
– Thailand news compiled by Gazette editors for Phuket's international community
Suspect names leaders behind bombings, murders and van heist in South: official
The Nation / Phuket Gazette
PHUKET: A suspected insurgent now in custody, Sakariya Tohtayong, has implicated alleged masterminds of the movement behind unrest in the deep South, a senior official said yesterday.
Sakariya gave useful testimony that may allow the authorities to solve many security cases.
They include bombings at the CS Pattani Hotel and the Diana shopping complex, the robbery of a security van carrying cash for a bank, and an attack on a grocery shop in which six people, including a baby, were killed.
Over Bt5.8 million was stolen from the security van.
"His answers during the interrogation have allowed us to know who are the masterminds and who are members of the movement," Colonel Komkrit Rattanachaya said, in his capacity as head of the 47th Paramilitary Regimental Taskforce.
Sakariya was arrested in Muang district in Pattani early on Saturday in an operation that saw security officials shoot Ameen Dareng dead during a 15-minute gunfight. Both Sakariya and Ameen, 31, were wanted for alleged roles in many incidents.
Komkrit said Sakariya told interrogators Ameen had ordered attacks on the grocery shop and the robbery of the security van. "We are in the process of solving major cases in the deep South," he said.
Five injured as Army helicopter ditches in pond
The Nation / Phuket Gazette
PHUKET: A military helicopter made an emergency landing in Nakhon Nayok yesterday morning due to a broken sling in its rudder.
Five of the eight soldiers on board were injured in the incident.
After taking off from Lop Buri on a trip to Sa Kaeo, the helicopter became unresponsive over Nakhon Nayok and the pilot decided to ditch the aircraft in a pond.
Army Deputy Spokesman Winthai Suwaree said yesterday that the helicopter belonged to the Army's fleet of rotary-wing aircraft.
The Army Aviation Centre, the 2nd Infantry Division the Royal Guards, and the aviation safety committee have also examined the helicopter in a bid to determine the cause of the broken sling.
The five inured in the accident – Master Sergeant Sornravit Intor, Captain Tumrongkeat Chattoranong, Sergeant Tawatchai Siriwong, Major Tosapon Nutsaryu and Captain Kachen Sai-ting – are being treated at Royal Chulachomklao Military Academy Hospital.
More than 4,300 dengue cases in Bangkok in past six months
The Nation / Phuket Gazette
PHUKET: Dengue fever has hit 4,374 Bangkok residents and claimed one life in the capital during the past six months.
The Bangkok Metropolitan Administration has implemented a variety of measures in a bid to control the disease.
"We will spray chemicals to kill mosquitoes, the carrier of the disease. The next round of spraying will run from [Thursday] until June 30," Bangkok Governor MR Sukhumbhand Paribatra said yesterday.
He was speaking at the Mahanak Mosque in the capital's Pom Prab district. Of all the communities in the district, the Mahanak community has the second highest incidence of dengue.
According to Sukhumbhand, monthly surveys are now conducted to identify mosquito-breeding grounds, which will be eliminated.
"We will also pay special attention to risky places like schools, religious sites and medical facilities. Such places need strict measures to ensure the eradication of mosquito breeding grounds," he added.
Thai diplomat accused of assault acted in self-defence: Foreign Ministry
The Nation / Phuket Gazette
PHUKET: A female Thai diplomat who allegedly assaulted an Egyptian woman at a Cairo hotel had acted in self-defence, Thai Foreign Ministry deputy spokesman Jakkrit Srivali said on Monday.
He quoted Kakanang Amaranand, first secretary of the Thai Embassy in Egypt, as dismissing news reports in Egyptian media that she attacked and injured Rana Ashraf.
Ashraf's husband was quoted as saying that Kakanang had "pushed [Ashraf] on the couch, kicked her more than five times in the face and head with her heels, pulled her hair out, bit her until she bled, and through all of this my wife was not grabbing or attacking her.
"Whenever we tried to pull her off, she would bite or pull harder. It was a completely one-sided fight."
He also alleged that Kakanang was drunk at the time.
Jakkrit reported that Thai Ambassador to Egypt Chalit Manittayakul had defended Kakanang's character, saying he had never seen her drunk to the point of losing self-control. The embassy has said it will investigate the incident.
Meanwhile, it still remains unclear as to whether Ashraf has filed a complaint with police.
Duo linked to luxury-car scam urged to surrender
The Nation / Phuket Gazette
PHUKET: The Department of Special Investigation called yesterday for two businessmen allegedly involved in the transport of six luxury cars that caught fire and revealed a tax avoidance scheme to turn themselves in before warrants are taken out for their arrest.
Director-general Tarit Pengdith said the identity of the two men was known among law-enforcement officials and they still had time to surrender to the DSI.
He said there was proof verifying transactions overseas involving tens of millions of baht by the pair, and that the six vehicles with suspect registration – four of which were gutted by fire – may have been smuggled into Thailand from Malaysia.
The two men were known to be key figures in the importing of luxury cars, he said, adding that the DSI had obtained security camera footage showing links between the pair and a suspect called Nathee Rewthong, who is on the run.
Nathee has been accused of |hiring a truck company to transport the six vehicles, which were on a |trailer that mysteriously caught fire last month while being driven through Nakhon Ratchasima.
An ad-hoc centre opened by the DSI to verify ownership and registration documents of 548 luxury cars, which had market prices of up to Bt5 million, began operating yesterday.
People owning or possessing the vehicles are required to authenticate all documents.
Those with vehicles installed with LPG or CNG fuel systems need to have the cars inspected next Monday.
Meanwhile, a deputy chief of the Customs Department, Rakhop Srisuppha-at, denied that customs officials had helped make illegally imported luxury cars appear legitimate so they could benefit from being auctioned legally at higher prices. "I admit that the 'car-laundering' scheme does exist but it is conducted at a lower level," he said, without explaining.
Rakhop said a Rolls Royce owned by Deputy Prime Minister Chalerm Yoobamrung was legally imported, after former senator Ruangkrai Leekitwattana publicly called for an inspection to determine whether it was smuggled, or underwent the tax avoidance process.
— Phuket Gazette Editors