Phuket Gazette Thailand News: Experts offer recipe for reconciliation; Blair meets Democrats; Southern protests unabated; Chiang Mai train derails again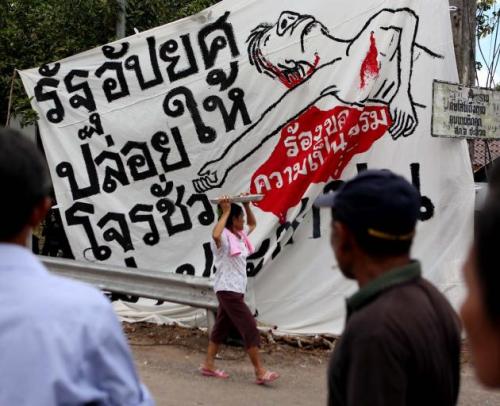 PHUKET MEDIA WATCH
– Thailand news compiled by Gazette editors for Phuket's international community
Experts rely on trust to deliver reconciliation
The Nation / Phuket Gazette
PHUKET: Democracy, elections, trust and civil society are key elements for reconciliation, panelists said at a forum yesterday to find solutions for Thailand's major political divide.
Jens Orback, Sweden's former minister of democracy, said nations have diversities and difference, so groups in all countries need to build trust. One important element is civil society groups, as they play a key role in democracy. Civil groups must be independent from state control and intervention, he said.
Civil society structures are fundamental to democracy. Unless civil society is strong, democracy cannot be sustained. But, he said, this fundamental for democracy already existed in Thailand.
Stephen Stedman, deputy director of Stanford University's Center on Democracy, Development and Rule of Law, said elections were meant to elect people to positions of power. So they must be honest, not only during the voting time but every day. If elections were honest and people in power acted with accountability, there would be reconciliation, he said.
Polls must be clean, transparent, and open to scrutiny by independent bodies and the winner of an election would earn the right to make decisions and policy, he said.
Kent Harstedt, a member of Sweden's parliament, said while foreign speakers joined the forum yesterday to share experiences, decisions about reconciliation must be made by Thai people.
Michael Vatikiotis, asian regional director at the Centre for Humanitarian Dialogue, said there were conflicts in democratic processes in many countries in Southeast Asia, such as Indonesia, Myanmar and Cambodia. Talk was one way to end conflict and bring reconciliation. Indonesia and the Philippines had experience in using dialogue and negotiation to end conflict, he said. However, there were no perfect solutions to end conflict, he noted. Peace and reconciliation required understanding and trust, as well as transparent and responsible government, he said.
Justice Ministry permanent secretary Kittipong Kittayarak, a former member of the Truth for Reconciliation Commission of Thailand (TRCT), said the commission had carried out its duty with neutrality and advised the government to refrain from creating conflicts.
"We must first know what the roots of our conflicts are. We need to press charges in some cases while we have to forgive and forget in other cases. The TRCT has suggested that a national stage to reach national reconciliation must be continued,' he said.
Thongthong Chandransu, permanent secretary of the PM's Office, said the government had decided to hold 108 events for the red and yellow shirts to discuss solutions to the country's division.
"We have seen them talk sensibly to each other in a good atmosphere, which might be difficult to happen otherwise,' he said.
Prime Minister Yingluck Shinawatra indicated support for such an event, saying that there would be another forum to follow, without elaborating when.
Blair discusses reform with top Democrats
The Nation / Phuket Gazette
PHUKET: Former British prime minister Tony Blair yesterday discussed political reform with the opposition Democrat Party, which has boycotted the forum on that issue.
"We explained to him again that the government is not really sincere about political reform. They also refuse to review the consideration of an amnesty bill as the bill would create more division and negative impact on the political system," deputy Democrat Party leader Korn Chatikavanij posted on his Facebook page.
The meeting with Blair, party leader Abhisit Vejjajiva and Korn was requested by Blair, as he knew that the Democrats did not join the political reform process, the former finance minister said.
Korn later told The Nation in a telephone interview that this political forum should not have been hosted by the government, adding that non-partisan organisations should have been allowed to take charge.
"We told Blair that 'legal principles' are important in a democratic society. He agreed and understood our stance," he said.
Blair was invited by the government to be the keynote speaker at the forum on "Uniting for the Future: Learning from Each Other's Experiences" forum held by the Foreign Ministry yesterday.
After the morning session ended, the former UK premier lunched with Abhisit and Korn at the residence of the British ambassador.
Shooting of protest guard stemmed from previous dispute: police
The Nation / Phuket Gazette
PHUKET: Police will issue an arrest warrant soon for a Nakhon Si Thammarat man for the fatal shooting on Sunday of a guard at a rubber growers' protest. The shooter had a grudge from a previous conflict with the deceased man, the national police chief alleged yesterday.
Gen Adul Saengsingkaew said the other seriously injured guard was an innocent bystander.
Meanwhile, the protest to be held in neighboring Surat Thani today (Sept 3) by rubber growers in the South could draw at least 10,000 people. So, police yesterday prepared about 1,000 officers from Surat Thani, Phuket and Phang Nga to handle the crowd.
Prime Minister Yingluck Shinawatra said yesterday, before flying to China to attend the 10th China-Asean Expo in Nanning, that the Internal Security Act would not be implemented for the rally in Surat Thani. Related agencies would cooperate to control the demonstration and talk to protesters, she said.
In regard to the shooting at the protest at Ban Toon railway crossing, police spokesman Maj-General Piya Uthayo said police interviewed four hospital staff and six youngsters and guards who witnessed the "close range" shooting. He said the protesters had only let five unarmed officers gather evidence so far.
Piya said two protest leaders tried to stir up the protesters and escalate the protest, and that they had appeared at the anti-Thaksin regime protest at Lumpini Park in Bangkok. So, police would probe to see if there were links to that movement.
Earlier, Deputy PM Pol Gen Pracha Promnog said police found that witnesses said they saw the deceased in an argument prior to the shooting. Pracha said that, as a gunpowder test on the injured guard showed the shots were fired at close range, police presumed it was not done by officials, most of who were camped 10 kilometres away.
He said the shootings took place at a protest site that was tightly guarded, so outsiders or officials could not get in to shoot the guards.
Pracha urged the Rights and Liberties Protection Department chief Police Colonel Narat Sawettanant to visit the province and provide some Bt100,000 in assistance money to the deceased man's family. Pracha said he would call a National Security Council meeting late yesterday to assess the situation at Nakhon Si Thammarat because people were adversely affected.
Meanwhile, the body of protest guard Sirichai Boonnuwong, 29, was sent for an autopsy at Surat Thani Hospital. The injured guard Sitthisak Chaingam, 25, remained in an intensive care ward with hourly surveillance at Maharat Hospital in Nakhon Si Thammarat.
In related news, Weerachai Sritharachiyanont, a village hea
— Phuket Gazette Editors
Keep in contact with The Thaiger by following our
Facebook page
.
Never miss out on future posts by
following The Thaiger
.
Russian man allegedly stabs Chiang Mai park officer, tries to break into tourist bungalow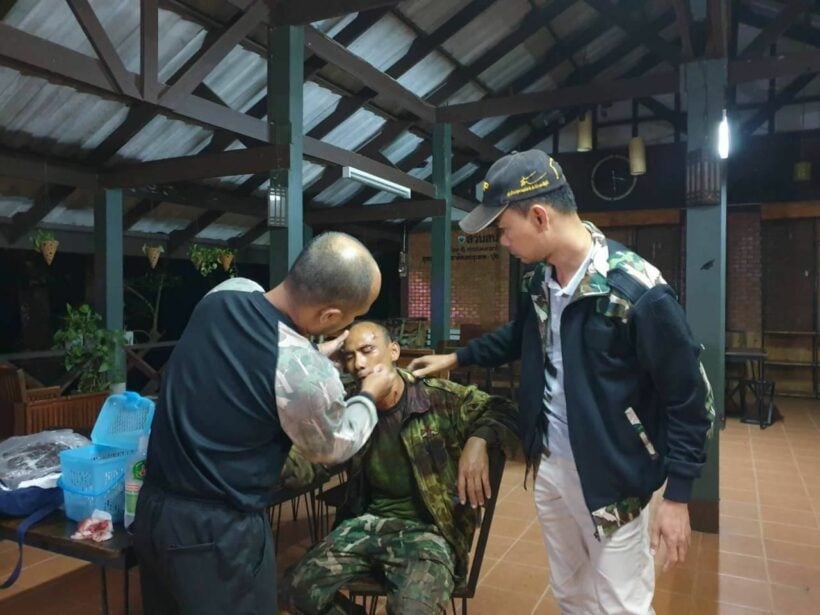 A Russian man has been arrested after he allegedly tried to break into tourist bungalows and stealing property at a Chiang Mai national park and stabbed a park officer with a pair of scissors. The incident follows months of complaints from Thai tourists at the national park reporting missing property.
Thai media reports the 32 year old Russian man as 'Cemnh Semin' allegedly tried to rob a tourist bungalow at Doi Suthep-Pui National Park. Cemnh allegedly stabbed a night patrol park officer in the neck and head with a pair of scissors and ran off. Other park officers on duty were able to catch the man and call Chiang Mai Police. The wounded park officer was taken to a local hospital where he has been reported as being in a stable condition.
For months, Thai tourists at the Doi Suthep-Pui National Park say they've woken up in the morning with some of their belongings missing. Park officers stepped up their night patrol after the complaints. The officers say they were surprised at finding out the alleged robber was a Russian man.
The man will face a range of charges following further investigation.
SOURCES: Chiang Rai Times | Thai Residents
Catch up with the latest daily "Thailand News Today" here on The Thaiger.
Keep in contact with The Thaiger by following our
Facebook page
.
Never miss out on future posts by
following The Thaiger
.
Thai Chamber of Commerce urges visa amnesty to be extended after today's deadline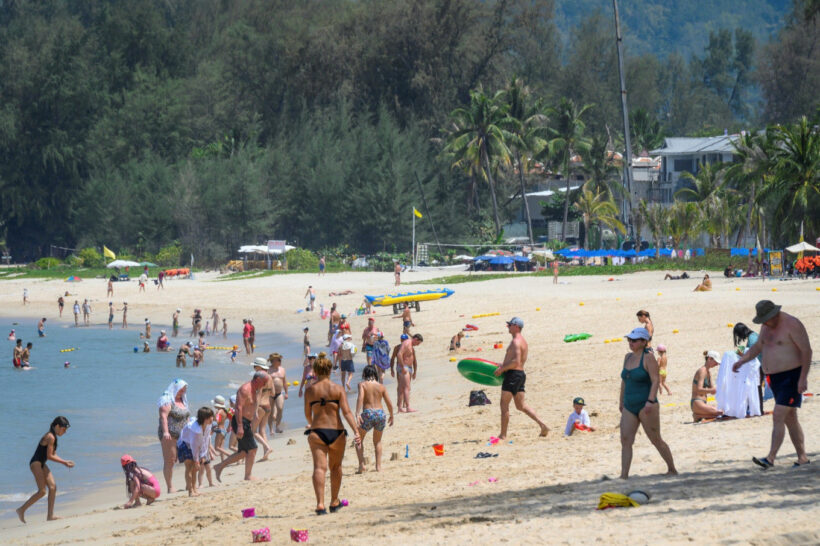 The Thai Chamber of Commerce is urging the government to extend the visa amnesty for the country's 400,000 tourists after today's deadline but has so far been turned down. The move comes as such provinces like Chiang Mai's immigration office sends messages giving tourists until Monday to sort out their visas (which is under the law as Saturday, the final day of the visa amnesty, is usually closed).
"For the foreigners that visas will expire on September 26, 2020, if come to continue the visa on Monday, September 28, 2020, no need to pay for overstay. If you haven't been able to sort through the queues and online bookings for an appointment, you also have Monday (at any immigration office) to get things sorted. Many of the country's immigration offices are open today. Good luck."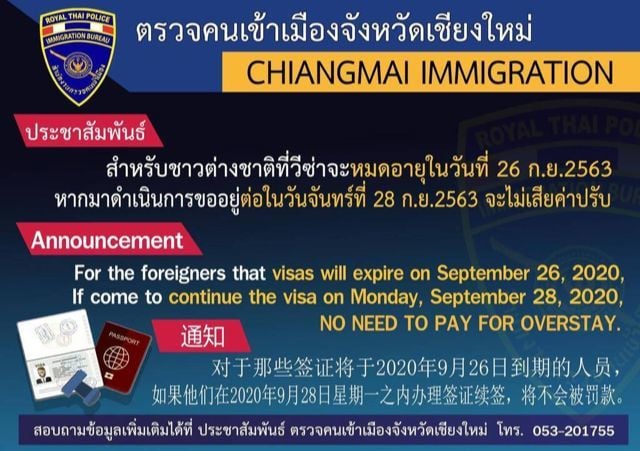 "We were told that this agenda was in the process, but there's been no progress so far."
Kalin says the deadline will bring even more chaos to those who await flights out of the country as they are not yet fully allowed. Furthermore, such provinces as Chiang Mai attribute stranded tourists as helping generate revenue at a time when the country desperately needs it. As these tourists need long-term accomodations, they undoubtedly bring revenue to the domestic tourism sector at a time when hotels and other types of accommodations are struggling.
"Instead of blacklisting those foreigners, the government should accommodate them with a more flexible period, particularly when the country cannot reopen for inbound tourists. The uncompromising stance towards visa extension scares tourists away despite the fact that they help drive the local economy in these tough times."
This week has been the busiest on record for stressed out Immigration officials who have been trying to cope with the last minute influx of tourists and expats whose visas had expired and were trying to extend, or apply for, visas to stay in the country.
Anantorn Hochindarat, president of the Tourism Association of Chiang Mai, says some businesses have received recurring revenue from international tourists which can help a lot when facing difficult times.
Although the profits from such tourists are much lower now, Anantorn says it can help businesses stay afloat. Despite such calls for an extension of visa amnesty, the Immigration Bureau has yet to announce any leeway to be given after today's deadline.
SOURCE: Bangkok Post
Keep in contact with The Thaiger by following our
Facebook page
.
Never miss out on future posts by
following The Thaiger
.
PM to tackle Northern Thailand's seasonal haze… again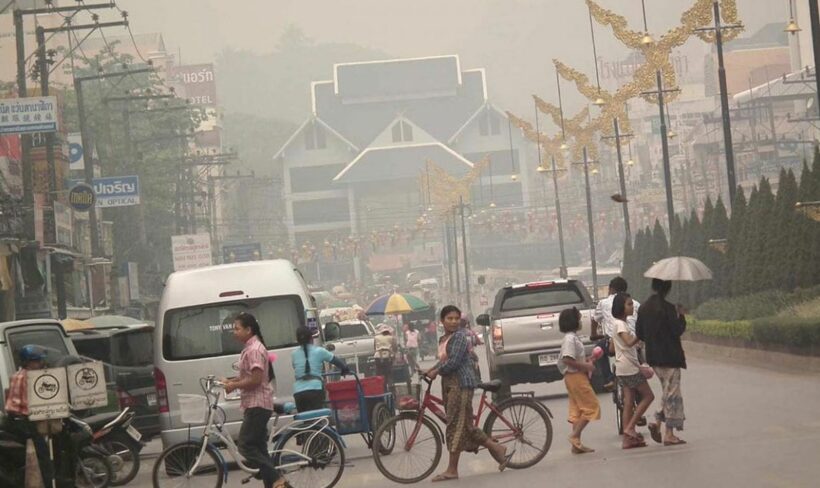 The Thai prime minister says he's working on a plan to tackle Northern Thailand's seasonal haze problem by cutting back manmade bushfires known to largely contribute to the air pollution. The issue has been broadly covered in Thai and foreign media for years, and been followed up with ministerial visits, promises, and little else.
PM Prayut Chan-o-cha spoke with governors of 17 northern provinces affected by seasonal haze, saying that he plans to supply villagers and local organisations with equipment, but reports did not go into much detail about what tools locals would get. He says authorities and state agencies need to step in to help combat the haze problem, suggesting that provincial governors head the local fight against wildfires.
"It's important to eradicate the root cause of wildfires that result from villagers' way of life… Even more farming space should be provided to farmers who need it to protect natural resources from being destroyed."
Prayut added that it's important for state agencies to collaborate on the firefighting effort and said members of the public can help raise awareness about wildfires.
The annual haze/smoke/air pollution problem is not just a Thai issue with the neighbouring countries, particularly Myanmar, causing their fair share of the illegal plantation fires, as shown in sharp detail in the satellite images.
Read The Thaiger's take on the annual 'smoke' problem HERE.
SOURCE: Chiang Rai Times
Catch up with the latest daily "Thailand News Today" here on The Thaiger.
Keep in contact with The Thaiger by following our
Facebook page
.
Never miss out on future posts by
following The Thaiger
.