Phuket Gazette Thailand News: DNA tests proposed for migrant workers; Rubber farmers fight on; Mahouts fear losing elephants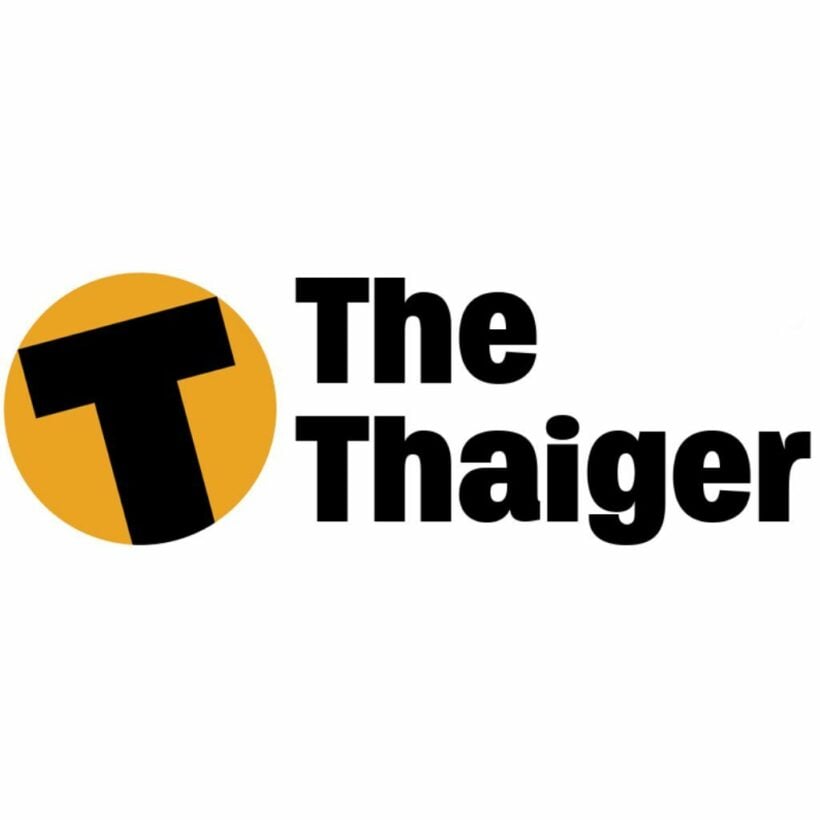 PHUKET MEDIA WATCH
– Thailand news compiled by Gazette editors for Phuket's international community
Proposal to DNA-test migrant workers panned
The Nation/Phuket Gazette
PHUKET: Prompted by concerns over the ease with which foreigners will be able to travel in and out of Thailand once the Asean Economic Community (AEC) commences in 2015, the Institute for Forensic Medicine (IFM) is calling on the government to collect the DNA of all migrant workers entering the country, to be stored in a national database for future identification.
The proposal has been met with criticism from all sides, ranging from employers, who cite the high cost, to human rights advocates, who say the idea is a blatant violation of basic human rights and would generate xenophobia.
IFM commander Pol Maj Gen Pornchai Suteerakune cited a scenario he dubbed "foreign murderers lurking in the country" as the reason for collecting DNA samples. "We have to be wary of the increasing number of foreigners travelling to Thailand. Without a well thought-out plan in place, problems will arise.
"Migrant workers will be able to commit crimes in Thailand, then escape the Thai justice system by fleeing to their own countries where Thai law is not applicable," he explained.
The IFM's proposal suggests that employers – initially those running factories – be required to pay up to 5,000 baht for each DNA sample collected from a migrant worker, and that the cost be deducted from the worker's salary in small monthly increments.
"We need to work on a solution as a defensive measure in preparation [for the AEC]," Maj Gen Pornchai added.
Another plan in the pipeline is to set up a provincial IFM office in Southern Thailand's Provincial Police Region 9, where DNA samples could be taken from crime scenes to assist counterinsurgency operations. Under the plan, the IFM would eventually establish regional offices in all 10 provincial police regions, enabling the IFM to easily assist police investigations across the country.
Department of Employment director-general Pravit Khiengpol said "no country in the world does such a thing [to migrant workers]."
He added that it would lead to a backlash from international human rights advocates, as migrant workers, who already have to pay for their medical examinations and health insurance to ensure they can secure employment, would be seen as being doubly exploited by Thai authorities.
The DNA proposal also goes against the policy of the department, which aims to further reduce the costs shouldered by migrant workers, while encouraging employers to register illegal workers and legitimise their employment.
"The higher cost [of DNA collection] would drive migrant workers underground and force many of them to continue working illegally. The department already collects biodata of these workers – their fingerprints – in addition to their photos and other details. The police can always request access to this additional information from us," Pravit added.
Human Rights Commissioner Dr Niran Pitakwatchara said taking non-consensual DNA samples was a violation of one's basic human rights, and doing so was regarded as discriminatory and portrayed migrant workers who have not committed crimes in a negative light.
"Their human rights should be respected even further [by Thai authorities] when the AEC 2015 takes affect. The protocol should not focus only on the economic gains generated by migrant workers, while at the same time treating them as inferior," he added.
Wiriya Sirichai-ekkawat, head of the Thai Overseas Fisheries Association, said the idea had some merit but was too costly and impractical, because collecting someone's DNA could not be forced on anyone against their will. He said mandatory DNA collection would encourage fishing trawler skippers or employers to hire workers secretly at much lower fees, while organisations like the International Labour Organisation (ILO) would certainly oppose it, he said.
The head of a network of advocacy groups for migrant workers said identity records and registration details of migrant workers could be retrieved easily through the Department of Employment and the immigration police database.
The majority of crimes committed by migrant workers were related to illegal entry and overstaying their residency permits.
Rubber farmers vow to fight on
The Nation/Phuket Gazette
PHUKET: Rubber farmers from Prachuap Khiri Khan set up roadblocks on a key section of Phetkasem Road yesterday in Bang Saphan district and vowed to continue their protest against the government, after it failed to heed their calls for subsidies in order to hike rubber prices.
Heavy congestion caused by the roadblock was eventually eased after the farmers reached an agreement with police and allowed several lanes to be re-opened.
It is a second attempt made by around 400 farmers to make their demands heard, after the first roadblock last month was dismantled during violent clashes with police.
Motorists travelling south have been advised to take an alternative route along the coast to avoid long tailbacks on Phetkasem Road. The protest site is located at Si Nakhon intersection not far from Thammarat intersection, which saw scores of protestors and anti-riot police injured during the farmers' first protest in September. Several police vehicles were also set on fire during the protest.
Police said that yesterday they had arrested three men who were acting as security for the protesting farmers. Officers found a number of home-made bombs and weapons, including slingshots, in their possession.
A network of rubber and palm-oil farmers from the 16 southern provinces declared their support for the roadblock yesterday and threatened to escalate the protest if no one from the government met to discuss their demands. In response, Deputy Prime Minister Pracha Promnok arrived in the province at 4pm yesterday, however, the outcome of the talks is still unknown.
In addition to barricades, a number of trees were felled to block Phet Kasem Road – the main route to the south. Protestors then delivered a series of blistering attacks on the government, criticising it for not delivering a price guarantee that would benefit rubber tappers, and instead granting per-rai subsidies to wealthy plantation owners.
Speeches also attacked the Yingluck administration's amnesty bill, suggesting that the renewed protests could be politically motivated.
Meanwhile, provincial authorities have submitted a petition to the provincial court asking for an injunction to immediately order protesters to vacate the site. The court is expected to issue its ruling today. Authorities in neighbouring Chumphon province have also called an urgent meeting to discuss measures to halt possible rallies supporting the Prachuap Khiri Khan roadblock.
Mahouts fear losing their elephants
The Nation/Phuket Gazette
PHUKET: It would be hard for a 45-year-old mahout from Sur
— Phuket Gazette Editors
Keep in contact with The Thaiger by following our Facebook page.
Never miss out on future posts by following The Thaiger.
45 new cases today, 37 local‐Covid‐19‐Update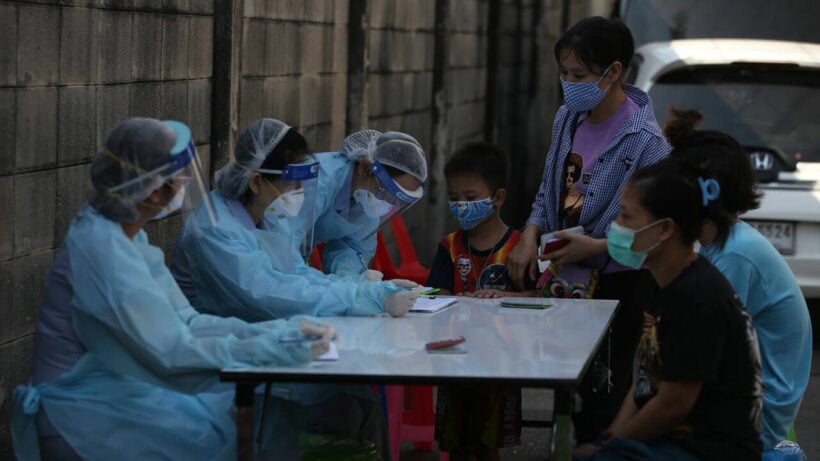 Thailand reports 45 new cases of Covid-19cases today, with 37 infections being locally-transmitted. 8 of those infections were imported, raising the total amount of infections since the pandemic began to 25,809.
The Department of Disease Control reports that 32 cases were confirmed at hospitals with 5 confirmed through active case finding in communities.
Samut Sakhon province, the 2nd wave epicentre, reported over half of the new cases at 19. 14 of those cases were confirmed at hospitals and 5 were detected in Myanmar communities. Bangkok has reported 3 new cases, Nakhon Nayok reported 5, Chai Nat 3, Nakhon Pathom 3, Saraburi 2, Prachuap Khiri Khan 1, and Samut Prakan 1.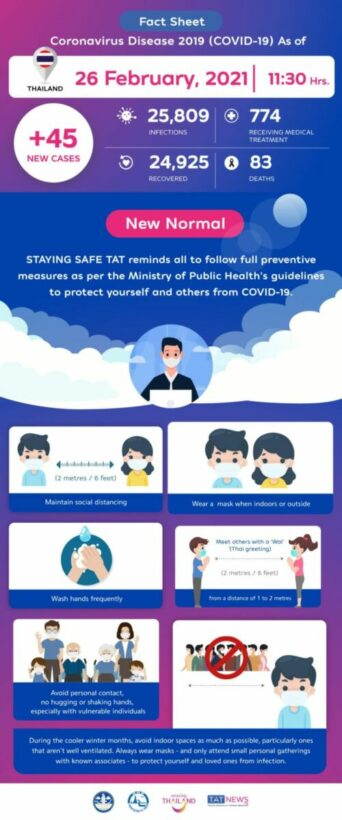 The 8 imported cases were those under quarantine arriving from Pakistan, Bangladesh, the UK, Germany, France, The Netherlands, and Kuwait. The case from the UK was that of a 6 year old Thai schoolgirl.
Globally, Covid-19 cases rose by 444,466 over the past day to 113.54 million. The worldwide death toll increased by 10,552 to 2.52 million. The United States still has the most cases at 29.5 million, with the most deaths at 520,785.
SOURCE: Bangkok Post
Keep in contact with The Thaiger by following our Facebook page.
Never miss out on future posts by following The Thaiger.
Surveys show Thailand still one of the top holiday choices post-pandemic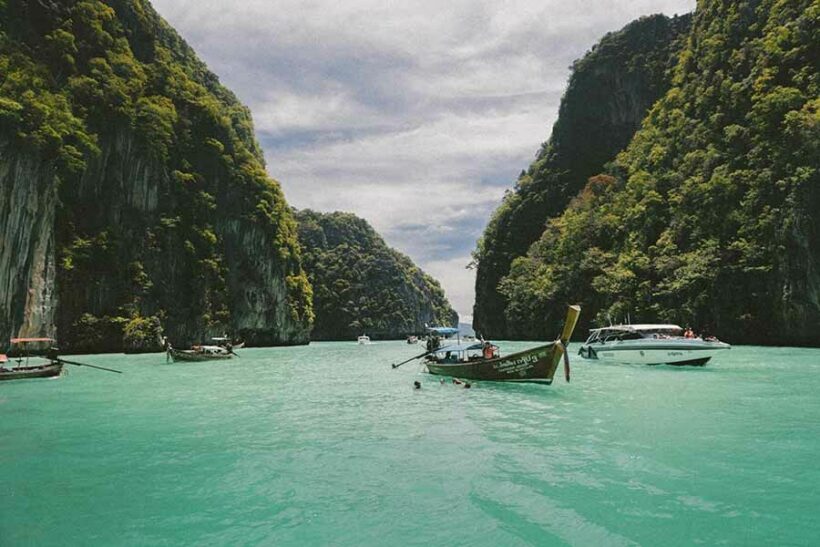 The Stockholm office of the Tourism Authority of Thailand has conducted a survey in which 62% of respondents say they want to spend winter in Thailand provided restrictions are lifted. The top destinations are Phuket, Krabi and Khao Lak, followed by Koh Samui, Koh Pha-ngan, Koh Tao, Bangkok, and Hua Hin.
68% say they would cancel bookings if the 14-day quarantine remains in place. 26% say they would still go ahead, and 13% said they'd be in favour of quarantine being cut to 10 days. 99% of participants say they would be worried about testing positive for Covid-19 after travel plans have been made.
Meanwhile, the TAT's London office has also been busy, carrying out a survey in conjunction with market research firm, YouGov. The idea behind the survey was to get an idea of the future of tourism once the pandemic is over.
4,127 people took part, with 75% of them saying they're prepared to be vaccinated if it's required for travel. 41% are against mandatory quarantine, although 52% would accept a 5-day quarantine. 62% of those planning holidays are over the age of 50 and interested in countries with low infection rates.
According to a Nation Thailand report, Siripakorn Cheawsamoot from the TAT says the findings of the survey indicate that up to 6 million people are interested in travelling to Thailand at some point this year.
Meanwhile, a number of online travel agency platforms in France have also carried out a survey. The poll, conducted by companies such as Go Voy, Opodo, and eDreams, showed that the number of hits to tourism-related websites rose by 15% once the success of Covid-19 vaccines was announced. The top destinations searched for were Dubai at 49%, Marrakesh at 27%, and Bangkok at 25%.
Another travel survey in the Americas found that most holidaymakers have chosen to postpone their trips by 7 months to a year, rather than cancelling completely. Siripakorn says that booking flexibility is a priority for Americans.
"Flexibility to reschedule is the top priority for American tourists, followed by safety. These tourists are looking for safety, no quarantine, flexibility, and no deposit."
Meanwhile, a report issued by Skift Research shows that travel will not recover until 2023 and will not return to pre-pandemic levels until 2025.
SOURCE: Nation Thailand
Keep in contact with The Thaiger by following our Facebook page.
Never miss out on future posts by following The Thaiger.
Long Buddhist holiday to see over 40 percent reduction in domestic tourism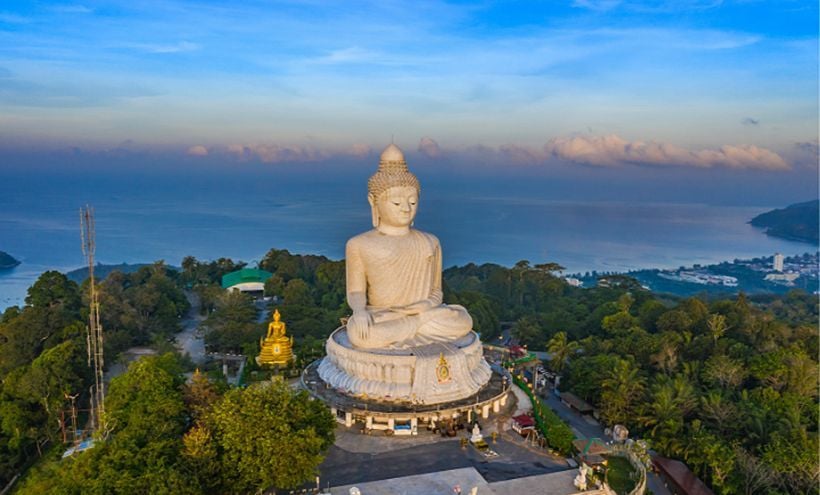 The long Buddhist festival holiday, which starts today, is set to see over a 40% reduction in domestic tourism. The Tourism and Transport Authority of Thailand has made the estimation which tallies around 1.09 million domestic trips, a number that is down 44% from last year's Makha Bucha Day.
The 2nd wave of the Covid pandemicthis year has made potential tourists cautious about spending money, with the holiday forecasted to yield 3.9 billion baht. That number is 38% lower than the same period last year. Hotel occupancy rates are also expected to only be 50% of last year's tally on average.
Other venues that are normally open for tourists on this holiday, such as the ancient Buddha's footprint at Khao Khitchakut in Chanthaburi, have been closed out of fears for Covid spreading through mass gatherings. As one of the country's top 10 religious events, it is indicative of how the 2nd wave has taken a toll on the country's tourism. The event's closing is attributed to the forecasted 74% drop in trips to Thailand's northeastern region, otherwise known as Isaan. And, if there are less tourists, then there is less revenue. The cancellation is expected to decrease expenditures by 68% on average.
Meanwhile, the 2nd wave is also affecting airlines as Thai AirAsia has reported only 9.49 million passengers with an average load factor of 75% for 2020, posting a net loss of 4.76 billion baht with a total revenue of 16.3 billion baht.
Thai VietJet's marketing manager says before the 2nd wave hit late last year, the airline was on the upswing, operating 120 domestic flights per day. Recently, top economic leaders have warned that Thailand's tourism industry will fallout soon if it is not revived. The 60 plus year industry is in dire trouble with slow vaccine rollouts, country travel restrictions, and virus variants all being major factors in Thailand's slow reopening of tourism.
With the vaccine set to be issued to tourism hotspots first, PM Prayut has stated that the government is mulling whether to allow tourists to skip quarantine requirements if they can show that they have received the Covid vaccine.
SOURCE: The Phuket News
Keep in contact with The Thaiger by following our Facebook page.
Never miss out on future posts by following The Thaiger.