Phuket Gazette Thailand News: Amnesty Bill heats political conflict to a boil; Anti-ICJ protesters told to avoid border; Ancient hand cannons found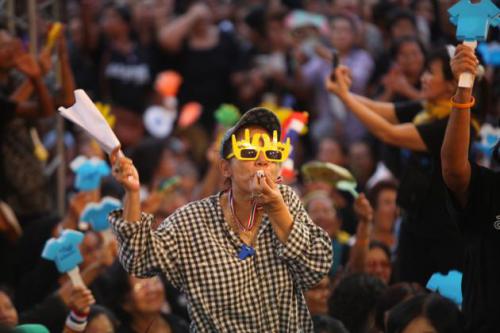 PHUKET MEDIA WATCH
– Thailand news compiled by Gazette editors for Phuket's international community
Amnesty push makes political conflict more likely
The Nation/Phuket Gazette
PHUKET: October has seen important political changes in the past – notably, a student-led uprising in 1973 and a massacre of protesters at Thammasat University in 1976.
This year, a new round of political conflict is simmering after the House committee vetting the amnesty bill revised the draft that passed the first reading in the House of Representatives.
The change would grant amnesty to all people involved in the political conflicts of the recent past, as well as those whose court cases stemmed from the coup of September 19, 2006 that brought down the government of Thaksin Shinawatra.
Critics view this move as benefiting former prime minister Thaksin. But MPs from the ruling Pheu Thai Party in the vetting committee insisted that Mr Thaksin would not get his seized assets back. In February 2010, the Supreme Court found that the ex-leader had abused his power and caused his family business to be worth an extra 46 billion baht when it was sold to a Singaporean company during his term in office.
The red shirts, who are the main supporters of Mr Thaksin and the ruling party, have split over the issue of the amnesty bill.
Some want blanket amnesty to be granted, but others oppose it. A number of red-shirt figures have threatened to withdraw their support from Pheu Thai, but it is unlikely they will join the ruling party's political enemies in a move to bring down the government.
Anti-ICJ protesters told to avoid border
The Nation/Phuket Gazette
PHUKET: Protesters have the right to rally after the World Court's November 11 ruling on Thailand's dispute with Cambodia over land adjacent to Preah Vihear Temple, but they should not do so in strategically sensitive areas near the border, the Army chief said yesterday.
"The presence of protesters might block troop movements," General Prayuth Chan-ocha said.
Gen Prayuth was speaking after visiting an Army Ranger task force in Si Sa Ket to ensure military preparedness ahead of the ruling. He said he was concerned that protesters would seek to renounce the decision by the International Court of Justice, even though the situation was not critical enough to warrant such move.
He said his visit to the border areas was meant to boost morale, not to signal battle readiness.
"I have instructed my subordinates to stay alert in order to rein in [any potentially violent situations], because fighting should not happen unnecessarily," he said.
There have been no unusual troop movements on the Cambodian side, the general said.
Troops stationed in border areas are under strict instructions to avoid any misunderstanding between themselves and forces across the border, and to foster good neighbourly ties, he said.
Ancient cannons found near Front Palace
The Nation/Phuket Gazette
PHUKET: Eight hand cannons along with a large amount of ammunition were recently unearthed during renovations at Bangkok's Front Palace located in the National Museum compound near Sanam Luang, Fine Arts Department chief Anek Sihamat said yesterday.
Archaeologists discovered that the site used to be an army barrack during King Pinklao's reign (1808 to 1866) and the department has registered the items for conservation and display at the National Museum in Phra Nakhon district.
Mr Anek said the discovery was made on Tuesday, when the Office of Archaeology officials were excavating a field near the National Museum's Putthai Sawan Hall as per the Front Palace conservation and development project.
He said the firearms and ammunition were found outside the building's perimeter. The hand cannons, each about 75 to 100 centimetres long with a barrel 10 to15cm in diameter possibly fired metal balls. Such handguns were widely used in Europe and Asia between the 14th and the 15th century, and Thailand bought these guns from the West during the Ayutthaya to Rattanakosin eras.
Mr Anek said these hand cannons were possibly decommissioned or broken and were hence piled outdoors when the Army barrack was demolished during the reign of King Rama V.
— Phuket Gazette Editors
Keep in contact with The Thaiger by following our
Facebook page
.
Never miss out on future posts by
following The Thaiger
.
The World's 50 Best Foods: Thai massaman curry tops the list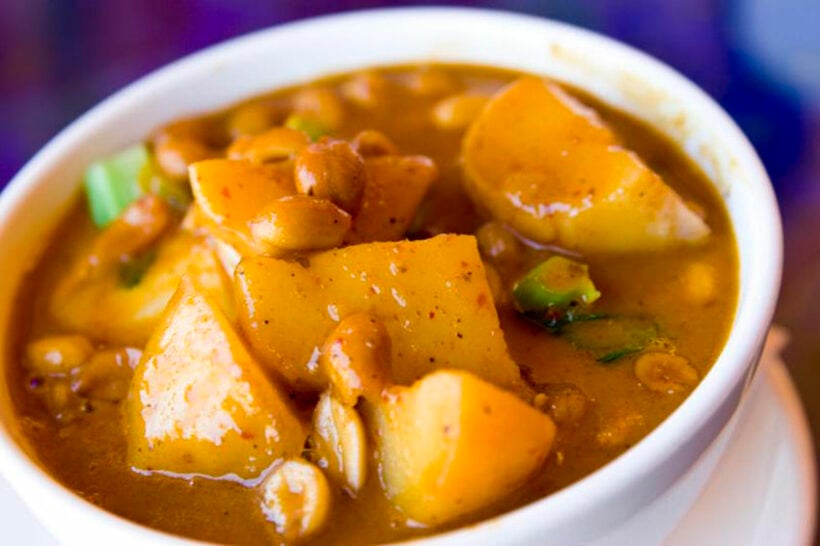 The humble massaman curry has topped a list of the World's 50 Best Foods, compiled by CNN Travel. Thailand's coconut milk and potato-based curry (add the meat, tofu or vegetables of your choice) comes in at number 1, with 2 other popular Thai dishes also featuring. The hot and spicy shrimp soup, Tom Yum Goong, comes in at number 8, with papaya salad, aka somtam, in 46th place (mai phet please!) Tell us your favourite Thai dish, and why, in the comments section (below).
CNN Travel says its staff conducted extensive research on global cuisine to find the 50 best dishes ever created. Nice work if you can get it…
Here's what they had to say about the 3 Thai dishes that made the grade:
Massaman curry, 1st place: Emphatically the king of curries, and perhaps the king of all foods. Spicy, coconutty, sweet and savoury. Even the packet sauce you buy from the supermarket can make the most delinquent of cooks look like a Michelin potential. Thankfully, someone invented rice, with which diners can mop up the last drizzles of curry sauce. "The Land of Smiles" isn't just a marketing catch-line. It's a result of being born in a land where the world's most delicious food is sold on nearly every street corner.
Tom Yum Kung, 8th place: This best food Thai masterpiece teems with shrimp, mushrooms, tomatoes, lemongrass, galangal and kaffir lime leaves. Usually loaded with coconut milk and cream, the hearty soup unifies a host of favourite Thai tastes: sour, salty, spicy and sweet. Best of all is the price: cheap.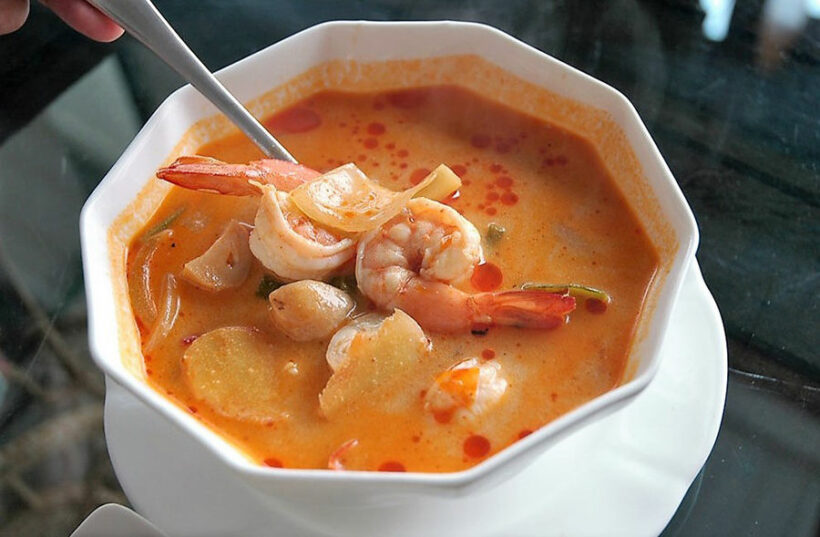 PHOTO: Richard Lee on Flickr
Som Tam/Papaya salad, 46th place: To prepare Thailand's most famous salad, pound garlic and chilies with a mortar and pestle. Toss in tamarind juice, fish sauce, peanuts, dried shrimp, tomatoes, lime juice, sugar cane paste, string beans and a handful of grated green papaya. Grab a side of sticky rice. Variations include those made with crab (som tam pu) and fermented fish sauce (som tam pla ra), but none matches the flavour and simple beauty of the original.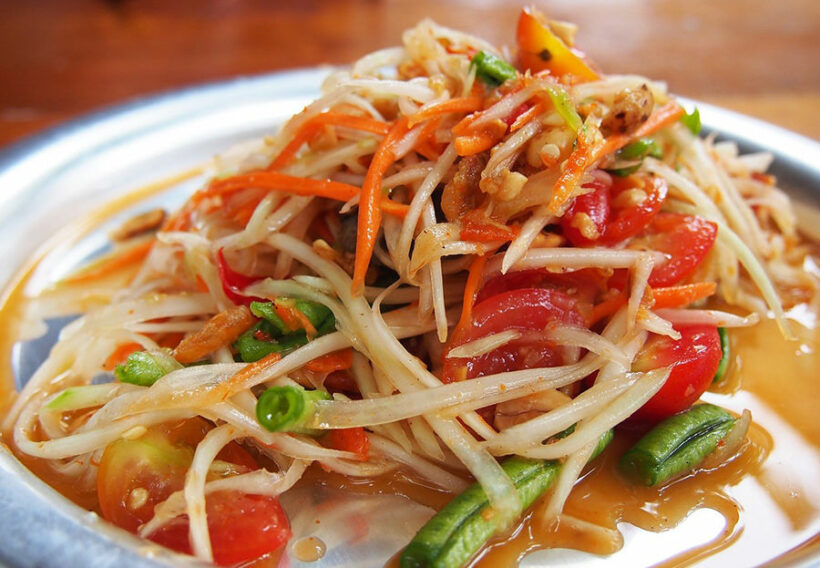 PHOTO: www.needpix.com
SOURCE: Thai Residents | CNN Travel
Keep in contact with The Thaiger by following our
Facebook page
.
Never miss out on future posts by
following The Thaiger
.
Activists agree to step back, while telling PM to resign by Sunday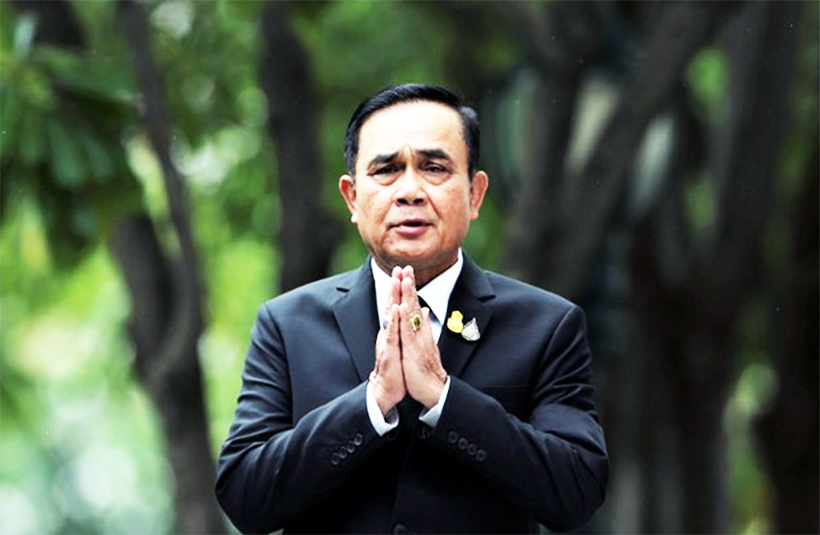 Following a televised address to the nation by the Thai PM, amid rising political tension, anti-government protesters have agreed to take a step back. However, they are still insisting the Thai leader must resign by Sunday and calling for all charges against arrested activists to be dropped. While speaking to the nation via a televised broadcast last night, Prayut Chan-o-cha said he would be first to step back and called on those protesting against his leadership to do the same.
"At this point, we all need to take a step back, to step back from the brink, away from the path that would plunge Thailand into disaster."
Yesterday afternoon, protesters again assembled at the Victory Monument in Bangkok and proceeded to march to Government House, but had their path temporarily blocked by police cordons behind barriers and barbed wire. The activists managed to break through the cordon and continued to Government House. However, at Chamaimayarachet Bridge, another police blockade had been created to protect nearby Government House, with water cannons on standby.
Buses were also used in the blockade, with a number of protesters climbing on top of one bus to read statements and repeat their call for the PM to go. Activists also handed a large-scale, mock resignation letter to Pakkapong Pongpetra, the Commissioner of the Metropolitan Police. The protesters have vowed to return if the PM has not resigned by Sunday.
SOURCE: Thai PBS World
Keep in contact with The Thaiger by following our
Facebook page
.
Never miss out on future posts by
following The Thaiger
.
Health Minister says quarantine could be reduced to 10 days, maybe eventually zero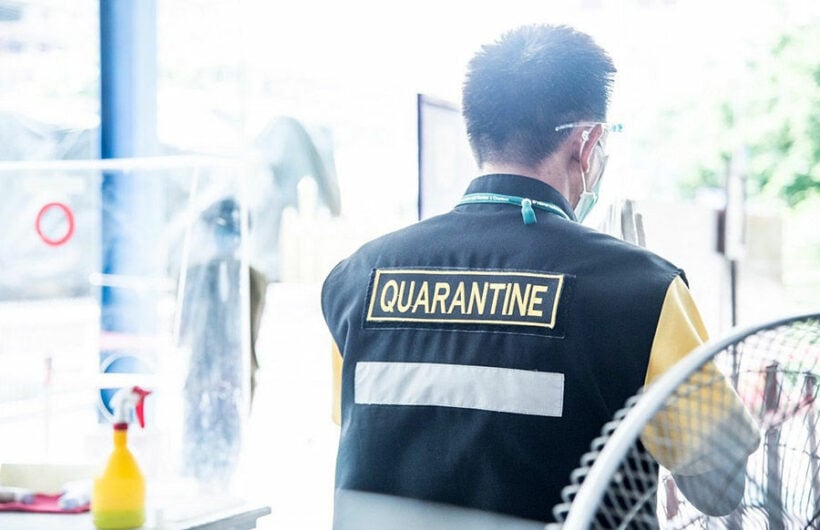 Health officials are ready to reduce the mandatory quarantine period for foreign tourists, provided other relevant bodies agree. The current quarantine period is set at 14 days, but the Public Health Minister, Anutin Charnvirakul, says this could be reduced to 10. He adds that if the reduction is successful, quarantine could be further reduced, eventually reaching a point where quarantine is no longer a requirement.
"The truth is, the Public Health Ministry is ready for the change, but other relevant agencies still have requested time to adjust. So, we have to wait and work together. The Department of Disease Control proposed reducing quarantine to 10 days to begin with. I have said that if we are confident, we do not have to be afraid since the goal is finding the safest period for quarantine. If we find a good method, it may be reduced to 5, 4, 3 days, or even none."
On Tuesday, Thailand welcomed the first group of foreign tourists to arrive in the Kingdom since borders were shut in late March. The Chinese visitors, who arrived from Shanghai, are all in 14-day quarantine, with all of them testing negative for Covid-19 so far. Once quarantine is over, they will be free to travel around, but their movements will be tracked via an app they had to download on arrival.
While a reduction in the quarantine period may go some way to encouraging more tourists to come, Anutin is not in favour of removing all entry restrictions. With travel restrictions lifted between many European countries, Covid-19 cases are once more on an upward trajectory, with officials concerned about what the approaching winter months will bring. Anutin points to the success so far of Thailand's quarantine programme, stressing the importance of keeping Covid-19 out, particularly in high-risk communities such as the border with Myanmar in Tak province.
SOURCE: Nation Thailand
Keep in contact with The Thaiger by following our
Facebook page
.
Never miss out on future posts by
following The Thaiger
.