Phuket Gazette Thailand News: Airports on bomb alert; AEC opportunity for organized crime; Blast kills one in Pattani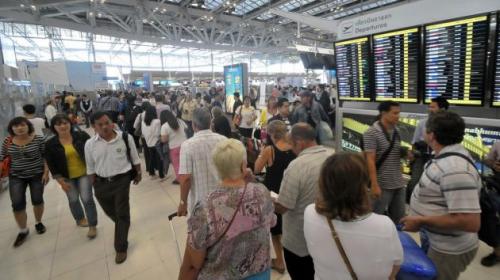 PHUKET MEDIA WATCH
– Thailand news compiled by Gazette editors for Phuket's international community
Airports on alert after US bombings
The Nation / Phuket Gazette
PHUKET: Security at Thailand's major airports will be stepped up following the Boston Marathon bombings, according to a senior executive of Airports of Thailand.
Pongsak Semsant, caretaker president of AOT, said yesterday the latest violent incident in the United States prompted heightened security measures at the airports run by the company, including Bangkok's Suvarnabhumi and the Don Mueang, Chiang Mai and Phuket facilities.
He said executives of those airports had been instructed to increase their security measures around the clock.
Transport Minister Chadchart Sittipunt said yesterday he has ordered agencies to step up security at airports, bus terminals and railway stations.
No Thai nationals were affected by the Boston bombings, Foreign Ministry spokesman Manasvi Srisodapol said yesterday.
The Thai Consulate General in New York reported that no Thai nationals were killed or injured in the explosions in Boston, he said. The mission would also check with US authorities and the Thai expatriate community to confirm this, said Manasvi, who is director-general of the ministry's Department of Information.
The spokesman said the ministry offered condolences to those affected and expressed hope that US authorities would be able to arrest those responsible soon.
A Thai graduate student in Boston, Polly Saipinthong, said such a violent attack was rare in Boston, which she described as a "very beautiful city". She said she was among the people who were on hand to offer moral support to their favourite marathon runners, but left shortly after the elite competitors passed the finish line, before the blasts occurred.
In a related development, the Thai stock market was expected to see a decline when it reopens today following the long Songkran holiday. Many regional stock exchanges suffered a decline in prices yesterday following the Boston bombings.
An analyst said the violent incident in the US would be among negative factors driving down the Stock Exchange of Thailand Index. Other factors included China's lower-than-expected economic growth.
AEC will spur crime as well as growth, UN says
The Nation / Phuket Gazette
PHUKET: Integration of the Asean region will bring positive changes, but will also provide opportunities for transnational organised crime to expand, said the UN Office on Drugs and Crime (UNODC).
Better links under the Asean Economic Community (AEC) will also increase the mobility of illicit goods, including drugs, illicit wildlife and timber, and counterfeit products. Throughout East Asia and the Pacific, illicit markets generate US$90 billion (about Bt2.7 trillion) annually, according to the UNODC report "Transnational Organised Crime in East Asia and the Pacific: A Threat Assessment".
Under the AEC, trade and customs procedures will be harmonised, standardised and simplified. It is inevitable that organised criminal groups will utilise the improved transportation connections and take advantage of the streamlined border controls to smuggle illicit goods throughout the region and beyond, the report said.
"It is therefore necessary to integrate national responses into international strategies. This can be done by promoting partnerships across borders and developing international networks that champion 'transnational organised justice.' This includes promoting regional collaborative efforts on border control, mutual legal assistance, extradition and similar efforts that require a vision that transcends national boundaries. This will help minimise the growth of 'safe havens' for transnational organised crime," it suggested.
The report estimates that the top money-makers for crime groups in East Asia and the Pacific are: illicit trade in counterfeit goods ($24.4 billion), illegal wood products ($17 billion), heroin ($16.3 billion), methamphetamines ($15 billion), fake meds ($5 billion) and illegal e-waste ($3.75 billion).
UNODC estimates that just over half a million migrants are smuggled into Thailand annually, with the vast majority coming from Myanmar.
Migrants from Myanmar pay the highest fees, while migrants from Laos and Cambodia pay considerably less. It appears that around $192 million is generated on an annual basis by smuggling migrants from these countries.
It also estimated that 12,000 Chinese irregular migrants enter the US every year, each paying around $50,000. This would generate up to $600 million a year for smugglers. If paying similar fees as Chinese migrants, some 1,000 migrants from Vietnam could generate $50 million to smugglers.
UNODC also highlighted a $17 billion annual trade of wood-based products and some $24.4 billion for counterfeit goods imported from East Asia to the US and EU in 2000.
While saying that environmental crimes are among the most serious and profitable forms of transnational organised crime in East Asia and the Pacific, the report said many organised criminal activities outlined in the report can have serious global health and economic implications.
"Up to 90 per cent of anti-malarial drugs tested in Southeast Asia are fraudulent. They do not contain what they say they do. Sub-standard drugs have two serious public health consequences.
"One: people get sicker or die. Two: drug-resistant strains can develop," said Jeremy Douglas, UNODC Regional Representative, Southeast Asia and the Pacific.
"These transnational criminal activities are a global concern now. Illicit profits from crimes in East Asia and the Pacific can destabilise societies around the globe," he added.
Transnational crime
Counterfeit goods: Bt708.76 billion
Illegal wood products: Bt493.8 billion
Heroin: Bt473.5 billion
Methamphetamine: Bt435.7 billion
Fake medicines: Bt145.2 billion
Illegal waste: Bt108.9 billion
Illegal wildlife trade: Bt72.63 billion
Human-trafficking to Europe, US: Bt45 billion
Human-trafficking to Thailand: Bt5.5 billion
Sex-trafficking to Thailand and Cambodia: Bt5.25 billion
Migrant smuggling to Australia and Canada: Bt2.8 billion
Labour trafficking to Thailand: Bt959 million
Source: UN Office on Drugs and Crime
One killed, three injured in Pattani blast
The Nation / Phuket Gazette
PHUKET: A motorcycle bomb attack aimed at a special task force unit patrolling in Pattani's Thung Yang Daeng district killed the unit leader and injured five other soldiers.
The 20-kilogram bomb hidden in a motorcycle near the Paku Bridge on the Ka Por-Thung Yang Daeng road went off at 12.10pm, hitting the 10-soldier team's pick-up truck that was returning to base from a community-related activity.
Team leader First Lieutenant Boonpeng Butyothee succumbed to his injuries.
Earlier, security officials inspected the sites of two separate shooting incidents in Ma-Yor and Yarang districts that took place on Monday night.
In Ma-Yor district's Tambon Luboh Yeerai, officials inspected a pickup truck modified for public transport that ran on the Yala-Sai Buri-Ton Sai route, which crashed into a tree after driver Marohpee Ma, 46, was shot dead.
Ma
— Phuket Gazette Editors
Want more from the Thaiger family?
📱 Download our app on Android or iOS for instant updates on your mobile
📧 Subscribe to our daily email newsletter
👍 Like/Follow us on Facebook
🔔 Subscribe to or Join our YouTube channel for daily video updates
British tourists come forward about being attacked on Koh Tao in 2013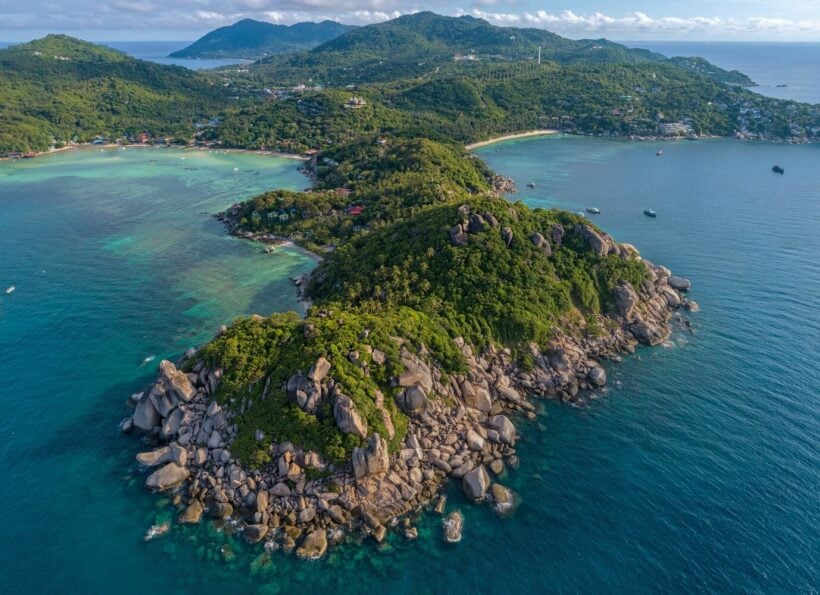 Many continue to contend that Zaw Lin and Wai Phyo, the 2 Burmese young men convicted for the 2014 murder of 2 tourists on Koh Tao's Sairee Beach, are innocent. Now 2 tourists who were attacked on the same beach, just a year before the murder, are now coming forward to help prove that the conviction could have been unreliable.
In September 2014, the bodies of British tourists 23 year old Hannah Witheridge and 24 year old David Miller were found on the beach. Police say Hannah had been raped and David had been hit several times on the head with a garden hoe.
Zaw and Wai were arrested soon after the killings. Some say the investigation was accelerated in an effort to gain back tourist confidence and keep visitors coming to the island. Numerous activists, criminologists, and others have spoken out against the conviction, saying the evidence was bungled.
Just a year before, British tourists Sam Venning and Carla Bartel survived an attack on the same beach. Sam, who was 22 at the time, was talking to Carla, who was 20, on the beach when 2 men wearing V for Vendetta masks attacked them, hitting Sam in the head with a rock.
Sam and Carla came forward to Thai officials after the killings to help with the investigation, but say no one got back to them. Sam says he had emailed the Thai Embassy in London, but no one contacted him. Carla says she contacted the UK Foreign Commonwealth Office who then passed her on to the UK National Crime Agency. She was told that the information was sent to Thai police, but officers did not follow up with her.
SOURCE: Mirror.UK
Want more from the Thaiger family?
📱 Download our app on Android or iOS for instant updates on your mobile
📧 Subscribe to our daily email newsletter
👍 Like/Follow us on Facebook
🔔 Subscribe to or Join our YouTube channel for daily video updates
Fishermen find space debris off the coast of Phuket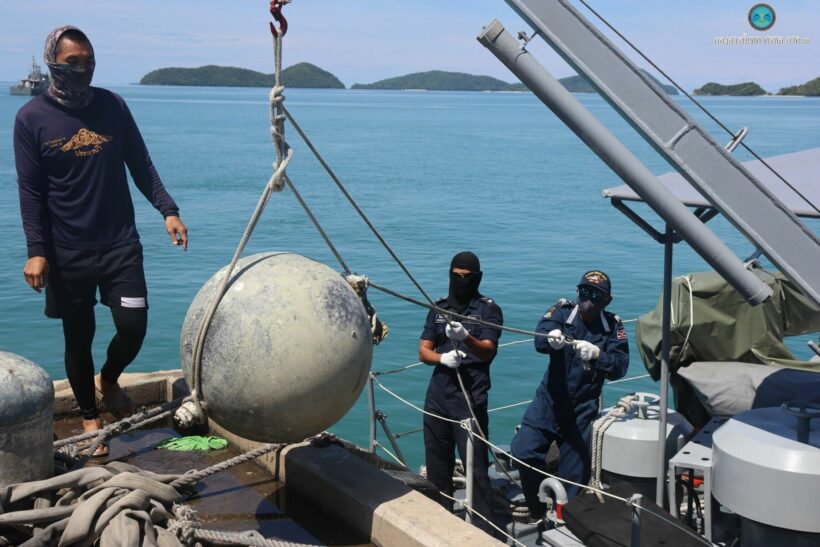 Local fishermen found space debris, possibly from a satellite or space shuttle, on the seabed just 6 metres below the surface by Koh Ael in Phuket. At first, no one knew exactly what it was.
Specialists from a Navy explosive ordnance disposal unit were first called to look at the round, hollow metal object which was about 45 centimetres in diameter. 3rd Naval Area commander Vice Admiral Choengchai Chomchoengpaet told reporters at a press conference that the team took photos of the object and found it appeared to be a rocket fuel tank, possibly used to launch a satellite or shuttle into space. He said it matched photos online.
Both the Geo-Informatics and Space Technology Development Agency, or GISTDA, and the National Astronomical Research Institute of Thailand, agree that the object was most likely a fuel tank for a rocket.
Since the fuel tanks usually contain harmful chemicals like ammonia or hydrogen, divers examined the space debris to make sure there were no chemical leaks before bringing the object to shore and taken to the navy headquarters. The space debris will be taken to the GISTDA to be studied.
"If other objects similar to this one are found elsewhere, people should not touch them. They could contain hazardous chemicals. They should immediately inform Region 3 Thai-MECC or local officials."
SOURCE: Bangkok Post
Want more from the Thaiger family?
📱 Download our app on Android or iOS for instant updates on your mobile
📧 Subscribe to our daily email newsletter
👍 Like/Follow us on Facebook
🔔 Subscribe to or Join our YouTube channel for daily video updates
UPDATE: 2 Americans and a Thai arrested over Bangkok kidnap attempt, Thai policeman involved | VIDEO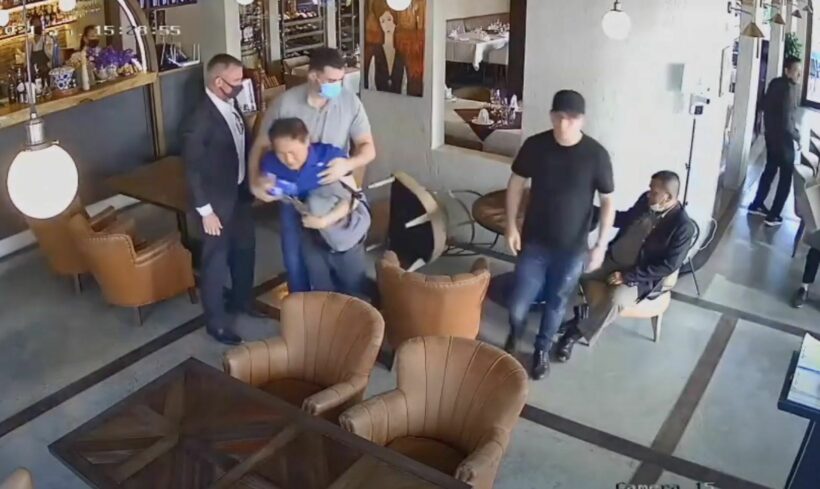 Screenshot: THAICRIME
UPDATE:
Following up from the earlier story involving 2 Americans, a Thai, a Taiwanese businessman, and an Israeli security goon, we have the following update (original story below)…
Police have examined CCTV from the restaurant in Thong Lor where the Taiwanese businessman was kidnapped. It's also been revealed that a "senior Thai policeman" was involved in the alleged abduction case. The abduction took place on March 28.
The meeting had been called to "resolve" some disagreements over a large purchase of rubber gloves that had gone wrong.
After arriving at a meeting at the L'Oliva restaurant in Sukhumvit Soi 26, Mr. Wen Yu Chung was manhandled, put in a headlock and dragged out of the premises. Daily News reports that a "lieutenant colonel" ranked Thai policeman was also captured on the CCTV supervising the events as they happened inside the restaurant. He is reported as being a former traffic policeman.
Mr. Chung was then held to ransom at the condo NT Court. Attempts were made to contact Mr Chung's family and business associates to extract a ransom – allegedly 1 and 2 million baht – but they refused to pay.
The 3 men have been identified as 41 year old Jeremy Hughes Manchester, 52 year old Louis William Ziskin, both Americans, and Ekbodin Prasitnarit, Thai.
Mr Louis Ziskin has a somewhat chequered history with his story catalogued on Wikipedia. Summarised…
Ziskin was taken into custody in December 7, 2000 and charged over transactions from November 1999 to December 22, 1999. Ziskin was convicted of smuggling 700 pounds of ecstasy into Southern California via FedEx and other various shipping companies, the largest-ever US government seizure of the drug. There was another indictment a year later.
Following his incarceration, Ziskin lost a double jeopardy appeal for the second indictment. The US government settled all claims against Ziskin for a 188 month sentence and a US$9 million fine.
Daily News also reported a man 'Mike' who allegedly invited the policeman to be involved in the incident. Earlier this man was described as "Mr. Michael Greenberg, an Israeli operating a detective company".
Here's video showing the arrest of Mr. Ziskin…
EARLIER STORY:
Thai police have arrested 2 American citizens and a Thai for the alleged kidnap of a Taiwanese businessman for ransom. 5 other arrest warrants are also waiting to be executed over the incident. Police allege a "business conflict" over the purchase of plastic 'nitrile' gloves as the motive.
The 3 men have been identified as 41 year old Jeremy Hughes Manchester, 52 year old Louis William Ziskin, both Americans, and Ekbodin Prasitnarit, Thai. All 3 have denied the charges including illegal assembly, attempted murder, abduction for ransom and extortion. They were formally charged at the Thong Lor police.
According to Bangkok Post, in late 2020 Mr Ziskin appointed the Collection Company to negotiate the purchase of a large quantity of plastic gloves with the Paddy The Room Trading Company.
Police allege that there was an ongoing conflict between the two sides which was responsible for Mr Ziskin accumulating 93 million baht in damages.. So, according to police, Mr Ziskin hired Mr. Michael Greenberg, an Israeli operating a detective company in Thailand to negotiate and retrieve the losses.
Police allege that Mr Greenberg hired Thai and foreign collaborators to plan an abduction as leverage in the retrieval of their losses. They contacted a 60 year old Taiwanese man from the Collection Company in Thailand to procure a supply of rubber gloves from Paddy The Room Trading Company.
They made an appointment to meet Wen Yu Chung at a restaurant in Bangkok's in Bangkok's Tong Lor are off Sukhumvit Road on March 28. Police allege that Mr Greenberg and hired associates arrived, handcuffed the Taiwanese businessman and then took him to the NT Place, 200 metres further south down the same Soi, Sukhumvit 36.
They then called Mr Chung's boss demanding US$2 million, and then called the man's family demanding another US$1 million. Both contacted police and did nothing to accede to the demands for ransom..
The abductors then headed to a restaurant in Soi 24, with Mr. Chung, eventually letting him go. The Taiwanese man went, first to hospital, then to Thong Lor police station to relate his story. Eventually 8 arrest warrants were issued over the alleged abduction. Soon after police arrested Mr Manchester, Mr Ziskin and Mr Ekbodin.
We'll continue to follow this story.
SOURCE: Bangkok Post
Want more from the Thaiger family?
📱 Download our app on Android or iOS for instant updates on your mobile
📧 Subscribe to our daily email newsletter
👍 Like/Follow us on Facebook
🔔 Subscribe to or Join our YouTube channel for daily video updates