Thailand
Phuket Gazette Thailand News: Airports on bomb alert; AEC opportunity for organized crime; Blast kills one in Pattani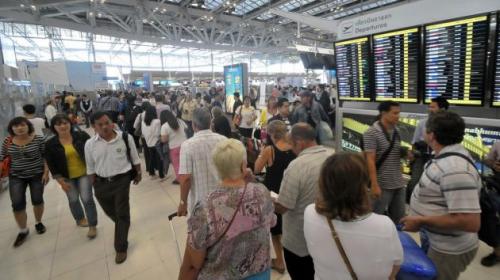 PHUKET MEDIA WATCH
– Thailand news compiled by Gazette editors for Phuket's international community
Airports on alert after US bombings
The Nation / Phuket Gazette
PHUKET: Security at Thailand's major airports will be stepped up following the Boston Marathon bombings, according to a senior executive of Airports of Thailand.
Pongsak Semsant, caretaker president of AOT, said yesterday the latest violent incident in the United States prompted heightened security measures at the airports run by the company, including Bangkok's Suvarnabhumi and the Don Mueang, Chiang Mai and Phuket facilities.
He said executives of those airports had been instructed to increase their security measures around the clock.
Transport Minister Chadchart Sittipunt said yesterday he has ordered agencies to step up security at airports, bus terminals and railway stations.
No Thai nationals were affected by the Boston bombings, Foreign Ministry spokesman Manasvi Srisodapol said yesterday.
The Thai Consulate General in New York reported that no Thai nationals were killed or injured in the explosions in Boston, he said. The mission would also check with US authorities and the Thai expatriate community to confirm this, said Manasvi, who is director-general of the ministry's Department of Information.
The spokesman said the ministry offered condolences to those affected and expressed hope that US authorities would be able to arrest those responsible soon.
A Thai graduate student in Boston, Polly Saipinthong, said such a violent attack was rare in Boston, which she described as a "very beautiful city". She said she was among the people who were on hand to offer moral support to their favourite marathon runners, but left shortly after the elite competitors passed the finish line, before the blasts occurred.
In a related development, the Thai stock market was expected to see a decline when it reopens today following the long Songkran holiday. Many regional stock exchanges suffered a decline in prices yesterday following the Boston bombings.
An analyst said the violent incident in the US would be among negative factors driving down the Stock Exchange of Thailand Index. Other factors included China's lower-than-expected economic growth.
AEC will spur crime as well as growth, UN says
The Nation / Phuket Gazette
PHUKET: Integration of the Asean region will bring positive changes, but will also provide opportunities for transnational organised crime to expand, said the UN Office on Drugs and Crime (UNODC).
Better links under the Asean Economic Community (AEC) will also increase the mobility of illicit goods, including drugs, illicit wildlife and timber, and counterfeit products. Throughout East Asia and the Pacific, illicit markets generate US$90 billion (about Bt2.7 trillion) annually, according to the UNODC report "Transnational Organised Crime in East Asia and the Pacific: A Threat Assessment".
Under the AEC, trade and customs procedures will be harmonised, standardised and simplified. It is inevitable that organised criminal groups will utilise the improved transportation connections and take advantage of the streamlined border controls to smuggle illicit goods throughout the region and beyond, the report said.
"It is therefore necessary to integrate national responses into international strategies. This can be done by promoting partnerships across borders and developing international networks that champion 'transnational organised justice.' This includes promoting regional collaborative efforts on border control, mutual legal assistance, extradition and similar efforts that require a vision that transcends national boundaries. This will help minimise the growth of 'safe havens' for transnational organised crime," it suggested.
The report estimates that the top money-makers for crime groups in East Asia and the Pacific are: illicit trade in counterfeit goods ($24.4 billion), illegal wood products ($17 billion), heroin ($16.3 billion), methamphetamines ($15 billion), fake meds ($5 billion) and illegal e-waste ($3.75 billion).
UNODC estimates that just over half a million migrants are smuggled into Thailand annually, with the vast majority coming from Myanmar.
Migrants from Myanmar pay the highest fees, while migrants from Laos and Cambodia pay considerably less. It appears that around $192 million is generated on an annual basis by smuggling migrants from these countries.
It also estimated that 12,000 Chinese irregular migrants enter the US every year, each paying around $50,000. This would generate up to $600 million a year for smugglers. If paying similar fees as Chinese migrants, some 1,000 migrants from Vietnam could generate $50 million to smugglers.
UNODC also highlighted a $17 billion annual trade of wood-based products and some $24.4 billion for counterfeit goods imported from East Asia to the US and EU in 2000.
While saying that environmental crimes are among the most serious and profitable forms of transnational organised crime in East Asia and the Pacific, the report said many organised criminal activities outlined in the report can have serious global health and economic implications.
"Up to 90 per cent of anti-malarial drugs tested in Southeast Asia are fraudulent. They do not contain what they say they do. Sub-standard drugs have two serious public health consequences.
"One: people get sicker or die. Two: drug-resistant strains can develop," said Jeremy Douglas, UNODC Regional Representative, Southeast Asia and the Pacific.
"These transnational criminal activities are a global concern now. Illicit profits from crimes in East Asia and the Pacific can destabilise societies around the globe," he added.
Transnational crime
Counterfeit goods: Bt708.76 billion
Illegal wood products: Bt493.8 billion
Heroin: Bt473.5 billion
Methamphetamine: Bt435.7 billion
Fake medicines: Bt145.2 billion
Illegal waste: Bt108.9 billion
Illegal wildlife trade: Bt72.63 billion
Human-trafficking to Europe, US: Bt45 billion
Human-trafficking to Thailand: Bt5.5 billion
Sex-trafficking to Thailand and Cambodia: Bt5.25 billion
Migrant smuggling to Australia and Canada: Bt2.8 billion
Labour trafficking to Thailand: Bt959 million
Source: UN Office on Drugs and Crime
One killed, three injured in Pattani blast
The Nation / Phuket Gazette
PHUKET: A motorcycle bomb attack aimed at a special task force unit patrolling in Pattani's Thung Yang Daeng district killed the unit leader and injured five other soldiers.
The 20-kilogram bomb hidden in a motorcycle near the Paku Bridge on the Ka Por-Thung Yang Daeng road went off at 12.10pm, hitting the 10-soldier team's pick-up truck that was returning to base from a community-related activity.
Team leader First Lieutenant Boonpeng Butyothee succumbed to his injuries.
Earlier, security officials inspected the sites of two separate shooting incidents in Ma-Yor and Yarang districts that took place on Monday night.
In Ma-Yor district's Tambon Luboh Yeerai, officials inspected a pickup truck modified for public transport that ran on the Yala-Sai Buri-Ton Sai route, which crashed into a tree after driver Marohpee Ma, 46, was shot dead.
Ma
— Phuket Gazette Editors