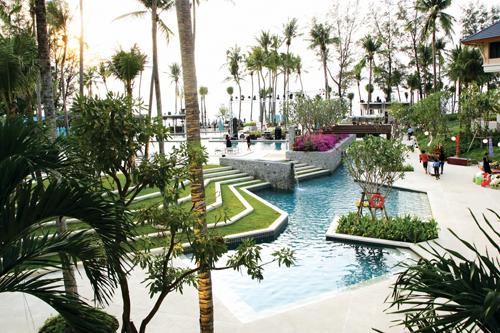 PHUKET: The island recently saw the opening of the new Outrigger Laguna Phuket Beach Resort. This 255-room beachfront property offers locally- sourced dining and the first club floor at Laguna Phuket, Bang Tao Beach.
Flying in for the VIP gathering were members of the Kelley family, owners of the Outrigger Laguna Phuket Beach Resort, and senior corporate executives from Hawaii, to celebrate the latest addition to the Outrigger resort portfolio in Asia.
Outrigger announced its purchase of the 52.25 rai (8.36 hectare) property in July of last year. The opening means that Outrigger, a privately held Hawaii-based company with over 65 years of hotel management experience, now has four properties in Asia: Outrigger Laguna Phuket Beach Resort, the Outrigger Laguna Phuket Resort and Villas, Outrigger Phi Phi Island Beach Resort, and O-CE-N Bali by Outrigger.
Outrigger Enterprises Group President and CEO, David Carey, in Phuket to attend the opening, said: "The acquisition and opening of the Outrigger Laguna Phuket Beach Resort gives Outrigger a wonderful and iconic resort property in Phuket, a remarkable holiday destination that goes from strength to strength. Early indications are that our new property will do very well in the family, couples and active lifestyle segments of the global holiday market."
Darren Edmonstone, managing director, Asia-Pacific for Outrigger Enterprises Group, told media arriving for the opening that the property had unique features that were already distinguishing the resort from its competitors. He said that the property's exclusive Club Lounge privileges, large water slide and kids' club, 'Activate' sports facilities and fully rejuvenated rooms, suites and villas, all with sea or lagoon views, made the property a "world class product."
"We are particularly proud of our five innovative food and beverage outlets, especially Locavore, which will set new benchmarks in ethical dining by sourcing the freshest locally-produced food from farmers and fishermen in the Phuket area." said Edmonstone.
The aim of Locavore is to emphasize seasonality, sustainability and traceability through education and a close relationship with local farmers, fishermen and suppliers. Carbon emissions getting the food to the table will be minimized as well.
Mr Edmonstone went on to say that "outstanding" dining options were also available at Edgewater, the resort's unique all-day beachside bistro, Metzo's Mediterranean restaurant, and in the delightful Club Lounge, which is designed like a Thai pier house.
Guests can also enjoy the ICON Lounge, a chill-out bar with modern Asian sounds and mixologists serving molecular cocktails.
The design for the completely revamped rooms and hotel landscaping was carried out by P49, an acclaimed Bangkok-based design company. One of the main features of the property is its very Thai-ness, which can be seen immediately on arrival in the lobby with a wooden Thai house theme and traditional Thai images and artifacts, and the breathtaking views out over the Andaman Sea.

Bookings and further information is available at: outriggerthailand.com; or by email: dosm.phuketbeach@outrigger.co.th.