Phuket Gazette Thailand News: 21 dead as Thai tour bus plunges into ravine; Govt to clarify amnesty; Isarn floods claim 30 lives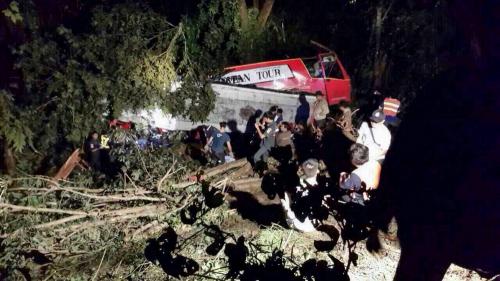 PHUKET MEDIA WATCH
– Thailand news compiled by Gazette editors for Phuket's international community
21 dead as Thai tour bus plunges into ravine
The Nation / Phuket Gazette
PHUKET: A chartered bus taking merit makers back home from a temple plunged into a roadside ravine in Lampang last night, killing 21 people and injuring 19 others.
Police said the accident happened at 7 pm on the Wang Nua-Phayao Road in Tambon Wangthong in Lampang's Wang Nua district.
Police said the bus crashed into the roadside guardrail and plunged into a 50-metre-deep ravine.
Rescue workers had to tie ropes to the guardrail before they could climb down to rescue the injured passengers.
Police said all the killed passengers were women.
The bus was one of three buses taking Buddhists from Chiang Mai's Sarapee district to make merit at the Mai Charoen Temple in Wang Nua. The accident occurred while the buses were returning home.
Govt to clarify amnesty draft
The Nation / Phuket Gazette
PHUKET: The Interior Ministry will make full use of all the mechanisms at its disposal to clarify issues related to the amnesty bill, Minister Charupong Ruangsuwan said yesterday.
He said he had ordered provincial governors and district chiefs to explain to the people that the amnesty bill is in keeping with democratic principles.
As well, these officials must closely follow news about any anti-government movement and report it to the ministry. Third, they must try to persuade such movements to carry out their protests or other activities within their own provinces instead of mobilising to Bangkok.
The fourth point of Charupong's order is that provincial and district officials must evaluate the situation in their areas of responsibility and report it regularly.
He denied allegations that force would be used to stop people joining mass rallies that are being mobilised by anti-government groups.
Some of these groups are set to meet this week to plan a massive rally opposing the blanket amnesty bill, which they interpret as potentially benefiting fugitive former prime minister Thaksin Shinawatra.
A House of Representatives panel vetting the government's amnesty bill last Friday voted to rewrite a clause, as proposed by Prayuth Siripanich, committee member from the ruling Pheu Thai Party, to include as beneficiaries people facing legal action in cases stemming from post-coup investigations.
The original draft proposed by Pheu Thai MP Worachai Hema did not grant amnesty to people convicted in criminal cases aside from political protest and did not cover protest leaders or the people who ordered the bloody 2010 crackdown.
Charupong said the new version of the bill would comply with Article 30 of the Constitution that says all people are protected equally under the law.
Drafting a law granting amnesty selectively would therefore be illegal, he claimed.
Meanwhile, giving amnesty would bring reconciliation and allow the country to move forward, he said. Asked to comment clearly on whether the new version of the bill would allow Thaksin to get his seized assets back, Charupong said the amnesty law had nothing to do with that.
Thaksin might ask the court to order the return his assets, but that would be a separate issue.
Democrat MP and legal expert Nipit Intarasombat said the new version of the bill would be against Article 309, the provision of the 2007 Constitution that protects the coup-makers from the consequences of their actions. Therefore, he claimed, it is the legitimate duty of the people to oppose the bill.
National Anti-Corruption Commission member Vicha Mahakhun said yesterday that passage of the new version of the bill would affect the NACC's investigation of the cases against Abhisit and his deputy Suthep Thaugsuban.
He said the principle of equality should not undermine principle of the rule of law, and no part of the Three Sovereign Powers – the administrative branch, the legislative branch and the judiciary branch – should interfere in the work of another part.
Meanwhile, Uthai Yodmanee, a leader of a rally by the Students' and People's Network for Thailand Reform at the Urupong intersection in Bangkok, said many groups had come out to join the gathering.
Body of last Thai victim in Lao Airlines crash found
The Nation / Phuket Gazette
PHUKET: The body of a fifth Thai passenger killed in a plane crash in Laos last Wednesday was found in the Mekong River yesterday, according to an official involved in the recovery operation.
The body of Nonthaburi native Nipol Chaichana-kuldee, 27, was discovered by the search-and-rescue team and was expected to be brought back to Thailand today, according to team member Prasop Sarnsamak.
Nipol was among five Thais killed when the Lao Airlines ATR-72 plunged into the Mekong on its approach to Pakse Airport in Champasak. The accident killed all 49 people on board the plane.
The body of the fourth Thai victim to be found, Yanyong Apaanan, 29, a PTT engineer, was taken back to Thailand yesterday.
Local news agency Vientiane Times has reported that according to a senior government official, the main wreckage of the Lao Airlines plane has been recovered but the two "black box" flight recorders have yet to be located.
The fuselage was lifted from the river by floating crane, while divers discovered numerous other pieces of wreckage – but the black boxes were not among them, despite a signal being detected in the area.
The director general of Laos' Department of Civil Aviation, Yakua Lopangkao told the Vientiane Times that the recovery divers were expected to begin searching for the boxes yesterday.
"If the black box recorders were still attached to the tail then they will be easier to find – but if they broke off [in the crash] then the task will be more difficult," he said, adding that visibility in the muddy river was so poor that divers could only feel for the devices using their hands and feet.
Northeast floods claim 30 lives
The Nation / Phuket Gazette
PHUKET: Thirty people have been killed in floods that have hit four provinces in the Northeast, the Disaster Prevention and Mitigation Department said yesterday.
Floods have affected more than 1.5 million people living in 86 districts in the lower Northeast region. About 1.6 million rai of farmland has been inundated, according to Piyachart Insawang, acting director of the Nakhon Ratchasima provincial Disaster Prevention and Mitigation Department.
In that province, the flood-water level in six districts and sub-districts – Chum Phuang, Chok Chai, Khon Buri, Non Sung, Chalerm Prakiet and Lam Thamainchai – has remained constant, while in Phimai it is forecast to rise.
At the same time, a large amount of run-off from Lamtakong Dam has inundated Nakhon Ratchasima city. At least five low-lying communities close to the river have been severely affected and are under 30-50 centimetres of water. Thousands of residents have left their houses.
The Nakhon Ratchasima Lamtakong Operation and Maintenance Project reported that heavy downpours amid Tropical Storm Nari and monsoon conditions over the pas
— Phuket Gazette Editors
Want more from the Thaiger family?
📱 Download our app on Android or iOS for instant updates on your mobile
📧 Subscribe to our daily email newsletter
👍 Like/Follow us on Facebook
🔔 Subscribe to or Join our YouTube channel for daily video updates
British tourists come forward about being attacked on Koh Tao in 2013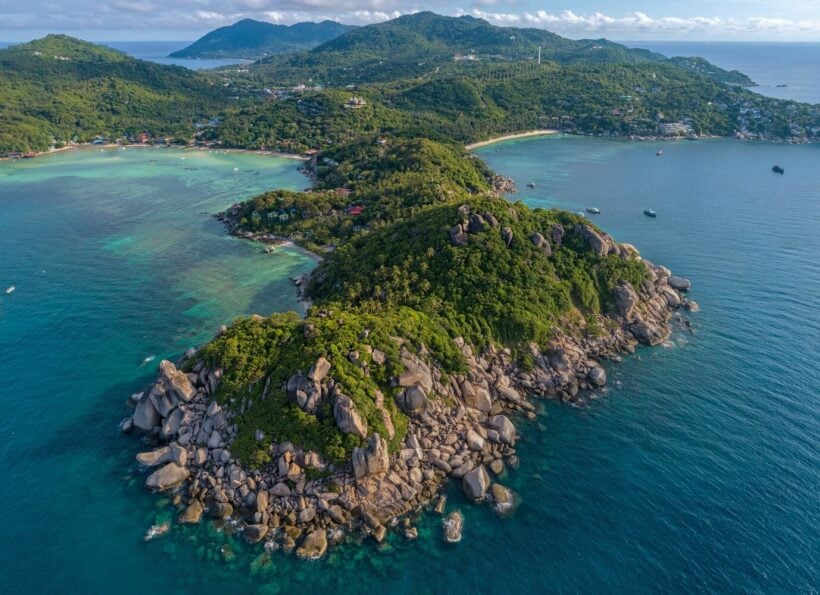 Many continue to contend that Zaw Lin and Wai Phyo, the 2 Burmese young men convicted for the 2014 murder of 2 tourists on Koh Tao's Sairee Beach, are innocent. Now 2 tourists who were attacked on the same beach, just a year before the murder, are now coming forward to help prove that the conviction could have been unreliable.
In September 2014, the bodies of British tourists 23 year old Hannah Witheridge and 24 year old David Miller were found on the beach. Police say Hannah had been raped and David had been hit several times on the head with a garden hoe.
Zaw and Wai were arrested soon after the killings. Some say the investigation was accelerated in an effort to gain back tourist confidence and keep visitors coming to the island. Numerous activists, criminologists, and others have spoken out against the conviction, saying the evidence was bungled.
Just a year before, British tourists Sam Venning and Carla Bartel survived an attack on the same beach. Sam, who was 22 at the time, was talking to Carla, who was 20, on the beach when 2 men wearing V for Vendetta masks attacked them, hitting Sam in the head with a rock.
Sam and Carla came forward to Thai officials after the killings to help with the investigation, but say no one got back to them. Sam says he had emailed the Thai Embassy in London, but no one contacted him. Carla says she contacted the UK Foreign Commonwealth Office who then passed her on to the UK National Crime Agency. She was told that the information was sent to Thai police, but officers did not follow up with her.
SOURCE: Mirror.UK
Want more from the Thaiger family?
📱 Download our app on Android or iOS for instant updates on your mobile
📧 Subscribe to our daily email newsletter
👍 Like/Follow us on Facebook
🔔 Subscribe to or Join our YouTube channel for daily video updates
Fishermen find space debris off the coast of Phuket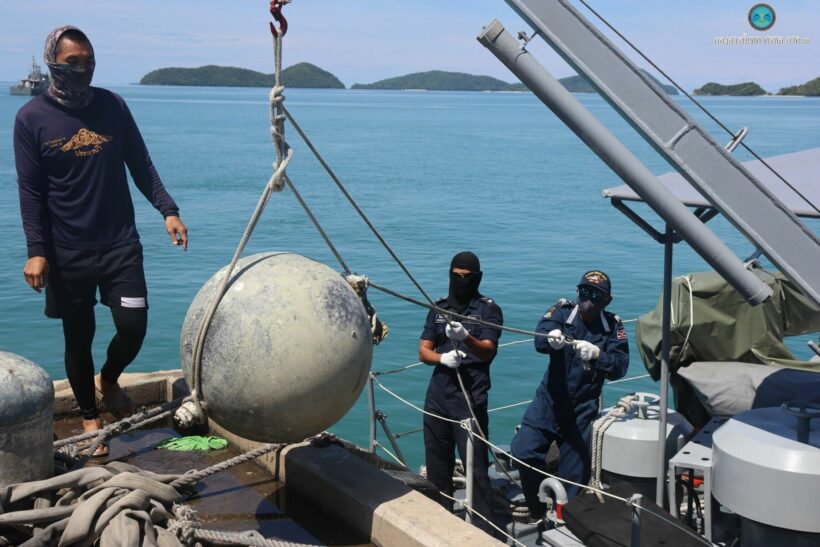 Local fishermen found space debris, possibly from a satellite or space shuttle, on the seabed just 6 metres below the surface by Koh Ael in Phuket. At first, no one knew exactly what it was.
Specialists from a Navy explosive ordnance disposal unit were first called to look at the round, hollow metal object which was about 45 centimetres in diameter. 3rd Naval Area commander Vice Admiral Choengchai Chomchoengpaet told reporters at a press conference that the team took photos of the object and found it appeared to be a rocket fuel tank, possibly used to launch a satellite or shuttle into space. He said it matched photos online.
Both the Geo-Informatics and Space Technology Development Agency, or GISTDA, and the National Astronomical Research Institute of Thailand, agree that the object was most likely a fuel tank for a rocket.
Since the fuel tanks usually contain harmful chemicals like ammonia or hydrogen, divers examined the space debris to make sure there were no chemical leaks before bringing the object to shore and taken to the navy headquarters. The space debris will be taken to the GISTDA to be studied.
"If other objects similar to this one are found elsewhere, people should not touch them. They could contain hazardous chemicals. They should immediately inform Region 3 Thai-MECC or local officials."
SOURCE: Bangkok Post
Want more from the Thaiger family?
📱 Download our app on Android or iOS for instant updates on your mobile
📧 Subscribe to our daily email newsletter
👍 Like/Follow us on Facebook
🔔 Subscribe to or Join our YouTube channel for daily video updates
UPDATE: 2 Americans and a Thai arrested over Bangkok kidnap attempt, Thai policeman involved | VIDEO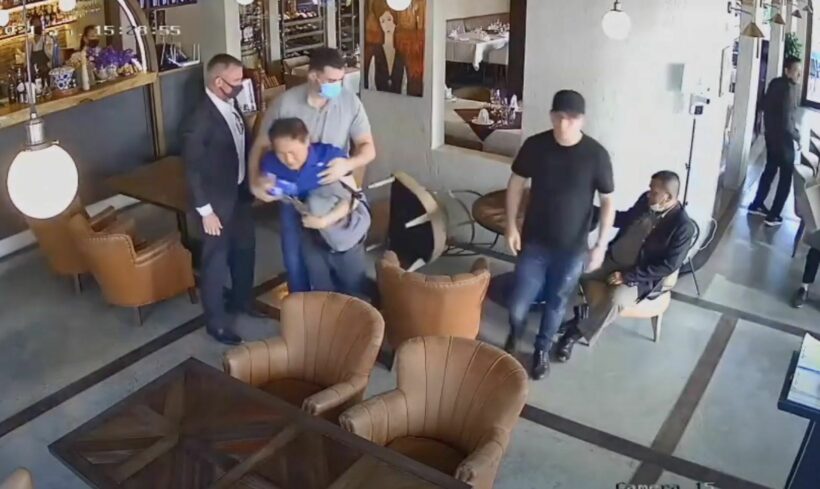 Screenshot: THAICRIME
UPDATE:
Following up from the earlier story involving 2 Americans, a Thai, a Taiwanese businessman, and an Israeli security goon, we have the following update (original story below)…
Police have examined CCTV from the restaurant in Thong Lor where the Taiwanese businessman was kidnapped. It's also been revealed that a "senior Thai policeman" was involved in the alleged abduction case. The abduction took place on March 28.
The meeting had been called to "resolve" some disagreements over a large purchase of rubber gloves that had gone wrong.
After arriving at a meeting at the L'Oliva restaurant in Sukhumvit Soi 26, Mr. Wen Yu Chung was manhandled, put in a headlock and dragged out of the premises. Daily News reports that a "lieutenant colonel" ranked Thai policeman was also captured on the CCTV supervising the events as they happened inside the restaurant. He is reported as being a former traffic policeman.
Mr. Chung was then held to ransom at the condo NT Court. Attempts were made to contact Mr Chung's family and business associates to extract a ransom – allegedly 1 and 2 million baht – but they refused to pay.
The 3 men have been identified as 41 year old Jeremy Hughes Manchester, 52 year old Louis William Ziskin, both Americans, and Ekbodin Prasitnarit, Thai.
Mr Louis Ziskin has a somewhat chequered history with his story catalogued on Wikipedia. Summarised…
Ziskin was taken into custody in December 7, 2000 and charged over transactions from November 1999 to December 22, 1999. Ziskin was convicted of smuggling 700 pounds of ecstasy into Southern California via FedEx and other various shipping companies, the largest-ever US government seizure of the drug. There was another indictment a year later.
Following his incarceration, Ziskin lost a double jeopardy appeal for the second indictment. The US government settled all claims against Ziskin for a 188 month sentence and a US$9 million fine.
Daily News also reported a man 'Mike' who allegedly invited the policeman to be involved in the incident. Earlier this man was described as "Mr. Michael Greenberg, an Israeli operating a detective company".
Here's video showing the arrest of Mr. Ziskin…
EARLIER STORY:
Thai police have arrested 2 American citizens and a Thai for the alleged kidnap of a Taiwanese businessman for ransom. 5 other arrest warrants are also waiting to be executed over the incident. Police allege a "business conflict" over the purchase of plastic 'nitrile' gloves as the motive.
The 3 men have been identified as 41 year old Jeremy Hughes Manchester, 52 year old Louis William Ziskin, both Americans, and Ekbodin Prasitnarit, Thai. All 3 have denied the charges including illegal assembly, attempted murder, abduction for ransom and extortion. They were formally charged at the Thong Lor police.
According to Bangkok Post, in late 2020 Mr Ziskin appointed the Collection Company to negotiate the purchase of a large quantity of plastic gloves with the Paddy The Room Trading Company.
Police allege that there was an ongoing conflict between the two sides which was responsible for Mr Ziskin accumulating 93 million baht in damages.. So, according to police, Mr Ziskin hired Mr. Michael Greenberg, an Israeli operating a detective company in Thailand to negotiate and retrieve the losses.
Police allege that Mr Greenberg hired Thai and foreign collaborators to plan an abduction as leverage in the retrieval of their losses. They contacted a 60 year old Taiwanese man from the Collection Company in Thailand to procure a supply of rubber gloves from Paddy The Room Trading Company.
They made an appointment to meet Wen Yu Chung at a restaurant in Bangkok's in Bangkok's Tong Lor are off Sukhumvit Road on March 28. Police allege that Mr Greenberg and hired associates arrived, handcuffed the Taiwanese businessman and then took him to the NT Place, 200 metres further south down the same Soi, Sukhumvit 36.
They then called Mr Chung's boss demanding US$2 million, and then called the man's family demanding another US$1 million. Both contacted police and did nothing to accede to the demands for ransom..
The abductors then headed to a restaurant in Soi 24, with Mr. Chung, eventually letting him go. The Taiwanese man went, first to hospital, then to Thong Lor police station to relate his story. Eventually 8 arrest warrants were issued over the alleged abduction. Soon after police arrested Mr Manchester, Mr Ziskin and Mr Ekbodin.
We'll continue to follow this story.
SOURCE: Bangkok Post
Want more from the Thaiger family?
📱 Download our app on Android or iOS for instant updates on your mobile
📧 Subscribe to our daily email newsletter
👍 Like/Follow us on Facebook
🔔 Subscribe to or Join our YouTube channel for daily video updates