Thailand
Phuket Gazette: Thailand business round-up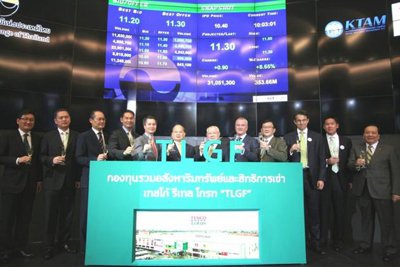 PHUKET MEDIA WATCH
– Thailand news compiled by Gazette editors for Phuket's international community
Tesco Lotus property fund enjoys robust rise on market debut
PHUKET (The Nation): Ek-Chai Distribution System, controlled by Britain's largest retailer Tesco, this month raised Bt18.4 billion in an initial public offering (IPO) of the fund. It sold shares at Bt10.40 each.
The Thai property fund debuted on the Bangkok Stock Exchange yesterday after raising US$600 million (Bt18.4 billion) when it priced the IPO at Bt10.40 per share.
The offering is expected to raise about Bt18 billion and will be the largest property-fund IPO in Thailand's history, and the largest IPO on the SET since July 2006.
TLGF will initially invest in 17 Tesco Lotus hypermarket-anchored shopping malls in prime locations, as well as in the company's new regional distribution centres to be opened within the next two or three years in Khon Kaen, Surat Thani, and Chiang Mai or Lampang.
Sompong Rungnirattisai, property director of Tesco Lotus, said: "The TLGF share price has gone up on the first trade day. This shows that investors have high confidence in TLGF and its growth potential, as well as the growth prospects of the Tesco Lotus business in Thailand. We strongly believe the TLGF has outstanding investment merits that truly set it apart from other property-fund offerings in Thailand.
"Because of the geographically diversified portfolio of high-quality shopping malls, a good mix of freehold/leasehold properties, best-in-class tenant mix and the continued success of Tesco Lotus as a leading retailer and shopping mall operator, TLGF was extremely well received by global and local investors during our IPO. We had more than 10,000 retail subscribers, which was the highest number in Thailand's history of property-fund IPOs."
Another policy rate cut or no change predicted
PHUKET (The Nation): Standard Chartered Bank (Thai) and Tisco Securities expect a pause in the policy rate, while Nomura Research forecasts another rate cut.
"We expect the policy rate will be maintained this time, as the Thai economy has started a recovery after the floods. The MPC may order a rate pause to see the impacts after cutting the rate twice," said Usara Wilaipich, senior economist at StanChart.
The MPC has cut the policy rate by 25 basis points twice, to 3.00 per cent, citing the need to provide an accommodative stance to shore up the economy hit by the flood disaster late last year.
Given the rising price of crude oil, the monetary-policy makers may take a cautious stance on inflation, Usara said.
Kampon Adireksombat, senior economist at Tisco Securities, said: "We expect the policy rate to remain unchanged at 3.00 per cent in this meeting and stay at this level throughout the year as inflation risks, particularly from higher oil prices, start increasing."
The brokerage house forecasts headline inflation – which includes volatile food and energy prices – averaging 3.5 per cent this year. "There is an upside risk [for headline inflation] due to the oil prices," Kampon said. For every 10-per-cent increase in the price of Dubai crude oil, headline inflation will rise by 50 basis points, according to an estimate by Tisco Securities. Dubai crude is projected to average US210 this year.
Core inflation, which factors out food and energy, for this year is estimated at 2.2 per cent, well within the central bank's target of 0.5-3.0 per cent.
However, Nomura Research expects the economic slump the country experienced in the fourth quarter could prompt the MPC to cut the policy rate by another 25 points in its meeting tomorrow.
Gross domestic product fell 9 per cent year on year in the fourth quarter, the sharpest drop since the third quarter of 1998, as the floods hit export-oriented industrial estates heavily. As a result, the economy expanded only 0.1 per cent in 2011.
Industry supports move on tax cheats
PHUKET (The Nation): The department is working out reference prices for all foreign vehicles. This new rule will require all importers that have under-declared import prices to avoid paying full taxes to pay up based on the reference prices.
This follows a complaint to the department by car importers that some in their industry provide false information on imported cars or auto parts to pay low import duties.
A study recently showed that the grey market had cost the government more than Bt50 billion in lost excise taxes.
Suparat Sirisuwannangkura, chairman of the Federation of Thai Industries' Automotive Industry Club, said the department's move would create fairness in the industry. If the government had done nothing, the country would have lost tax revenue of more than Bt10 billion.
If no action had been taken, the auto business in Thailand would have been severely affected, as carmakers that assemble vehicles locally would face competition from these imports.
The median prices are unlikely to affect authorised importers as their import prices refer to cars sold overseas and at the factory gate, and these can be verified, he added.
Vichien Emprasertsuk, senior vice president of Toyota Motor Thailand, said the company had begun to focus more on luxury-car imports. Recently it launched the 2,500cc Lexus GS family. The prices follow the rules under the Japan-Thailand Economic Partnership Agreement.
Krisda Utamot, director of corporate communications of BMW Group (Thailand), said the company could accept reference prices set at a high level, but they should be by model, not by brand.
According to the Department of Special Investigation, in January alone, 166 vehicles were imported on false documents. People posing as students showed documents confirming that they had owned the vehicles for 18 months overseas and were bringing them back home, to be eligible for a 50-per-cent tax rate.
In the same month, about 300 Mercedes-Benz vehicles were imported by unauthorised dealers and individuals for sale at below-market prices.
Some companies reportedly imported parts and then assembled them into cars locally. Parts are subject to lower import duties than whole vehicles.
The Customs Department was spurred to action after the fall of SEC Group, which sparked competition among smaller grey importers for its market share, estimated at more than 60 per cent.
— Phuket Gazette Editors