New book recounts Thai cave rescue of Wild Boars

PHOTOS: CNN.com, The National, Amazon.com
On June 23 2018, the world first heard about the disappearance of 12 Thai boys, the young Mu Pa football team and their assistant coach, in a cave system in Chiang Rai, northern Thailand.
"When the cave was unexpectedly flooded, the boys, aged between 11 and 16, and 24 year old Ekapol "Coach Ek" Jantawong, were trapped deep inside, with no means of communication with the outside world. Only a scooter and 11 bicycles they had left in the bushes outside the cave offered a clue to their whereabouts."
When the boys failed to return home that night it was their head coach and distraught parents who rushed to the cave, and began calling out for their boys.
"The only answer came from the cave itself, the echoes bouncing the names back at them" writes Journalist Matt Gutman in his new book, The Boys in the Cave: Deep Inside the Impossible Rescue in Thailand. 

Chief national correspondent for America's ABC News, Mat Gutman covered the rescue operation on location. His account is well researched, including interviews with dozens of local witnesses, experts and rescuers. As the first published work on the incident (many more of which are expected to follow) there is high expectations for it to be made into a feature film.
The story appears to be made for the big screen; as a desperate situation brings an international team of experts to pull off an almost lunatic escape plan in a complex underwater cave system. The book chronicles the background of all the boys and their assistant coach and how they struggled to find higher ground as they were forced deeper into the caves.
How they practiced meditation to help pass the hours submerged in almost total darkness, managing what little food and light they had. A small army being formed outside the caves, desperate to rescue the boys, with international help eventually arriving to help give another perspective to the problem.
The book follows the arrival of foreigners whilst the local community comes together to help the group of young men escape what to some seemed to be a lost cause, and then succeed.
Since the events in the book the boys and their coach were ordained as monk novices (except for one), travel the US, appear on the 'Ellen Show' and meet and train with football legend Zlatan Ibrahimović.

Come the final page, and despite the death of retired Thai Seal Saman Gunan, who perished while laying guidelines in a flooded passage, the reader of The Boys in the Cave will be forgiven for repeating the rescue camp's battle cry of "Hooyah!", and joyfully punching the air.
SOURCE: The Daily Star


Read more headlines, reports & breaking news in Chiang Rai. Or catch up on your Thailand news.
Specialist clinics for pollution-related symptoms to be set up around the country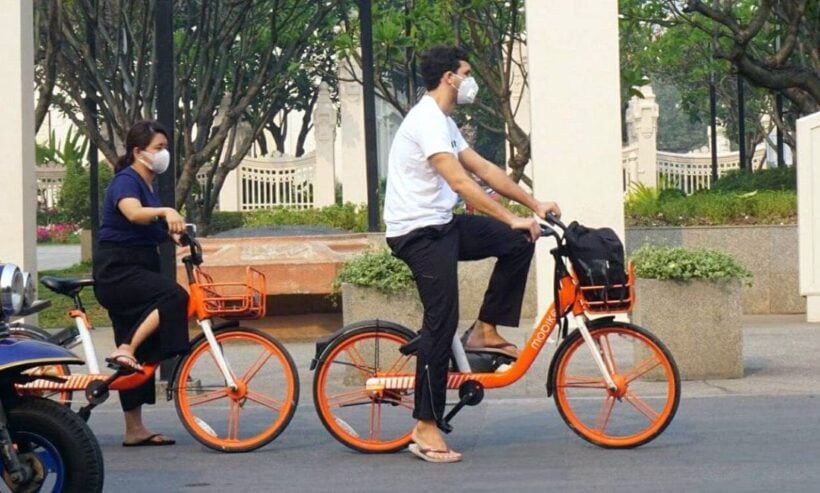 The Public Health Ministry says they are now preparing to set up specialised clinics to treat patients suffering from pollution-related symptoms in the northern parts of the country.

"At present, we have just one such clinic in the country. So, we have decided to introduce many more," according to permanent secretary Dr Sukhum Karnchanapimai.

He made the pledge in response to the high levels of choking smog and smoke that has been haunting several provinces of Thailand in recent months.

"We plan to set up pollution clinics in the North and the Northeast before the end of this year," Sukhum said.

Currently, the country's only 'pollution clinic' is located at Nopparatrajathanee Hospital in Bangkok.

According to the permanent secretary, the Medical Services Department has already prepared a manual on how to set up pollution clinics for hospitals to use.

Certain groups of people face a graver threat than the general population from dust problems: those working outdoors, young children, pregnant women, the elderly, asthma patients, and those suffering respiratory disorders.

Disease Control Department deputy director-general Dr Kajohnsak Kaewjarus said about 22,000 people had sought medical help about symptoms that could be associated with smog and air pollution.

"The most common symptoms concern respiratory disorders, heart and coronary-artery disease, eye inflammation and inflamed skin."

Health Department director-general Dr Panpimol Wipulakorn said people should try to protect themselves.

"Minimise exposure to dust. Keep your home clean. When going outdoors, wear a facemask. And if you develop health problems, go see a doctor," she said.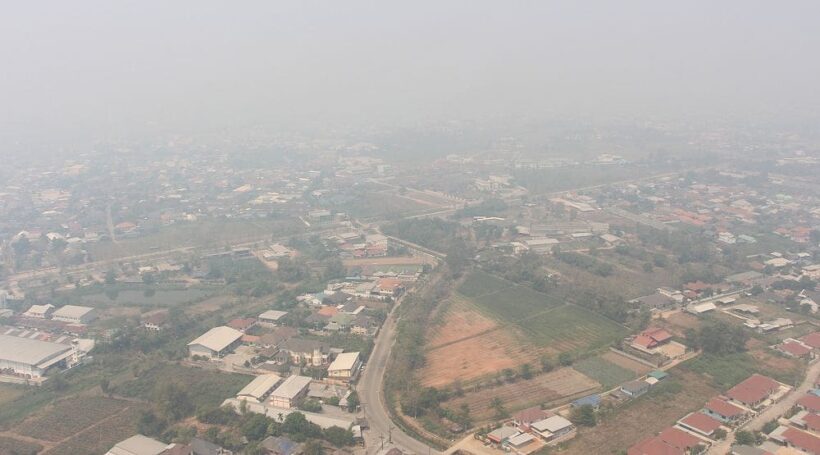 SOURCE: The Nation
TAT expects 2.3 million tourists for this year's Songkran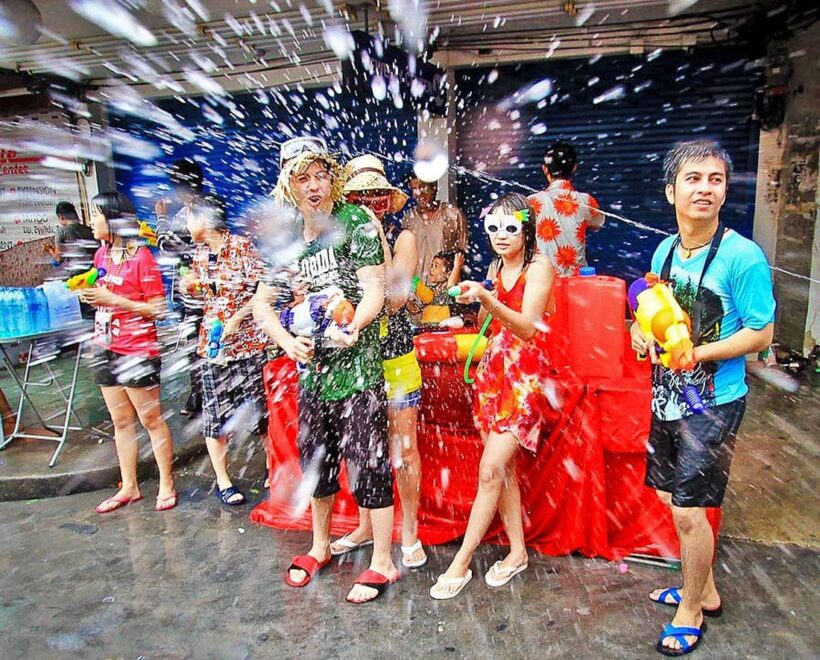 The Tourism Authority of Thailand is expecting more than 2.3 million local and foreign tourists will join the various Songkran celebrations this year. They say that should generate 20 billion baht+ in revenue for tourism and tourism-related services.
TAT's Governor Yuthasak Supasorn says 300,000 international arrivals are expected to celebrate the five day festival starting April 12, along with two million locals who will travel to celebrate Songkran this year. Songkran falling on a weekend this year will also bolster local tourism numbers.
The number of Songkran-specific visitors is up this year, partly because of the growing popularity of the festival internationally and the government extending the holiday to five days this year, now starting on April 12 (although 'Songkran, the Thai New Year, is actually on April 13).
Songkran festival extended HERE.
He admits that the bad publicity about the poor air quality in the northern regions is a problem, especially around Chiang Mai which has become a big international visitor favorite over recent yers.
Chiang Mai is one of nine provinces in the North struggling with smoke haze, mostly because of open-air burning of farm waste and rubbish, and localised bush fires. The heavy smog has caused temporary suspension of flights between Chiang Mai and Mae Hong Son although flights into Chiang Mai have been unaffected so far.
Week kicks off with more choking haze and cancelled flights in the north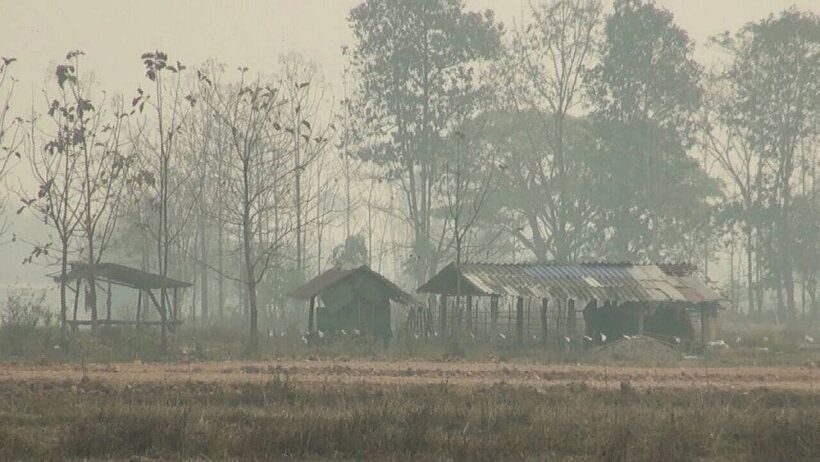 From Nan to Mae Hong Son, Phrae, Chiang Mai and Chiang Rai, choking smog continues to be a persistent problem and part of daily life in the North, where more than 400 brushfire hotspots have now been identified.
Most of the fires are in Mae Hong Son, on the far north-west border with Myanmar, which counted 100.
Bangkok Airways has already cancelled its morning flights between Chiang Mai and Mae Hong Son until at least next Sunday, extending the deadline from this weekend, saying there had been no improvement in visibility so the situation was too risky for flights.
Yesterday morning visibility at Mae Hong Son was just 1,600 metres, whereas Bangkok Airways requires 6,000 metres. At this stage other flights are continuing their schedule.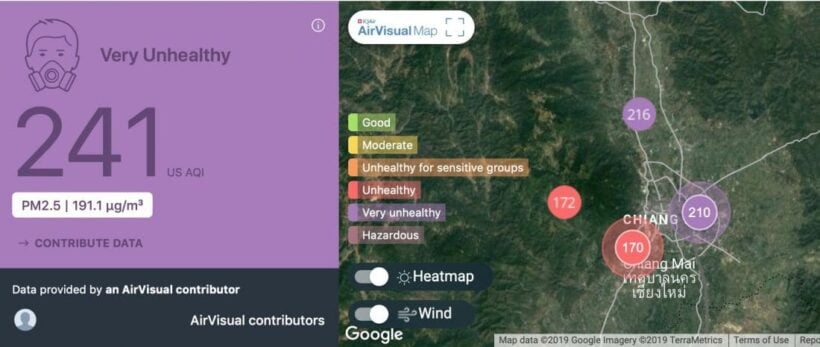 Areas north of Chiang Mai this morning, registering well above safe levels for air quality
The Pollution Control Department reported the level of PM2.5 – particulate matter 2.5 micrometres or less in diameter – in Mae Hong Son more than twice the safe limit of 50 micrograms per cubic metre.
Authorities say that deliberately set brushfires and plantation burn-offs are the main cause of the air pollution. With Mae Hong Son topping the list, Chiang Mai had 83 hotspots on Sunday, Phayao 54, Tak 49, Nan 38, Chiang Rai 37, Lampang 31, Phrae 24 and Lamphum 20.
Authorities in several provinces have declared total bans on outdoor burning, but farmers often risk the threatened fines because they have no other viable way to clear their land.
Several outdoor activities have been cancelled in Nan, such as sports tournaments, as a result of the danger to health.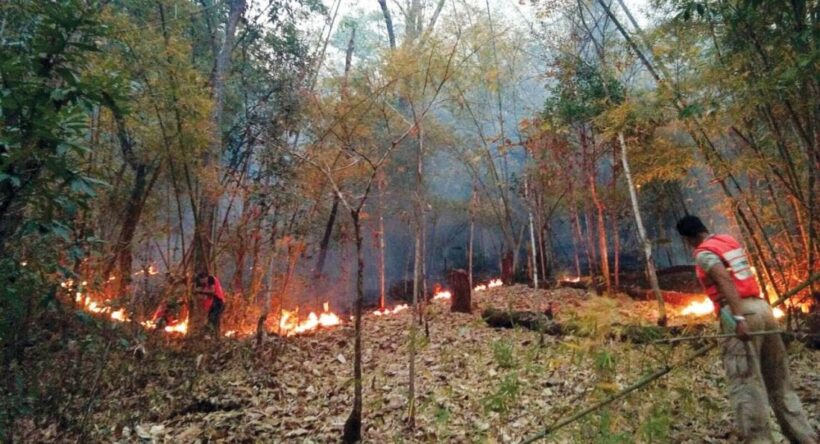 SOURCE: The Nation