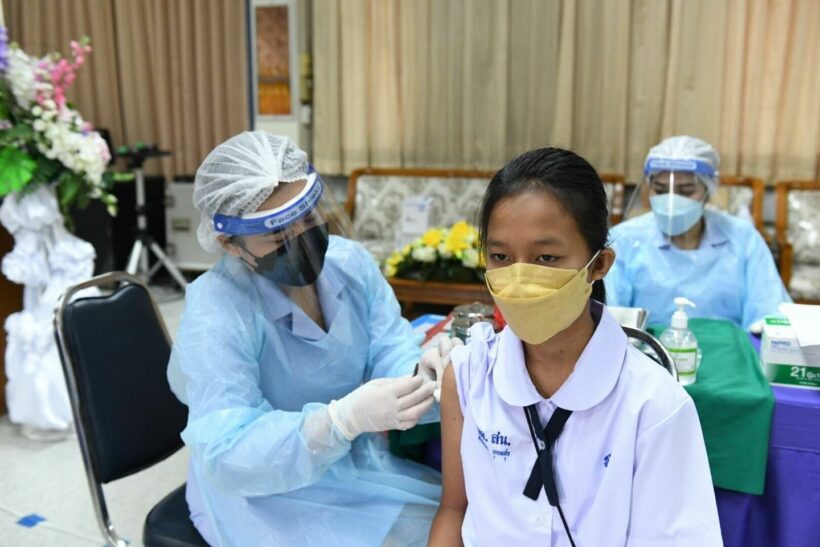 Another batch of Pfizer Covid-19 vaccine doses has landed in Thailand, with Department of Disease Control director-general Dr Opas Karnkawinpong confirming the arrival of 1,538,550 doses on Wednesday. As reported by Nation Thailand, Dr Opas said the government has procured the mRNA vaccine for children aged over 12, along with other target groups, with a total of 8 million doses having arrived since September.
The recently procured doses are on top of 1.5 million doses previously donated by the United States, with Dr Opas stating that as of October 26, 4.3 million children aged 12 to 17 have registered to get Pfizer shots nationwide. He said at least 5.7 million Pfizer doses have been earmarked for this group, comprising 4.3 million first jabs, in addition to 1.4 million second shots.
Vaccination of children began on October 4, with more than 2 million does having been administered to date, while Dr Opas said that in this time there have been less than 10 cases of myocarditis/pericarditis reported. Heart inflammation is a recorded side effect of the mRNA vaccine, with Dr Opas stating that among the reported cases of myocarditis/pericarditis, there have been no severe symptoms, with all patients having been treated.
The Nation Thailand reports that according to the Royal College of Paediatricians of Thailand in the United States there have been 162.2 cases of myocarditis per 1 million doses among boys aged 12-15, while for girls it stands at 13 cases per 1 million doses.
SOURCE: Nation Thailand