MERS patient being treated in Bangkok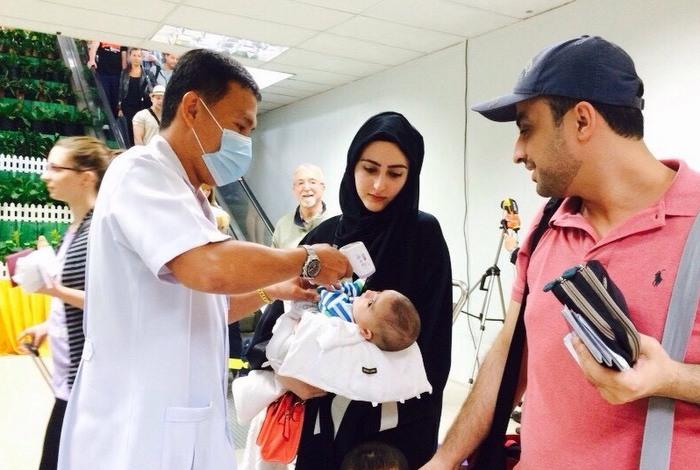 BANGKOK: Thailand believes it can contain the dreaded Middle East Respiratory Syndrome (MERS) virus after the country's second case involving an elderly Omani was confirmed.
"After receiving treatment for one week in his homeland without his condition improving, he refused to wait for lab results and immediately left for Thailand," Public Health Minister Piyasakol Sakolsatayadorn said yesterday.
The 71-year-old man has much confidence in Thailand's medical services, Mr Piyasakol said.
The first Omani fully recovered from MERS last year.
The second Omani entered Thailand on Friday and flagged a taxi to his hotel.
"However, he didn't get into his room. Instead, he headed to Bumrungrad International Hospital," Mr Piyasakol said.
At 1:30am on Saturday, the hospital quarantined him, sent specimens to the lab and alerted the Disease Control Department. After testing positive for MERS, he was transferred to the department's Infectious Diseases Institute.
The patient is currently in isolation on a respirator, but is in stable condition.
"His son is under quarantine too," Mr Piyasakol said.
The department is rushing to locate 36 other people who had direct contact with the patient, including medical staff, hotel staff and a taxi driver.
They will have to be monitored for possible infection for at least 14 days.
Thai authorities should be able to control the spread of MERS, as they responded rapidly.
"We detected this case within 10 hours, far faster than the first case," Mr Piyasakol said.
However, surveillance and screening of suspect patients must be tightened up.
"Officials at airlines and originating countries, for example, must be stricter," he added.
— The Nation
Keep in contact with The Thaiger by following our Facebook page.
Never miss out on future posts by following The Thaiger.
Thailand acknowledges wildlife markets could be dangerous to humans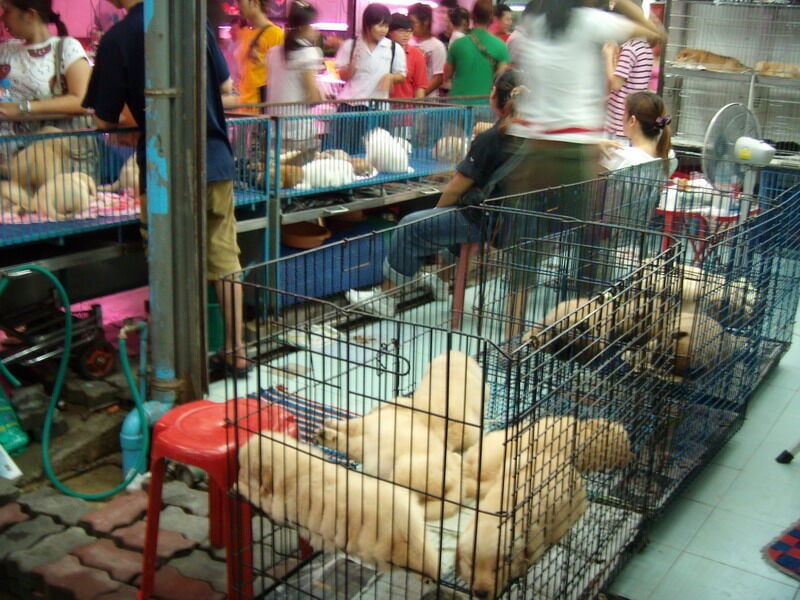 The Thai Ministry of Public Health is being praised after seemingly doing an about face over whether Bangkok's Chatuchak Weekend Market could be the source of Covid‐19. After health officials denied that the World Health Organisation was investigating the market, a recent Facebook live press conference saw the Ministry acknowledging that wildlife trades may endanger public health.
The recent investigation by the WHO of Wuhan, the province in China where Covid19 is thought to have originated, has concluded that the virus most likely did not come from a laboratory, and instead, came from animals supplied by Chinese wildlife breeding farms, or from infected animals traded somewhere in Southeast Asia. As Chatuchak Market is arguably the region's largest illegal wildlife trade market, a Danish virologist on the WHO investigation team pointed towards the Bangkok market as a potential source of the Covid19 virus.
Now, the Thai Ministry of Public Health is going to collaborate with the Ministry of Environment and its Department of National Parks to closely inspect Chatuchak market, and roll out a joint plan to increase wildlife protection and stop the wild animal trade in markets.
Southeast Asia has historically supplied most of China's wildlife trade, which the virologist sees as worrisome. As commercially traded animals can carry pathogens that could compromise a human's immune system. For example, in 2019, zebras that were legally imported into Thailand, carried a small fly species that jumped to local horses, causing African Horse Sickness. The mortality rate was over 90%, causing over 600 horse deaths.
Some animals are especially susceptible to viruses hosted by bats, such as the SARS virus. That virus jumped from a civet cat that was infected by a bat. Other viruses that are thought to have jumped from bats to other animals include rabies and Ebola. Minks and Pangolins have also been discovered to carry a coronavirus and are still being commercially traded in Southeast Asia today.
In a spotcheck carried out by Freeland, a global nonprofit organisation, Chatuchak Market is still selling ferrets, coati, civets, polecats, mongoose, raccoons, meerkats, scarlet macaws, capybara, african gray parrots, cougars, multiple species of turtles, snakes, rodents and lizards from Latin America, Africa and Australia.
SOURCE: Freeland
Keep in contact with The Thaiger by following our Facebook page.
Never miss out on future posts by following The Thaiger.
Health officials deny WHO investigation into Bangkok's Chatuchak market as potential origin of Covid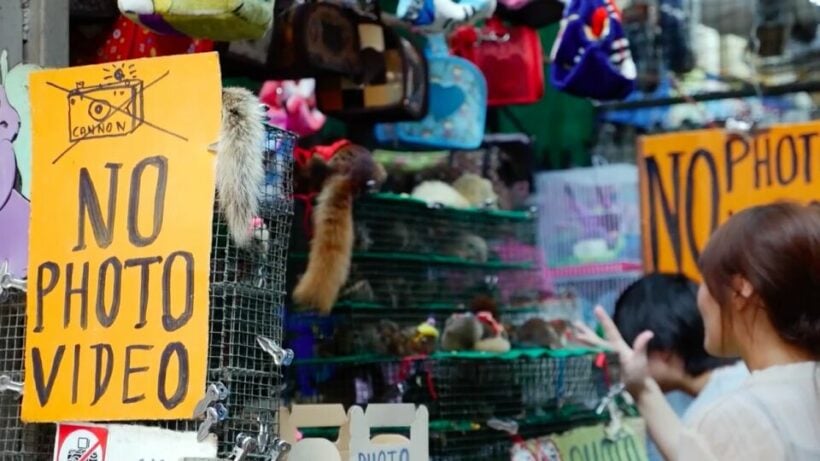 Health officials in Thailand are denying reports that the World Health Organisation is investigating Chatuchak market in Bangkok in ongoing efforts to establish the origin of Covid-19. The reports have surfaced in Danish media, following a WHO visit to Wuhan last month, with doubt hanging over the theory that the pandemic started in the central Chinese city.
Nation Thailand reports that the Department of Disease Control has held a press briefing in which it refutes suggestions the virus could have come from wildlife traded at Chatuchak market. The market has previously come under fire from animal welfare and wildlife protection organisations. In 2016, research by wildlife protection group Traffic pointed to the market's ongoing illegal trade in protected bird species, while an earlier report highlighted the market's role in the illegal trade of freshwater turtles and tortoises.
Despite several conservation experts pointing to the risks associated with the wildlife trade, Chawetsan Namwat from the DDC denies the suggestion the WHO is investigating the market for potential links to Covid-19. He says the media reports are based on evidence that the Thai horseshow bat carries another SARS virus that shares over 91% of its genetic code with the Covid-19 virus. He adds that this virus cannot be transmitted to humans, saying the DDC's advice continues to be that humans should not consume wild animals.
"This is just an academic assumption, not absolute truth. We are constantly monitoring the animal-trading zone in Chatuchak weekend market. Even if there is no clear evidence on the origin of this virus, we still need to be vigilant and maintain strong disease-prevention measures."
SOURCE: Nation Thailand
Keep in contact with The Thaiger by following our Facebook page.
Never miss out on future posts by following The Thaiger.
Thai temple tour, via a jet ski on Bangkok's Chao Phraya | VIDEO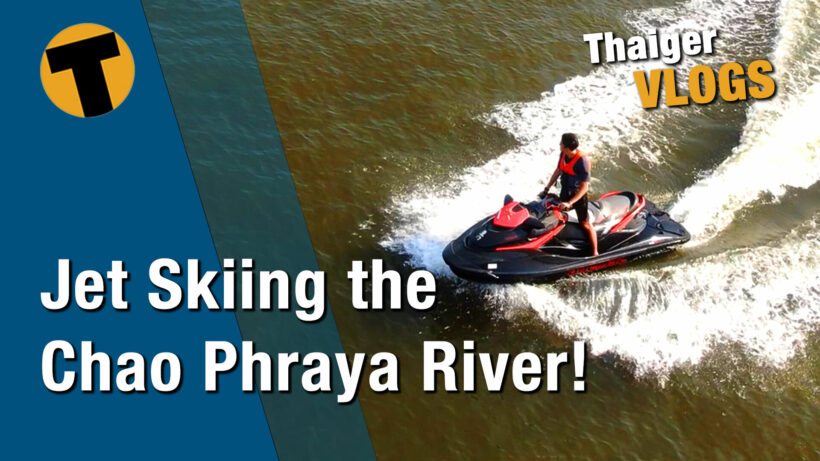 In this brief video, Chris our Thaiger 'adventure' Vlogger, takes you on a ride through the Chao Phraya River…on a jet ski! There are plenty of ways for tourists to take the well-trodden path of temple-hopping whilst in Thailand. THIS is a very fresh view of some of the famous river's lesser known temples.
You can stop off and a look around (make sure you're dressed appropriately) during your very-own river trip. The Chao Phraya River is the main river that runs through Thailand, and for 2,500 Thai baht you can rent out a jet ski and do some temple hopping as well as speeding your way around Ko Kret.
Keep in contact with The Thaiger by following our Facebook page.
Never miss out on future posts by following The Thaiger.