Living with elephants – avoiding problems in Khao Yai national park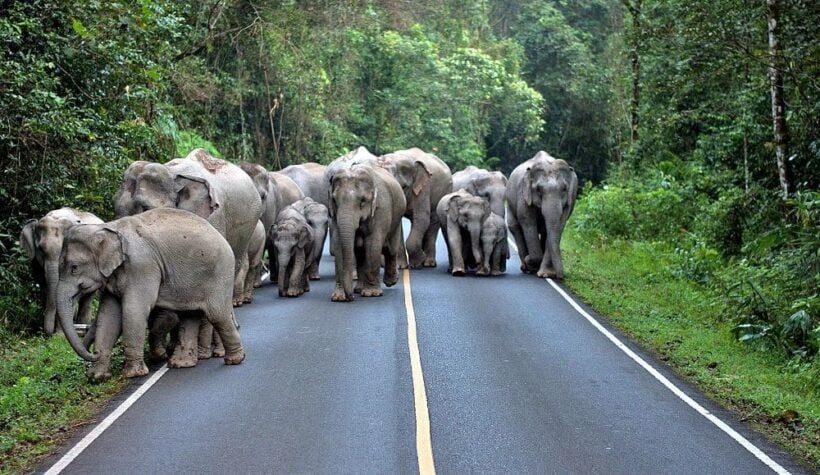 Khao Yai National Park, north of Bangkok, is instructing tourists how not to anger the park's wild elephants as they walk on or besides the roads.
Tourists travelling to the national park from Prachin Buri Province at the Noen Hom entrance are likely to meet wild elephants in the morning and evening, according to national park officials.
They are likely to encounter an elephant or a herd from the 4 kilometre marker all the way to the Haew Narok Waterfall.
"In order not to anger them, tourists must NOT use the car horn, make loud noises or use a flash when taking photos."
Park rangers also advise drivers to maintain a 30 metre distance and keep their engine running so they can retreat if an elephant approaches. Headlights should be used at night.
"Don't get out of the vehicle and go near the animal to take photos."
The
Khao Yai national park
spans over 2,168 square metres over four provinces – Nakhon Ratchasima, Saraburi, Prachin Buri and Nakhon Nayok. The third largest Thai national park is home to about 300 wild elephants and is renowned as one of the best places to see wild elephants in Thailand.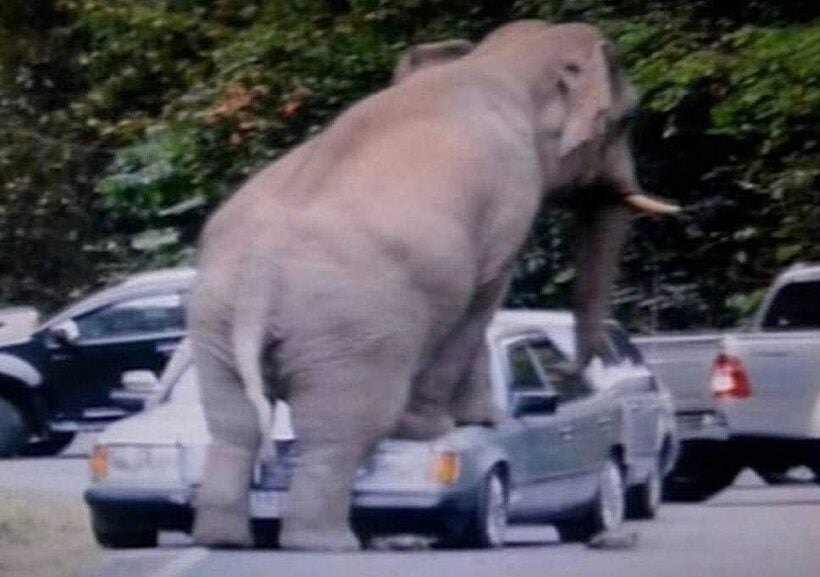 Keep in contact with The Thaiger by following our
Facebook page
.
Never miss out on future posts by
following The Thaiger
.
UPDATE: Coming to Thailand? Check your insurance and ASQ fine print.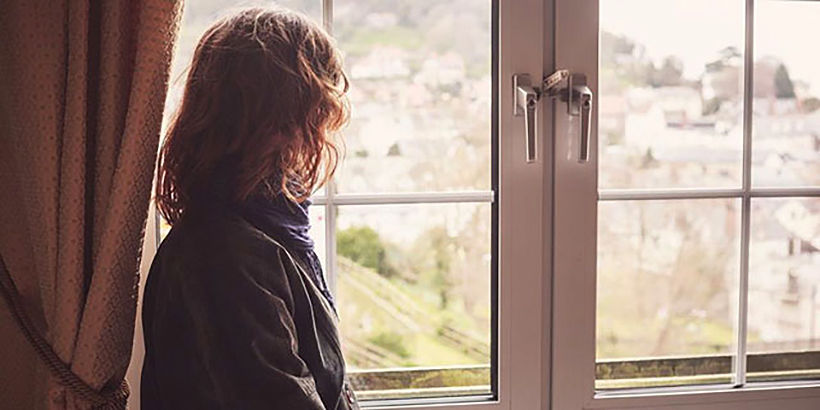 A concerned reader sent us this information, based on his experiences in the ASQ when he arrived in Thailand. We publish them with good faith but would urge everyone to check their insurance situation, whether they're currently in ASQ or might be in the near future, to check your individual circumstances. AXA has also responded to the comment, we provide that information in BOLD.
"Under current Thai ASQ rules, anyone who fails the RT-PCR test in quarantine is sent to hospital, even if they have no symptoms. The ASQ quarantine fee (paid in advance to the hotel) does not cover the hospital costs. So insurance is required.

1. I checked with AXA Thailand, as they offer an insurance policy for US$100,000 to meet the Covid-19 insurance laws. They told me this does NOT cover hospitalisation without symptoms, even after failing the covid-19 tests that are required in quarantine. I believe the odds of anyone who fails the test in quarantine having no symptoms are at least 50% and in this case their insurance will be invalid. The policy is not fit for purpose!

(AXA have responded to this claim… AXA will cover for the hospital expense necessarily incurred if an insured person is tested positive for COVID-19 regardless of the showing of symptoms. The claim payment is subject to the insured person satisfying the other terms and conditions of the policy.)
2. Most UK insurers offer travel insurance cover for "Emergency Medical Care". As being sent to hospital merely for failing a test is not an emergency, then they do not cover being sent to hospital from ASQ.
3. Some UK insurers invalidate all of the medical cover, as any visitor to Thailand is "awaiting tests for an undiagnosed condition", because they require RT-PCR tests."
AXA has further provided this information…
• Meet the 100,000 USD health insurance requirement of application for Certificate of Entry (COE) to Thailand
• Cover 3.5 million THB of medical expense including COVID19 and 1 million THB of Personal Accident, choice of period 30,90,180,270 and up to 365 days
• Coverage starts immediately a‑er clearing immigration in Thailand and include the period of 14-day Alternative
• State Quarantine (ASQ) and Alternative Local State Quarantine (ALSQ)
• No waiting period , no deductible
• Provide insurance certificate including COVID-19
Reference: https://www.axa.co.th/en/axa-sawasdee-thailand-travel-insurance
The bottomline on all this is ASK questions, check your insurance coverage and get everything in writing.
Keep in contact with The Thaiger by following our
Facebook page
.
Never miss out on future posts by
following The Thaiger
.
2 Thai Covid-19 vaccines to proceed to human testing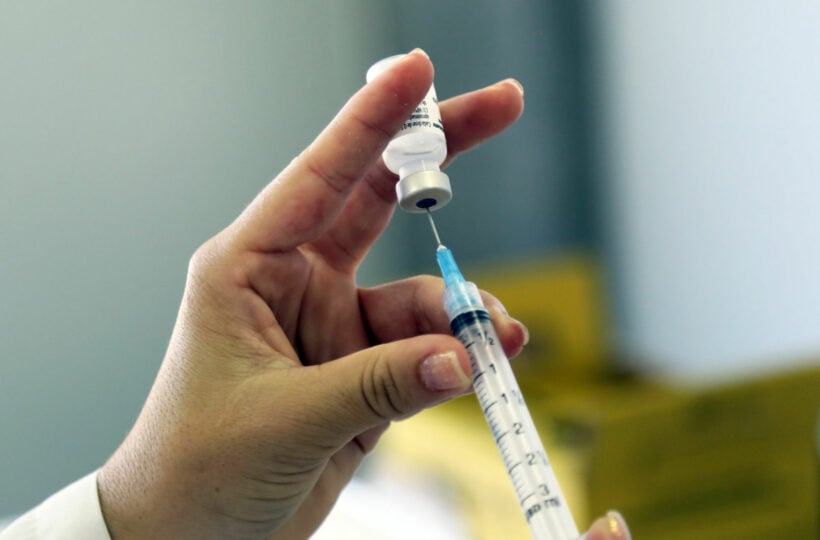 Out of Thailand's 7 potential Covid-19 vaccines, 2 have successfully completed the animal testing stage and will proceed to human testing. Dr Nakorn Premsri from the National Vaccine Institute says the 2 vaccines are the mRNA vaccine from the Chula Vaccine Research Centre and BioNet-Asia's DNA vaccine.
The Chula VRC candidate vaccine is expected to begin human trials in April of next year. It will initially be tested on 72 volunteers aged 18 – 55, and 36 volunteers over the age of 55. Initial tests will be to determine the best dosage, with volunteers subsequently divided into groups of 12 for further tests. Subject to the tests proving successful, the vaccine will move to phase 2 of human testing, involving 600 people in 2 age groups, from June 2021.
Nakorn adds that the BioNet DNA vaccine will begin human trials in Australia, with phase 2 human trials taking place in Thailand early next year.
"BioNet has received a grant from the Australian government to conduct Phase 1 human trials in Australia."
Meanwhile, Dr Kiat Raxrungtham, from the Vaccine Development Research Centre, says that while BioNet has the raw materials needed for vaccine development, the supply may not be sufficient, with larger organisations having already procured most of the resources. He further cautions that the government's budget for vaccine development – 300 million baht, distributed in 42 million baht installments – may prove insufficient. Kiat says he believes at least 1 billion baht is necessary and that fundraising among the public may have to take place.
He adds that, following successful phase 1 trials, phase 2 will take place in June. Following phase 2, the results will be analysed to determine safety and efficacy, but there will be no phase 3, as the technology for manufacturing the vaccine has already been developed and verified in other countries. If phase 1 and 2 prove successful, he anticipates the vaccine could go into mass production by late 2021.
Kiat adds that, due to the genetic make-up of Thai citizens, their dosage during the trial phases will differ to that given to non-Thai citizens.
Meanwhile, Nakorn from the NVI says the other 5 vaccines are still at the animal testing stage.
SOURCE: Nation Thailand | Thai PBS World
Keep in contact with The Thaiger by following our
Facebook page
.
Never miss out on future posts by
following The Thaiger
.
No vaccine, no entry – the next challenge of Covid-19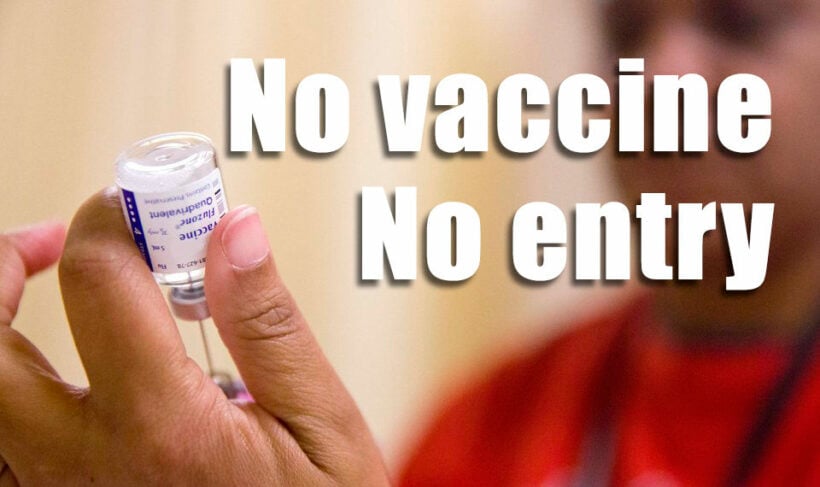 OPINION
With the announcements this week about several vaccine candidate trials, either being completed or at the end of their Phase 3 testings, and the applications to government bodies for 'emergency approval', we now have to face the next question.
What restrictions will be imposed on those people who don't have the vaccine, or even actively choose not to have the vaccine?
And more locally…
Will Thailand allow people to enter Thailand without first having the Covid-19 vaccine?
Given the Thai Government's low-risk strategy, well almost zero-risk strategy, and reluctance to take any chances with a second wave of Covid 19, it is highly likely there will be a stipulation that anyone entering Thailand will need a vaccine certificate or stamp in their passports.
Couple this with the Thai population's continued fear of allowing foreigners back into the country at this time, in poll after poll, and it's a safe bet there will be a "no vaccine, no entry" restriction imposed.
On a positive note, the Thai government may drop the 14 day quarantine for people that have had the vaccine (but not in the early days).
At this stage we know that most of the vaccine trials have had a 95% efficacy. We also know that the leading BioNTech/Pfizer vaccine needs an original jab plus a booster and has to be transported at extremely low temperature.
To complicate matters, there is not yet sufficient evidence that having had a bout of Covid-19, whether asymptomatic or not, guarantees you immunity. Or, if it does, for how long?
All these factors will mean that some level of quarantine will probably be in force as the Thai government slowly re-opens its borders to a wider groups of vaccinated travellers. This would remain in force until the world has a better knowledge of both the proven efficacy of the vaccine, or vaccines, and the re-infection rates.
So, even if we start getting groups of the world's populations vaccinated before the end of the year, and that's still a very big IF, there's a lot more water to pass under the bridge until a coherent, reliable vaccine strategy can be understood and implemented.
Then there will be a rump of people, either hard core anti-vaxxers, or others who are at least skeptical of a new vaccine, who will want to wait or not want the vaccine at all. Public education, some strong science and a successful roll out of the early vaccines will be a key to winning over a lot of the world's population.
Somehow governments and health authorities are going to have to wind back much of the disinformation floating around the internet about vaccines that is so factually out of whack with reality, it's going to be one of the greatest public health challenges of all time, to reassure people about the science of vaccines and vaccination.
All this, in the middle of a pandemic that, for now, is still on the ascendency as far as new cases and deaths are concerned.
But there is little doubt rejoining the world of international travel, even local travel, could become restricted to only those who are vaccinated. The rest will be stuck roaming around their own countries, or states, for… years with a raft of restrictions on their lives. Who knows.
Will shopping centres or public buildings also impose a "no vaccine, no entry" policy? Hotels? Public buildings? Job applications?
On top of the economic stress which has fallen on a lot of the world, with so many governments now facing the headwinds of deep recession, the vaccine 'haves' and 'have nots' will add even more public disquiet.
At this stage nobody is sure how the vaccine will be rolled out in Thailand. The Thai government has already signed up for several of the leading vaccine candidates and will most likely provide the vaccine for free to citizens under its public health system.
What does that mean for foreigners living here? If you are covered, with a work permit, under the country's public health, are you able to get the vaccine for free too? Will the thousands of foreigners on private health insurance be covered?
Surely the insurers will want its customers to be vaccinated. Sick customers cost them money. So, will insurance renewals be limited to only people who have been vaccinated? Will visas be renewed only if you have been vaccinated?
At this stage there are no firm answers to any of these questions.
And then there is the SARS Cov2 virus (Covid-19) itself, a living virus which has the ability to mutate and adapt. Will these new vaccines be effective against all mutations? Again, this is all ahead of us.
We're certainly now entering a new phase of this pandemic. New challenges, new questions. The rising numbers of cases throughout 2020 is only the first chapter of a book that will be many more years in the making.
Keep in contact with The Thaiger by following our
Facebook page
.
Never miss out on future posts by
following The Thaiger
.