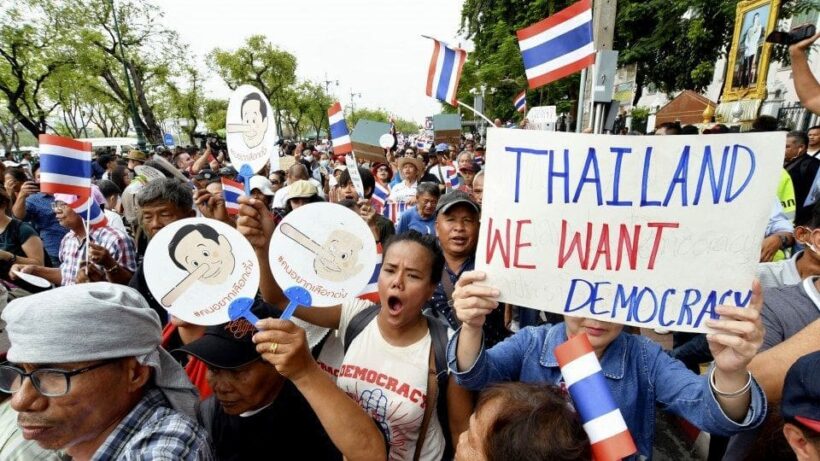 PHOTO: A pro-election protest earlier this year. Looks like protesters' demands are being answered – Kyodo News
Put it in your calendar. As far as the Government's main voices are concerned February 24 is THE date for the next Thai general election.
Government leaders are reiterating that the national elections will be held on February 24, now that the last two electoral organic laws were promulgated on Wednesday.
The Nation reports that Deputy PM General Prawit Wongsuwan has stressed that the date remains unchanged, though how the relaxation of the ban on political activities unfolds depends entirely on PM Prayut Chan-o-cha.
Another of the Deputy PMs, Wissanu Krea-ngam, in charge of legal affairs, also said yesterday that he has not heard of anything other than that national elections will be held on February 24.
The Thai stock index, meanwhile, rose yesterday by 38.57 points or 2.30 per cent to 1,717.96. The market closed at 78.999 billion baht. Analysts attributed the surge to positive sentiment from the election development as well as possibility of a US-China trade deal.
Earlier, the ruling NCPO had announced that the national elections could be held any day between February 24 and May 5. This period is restricted by the Constitution, which prescribes the national poll should take place within 150 days once all electoral organic laws go into effect.
The last legislation is the MP election law, which was promulgated on Wednesday and should go into effect 90 days later, or by December 10, according to Wissanu.
The road map to democracy dictated by the NCPO has never been this clear, despite the junta continuously promising over the nearly five years since the 2014 coup to return power to the people.
However, with the NCPO's history of failing to keep its promises and delaying polls, some political observers remain uncertain about this election. According to the Constitution, the junta gets to retain its indisputable power until a new government takes office.
Academics and politicians voiced concerns earlier that this stipulation essentially gives the junta the power to do anything, even nullifying the election and its results.
Sirawith Serithiwat, a pro-democracy activist and leader of the "We Want Election" group, said yesterday that anything could happen as long as the junta still has absolute power. Also, he said, there is always a chance that sweeping powers under Article 44 can be invoked to scrap the entire plan.
"The NCPO should only act as a caretaker government, let go of power and major administrative work and focus solely on transitioning the country back to democracy by realising a free and fair voting," the activist said.

SOURCE: The Nation