Driver seriously injured after becoming trapped under bus in Chon Buri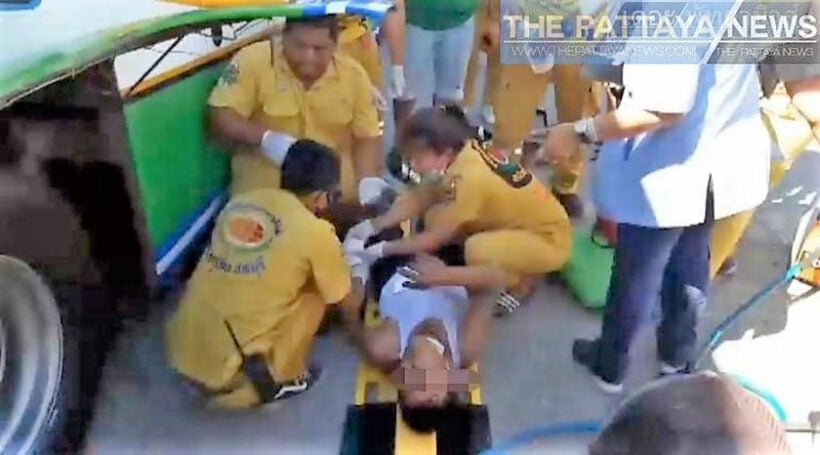 A bus driver in the eastern Thai province of Chon Buri has been seriously injured after becoming trapped under his vehicle while trying to repair it. The Pattaya News reports that 50 year old Samrit Phetphunok was attempting to fix a broken axle when the bus collapsed on him. The incident occurred in the Ban Bueang area of the province.
It took rescue workers nearly half an hour to free the driver from under the bus, after which he was rushed to hospital, where he is being treated for injuries to his ribs. His wife, who has not been named, says her husband had not been able to find a repair shop nearby that could carry out the work on the bus and had decided to try doing so himself.
SOURCE: The Pattaya News
Keep in contact with Thaiger by following our Facebook page.
Never miss out on future posts by following Thaiger.
New Yaba pill laced with crystal meth to increase potency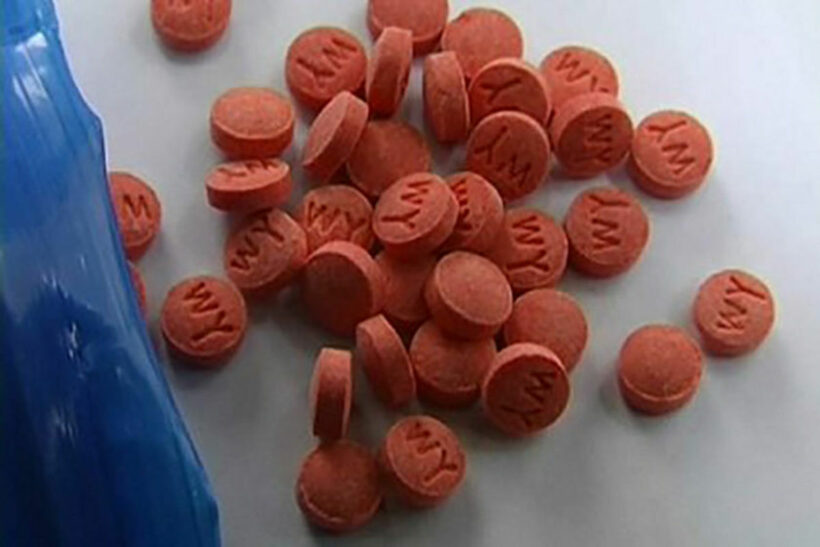 A new type of yaba pill in Thailand is featuring a crystal meth coating to boost its potency. The news comes after Border Patrol Police say they seized 40,950 Yaba pills in Thailand's northeastern Nakhon Phanom Province. Police say the pills are not the regular yaba pills that have existed in the country for years, but are a new and more potent type.
They say a drug syndicate is responsible for smuggling the new type of pills into Thailand through the Thai-Laos border. The pills were supposed to be distributed nationwide during the Songkran holiday before police seized them. Police say the smugglers escaped before they could arrest them.
Investigators told the Chiang Rai Times that a drug delivery was set to take place on the Thailand-Laos border. Police went to the suspected location and seized the drugs after finding them in a duffel bag, wrapped in blue plastic. The drugs were dumped by the road on highway 212 in Tha Uthen District in Nakhon Phanom Province.
Border police have stepped up surveillance of the area in recent months, seizing more than 10 million yaba pills along the border. They say this new group of seized pills is worth an estimated 7 million baht as the laced with meth drugs sell for about 150-200 baht each.
Yaba, otherwise known as the madness drug, was outlawed in Thailand during the early 1970's. It has many nicknames but is made of a combination of stimulants such as caffeine and methamphetamine, or crystal meth. The drug usually comes in a red pill form with the letter WY imprinted on it.
Those who take the pills, usually smoke them off of tin foil, but it can be taken orally or snorted. Most of the pills are laced with a flavor such as vanilla. As with all unregulated street drugs, the ratio between caffeine and methamphetamine varies, with some pills featuring 20% of yaba ingredients.
Thailand is considered to be one of the largest distributors of yaba, with the neighbouring country of Myanmar being one of the largest producers.
SOURCE: Chiang Rai Times
Keep in contact with Thaiger by following our Facebook page.
Never miss out on future posts by following Thaiger.
Covid UPDATE: Wednesday's new infections rise to 1,335 people, 36 people in "serious condition"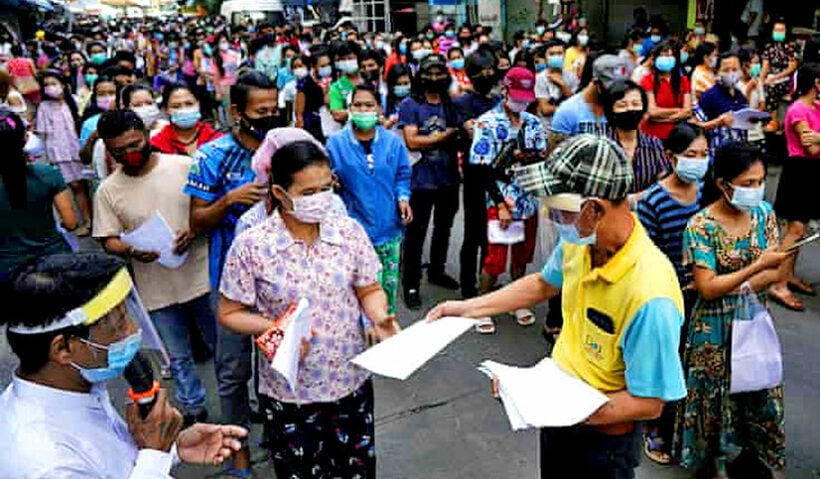 Thailand's CCSA has announced 1,335 new infections today, after a slight dip in the 10 day surge yesterday. 1,326 of those new infections are local, not imported, and mostly from Bangkok. Today's tally takes the national total to 35,910 since January 2020 when the first case outside China was detected in Thailand on January 13.
The new infections have mostly emerged in Bangkok with 351 cases. Surrounding provinces report an additional 115 infections today. In other provinces, 877 people.
It's also been reported today that 36 people are currently in a serious condition and 9 people are on ventilators. Here's the number of cases reported each day since the start of April…
April 1 – 26 infections
April 2 – 58 infections
April 3 – 84 infections
April 4 – 96 infections
April 5 – 194 infections
April 6 – 250 infections
April 7 – 334 infections
April 8 – 405 infections
April 9 – 559 infections
April 10 – 789 infections
April 11 – 967 infections
April 12 – 985 infections
April 13 – 965 infections
April 14 – 1,335 infections
Meanwhile, Prachuap Khiri Khan officials have ordered the closure of "high risk venues" such as pubs, bars, water parks, children's playgrounds, gyms, cinemas, game shops. The Governor says restaurants can open "but no alcohol can be served". This includes the seaside town of Hua Hin.
In Krabi there is now a total of 11 infections, 6 new ones yesterday.
In Chon Buri, which includes Pattaya, there were 99 new confirmed infections of Covid today … a similar number to the past few days.
Total number of infections being treated in provinces…
• Bangkok: 1,689
• Chiang Mai: 880
• Chonburi: 594
• Samut Prakan: 416
• Narathiwat: 304
• Prachuap Khiri Khan: 265
• Samut Sakhon: 166
• Pathum Thani: 124
• Sa Kaeo 105

Keep in contact with Thaiger by following our Facebook page.
Never miss out on future posts by following Thaiger.
Thailand approves 8 vaccines for foreign travellers seeking shortened quarantine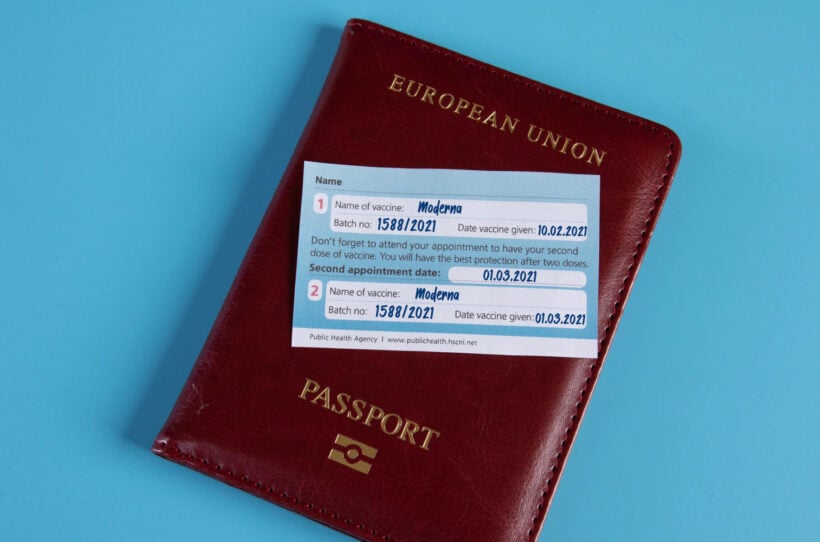 Thailand has approved a total of 8 Covid-19 jabs for vaccinated tourists hoping to avail of reduced quarantine on arrival in the Kingdom. Despite a third wave of infections gripping the country, officials are pinning their hopes on the return of international visitors in order to revive the decimated tourism sector. In 2019, approximately 40 million foreign visitors to Thailand contributed over 60 billion US dollars in revenue.
The 8 approved vaccines are the Chinese Sinovac and Sinopharm jabs, along with AstraZeneca, SK Bioscience, Pfizer-BioNTech SE, Serum Institute of India, Johnson & Johnson, and Moderna. However, in a move likely to further complicate already complex arrangements, people intending to visit Thailand will need to be vaccinated no less than 14 days before travel.
Vaccinated tourists will be required to upload their certificates of vaccination on the Foreign Ministry's website before arrival, after which they can avail of a reduced quarantine period of 7 days. Unvaccinated arrivals will be subject to 10-day quarantine, while arrivals from several countries, including South Africa, will have to endure 14-day quarantine.
Foreign visitors will also require a certificate of entry, a valid visa, adequate health insurance and a negative Covid-19 test result.
Tourism officials in Thailand are desperately hoping foreign visitors will still want to enjoy the country's beaches, temples, culture, and food, and are pinning everything on a reduction in mandatory quarantine. The quarantine requirement is widely seen as the biggest obstacle for foreign visitors. Prior to the latest outbreak, the southern island of Phuket was hoping to waive quarantine entirely for vaccinated arrivals from July. It remains to be seen if this will still go ahead.
SOURCE: Travel Daily
Keep in contact with Thaiger by following our Facebook page.
Never miss out on future posts by following Thaiger.