Thailand
All protesters dispersed by soldiers; PDRC jubilant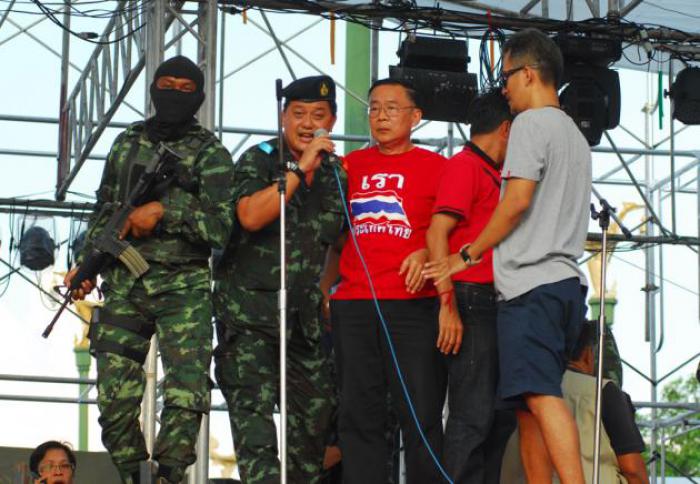 PHUKET MEDIA WATCH
– Thailand news selected by Gazette editors for Phuket's international community
All protesters dispersed by soldiers; PDRC jubilant
The Nation / Phuket Gazette
PHUKET: Pro-government red-shirt protesters at Aksa Road rally site began returning home yesterday after the Army seized power and soldiers were sent in to take control of the situation.
Earlier, the soldiers seized control of the United Front for Democratic against Dictatorship (UDD) rally site just outside Bangkok and told everybody to get down on the ground. They later detained UDD leader Weng Tojirakarn as well as other red-shirt leaders.
What sounded like gunshots were heard as protesters were seen leaving the Aksa Road rally site either on foot or in a vehicle. The military also provided buses for both red-shirt protesters on Aksa Road and the anti-government People's Democratic Reform Committee (PDRC) supporters on Rajdamnoen Avenue and Chaeng Wattana Road.
Protest leader announces victory
Once the power seizure was announced, PDRC co-leader Phra Buddha Issara went on stage at the Chaeng Wattana rally site yesterday to announce victory and urge the crowds to go home.
The monk said he had advised PDRC secretary-general Suthep Thaugsuban, who is being detained by the Army, to not push too hard but he did not listen.
The monk explained that the Army had no choice but to seize power as the second round of talks had clearly failed. He added that he would find a team of lawyers to help fight for the release of PDRC leaders who have been detained as well as those facing arrest.
The monk, who appeared to be quite emotional, said the Army had given him their word that they will help all Thais become "good people".
Buddha Issara also allowed the Army to dismantle the PDRC protest site at Chaeng Wattana Road before handing over three reform proposals to the soldiers. The Army sent about 20 buses to help the protesters get home, and it is believed that the monk is under detention at the First Artillery Battalion Headquarters.
Meanwhile, news of Army seizure and the detention of pro-government red-shirt leaders was met with jubilation by PDRC supporters.
However, the protest leaders urged the crowds to behave normally and stay put, while PDRC co-leader Thaworn Senneam issued a statement saying all protest leaders were safe and that the guards had been told not to carry weapons.
In Chiang Rai, red-shirt leader Thanit Yunnasinikasem declared that the Army seizure was illegitimate and that he would do what he can to resist it.
"The country has no rules any more. Anyone can do anything they please, but the red shirts will not accept this," he said.
He also promised that the pro-government movement would oppose the seizure both underground and openly.
— Phuket Gazette Editors