MONDAY MORNING NEWS BRIEFING – All your local news in 3 minutes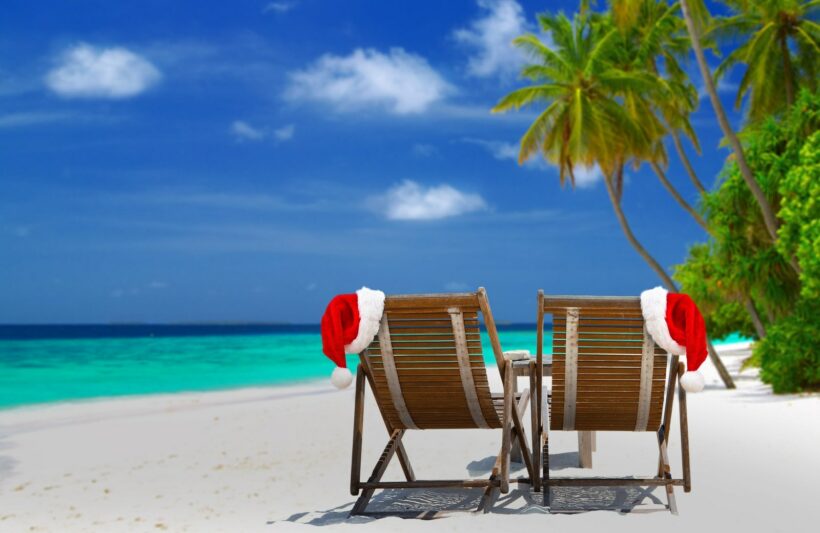 Merry Christmas from all of us here at Phuket Gazette and The Thaiger. We urge you to be extra careful out on the roads on this day and in the days up to New Year. It's the busiest time for tourism on the island and there are lots of people here to celebrate. Let's see which stories are leading the way for your Monday…
Drunk driving still the leading cause of deaths
The Academic Centre for Road Safety says drunk driving remains the issue of greatest concern regarding road safety.
According to the Road Safety Operations Centre, during the seven-day monitoring period for New Year last year, there were 4,128 injuries and 478 deaths from 3,919 road accidents. This represented a rise on previous years. The same research showed that the top five reasons for road accidents were: driving while drunk, speeding, cutting in front of another vehicle, recklessly riding a motorcycle and poor visibility on the road.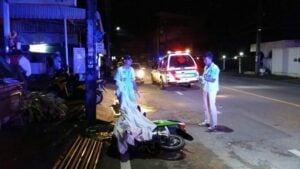 Davao City shopping mall fire kills 37
At least 37 are feared burned alive in a shopping mall in Davao City in The Philippines. President Rodrigo Duterte broke the sad news to relatives of the 37 victims who were mostly workers of BPO firm SSI yesterday.
The president broke into tears when visited the families of victims trapped in the mall. The blaze started at the four-storey NCCC Mall on Saturday morning and people were trapped inside, including in a call centre on the top floor. The fire was still going yesterday morning. A police officer speaking to AFP believes that the fire started on the third floor which houses products like fabrics, wooden furniture and plastic ware.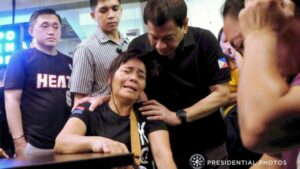 Bus plows into car in Thalang killing two
At midnight on Saturday night, at Saladaeng intersection on Thepkasattri Road in Thalang, a 6-wheel bus crashed into a car, resulting in two casualties and an injured driver in serious condition.
The bus was driven by 42 year old Boonyong Linla, who police allege was driving at high speed and ignored a traffic signal, running the red light. He crashed into the car of the family of three, driven by 24 year old Pradit Robroo with two passengers, 18 year old Kanlaya Mianbut and one year old Kornkamon Robroo.
All three were sent to Thalang Hospital, but one year old Kornkamon later died at the hospital as a result of her injuries. Kanlaya Mianbut was taken to Vachira Hospital, along with her husband, but she died at Vachira Hospital later in the morning. The husband remains at Vachira with serious injuries.
Police continue to investigate the incident and are questioning the 42 year old bus driver.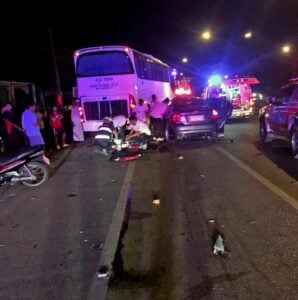 Toon surpasses one billion in donations
The charity run by Bodyslam frontman "Toon" has hit more than 1 billion baht in donations.
As of 2pm yesterday, donations for 11 public hospitals benefiting from Artiwara's cross-country charity run amounted to 1,000,428,000 baht – well exceeding his initial target of 700 million baht. Artiwara – who was voted in a Bangkok Poll survey as the most admirable person of the year – has run for 372.24 hours over 42 days covering 2,140 kilometres. The rocking runner is now in Chiang Rai crossing the finish line today. He started the run on November 1.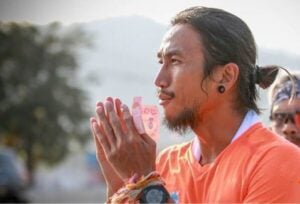 November 2018 poll date 'impossible'
Despite the junta leader's claim to promote an inclusive democracy, the new Article 44 order to extend deadlines for political party activity would instead make a November election "impossible" and weaken public participation. This observation by academics concerned that the country's roadmap to democracy will be pushed forward again by the latest changes to political party involvement.
Last Friday, Prime Minister General Prayut Chan-o-cha issued an order under his absolute powers to amend the existing Political Party Act, giving the main reason as the need to extend the deadlines required for parties to follow ahead of the election. The junta's ban against political gatherings of five or more people has stopped parties from holding meetings or making other official moves. Although the order is claimed to "facilitate" parties, it requires members of existing parties to submit "verifying membership documents" to their party headquarters.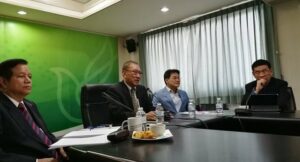 Phuket's beaches missing from 'clean beach' list
Thirteen beaches in six provinces have been found to be of a very good environmental condition in an assessment by the Pollution Control Department of the Natural Resources and Environment Ministry.
The assessment was carried out under the "beaches with stars" project for the year 2017.
The assessment measures four aspects: pollution control; natural conditions; environmental management; and tourism management.
For the year 2017, the following 13 beaches have been assessed to have a very good environmental condition, each with five stars attached:
1. Toey Ngam beach, Chon Buri, in an area under the supervision of the navy's Sattahip Marine Command.
2. Laem Sala beach, Khao Sam Roy Yot National Park, Prachuap Khiri Khan.
3. Ao Manao beach of the air force's Wing 5, Prachuap Khiri Khan.
4. Ao Kha, Ang Thong Islands National Park, Surat Thani.
5. Sam Sao beach, Ang Thong Islands National Park, Surat Thani.
6. Tham Rang beach, Ang Thong Islands National Park, Surat Thani.
7. Thai Muang beach, Khao Lampi-Hat Thai Muang National Park, Phangnga.
8. Ao Kuak beach, Similan Islands National Park, Phangnga.
9. Mai Ngam beach, Surin Islands National Park, Phangnga.
10. Laem Tanot beach, Ko Lanta National Park, Krabi.
11. Ko Rok beach, Ko Lanta National Park, Krabi.
12. Pile beach, Than Bokkhorani National Park, Krabi.
13. Ko Lidi beach, Phetra Islands National Park, Satun.
Moreover, Na Thap beach in Ang Thong Islands National Park is rated as being of a high environmental condition, with four stars attached.
Bottomline, not one beach in Phuket is on the list 🙁
(STORY: Thai PBS)
Keep in contact with The Thaiger by following our
Facebook page
.
Hungarian overstayer dies in Suvarnabhumi detention cell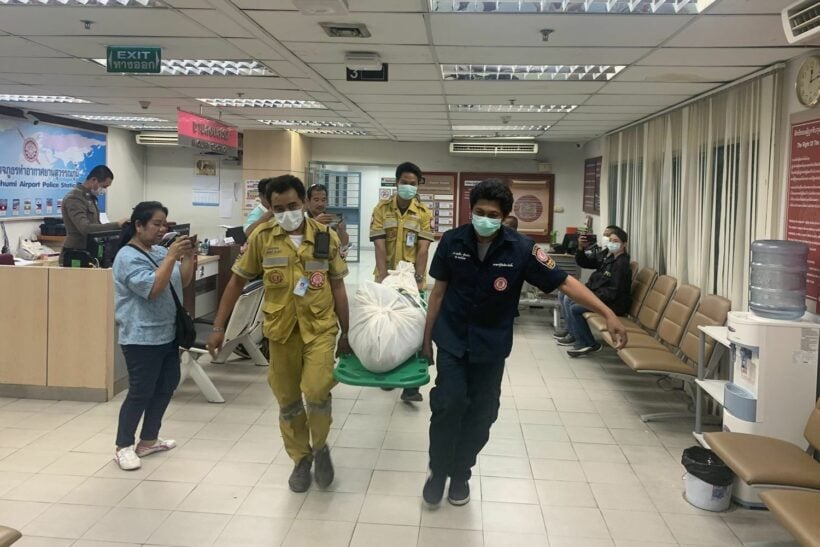 A 60 year old Hungarian man has died in detention at Bangkok's Suvarnabhumi airport. Lazlo Balogh was awaiting deportation for overstaying his visa. Laszlo was handed over to the Suvarnabhumi airport police for repatriation on Saturday, January 25. He showed no unusual signs after being put in the detention cell and was sleeping normally on Saturday night, according to police.
But when they checked again yesterday morning, the man was dead.
"There were no signs of trauma, and doctors believe he died eight hours before the body was discovered."
The chief of the airport police told reporters the Hungarian embassy had been contacted and a committee has been set up to investigate the police officers on duty. The body is being sent to the Chakri Naruebodindra Medical Institute for an autopsy.
SOURCE: The Bangkok Post | Thai Rath
Keep in contact with The Thaiger by following our
Facebook page
.
10 ways to optimise the value of your property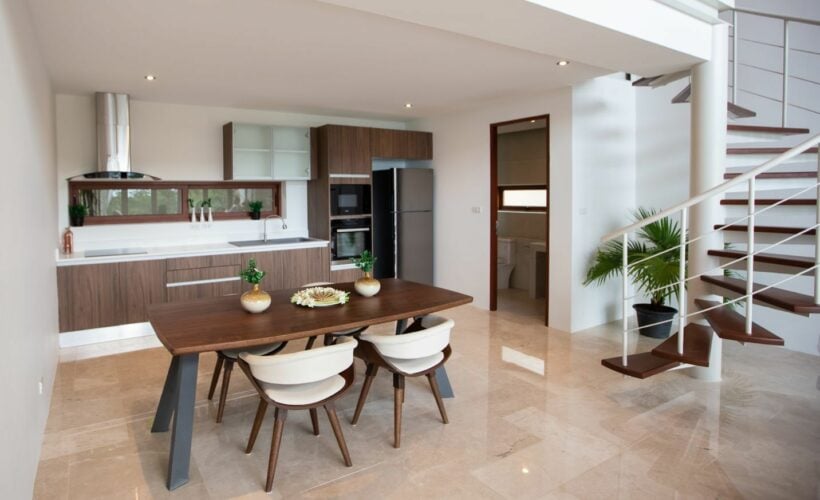 So, you're thinking about selling your property… but, before you put your house or condominium on the market, it's always a right move to hear what experts in the local market have to say. In this article, we've gathered advice from property consultants at Thailand's top real estate company, Fazwaz Property Group on how to increase the value of your property.
Do basic repairs
Basic home repairs are something you shouldn't skip. Bangkok-based property consultant, Anjana Arora advises sellers to keep their property well-maintained and in peak condition.
"If there's any problem, it should be fixed right away before it gets worse. Don't forget that a tiny water leak can quickly turn into a nasty and expensive problem."
Increase inside appeal
It's more than functions that can increase your home's value. "A good-looking interior and fitting furniture can make your unit stand out from other similar units and improve your competitive edge", said Praveen PalSingh, Bangkok property consultant.
"Install some furniture, decor, paintings, and decorative items so that the photos look nice and appealing. Also, make sure that the place is clean and ready for viewing."
Make it ready to move in
Praveen said most clients who look to buy for their own use prefer the ready-to-move-in-right-away type of property. "Buyers usually prefer a unit where they don't have too much touch-up to the unit."
Stick to neutral furnishings
"Some people renovate to a very personal taste. The best renovations keep the property furnishings/decoration as neutral as possible, while also modernising the property", said John Lees-Whitehead, Fazwaz's Pattaya sales director. This may include sticking to neutral colors such as white, grey and beige and staying away from pink, bright yellow, and green.
Renovation isn't a one-size-fits-all
"It depends on the unit," said Luke Murray, a veteran consultant, in Bangkok. He said renovation isn't the only solution to maximise home value, especially as renovation is a cost and risk, in itself, as badly renovated property isn't easy to sell.
"Sometimes it is better to leave it as an older unit and let the new owner renovate, themselves. Other times it is better to do some basic renovations to make the unit livable and then let the new owner decorate, themselves. It's hard to say without seeing the unit specifically."
Tend to the garden
People tend to focus on the interior and forget the importance of curb appeal. So, after clearing all the clutter, applying a fresh coat of paint, and repairing unserviceable items, don't let the overgrown plants and patchy grass ruin the first impression. The next thing is to "mow the lawn and prune the trees", advised Chiang Mai property consultant, Chayanin Chumphukham.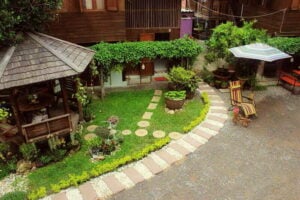 Highlight good location and management
"Location and management are factors that you can't control, but greatly determine the value of the property", said senior property consultant Bao Nguyen, who is based in Phuket. So, if your property ticks those boxes, it has a big advantage.
Hire a professional photographer
Talk to veteran real estate agents in Thailand, and the chances are they will advise you to hire a professional photographer to take pictures of your property. There are many badly taken photos on property listing sites in Thailand, but you shouldn't follow the crowd. You can get an 8 photo package for a small condominium unit at as cheap as 1,500 baht. The price for shooting larger villas starts at around 3,000 baht.
Show rental figures
"Good rental figures and occupancy rates are attractive to buyers as well as good management because many buyers also want to rent out the property when they are away", said property consultant George Willoughby, based in the paradise island of Koh Samui.
"Properties with good occupancy show potential to make money, which is why many people invest. It also helps reassure that it could be easier to resell again, in the future."
Install high-quality curtains
"High-quality curtains are what tenants look for", said Jen Mayo Mui, property consultant in Bangkok, who is experienced with Chinese buyers.
"If the condominium unit has no or low-quality curtains that can't block sunlight, that's a big turnoff for some clients, especially if the unit faces west and has a longer exposure to sunlight", he said. So, if you are looking to increase the value of your property in the rental market, invest in high-quality fabric.
Follow these tips from veteran agents at Fazwaz.com to optimise the value of your property when you list your property for sale.
Keep in contact with The Thaiger by following our
Facebook page
.
Kobe Bryant dies in helicopter crash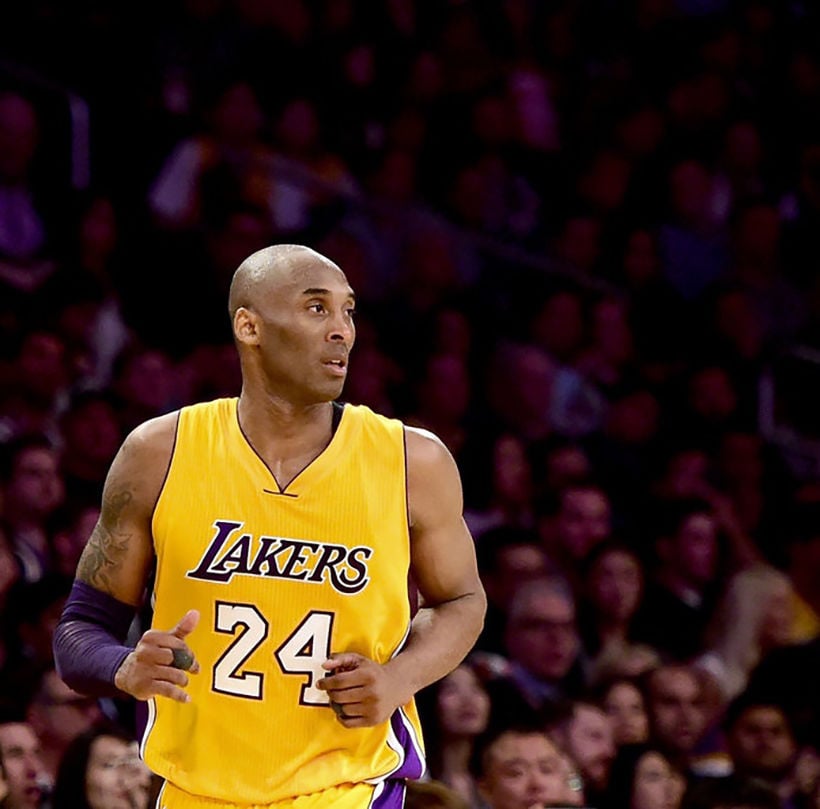 Basketball legend Kobe Bryant has died in a helicopter crash, along with his daughter Gianna. He was 41. The tragedy occurred in Calabasas, California yesterday. Nine people, including the pilot, lost their lives. There were no survivors.
Widely regarded as one of the greatest basketball players of all time, Bryant played his entire 20 year career in the National Basketball Association (NBA) with the Los Angeles Lakers. He entered the NBA straight out of high school in 1996 and won five NBA championships. He was an 18-time All Star, 15-time member of the All NBA Team, 12-time member of the All Defensive team, and the 2008 NBA Most Valuable Player.
Kobe led the NBA in scoring during two seasons, ranks fourth on the league's all-time regular season scoring, and ranks fourth on the all time postseason scoring list. Bryant was the first guard in NBA history to play 20 seasons.
SOURCE: The New York Times
Keep in contact with The Thaiger by following our
Facebook page
.