Five metre king cobra caught in Krabi restaurant – VIDEO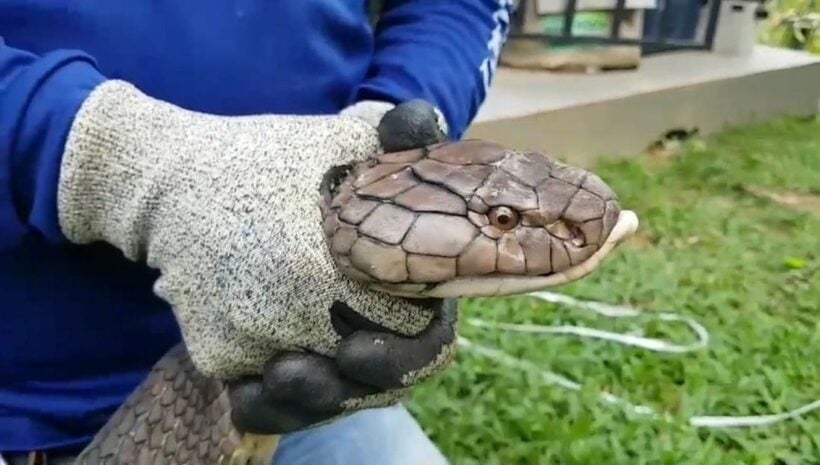 A five metre king cobra was caught inside a restaurant in Krabi by plucky rescue workers yesterday.
Krabi Pitak Pracha rescue workers arrived at the restaurant to find the restaurant staff and customers outside the restaurant.
A staffer says that the king cobra was found at the back of the restaurant inside the kitchen.
A rescue worker used a snake snare to catch the 5 metre reptile. It took about 20 minutes to catch it. It is believed to be about 15 years old.
A 20 kilogram, 5 metre king cobra was caught by a skilled rescue worker with his bare hands in Krabi last month. Not recommended!
Read more about that cobra HERE.
KRABIHow to catch a 5 metre King Cobra. Step One – look under the kitchen bench…VIDEO: Krabi Pitak Pracha Foundation

Posted by The Thaiger on Thursday, 7 February 2019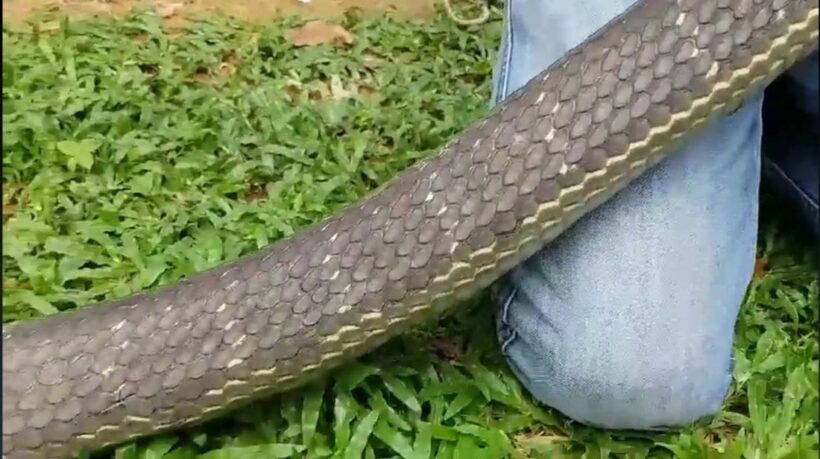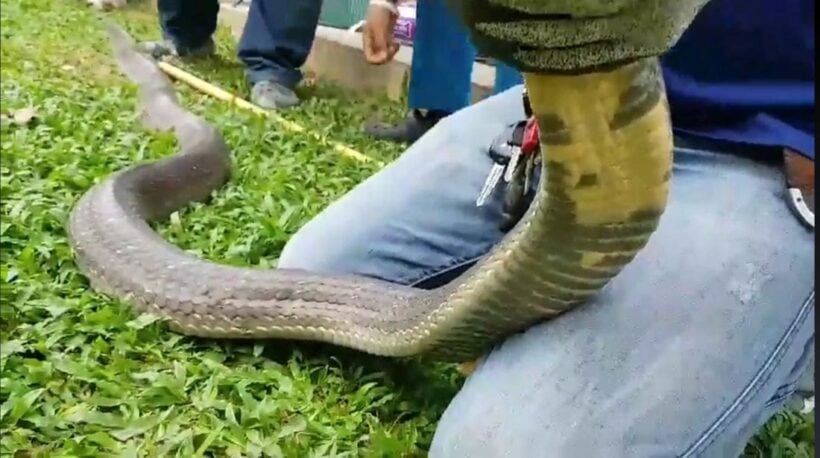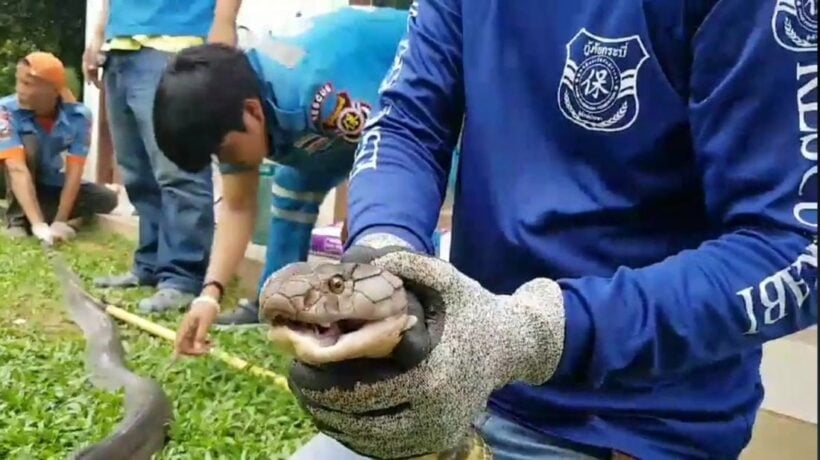 Read more headlines, reports & breaking news in Krabi. Or catch up on your Thailand news.
Man arrested after slashing 82 year old woman in Krabi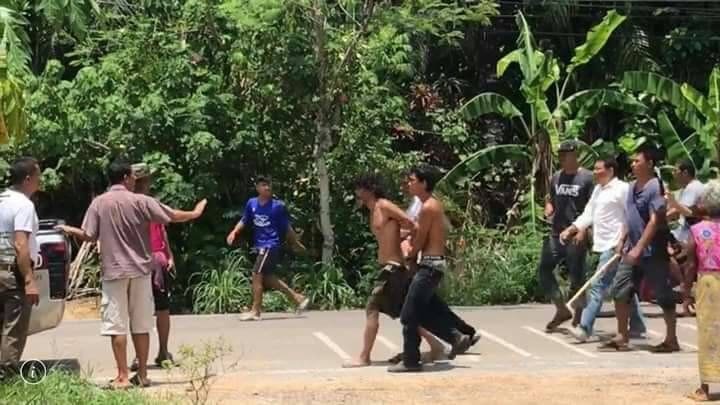 A man has been caught after slashing an 82 year old woman in Krabi today.
The 52 year old man who is reported to have psychological problems was caught after he used a long knife to slash the 82 year old woman named Wieng Imkasem.
The woman, who has sustained serious injuries as a result of the attack, was rushed to hospital. The attacker was also taken to hospital.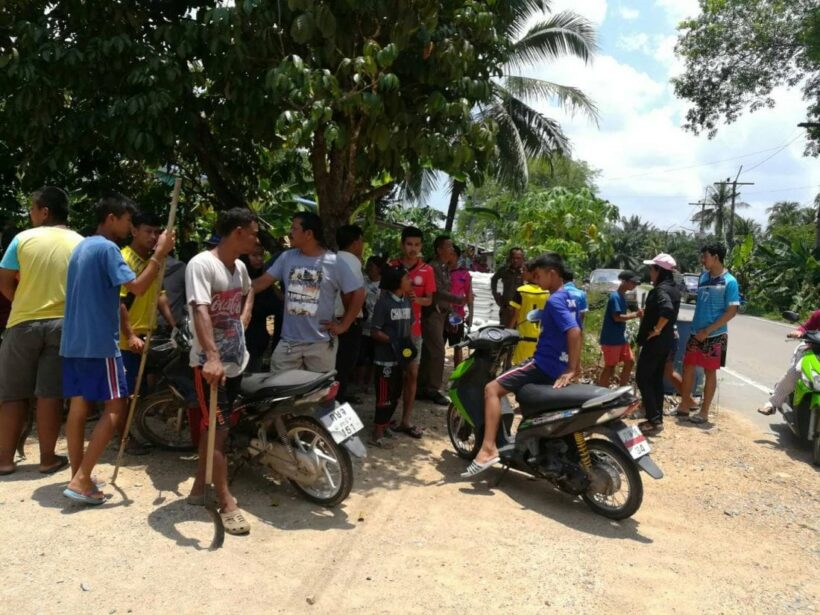 Maya Bay's extended closure "vital to conserve the ecology"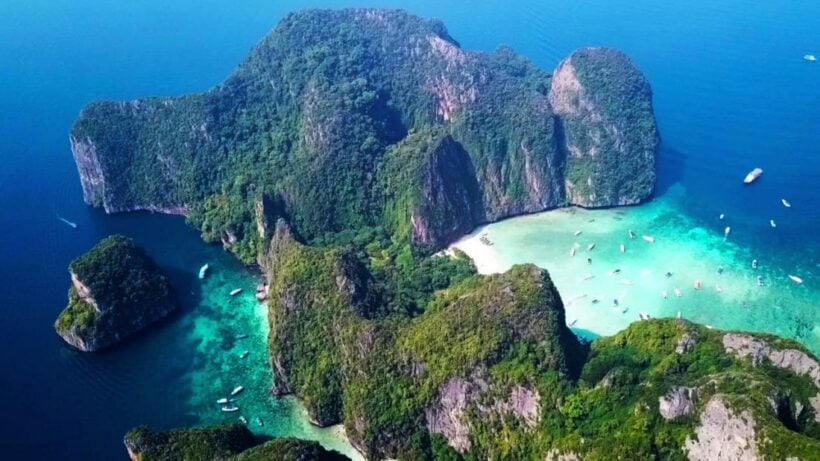 Maya Bay's extended closure keeps the wraps on one of southern Thailand's most popular tourist attractions.
Worapot Lomlim, chief of the Hat Nopparat Thara Phi Phi Islands national park confirmed this week that he might keep Maya Bay closed for up to five years to allow the current recovery to continue.
The Department of National Park, Wildlife and Plant Conservation has agreed to extend the closure of Ao Maya, or Maya Bay, located on one of the Phi Phi islands between Krabi and Phuket, for another six month period after an initial 10 month closure to allow nature to regenerate the ecosystem.
The Chief reports that the local ecological systems of Maya Bay, degraded by years of accelerating tourist traffic, has steadily improved during the current closure. Up to 5,000 tourists a day were visiting Maya Bay at its peak before authorities weighed up the pressures of the conservationists and tour operators and decided it was best to close the popular tourist attraction for an extended period
He cited the frequent sightings of blacktip reef sharks near the beach and the gradual growth of some 23,000 corals farmed at a coral centre in Trang province, which were planted in the Bay with the help of volunteer divers.
After the next six-month extended closure, Khon Worapot indicated that the department will consider extending the closure for an even longer period, up to 4-5 years, to allow full rehabilitation of the environment and the ecological system.
Maya Bay was closed to all tourist access on June 1, 2018.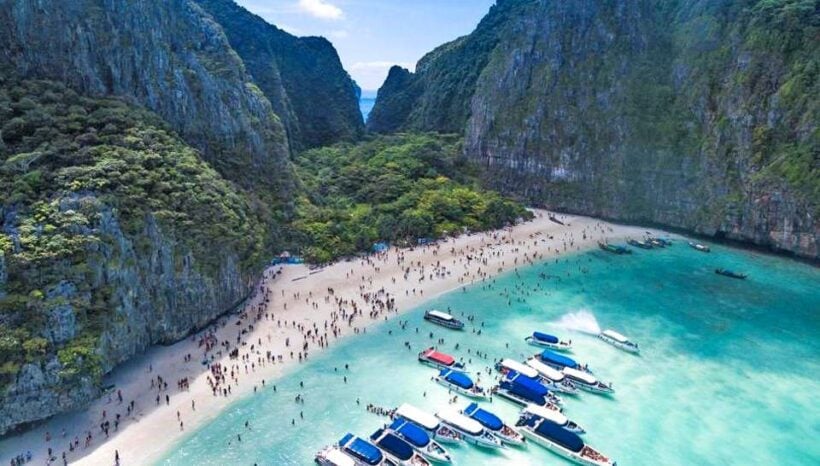 Up to 5,000 tourists a day were visiting the Bay at its peak
Man found with drugs at Krabi checkpoint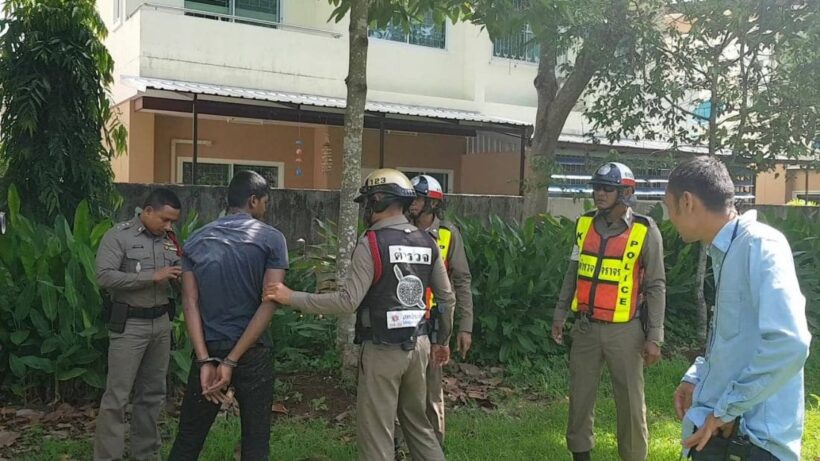 A man has been arrested with methamphetamine pills at a checkpoint in Krabi today. He was stopped at the checkpoint because his girlfriend wasn't wearing a bike helmet.
The Krabi City Police arrested 22 year old Atsadawut Nuisuchon who was driving his motorbike past a checkpoint in Krabi city centre today. He was found with 20 methamphetamine pills.
Police stopped him as his girlfriend wasn't wearing a safety helmet. Atsadawut fled the scene but left his motorbike and girlfriend behind.
Police followed him and arrested him within half an hour. He and his girlfriend were taken to Krabi City Police Station for further legal action.