Blacktip reef shark in bag probably not from Maya Bay – national park chief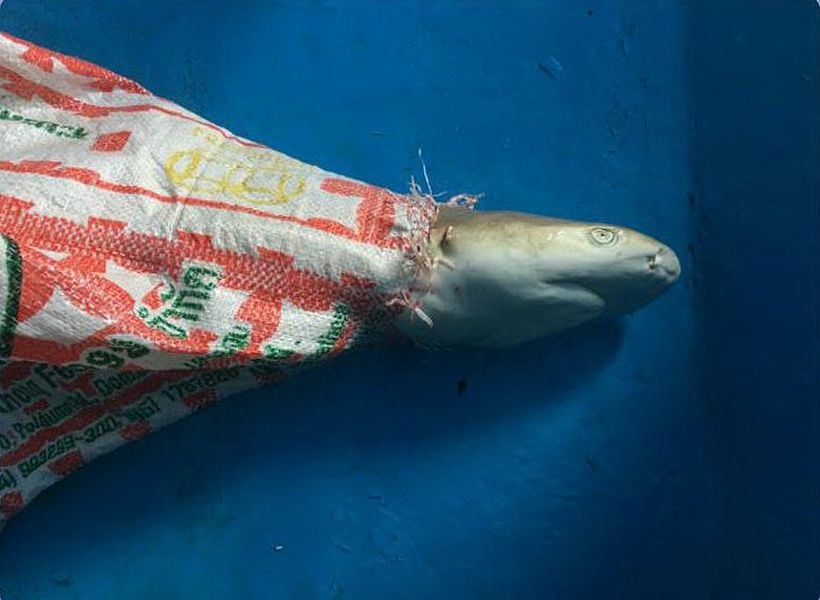 The chief of the Hat Noppharat Thara–Mu Koh Phi Phi National Park, Worapot Lomlim, says he can't confirm that a blacktip reef shark found dead inside a bag was found at Maya Bay.
National Park officers are investigating the stories following the death of a blacktip reef shark allegedly found in a bag at Maya Bay at Koh Phi Phi Ley. A foreign dive instructor at Koh Phi Phi posted a picture of a blacktip reef shark found dead inside a bag in a LINE group 'Phi Phi Island news informs' with a message reading "a shark has found dead in a bag at Maya Bay."
Read more about the original claims HERE.
Khun Worapot says, "No one at any of the local diving companies can confirm that the shark was found dead at Maya Bay. It is possible that the photo was taken somewhere else. We believe that it was not at Maya Bay."
"Maya Bay has been closed. It is difficult for anyone to enter and take such a photo there. The National Park officers are patrolling all the time. However we are continuing with the investigation."
Keep in contact with The Thaiger by following our
Facebook page
.
Tourist and environment groups share concerns for new access piers for Maya Bay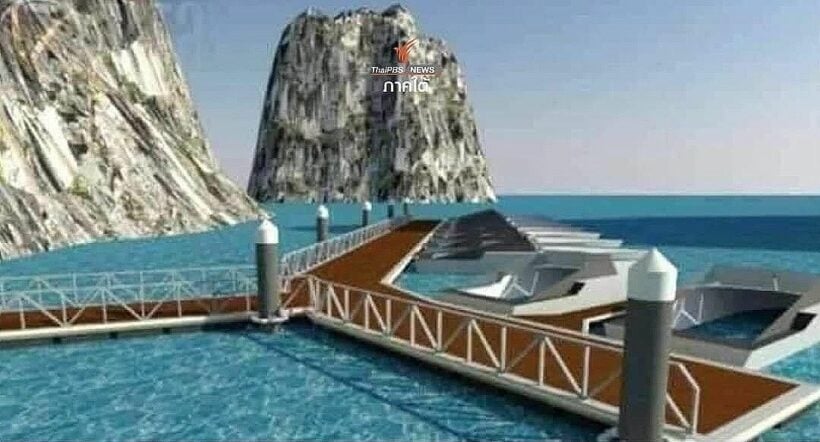 The Chairman of Krabi Tourism Industry Council has shared his concerns about new piers and landing facilities on Koh Phi Phi Ley after being made aware that the Department of National Parks had the initiative to build a pier so tourist can travel by foot to Loh Samah Bay area behind Maya Bay, Ao Nang Subdistrict, Muang District, Krabi.
Maya Bay remains closed to all visitors and access confined to boats passing by the entrance to the bay for a photo opportunity instead. The bay was attracting up to 6,000 people per day at the height of its popularity before authorities closed down access in June 2018.
The idea of the floating piers would allow tourists to disembark then walk from the rear of the island across raised boardwalks to arrive on the back of the beach. In the past tourists had arrived on boat and jumped ashore with the boats waiting either along the shore or anchoring in the bay.
Maya Bay was made famous in the 2000 movie "The Beach" with Leonardo diCaprio.
Even though Koh Phi Phi Ley, the smaller of the two Phi Phi islands, is in the Krabi province, most tourists accessed the island group from Phuket by either speed boat or scheduled ferry.
The Chairman says… "I am concerned about the impact on nature and the environment, where Loh Sama Bay is a dive site that consists of both shallow and deep corals, complete with beautiful, diverse species including soft corals, hard corals, sea anemones. Previously, tourists have consistently come to dive and inspect the beauty of coral reefs there."

A Koh Phi Phi conservation group consisting of tour operators and local villagers have also previously submitted a proposal to the Department of National Parks voicing their concerns about the construction of the new infrastructure.
Pankham Kittithornkul, Chief of Ao Nang sub-district, says that he and local villagers have come to a conclusion to proceed with the construction to service Maya Bay with the exception during low season, closing the famous bay for nature to recover.
"The Department of National Parks has closed off the area to preserve the wide life but there is no news of the reopening of the bay, causing local people to lose revenue."
"Previously the start of installation of the piers was recalled."
SOURCE: One31 | Phuket People Voice
Keep in contact with The Thaiger by following our
Facebook page
.
Phi Phi's Maya Bay won't reopen until fully rehabilitated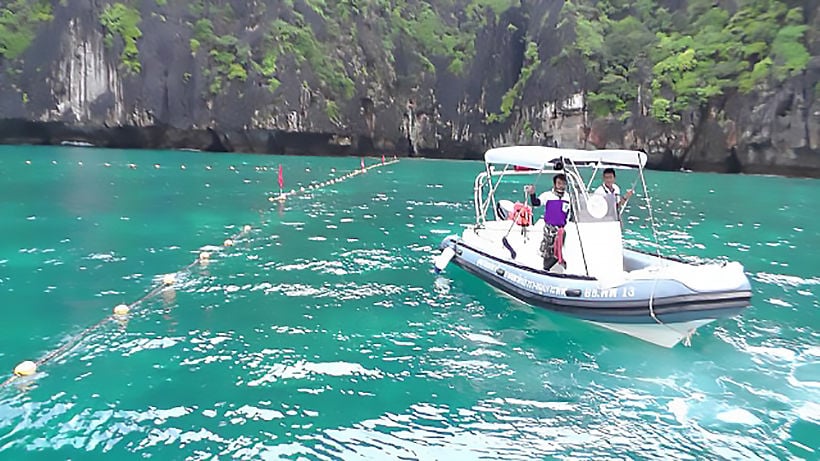 Maya Bay, Krabi's main tourist attraction since it was featured in the 2000 Leonardo DiCaprio film 'The Beach', will remain closed as natural rehabilitation of the beach and bay continues, after vast areas of coral were destroyed by excess tourism and boat traffic.
Indefinitely.
The Ministry of Natural Resources and Environment says that in future boats will not be allowed to enter Maya Bay except from the back side of the island. Yesterday the minister visited Maya Bay on Koh Phi Phi Ley to inspect the progress of the recovery of both the land and marine environment. He says corals are not recovering as quickly as expected.
The Department of National Parks, Wildlife and Plant Conservation announced the closure of Maya Bay on June 1, 2018, banning tourism and related businesses.
"Maya Bay has been rehabilitated for the past year, and there has been great recovery."
"On the land, many plants, even Morning Glory never seen on Maya Bay before, are growing well. But under the sea, corals are still in a dangerous condition. Many coral species grow at a rate of only 3-5 centimetres in a year, while some species grow only 1-2 centimetres."
The minister examined the idea of building a harbour at the back of Maya Bay in Loh Samah Bay. A team of academics and environmental experts are inspecting the area. Ships and other marine vehicles will not be allowed to enter Maya Bay directly.
"Maya Bay will not be permanently closed. When the coral growth is complete, then this place will be open to tourists from all over the world."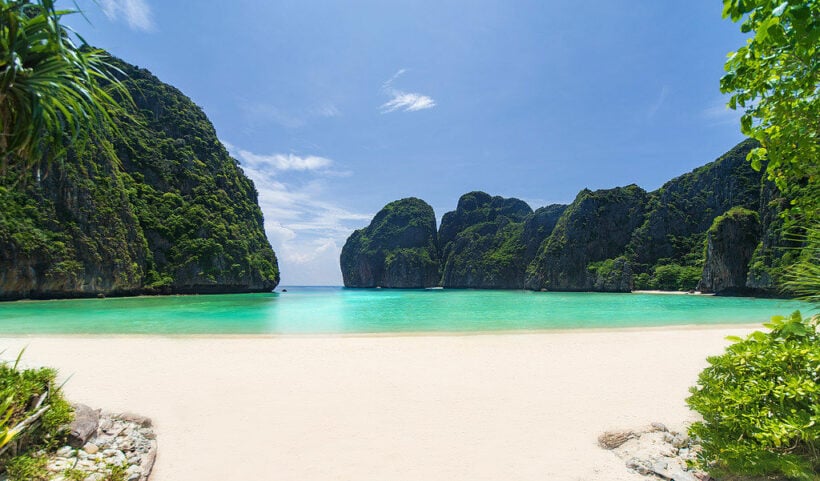 SOURCE: Nation Thailand
Keep in contact with The Thaiger by following our
Facebook page
.
Thai provinces put on alert to screen anyone travelling from Phuket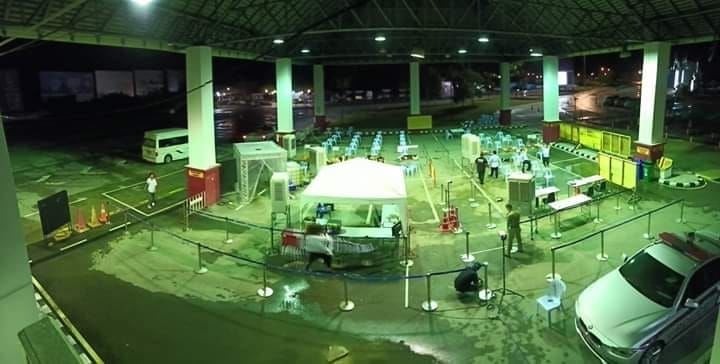 Phuket's on a blacklist of sorts, at least as far as the Interior Ministry is concerned. Thailand's provincial governors have been put on alert to screen everyone arriving from the island province of Phuket. They also been instructed to quarantine anyone suspected of being infected with Covid-19.
Chalerm Promlet, the Interior Ministry's permanent secretary, issued the instructions to provincial governors after some people, who had been part of last week's exodus from Phuket, tested positive for the virus when they arrived in their home provinces.
Chalerm also ordered provincial governors to allow entry of these returnees, saying that many are jobless after the closure of businesses in Phuket. Last week Krabi's deputy governor told his local media that they would prevent Phuket people from coming to his province. He later apologised for his derisive comments.
50,000+ people from Phuket have now registered to leave the island with their prospects for employment at almost zero whilst tourists aren't allowed to return at this stage. 4 new cases of Covid-19 were reported in Phuket yesterday – one in Cherngtalay, a shopkeeper in a Tesco in Wichit, a student in Wichit, and a 'public servant' in Patong.
SOURCE: Thai PBS World
PHUKET – URGENTAnyone who has been at Tesco Lotus Express Muang Thong Village Branch (Muang Thong Circle) Wichit from…

Posted by The Thaiger on Sunday, May 10, 2020
Keep in contact with The Thaiger by following our
Facebook page
.