Ironman 70.3 Thailand returns to Phuket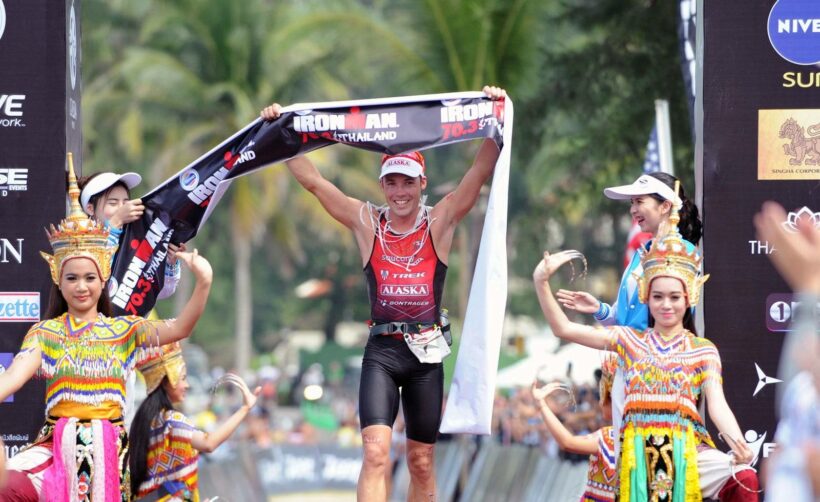 Triathletes from around the world are heading to Phuket for a weekend of swim-bike-run where 1,500 competitors from more than 60 countries are expected to compete in the Foremost IRONMAN 70.3 Thailand on November 26, and up to 300 youngsters in the Foremost IRONKIDS Thailand.
Built on the belief that Anything is Possible®, IRONMAN – the original triathlon brand – was founded in 1978 and today stages over 150 IRONMAN events in more than 50 countries each year including the annual IRONMAN World Championship (3.8km swim/ 180km bike/ 42km run) and IRONMAN 70.3 World Championship (1.9km swim/ 90km bike/ 21km run).
With more than 1,000,000 people having completed an IRONMAN/ IRONMAN 70.3 since 1978, Thailand joins the largest global triathlon series for a second year with the Foremost IRONMAN 70.3 Thailand which will take place on Phuket at Angsana Laguna Phuket on the spectacular Bang Tao Beach.
"Phuket is one of Asia's top island destinations and an iconic triathlon venue with a pedigree stretching back more than 20 years. We are very excited to again be working with Phuket to host the Foremost IRONMAN 70.3 Thailand 2017, a race that has already earned a reputation as being one of the toughest and most beautiful courses on the IRONMAN 70.3 calendar," said Mr. Wilfred Steven Uytengsu, President of Sunrise Events and rights holder for IRONMAN in South East Asia.
"Phuket is well known for being a leading sports tourism destination and hosting this world-class event, the Foremost IRONMAN 70.3 Thailand, underscores the island's sports tourism credentials. We are looking forward to a very successful event and also to welcoming Thai and international participants from around the world," said Mr. Sanit Srivihok, Vice Governor of Phuket Province.
Former regional champions and in-form international Pros will compete for a US$15,000 (approx. 500,000THB) prize purse while the thirty age-group qualifying slots available for the 2018 IRONMAN 70.3 World Championship in South Africa will draw many of Asia's top age-groupers. Early sign-ups include Thailand's top male triathlete and first to compete at the IRONMAN World Championship in Kona (2011), Jaray Jearani, and Nampetch Porntharukcharoen, the most IRONMAN-decorated Thai female triathlete and first Thai female to compete in Kona (2014).
"Entries are already strong and the international Pros are confirming their attendance. While competing in an IRONMAN 70.3 is no easy feat, we are seeing more Thai age-groupers registering this year and we're very excited to help grow the sport in Thailand," added Mr. Uytengsu.
Also taking place for the second year is the Foremost IRONKIDS Thailand at Thanyapura Health & Sports Resort on Saturday, November 25. Welcoming up to 300 kids from 6-14 years old, this will be the second IRONKIDS event in Thailand this year, the first being held at the International School Bangkok on September 10.
Ms. Pimjan Vimuktanonda , Marketing Director of FrieslandCampina Thailand, the producer and distributor of Foremost dairy products, said, "As the provider of quality dairy products from Thai farmers with international production standard that has been part of Thai daily life for more than 60 years, Foremost is proud to encourage Thai families to drink quality milk and take exercise regularly through our 'Drink.Move. BeStrong' campaign. This campaign has been promoting healthy and active lifestyles among Thai youngsters and consumers for four consecutive years.
"To extend the success of this campaign, Foremost continues to be the title sponsor of Foremost IRONKIDS Thailand and Foremost IRONMAN 70.3 Thailand 2017 for the second year running. With more than expected interest from junior athletes last year, we are expanding this year's Foremost IRONKIDS Thailand into two races: the first race was at the International School Bangkok (ISB) last Sunday, 10 September to fulfill the needs of kids in Bangkok, and the second race is at Thanyapura Health & Sports Resort in Phuket on Saturday, November 25.
"Foremost IRONKIDS Thailand is a junior triathlon race for children 6 to 14 years old with the aim of promoting active lifestyles among children. It gives them the opportunity to test the limits of their physical and mental stamina and experience this challenging sport. Preparing oneself for triathlon calls for continuous training and good choice of food to ensure optimized diets for the body's needs while also building strength for the competition. Foremost has, therefore, prepared our chocolate flavoured milk to give away to participating triathletes of Foremost IRONKIDS Thailand and Foremost IRONMAN 70.3 Thailand 2017 to help energizing them throughout the race because a key to athletic excellence is to keep one's body fit and active."
The Foremost IRONMAN 70.3 Thailand starts with a one-loop 1.9km swim in the pristine waters off Bang Tao Beach, followed by a 90km bike traversing the island's northern hills and coastline, and finishes with an energy-sapping 21 km two-loop run through the Cherng Talay area. Well known for its beauty, the course is also challenging and will push Individual and Team Relay participants to their limits.
Opening up the world of triathlon to more people, organisers have added a new event distance this year, the Sunrise Sprint, which comprises 750m swim/ 20km bike/ 5km run, also at Angsana Laguna Phuket.
"For a triathlete, IRONMAN is the peak of the sport. Completing an IRONMAN event is something all triathletes want to do and once you have, it is something you will be proud of for the rest of your life. We aim to make Foremost IRONMAN 70.3 Thailand a bucket list event for triathletes all over the world and with the edition of the new Sunrise Sprint this year we aim to make the sport more accessible for people of all abilities," concluded Mr. Uytengsu.
Organised by Sunrise Events (Thailand), the Title Sponsor is Foremost with Major Sponsors FBT and Fox Sports, and support from the Tourism Authority of Thailand, Sports Authority of Thailand and the Province of Phuket. Event Partners include Angsana Laguna Phuket, Bangkok Airways, Gatorade, UFC, Mthai and Phuket Cable.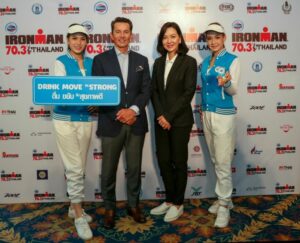 Athletes can register now at www.ironman.com/triathlon/events/asiapac/ironman-70.3/thailand/register.aspx.
Registration for the Foremost IRONMAN 70.3 Thailand is US$351 for Individual and US$426.60 for Team Relay.
For more information, visit www.ironman.com/triathlon/events/asiapac/ironman-70.3/thailand.aspx and www.ironkidsthai.com
PHOTOS: Ironman.com
- The Thaiger & The Nation
Same-sex civil union bill ready for Cabinet in two months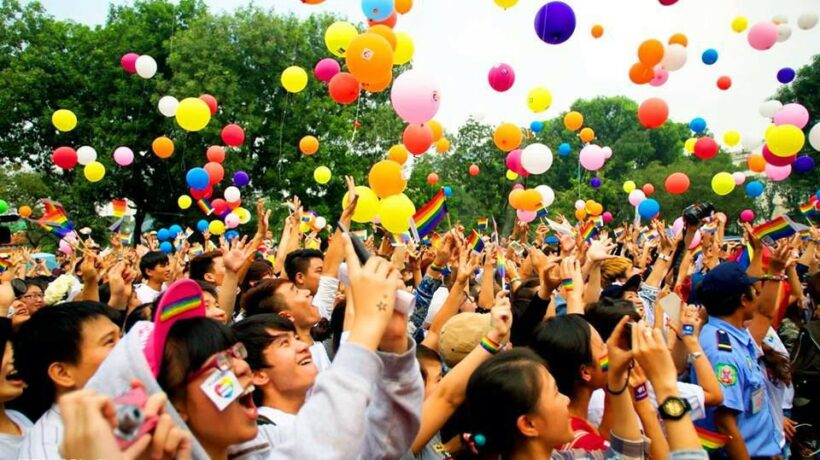 A same-sex civil partnership law should be drafted and discussed before next year's elections.
Pitikarn Sitthidech, the Rights and Liberties Protection Department chief, saystThe law, allowing same-sex couples to formally register as life partners, should be drafted by September.
It would then be submitted to Deputy PM and Justice Minister ACM Prajin Juntong, who would decide whether it should go to the Cabinet, she said.
Pitikarn says the sub-panel drafting the legislation that's been hailed by some as a progressive step towards the legalisation of gay marriage would meet on July 25 to review its 63 articles. Panel members were likely to make adjustments, she said, some based on the experiences of other countries that have adopted similar legislation, such as Mexico, South Africa, Canada, Australia and Britain.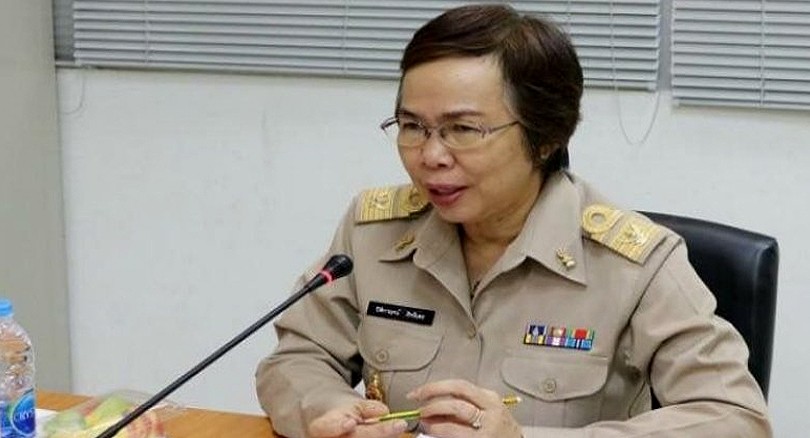 Pitikarn Sitthidech – Rights and Liberties Protection Department chief 
The bill will then be forwarded to the Rights Department's law development committee for further tweaking in September, and then to Prajin, Pitikarn said. She pointed out that the process in some countries had taken up to 10 years, but Prajin wanted to fast-track Thailand's version because of the many LGBT (lesbian, gay, transgendered and bisexual) citizens who deserve the same rights as everyone else.
Pitikarn said Prajin had insisted that the authors of the legislation understand the situation in society well and the sensitivities involved. He wanted guidelines set out to support the status of same-sex life partners registered in other countries who were now living in Thailand to ensure they enjoyed the rights to which they were entitled.
Prajin wanted it made clear which agency would handle registrations once the law comes into effect. And he expects the law to lay the foundation for the legalisation of gay marriage.
"Since the ministry began moving forward on this law, we have received good feedback from the LGBT community and a 60,000-name petition expressing support for the action, as well as much useful information," Pitikarn said.
"I believe many more people are passively supporting this law – the many who haven't yet expressed their LGBT status."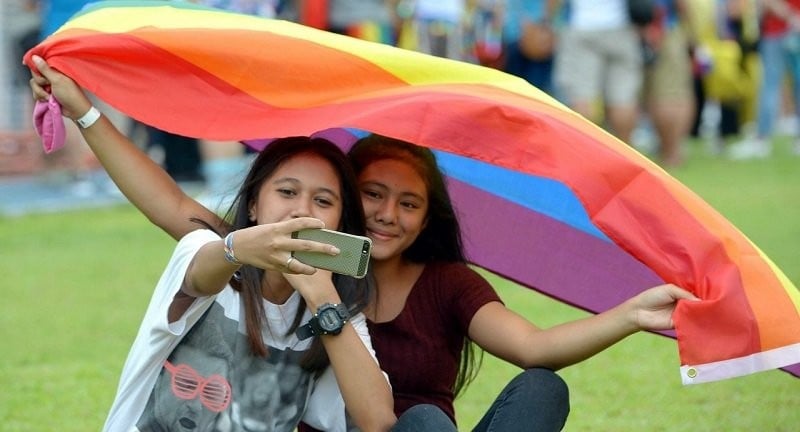 SOURCE: The Nation
Floods continue to cause havoc in the north, west and central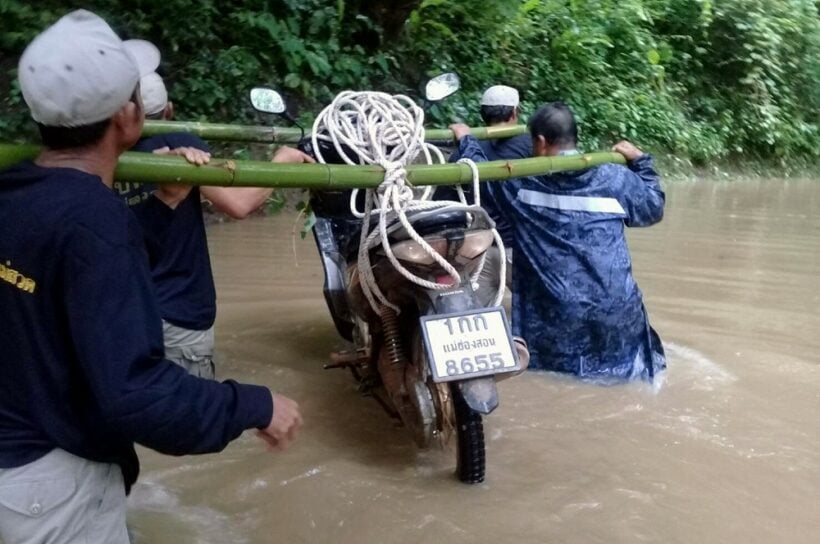 Floods are causing havoc across swathes of provinces across Thailand. From the north in Chiang Mai, to the west in Kanchanaburi and as far south as Prachuap Khiri Khan and Ranong.
The Thai Department of Disaster Prevention and Mitigation chief says that the flooding has been triggered by tropical storm Son-Tinh which still sits over Laos, so far affecting 13 Thai provinces and 2,369 families between July 17 and today (July 22).
Director-general Chayapol Thitisak said 23 districts witnessed flooding and in some cases landslides in Kanchanaburi, Tak, Chiang Mai, Mae Hong Son, Phichit, Nakhon Sawan, Trat, Phrae, Phetchabun, Phitsanulok, Ranong, Phetchaburi and Prachuap Khiri Khan.
Conditions have normalised in 10 provinces, he said, but there is still flooding in six districts in three provinces.
In Kanchanaburi's Sangkhla Buri district, 400 families are affected, in Tak's Mae Ramat, Phop Phra, Tha Song Yang and Umphang districts 80 families, and in Prachuap Khiri Khan's Hua Hin district another 80 families, though the water level is decreasing.
Next cause for concern, says the Meteorological Department, is a tropical depression over the upper South China Sea that's moving towards the upper Philippines at a maximum sustained wind speed of 55 kilometres per hour.
It will not affect Thailand directly, the department predicted, but travellers should monitor the situation if they are travelling in these regions.
"The southwest monsoon over the Andaman Sea and Gulf of Thailand is also strong, creating waves up to three metres high", it says.
"Ships should proceed with caution and small boats should stay ashore".
Chayapol said he had contacted officials in provinces in the East and upper South to be prepared in case of flooding or seaborne mishaps.

STORY: The Nation
Boeing says Asian region biggest growth area for aviation in next two decades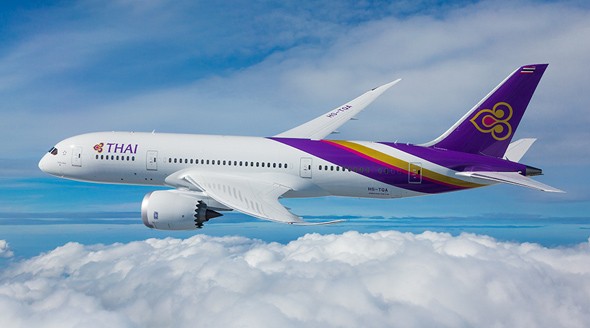 By Data Leads. PHOTO: Thai Airways Boeing 787
Asian countries are estimated to require 16,930 more airplanes by 2037, making the region the fastest growing aviation area in the world.
Boeing's annual forecast, the Commercial Market Outlook, reveals that the world fleet of jet planes would need 42, 370 new planes valued at US$6.3 trillion. The forecast predicts that the global demand for commercial aviation services will create a market opportunity of US$15 trillion.
According to Boeing the region operators will demand 40 per cent of passenger jet deliveries in the next twenty years, more than double the amount as compared to other regions.
China will be a key player in Asia that will contribute to Boeing's growing business in the region. Analysts predict that China's growing middle class will eventually lead to the country overtaking the U.S. within 10 to 15 years as the largest domestic airplane passenger market in the world.  Airplane demands will be highest in the region at 16,930 deliveries valued at US$ 3, 365 billion.

North America is predicted to have second highest demand of airplanes with the requirement of 8,800 deliveries valued at US$1,850 billion.  The aviation industry in the region has been experiencing a steady growth in the last few years. Boeing forecasts that the total fleets will increase 44 per cent in the next twenty years.
Europe will be the third highest region in terms of demand of airplanes and estimated profit that it generates. Edging close to North America, the region is estimated to demand 8,490 airplanes in the coming twenty years. The market value is estimated to be US$ 1,240 billion.
Latin America and Middle East will see the demand in fleet deliveries at 3,040 and 2,990 respectively. The market value is estimated to be US$ 360 billion and US$ 745 billion respectively.  Russia, CIS and African region will see low demand as compared to other regions.  The market value is projected to be US$ 265 and US$ 215 billion respectively.
The Commercial Market Outlook is the longest running jet forecast and considered  as the most comprehensive analysis of the commercial aviation industry.