Governor warning Phuket residents about more floods and storms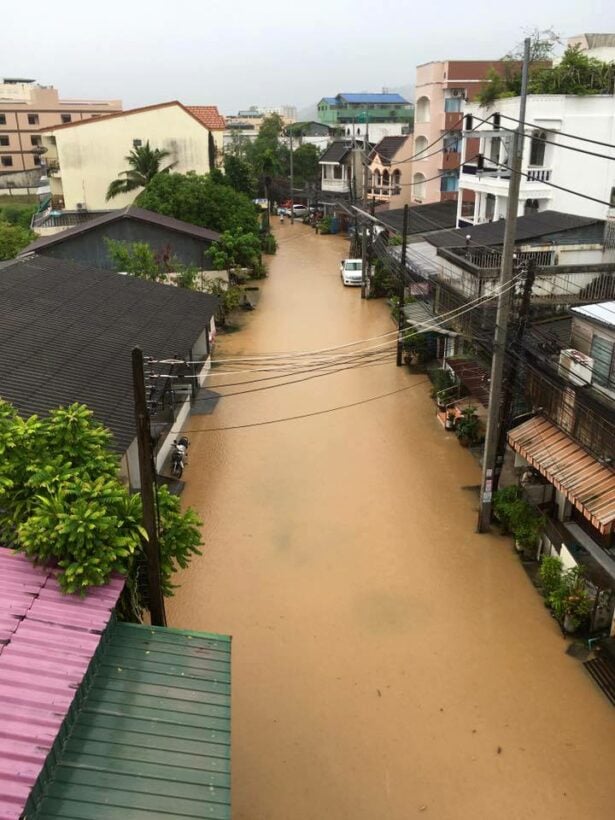 PHOTO: Suntorn Yangyuen
Following the heavy rain that continues from last night, Phuket's Governor, Norapat Plodthong, is expressing his concerns about more flash flooding and storms in many areas across the island.
"According to the TMD (Thai Meteorological Department) Office of the Southern West Coast, from today until August 19th, there is a moderate Southwest monsoon that is affecting the Andaman Sea as well as the whole west coast of southern Thailand," said the Governor.
He explained that the torrential rains with isolated heavy downpours are expected in Phuket, Phang Nga, Krabi, Ranong, Trang and Satun and people in the area should beware of the accumulated rainfall that could possibly cause flash floods. He also asked sea crews and tour boats to be careful as the Andaman Sea has seas up to 2-3 meters high waves together with high winds and rain storms. He recommends mall boats in the Andaman to stay ashore over the next few days.
"I would like everybody to follow the weather forecast updates closely. If there are any local disasters or problems please contact your local administration as they are prepared with manpower and rescue equipment 24/7, especially in the risky areas that used to suffer from floods and landslides."
So far, some areas of Phuket have already experienced floods today, including the the island's main tourist town, Patong, and some areas in Phuket Town such as Surin Soi 2, the route connecting Phuket town with Koh Sirae.
STORY & PHOTOS: Nattha Thepbamrung, Suntorn Yangyuen & Kritsada Meuanhawong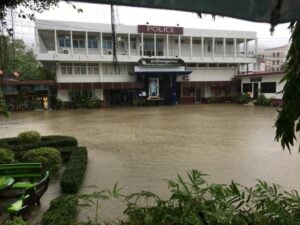 Read more headlines, reports & breaking news in Phuket. Or catch up on your Thailand news.
Second night of violence over election results – Jakarta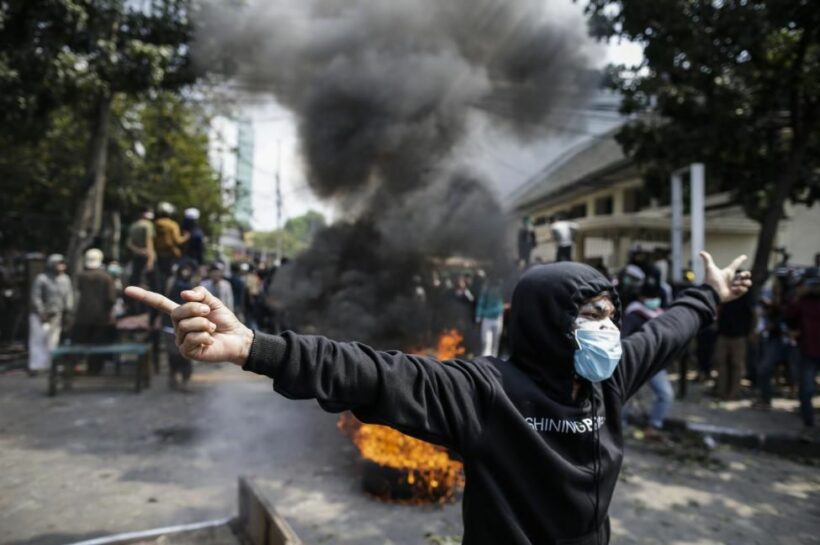 Indonesian police have again fired water cannon and rubber bullets at protesters who were setting fires and trying to breach barbed wire barricades yesterday as demonstrations over the results of the presidential election hit the capital for a second night.
The riots followed the announcement by the General Election Commission confirming that President Joko Widodo had had won the election beating former general Prabowo Subianto, in the April 17 poll.
But even though Widodo won more than 85 million of 154 million cast, retired general Prabowo continues to allege "massive cheating and irregularities" and refuses to concede defeat. Independent observers have said the poll was "free and fair".
Protesters gathered outside the election supervisory agency in central Jakarta. Many left peacefully but as night fell others hurled firecrackers and other objects at officers and set blazes as they tried to breach the barbed wire separating them from police. Police responded with rounds of tear gas, rubber bullets and water cannon.
Speaking about violence the night before, Jakarta Governor Anies Baswedan said by Wednesday morning six people had been killed and 200 wounded.
Chief security minister Wiranto said the government would temporarily block certain social media functions to prevent inflammatory hoaxes and fake news. Meanwhile Indonesian authorities say 40,000 police and army personnel are on duty across Jakarta to maintain security. Many office buildings, businesses and embassies in downtown Jakarta were closed, as were train stations in the area.
SOURCE: Channel News Asia | Aljazeera
"Nothing but rude Indians, Chinese and Arabs" – Pattaya locals go feral online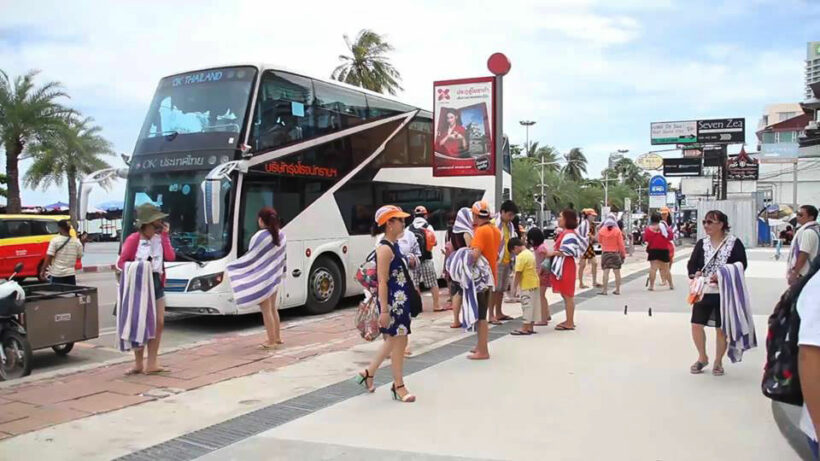 "Where are all the nice ones – like Americans – who spend cash and behave well!?"
PHOTO: Sophon Cable
Sophon Cable TV on Facebook has quoted the head of the Eastern Seaboard Hotel Association, Sanpetch Supphabowonsathian, saying advance bookings for this high season in Pattaya showed a 5-10% increase on last year.
But as the local hotel association were upbeat over an increase in hotel bookings, the news was followed by an avalanche of racist invective that the tourists were not the tourists they wanted.
Comments on the Facebook post were bemoaning that all the tourists in the resort were either Indians, Chinese or Arabs.
"They don't spend much, cause trouble and have no manners."
"Where are all the nice ones – like Americans – who spend cash and behave well!?"
The post from the hotel association noted that, though prices remained static due to oversupply, it was positive news for the industry. But this was met with scorn by local Thais comments.
"Yeh right…but it's only the Chinese".
"Where are the Americans?"
"Don't ask me about the Indians. I would prefer Russians any day but there aren't any".
"It is just Chinese groups. What's the use? They won't even buy a drink from you."
"It's just Chinese, Indians and Arabs. They have no manners and treat Pattaya like it's their own country".
SOURCE: Sophon Cable
Chiang Mai Song Thaew drivers see red over Grab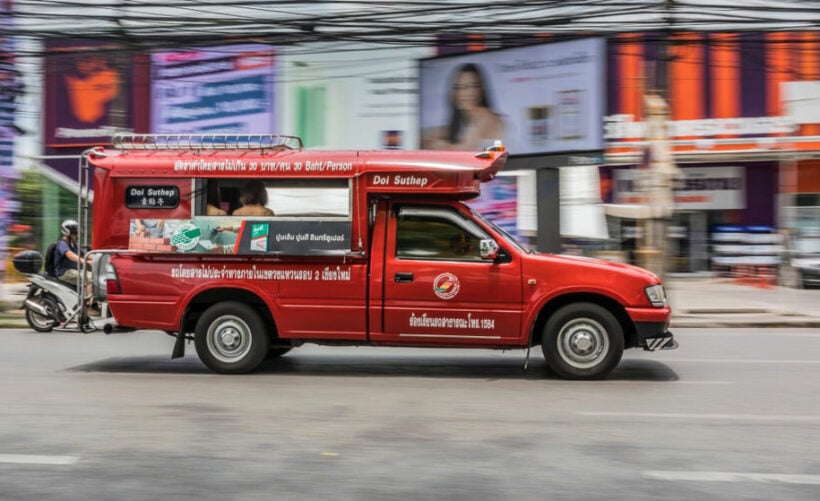 Chiang Mai's Grab vs traditional public transport continues. The issue has simmered for two years with occasional outbreaks of violence and an ongoing war of words on social media.
Thai PBS reports that the spat has become a major problem again between the public Red Song Thaews  and Grab Cars in the northern city.
On the one hand members of the public are finding Grab more convenient, personal and better service. While the Red Bus drivers are complaining that their income is dropping, by more than 50% in some cases.
The Department of Land Transport and airport authorities reported 344 Grab drivers had been fined for picking up passengers at Chiang Mai airport since January 1.
Speaking to Thai PBS, students said Grab was much better and provided a personal service often at only a small increased cost.
"It goes to exactly where we want and is quicker than waiting for a Red Bus."
One student even claimed they had been dumped so that the Red Bus driver could pick up tourists – a more lucrative kind of passenger.
The deputy of the local Red Bus association Bunreuang Wangmee said his organisation represented 2,465 members. While he admitted that some overcharged most kept to the 20 baht to 30 baht charges. He claimed that meant they were better value than Grab Car.
He said that some of his members had seen their daily income plummet from 1,200 baht to 400-500 baht per day.
SOURCE: ThaiPBS