Day Four – Road toll much higher than last year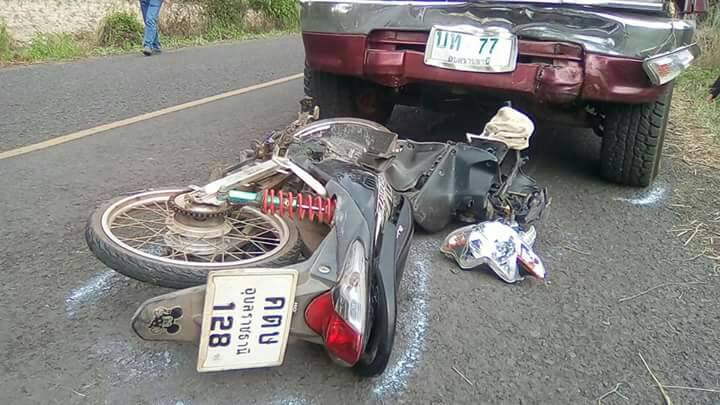 Thailand's Songran road death toll has reached 248, with 2,557 injured in 2,449 accidents during the first four days of the so-called seven dangerous Songkran days (Wednesday to Saturday).
The figures marked an across-the-board increase over the same period last year, which saw 226 deaths, 2,457 injured and 2,385 road accidents. On Saturday alone, there were 603 accidents, killing 57 people and injuring 626 others. Some 44 per cent of the road accidents stemmed from drunk driving and 26 per cent from speeding. A majority (80 per cent) of the crashes involved motorcycles, according to the Road Safety Centre.
From April 11 to April 14, Chiang Mai reported the highest number of accidents – 99 – and the highest number of injuries – 109. Nakhon Ratchasima reported the most number of deaths – 17. Only eight provinces remain death-free: Yala, Ranong, Lop Buri, Satun, Samut Songkhram, Nong Khai, Nong Bua Lamphu and Anything. Phuket has reported on road death – a Chinese tourist on Saturday.
As many holidaymakers were expected to start their return journey to Bangkok and neighbouring provinces for work today, the authorities will concentrate on highway checkpoints, roadside service points, pit stops and ensure public transport drivers' sobriety, the centre said.
Meanwhile, the NCPO and Army deputy spokeswoman Colonel Sirichan Ngathong reported yesterday that the authorities had seized a total of 7,067 vehicles from drunk drivers in the first four days of monitoring road accidents over the Songkran holidays.
Apart from seizing 5,019 cars/trucks and 2,048 motorcycles from April 11 to 14 in an effort to enforce drunk-driving laws, the authorities also seized driver's licences from 16,588 motorists and motorcyclists. The seized vehicles would be returned to the owners after the seven-day accident-monitoring period, she added. Colonel Sirichan reminded people that very hot weather was forecast for Sunday to Wednesday, with maximum temperatures of up to 40 degrees Celsius and summer storms expected in upper Thailand plus Bangkok and surrounding areas. She said the Army and related agencies would help affected residents where necessary.
National police deputy chief Pol General Weerachai Songmetta, meanwhile, presided over an oath-taking rite in Samut Prakan province in which 380 drunk-driving offenders vowed not to repeat the offence, before listening to a monk's sermon. They were then brought to court for legal action.
SOURCE: The Nation

Greed unravelled the trio's grisly plot – Phrae double murder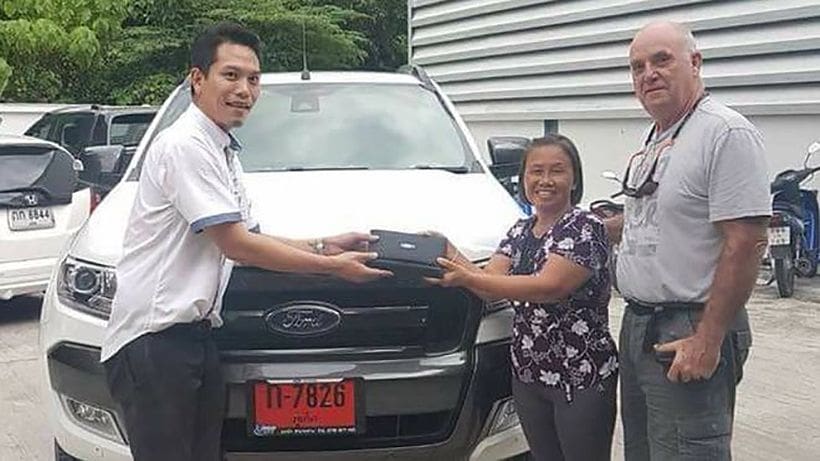 PHOTO: Alan and Nod receive the keys to their new pick-up truck.
The bodies of 64 year old Alan Hogg and his 61 year old wife, Nod Suddaen, wee unearthed yesterday morning following a short investigation where greed brought the plot unstuck for the killers.
After a few hours of interrogation three men admitted to collusion in the plot to murder the married couple.
Included in the latest interrogations was Khun Nod's brother, Warun Satchakit, who was first set free on bail after initial questioning over the couple's stolen white pick up, but was released before his later arrest when the car was located last Sunday.
The other two arrests are reportedly local friends of Khun Warut. In the confession they detailed the method of killing the pair. Warut confessed to organising and carrying out the killings. It is understood that he fired the gun that killed Mr Hogg and bludgeoned Khun Nod to death with a hammer.
Warut told police he then took the bodies to an area behind the house, near a creek, to bury them with a small excavator/back hoe. The corpses were found lying next to each other about 2 metres underground.

Happier times for the married couple – Alan and Nod
During the interrogation Warut has told police that the couple 'repeatedly criticised him' and that that he'd tired of the constant criticism and went about planning their deaths.
The plot unravelled after the killers allegedly stole the dead couple's new pick-up and tried to get a quick sale for cash. A Lao man bought the car and was driving south on Sunday night when he heard about the missing couple and the missing car. He reported to police in Ayutthaya and was able to provide police with information that led to the trio's arrest.
Police initially arrested Khun Warut after CCTV footage showed him entering the couple's home and driving away in the pickup last Thursday but he denied any involvement in their disappearance. He was charged with theft of the pick up and released on bail of 100,000 baht at the time.
Friends of the couple had alerted police about their concerns over the missing couple as early as last Tuesday, two days before Khun Warut was first arrested.

A backpack full of meth pills headed for Chiang Mai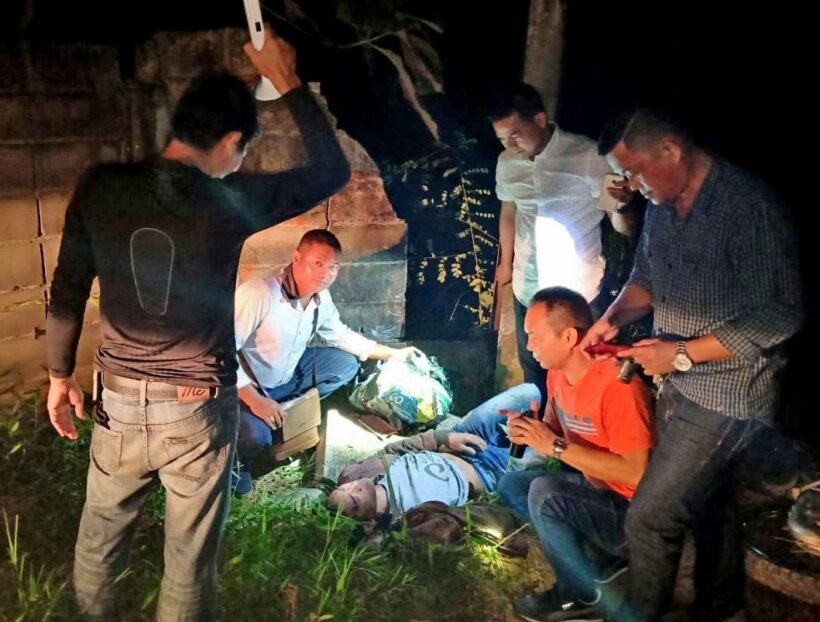 A Chiang Mai man has been arrested las night after allegedly trying to smuggle 100,000 methamphetamine pills into the city from the Myanmar border, 100 kilometres away.
Police at a checkpoint in Mae Ai district had signalled for a motorcyclist to stop but he sped off. With officers in pursuit, he lost control of his motorbike and came to grief on the roadside, tumbling off his bike.
The meth was found in his backpack.
32 year old Chana Jabu was taken to the district hospital with bruises and then arrested.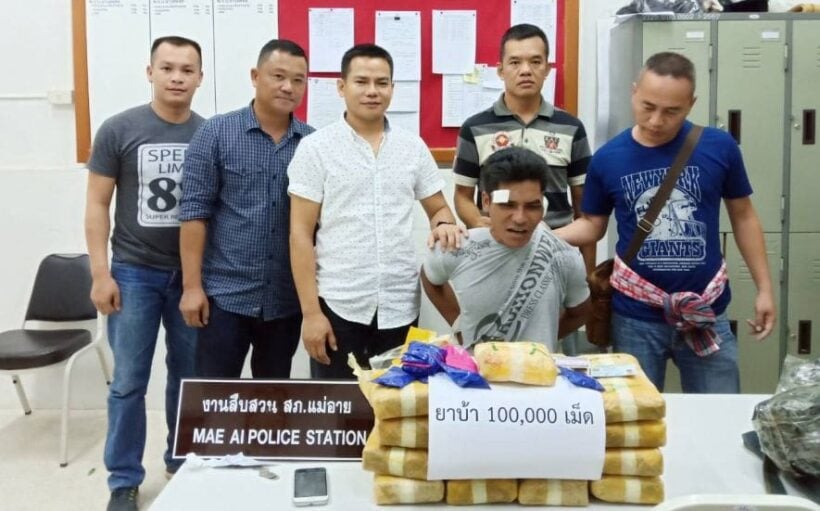 STORY: The Nation
Two motorists died in Phuket road accident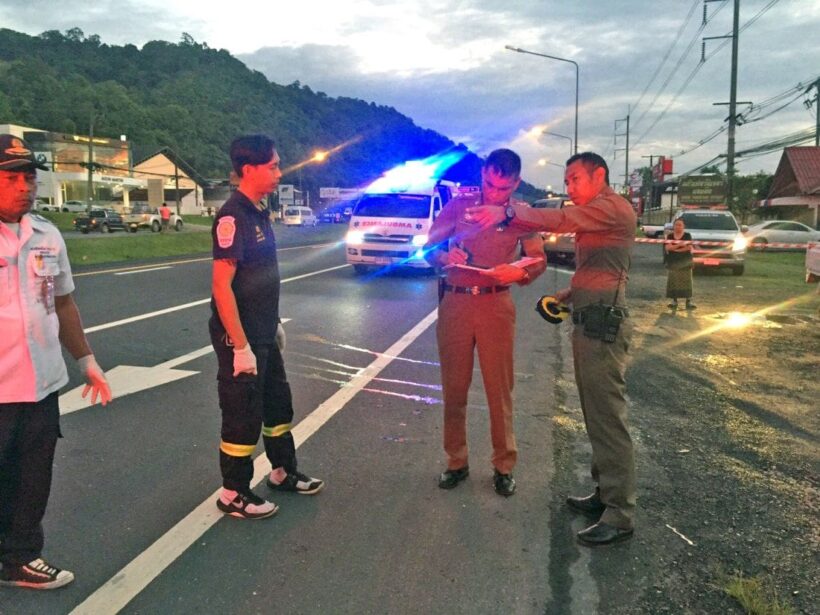 PHOTOS: CITY LAW 201 / Newshawk Phuket
Two motorists havedied in a road accident on Chalermprakiat Ror 9 Road (Bypass Road), southbound this morning.
The Phuket City Police were notified of the accident at 5.45am this morning.
Emergency responders and police arrived at the scene two find one deceased female and one deceased male.
Two identification cards were found with their personal items. The dead are 36 year old Mipha Tabe-er and 42 year old Wan Tapiaw. Both are from the Chiang Mai province.
A motorbike was found nearby. Their bodies were taken to Vachira Phuket Hospital.
At this stage police speculate that they collided with a light pole and dies instantly. Police are continuing their investigation and checking CCTV footage nearby to find the exact cause of accident.