MC quits teenage-targeted NCPO propaganda TV show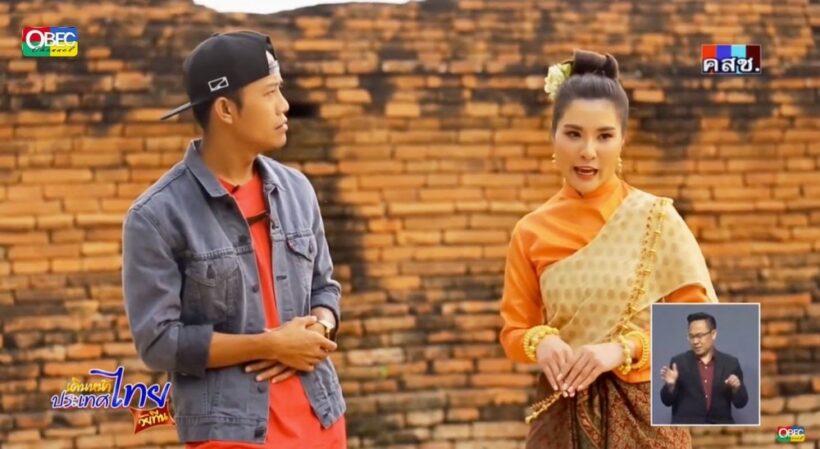 An MC of a junta-run TV program aimed at younger teenage viewers says her resignation from the show was due to "different working attitudes" while the junta government denied any involvement with the production.
Pawaran Bannarak announced her decision to quit "Thailand Moves Forward Teenage Edition" on Saturday.
"Because I love being an emcee so much, I can't afford to make a half-hearted effort so I decided to resign," Pawaran said on her Facebook account.
"The programme will continue. Everything will be the same except for the female host. I would like to give courage to whoever is going to take my place," she added.
Her sudden exit brought the 28 year old former MC support and criticism for the weekly program run by the ruling NCPO. While the formal, half-hour version of "Thailand Moves Forward" has been aired every evening on every TV broadcasting channel, its 15 minute version for teenagers was launched in late February with the goal of promoting the government's work among younger audiences.
Known for being keen on PR, though in what some consider an "old-fashioned" way, PM General Prayut Chan-o-cha ordered a revamp of "Thailand Moves Forward" once in 2016 after its ratings slumped. The teenage edition could also be considered part of the revamp and the "modernising" of the program.
Despite all efforts, "Thailand Moves Forward Teenage Edition" has been widely mocked for seemingly going against everything that the young generation likes – from production, costumes, stylists and emcee scripts.
"They look like production for 1990s teenagers, not 2018," one comment said.
"I understand that the MCs did their best but the program's mood and tone is wrong at all levels."
Pawaran said later yesterday that she was not blaming anyone for her resignation, including the production team.
"My disappointment is also partly because of my own expectations that may not align with those of the team. Please don't view me as being disrespectful to them," she said. She also reiterated that her payment – a meagre 2,910 baht per episode, to host a program with a multi-million-baht budget, was not the reason why she wanted to leave.
The program's budget has been set as 18 million baht with six contracts with private production companies, each worth 2.66 to 3.33 million baht, and 500,000 baht to hire a sign language interpreter.
Government Spokesperson Lt-General Sansern Kaewkamnerd said that Pawaran's exit should not affect the junta directly as the NCPO only provides content guidelines to the production team.
"Broadcasters take turns to be in charge of the program's production and the NCPO doesn't take part in that. Therefore, her resignation has nothing to do with us," said Sansern, who is now also heading the Government Public Relations Department.
NCPO spokesperson Colonel Winthai Suvaree added that Pawaran's decision to resign should be seen as related to production management and not its content.

COMMENT
The Government's soft-touch propaganda and daily broadcasts on national TV and radio are well-intentioned attempts at keeping Thais abreast of the Government's work. They are nationalistic, old-fashioned and lack the touch of professional production – heavy on content and light on style – completely unappealing to modern viewers. The programs, on radio and TV, are over-long and perhaps lack sincerity and realism. In most cases audiences are left felling like they've just been chastised by the cranky teacher at school rather than informed or entertained.
Watching English-translations over the years, particularly the PMs Friday night monologue, it's clear that as a career army professional and latter-day politician, Prayut's skills do not stretch to being an engaging TV host.
The daily radio program, which all radio stations, including The Thaiger and other English-language stations operating in Thailand, carry between 6-6.20pm every night (except Fridays) is poorly produced, disjointed and a great time to switch over to Spotify. The Thaiger had meetings with the NBTC (national broadcast regulators) last year to offer a five minute English precise of the daily reporting from the program for the 'farang' radio audience so that expats could at least be kept up to speed on what the NCPO was up to. All smiles and nods but nothing eventuated.
The teenage version wreaks of well-intentioned but completely train-wreck TV that misses its target audience with overly-scripted musings from the NCPO coming out of the mouths of two perfectly adept young Thai presenters. That no one watches it, let alone its target audience, is hardly a surprise.
The Government is perhaps better skilled at fixing roads, amending constitutions, collecting taxes and conducting 'attitude adjustments' than it is at producing riveting TV and radio. Lead by example and let the Thai and other media report the actions of the NCPO, freely and fairly. There is still plenty of good-will towards the NCPO and their success in maintaining peace and order in the Kingdom.
Propaganda needs to be much slicker and nuanced in 2018 as the audience is wiser, more media-savvy and aware than it was in the 1930s when Joseph Goebbels introduced the modern era of government media manipulation.
Tim Newton – The Thaiger

Join the conversation and have your say on Thailand news published on The Thaiger.
Thaiger Talk is our new Thaiger Community where you can join the discussion on everything happening in Thailand right now.
Please note that articles are not posted to the forum instantly and can take up to 20 min before being visible. Click for more information and the Thaiger Talk Guidelines.