Coal plant protesters hold seminar in Krabi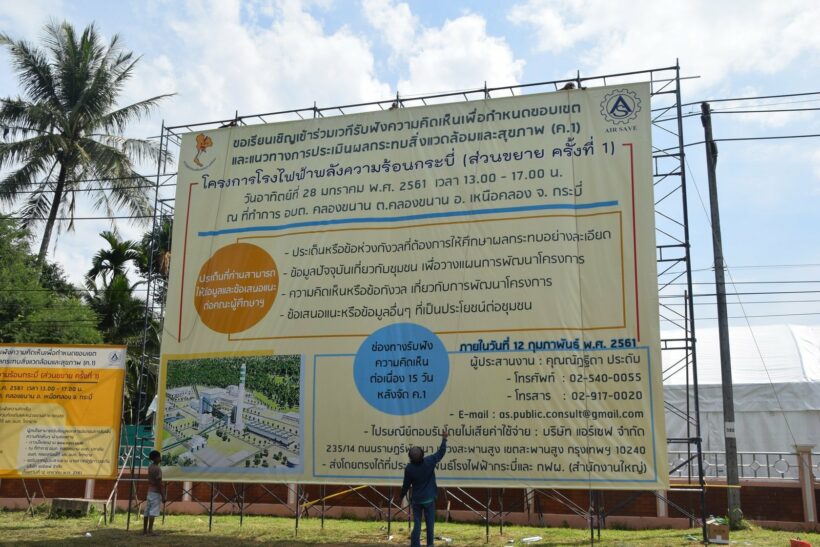 The Network Protecting Andaman from Coal arranged a seminar to pass on knowledge about the effects from the coal power plant this week.
The seminar was headed under the topic 'Krabi, Andaman – World Tourism Attraction or Charcoal Pollution Source'. The seminar was attended by approximately 500 people, including locals and business owners.
"We always disagreed about the Krabi thermal power plant (the new name of the coal power plant) by EGAT (Electricity Generating Authority of Thailand) even though EGAT keeps creating propaganda that the coal they use gives clean energy.
"It is against the policy of Krabi 'Green City'. Most importantly, coal is not a clean source of energy at all," said the Former President of Krabi Tourism Industry Council, Amarit Siripornjuthakul, during the seminar.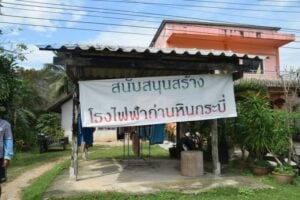 "The Environmental and Health Impact Assessment for both the power plant and Baan Klong Rua Pier have caused the cancellation of the project once already, by order of the Prime Minister, and a committee was set to study further about the feasibility of the project.
The committee, after the study, has asked EGAT to suspend the project but soon after that the EGAT brought out the old assessment to make public hearings again. It's like they tried to create conflict again without caring about the people's voice and the policy of the province."
He added that the group of people who disagree with the project will not attend the public hearings by EGAT that will be held on January 28 at Klong Kanan Sub District Administration Organization (OrBorTor) Office.
"We do not disagree with the power plant project but we disagree with the use of coal. There are many other power sources available in Krabi that we have offered to them, but they never listened. On January 28, I would like EGAT not to be worried that we will attend the hearings as we do not value these hearings at all. Do not call us a group of NGOs or foreign labours as we are real locals who will suffer from the coal power plant if it goes ahead," he noted.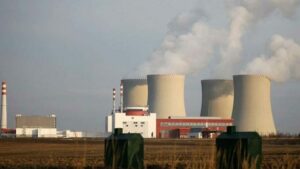 📱 Download our app on Android or iOS for instant updates on your mobile
📧 Subscribe to our daily email newsletter
👍 Like/Follow us on Facebook
🔔 Subscribe to or Join our YouTube channel for daily video updates
Officials not worried Thailand remains on US currency watch list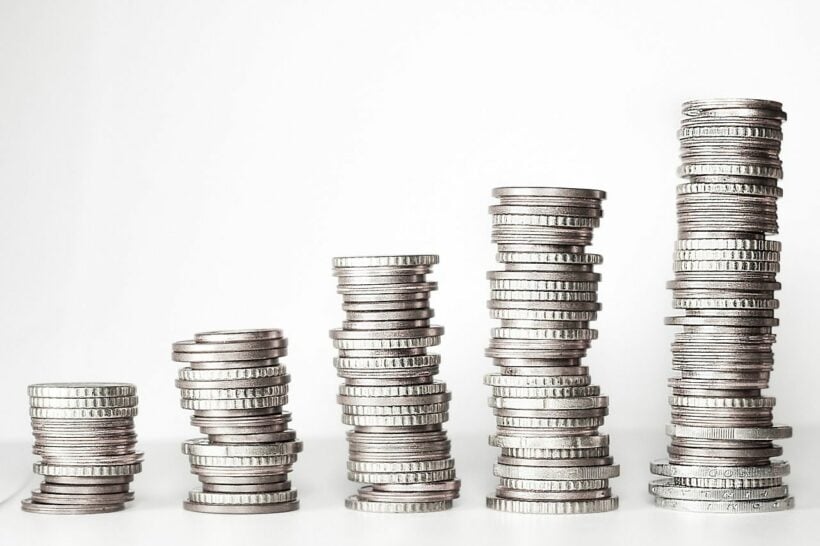 Thailand remains on the United States Treasury's "Monitoring List" of countries whose currency trade practices need to be watched, though Thai officials say they are not worried. US Treasury Secretary Janet Yellen releases a foreign exchange report twice a year including labelling alleged currency manipulators and flagging suspect trading partner countries to be monitored. The Bank of Thailand said remaining on the US currency watch list poses no threat to Thai businesses or the government's ability to enact policies to promote financial stability. They stress that Thailand has never manipulated currency, using the exchange rate to get a competitive edge or an unfair trade advantage over other countries.
This most recent report tags 11 countries as warranting a closer watch: China, Germany, India, Ireland, Italy, Japan, Malaysia, Mexico, Singapore, South Korea, and Thailand. Mexico and Ireland were the 2 new inclusions, not on the previous report in December 2020. Also in the report, the US Treasury Department toed the line of accusing Switzerland, Taiwan, and Vietnam of manipulating currency. They stated yesterday that the 3 countries had crossed the line of 2015 US trade laws, but didn't officially brand them as currency manipulators. The thresholds of that 2015 rule include either global current account surplus or foreign currency intervention over 2% of GDP, and having a trade surplus with the US over US $20 billion trade.
The flagging of Taiwan, Vientman and Switzerland falls short of applying the manipulator label due to a 1988 law requiring evidence of manipulation to stop balance of payment adjustments or to gain a trade advantage. The US is already engaged in talks with Vietnam and Switzerland and will enter into "enhanced engagement" with Taiwan as well. Not being upgraded to the manipulator title relieves pressure from Switzerland and Vietnam, who both received the label in the last report issued by the Trump administration.
SOURCE: Yahoo Finance and Live Mint
📱 Download our app on Android or iOS for instant updates on your mobile
📧 Subscribe to our daily email newsletter
👍 Like/Follow us on Facebook
🔔 Subscribe to or Join our YouTube channel for daily video updates
Thai Hotel Association pushes "hospitels" – hotels as hospitals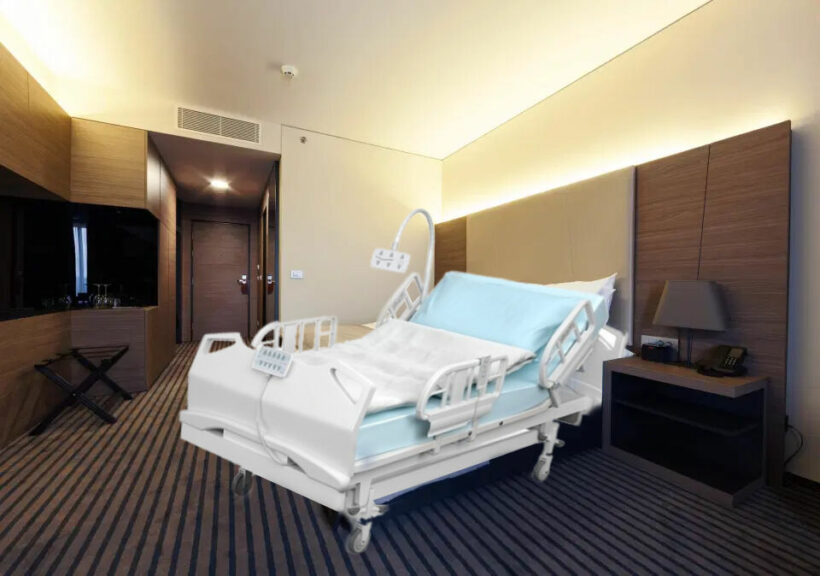 With the third wave of Covid-19 ripping through Thailand, hospitals are rapidly filling up and the Thai Hotels Association has proposed "hospitels" as a creative solution. The portmanteau of "hospital" and "hotel" is the THA's brainchild for creating more space for the growing number of Covid-19 infections that require treatment or at least observation as Thailand hits record daily case numbers. The idea of turning hotels into temporary hospitals was promoted by association president Marisa Sukosol Nunbhakdi this week.
"The move aims to reduce crowdedness at hospitals and promote continuous care for Covid-19 patients after new cases increased rapidly since late March."
23 hotels have already registered to be hospitals, with 2,000 patients currently receiving treatment in the 4,900 available beds. The Ministry of Public Health laid out guidelines for hotels interested in participating. Hotels must have a minimum of 30 rooms and pass the alternative state quarantine evaluation. The ASQ-approved properties must have evidence of acknowledgement by the surrounding community to confirm their validity and eligibility. The hotel must be able and willing to take care of hospitalised patients for 5 to 7 days, even with no signs of symptom progression. Conversely, patients checking in must agree to stay in the hotel and be relatively self-sufficient.
Strict medical requirements must be met as well. Each patient must be provided with their own digital thermometer and pulse oximeter, and a portable x-ray machine must be available. The hotels must be staffed like hospitals, with at least one doctor, a clinical psychologist, a pharmacist, a radiologist, and an infection control nurse. There must also be one nurse per every 20 patients staying at the property.
This proposed solution might provide a welcomed supplement to the rudimentary field hospitals the Thai army has been hastily building to accommodate the influx of newly infected patients. While the quick work is commendable, some have hypothesized that at-risk foreigners may be ignoring calls to come forward for Covid-19 testing in part because being diagnosed may land them in these less-than-posh field hospitals for days on end. A more comfortable "hospitel" would allow infected foreigners to be treated in more pleasant surroundings thus encouraging them to come forward for testing.
SOURCE: National News Bureau and Nation Thailand
📱 Download our app on Android or iOS for instant updates on your mobile
📧 Subscribe to our daily email newsletter
👍 Like/Follow us on Facebook
🔔 Subscribe to or Join our YouTube channel for daily video updates
Bangkok is now a red zone. Government gives people today to get back from Songkran break.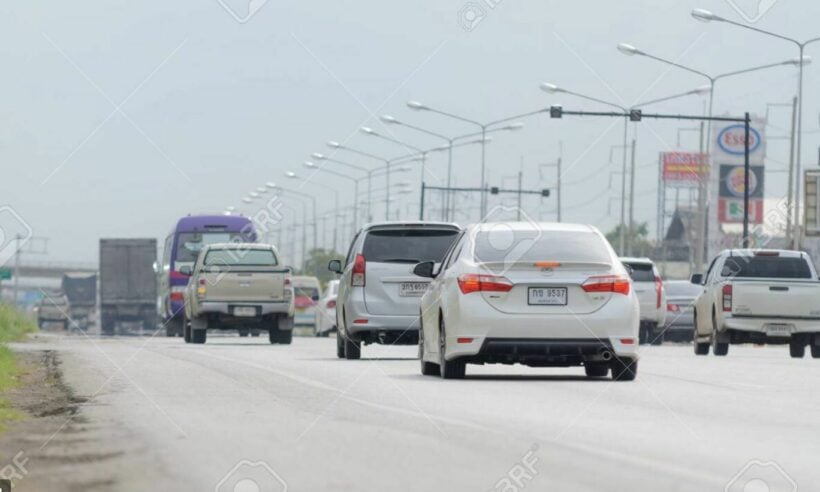 …. before the next round of restrictions come into force at midnight tonight.
Bangkok and 17 other Thai provinces (there are 77 in total) are now declared maximum control areas. These "red zones" are the feature of the Thai Government's new restrictions to get a grip on its rising Covid infection numbers since the start of April. The restrictions will last for at least 14 days.
From tonight, at midnight, some new restrictions are in force, not only in the red zones but every where else.
Think nightlife, think gatherings of more than 50 people, think restaurants. These are the area the government has generally targeted. The CCSA spokesperson yesterday, and the Thai PM Prayut Chan-o-cha, went out of their way to portray the new restrictions as NOT curfews and NOT lockdowns. But, if you live in a red zone province, including Bangkok, then the new set of restrictions are a lockdown in just about every sense without outright telling people to stay at home.
Everything will have to be closed from 11pm – 4am in the morning, including all convenience stores. Hope you've paid your Netflix subscription!
Restaurants and cafes in the red zones will be able to open until 11pm, but dine-in services will only be available until 9pm. Takeaway food can be sold until 11pm to allow the businesses and activities to continue. And there will no alcohol available anyway.
The government is also advising businesses in Bangkok, and other red zone provinces, to allow employees to work from home, or have adequate precautions in place if they need to work in the offices.
Unlike the last two outbreaks of Covid within Thailand, this cluster has emerged from the indulgences of Bangkok's hi-sos, celebrity and look-at-me culture. The trendy clubs around Thong Lor and Ekkamai are the destination for people that want, or need, to be seen, including some politicians who have either ended up infected or knew someone in the club and pub scene and have had to self-isolate.
The late evening sojourns, with nary a care for masks or social distancing, small spaces, lots of people… it has proven the perfect breeding ground for a new Covid cluster.
Bangkok's legendary shopping centres and community malls will have to shut their doors by 9pm, a situation now across the board for all Thai shopping centres including places like your local Tesco mall.
But convenience stores, supermarkets, community markets can stay open until 11pm.
At this stage people are being advised to to travel to Bangkok, or any other red zone province, for the next 2 week (after midnight tonight). The travel advisory isn't an order at this stage, more of a hurry-up-and-get-back-from-your-holidays request.
Last weekend saw the mass exodus out of the city. The same return from the provinces is happening today and tomorrow. Even though the official Songkran holiday ran from Tuesday to Thursday this week, plenty of people have take the Mondays and Friday off last week to end up with an extended 9 day holiday. The government was hoping the longer Songkran break would be a boon for the shattered hospitality and tourism businesses. But last weekends sudden climb of new Covid infections caused some people to cancel or postpone their bookings.
The annual Songkran road toll, usually a national disgrace, was cut by over 50% this year due to the lack of traffic and people deciding to wait it out and catch up with their families later.
Thailand recorded 1,547 new infections around Thailand today, a slight drop from yesterdays' 1,585 reported new cases. But the last 4 days have revealed the largest list of daily infections since the first case was detected in Thailand on January 13 last year, a 61 year old Chinese passenger on a flight from Wuhan to Suvarnabhumi – the first known case of the novel coronavirus outside of China.
2 leading police from the Thong Lor police station have already been sidelined into inactive posts, a face-saving measure to show the government were being pro-active in reacting to the sloppy enforcement (or non-existent enforcement) of Covid precautions in the district's active nightlife. Officials are also tracking down the owners of the nightclubs and bars for potential prosecution, principally around Bangkok and in Phuket where parties, promoted and run by a group called 'Kolour' ended up becoming Covid spreader events.
Here's a list of the red zone provinces.
1. Bangkok
2. Chiang Mai
3. Chon Buri
4. Samut Prakan
5. Prachuap Khiri Kan
6. Samut Sakhon
7. Pathum Thani
8. Nakhon Pathom
9. Phuket
10. Nakhon Ratchasima
11. Nonthaburi
12. Songkhla
13. Tak
14. Udon Thani
15. Suphanburi
16. Sa Kaeo
17. Rayong
18. Khon Kaen
📱 Download our app on Android or iOS for instant updates on your mobile
📧 Subscribe to our daily email newsletter
👍 Like/Follow us on Facebook
🔔 Subscribe to or Join our YouTube channel for daily video updates